/
12 Incredible Airbnbs in Peru (domes, tree houses and more!)
Peru is an incredible country with so much to see and do.
It's the perfect place for anyone who loves history, culture, nature, or adventure. It's filled with ancient ruins, beautiful landscapes, and delicious food.
You can explore ancient ruins like Machu Picchu, hike through the Sacred Valley of the Incas or visit Lake Titicaca – one of the highest navigable lakes in the world!
There are also plenty of modern cities to discover as well. Lima has amazing cuisine and nightlife, while Cusco is home to some of South America's best museums and restaurants.
---
Plan the perfect trip to Peru:
If you'd like to go on a tour, check out the best tours to take in Peru
💵 Want to travel for free? Discover 16 ways to do it in this e-book
🎒 Pack a universal travel adapter, your favorite travel camera (I love this one!), and a good portable solar phone charger
Follow me on Instagram for more travel tips
Why stay in an Airbnb in Peru
There are several good reasons to stay in an Airbnb instead of a hotel when visiting Peru.
First, you can feel what it's like to actually live in Peru and stay amongst the locals, which is a really nice option. Second, it's usually much cheaper than staying at a hotel.
Another great thing is that by staying in an Airbnb, you get to experience totally unique places that would be hard to find as a regular traveler, such as domes, tree houses, luxurious villas, and more.
In this guide, you will find a selection of the best Airbnbs to stay in Peru. Plus, we have also added a list of valuable travel tips for your trip.
---
12 Best and most unique Airbnbs to stay in Peru
Here are, without further ado, the best Airbnbs in Peru.
1- Salkantay Bio Domes At Soraypampa
Imagine spending the night with glorious views of Salkantay, the 12th highest peak in Peru. Well, in the Bioandean Expeditions Domes, you can.
Located near Laguna Humantay, the domes are one of the most unique places to stay in Peru and make for a perfect glamping spot if you are doing the trek to the gorgeous lagoon or even Salkantay trek.
2- Cheerful one bedroom home with indoor fireplace
This adorable gnome-like dome in the middle of the Sacred Valley is only a 35-minute drive away from Cusco and can accommodate two persons at a time.
This home has a cozy indoor fireplace, a beautiful garden with an outside hammock, and a luminous and open kitchen and living room.
3- Ecological house with views of the Andean glaciars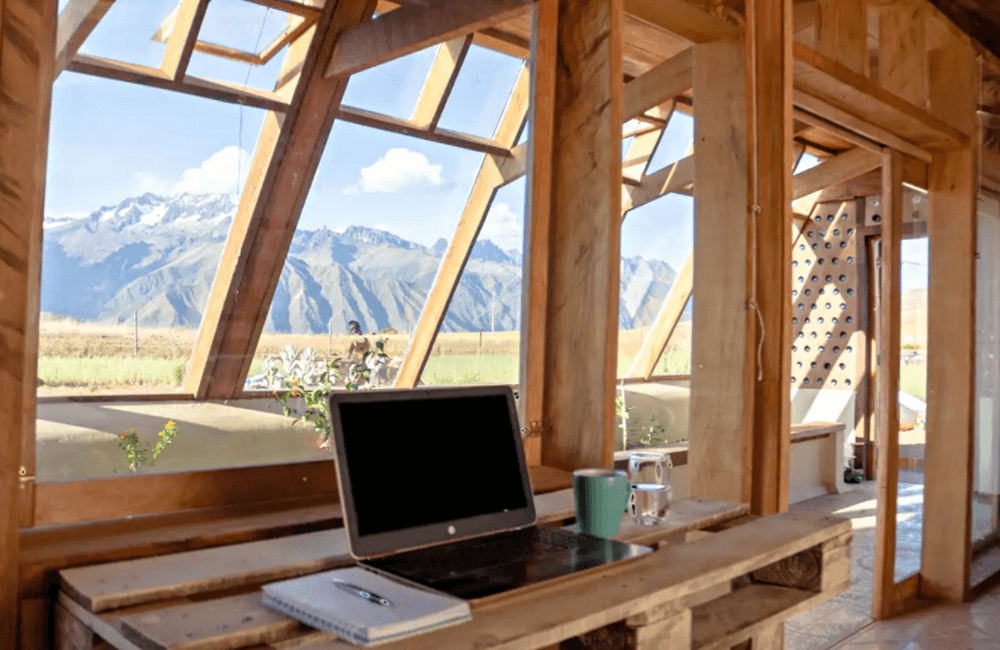 This 100% ecological house is an 'earthship' built only with recycled and natural materials.
Self-sufficient, the house generates its own electricity, collects freshwater from the rain, and even has an indoor garden with bananas, berries, lemons, and more.
Also, it has spectacular views of the village of Maras, the Tiobamba church, and the Andean glaciers.
4- Luxury Andean Retreat in the Sacred Inca Valley
This stunning and luxurious villa in the Sacred Valley can fit large groups and truly looks like something out of a fairy tale.
Picture a 3300 ft2 space, wonderful 1-acre flower garden, and a large panoramic hot tub with amazing mountain views.
5- Rustic, clean and modern Loft in Miraflores
This cozy loft is located in a sophisticated area right in the heart of Miraflores, Lima's upscale neighborhood.
With two double bedrooms, it is perfect for up to 4 people. One of my favorite thing about this place is the floor-to-ceiling windows that offer an outstanding view of Miraflores from the 13th floor.
6- Rainbow House: Lovely apartment magnificent view
Looking for a great Airbnb in Cusco? Well, here it is.
This one-bedroom apartment is only 3 squares away from Plaza de Armas, fully equipped, and has a cozy fireplace.
7- Unique Oasis in the heart of Miraflores
Perfect for nature lovers, this place is so perfectly peaceful and located in such a nice area that it is easy to forget it is so close to trendy Lima attractions such as the Malecón and Larcomar Shopping Center.
The apartment has three rooms and two bathrooms, but the highlight is definitely the garden.
8- Sleep on a floating island in Titicaca Lake
Going to Puno?
Then sleeping on a floating island in Lake Titicaca is an amazing experience to have.
Enjoy a private room in the house of a family that is happy to teach you all about their culture and history.
9- Riverfront country home
This large and modern country home offers its guests four rooms, a barbeque area, a garden, a pool, and much more.
The coolest thing about this place is private access to the river located right behind the house. It is beyond gorgeous!
10- Beautiful house in a vineyard
This beautiful property gives full Tuscany vibes right in the heart of Chincha, Peru.
Picture an enormous vineyard just to yourself—also, 3 bedrooms and a pool with views to both the sea and the country.
11- Adorable tree house near Machu Picchu
Located in the mountain, this adorable treehouse makes a perfect place to stay before visiting Machu Picchu.
It is very nice, spacious, and perfect for a couple or a family with kids.
12- Luxurious Airbnb in Arequipa
Last but not least, we have this modern condo in Arequipa, which can accommodate two guests and has an incredible rooftop with premium views of the city.
13- Ecocamp Huacachina
Not really an Airbnb, but I couldn't help myself.
Ecocamp Huacachina is another unique place to stay in Peru.
Located in the middle of the desert of Ica, it is one of the most special and unusual places I have ever stayed in. You can read my review of Ecocamp Huacachina here.
---
Travel tips for Peru
The food in Peru is amazing! East as much fresh ceviche and other local dishes as possible.
Always negotiate prices with the locals.
If you visit Lima, definitely stay in Miraflores.
Buy your tickets to Machu Picchu in advance, they usually sell out.
Traveling by bus in Peru is safe and highly recommended since its way cheaper than flying.
---
Wrap-up: The coolest Airbnbs in Peru
That's a wrap! Now you are familiar with all of the coolest Airbnbs in Peru.
Each of these places is special on its own, and I would particularly love to stay in every single one of them. What about you? (: