/
Last Updated November 11th, 2023
Staying at Ecocamp Huacachina: Pros & Cons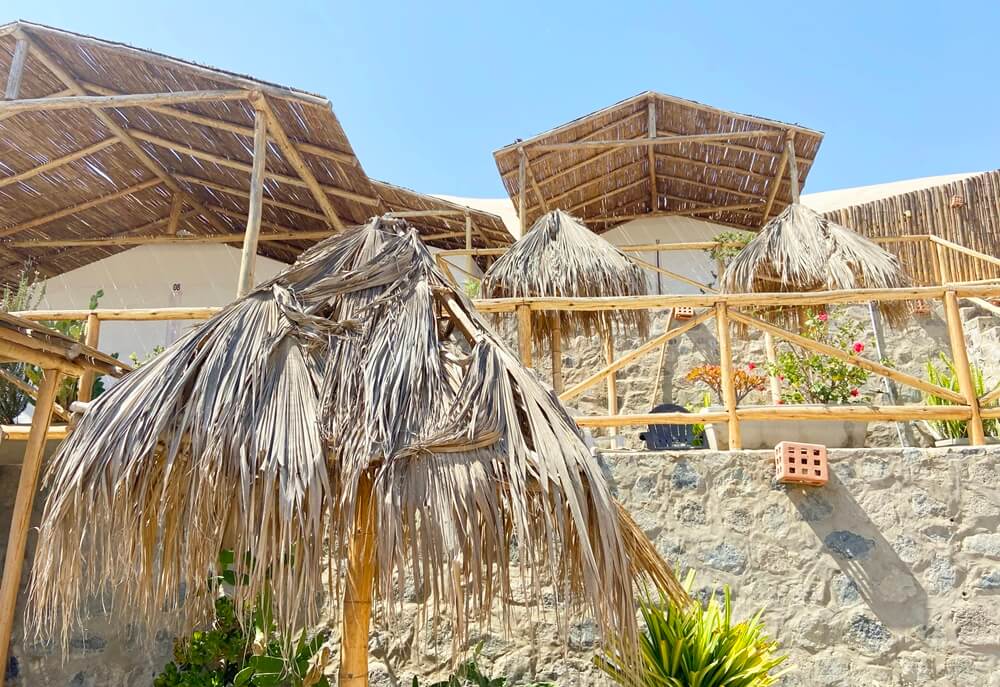 Looking for the ultimate oasis experience in Huacachina? Well, you have come to the right place!
Last month, on a two-week to Peru, I crossed out an epic item on my travel bucket list: camping in Huacachina.
I stayed for a night at this place called Ecocamp Huacachina, and it was a truly unforgettable experience.
In this post, you will read everything about staying at Ecocamp Huacachina.
---
Plan your Perfect trip to Huacachina
🏨 Find the perfect hotel on Booking.com
🎫 If you'd like to go on a fun tour, check out the best tours to take in Peru
🎒 Pack a universal travel adapter, your favorite travel camera (We love this one!), and a good portable solar phone charger
Follow me on Instagram for more travel tips
Disclosure: Some links on this page are affiliate links. That means that at no extra cost to you, I earn a small commission if you book through these links, and that helps me keep this blog running. Enjoy!
First impressions
When I got my first glimpse at Ecocamp Huacachina, I was very excited. The eco-camp is extremely well-review and looked like the ultimate experience to have in such an epic destination as the Huacachina Oasis.
From the bus station in Ica, I took a taxi directly to the camp for ten soles.
Since I arrived early in the morning and check-in time was later, the staff at the camp stored my luggage while I went exploring until it was check-in time.
---
Rooms
Or tents, in this case.
I have to be honest: I am not big on camping. In fact, I had never even slept in a tent before this trip, so I really enjoyed this camp because the tents are huge, clean and have double beds. That's right, double beds! No need to sleep on the floor or whatsoever.
I guess that's what people call glamping these days.
Although quite simple, the room was very comfy for a one-night stay in the desert.
---
Ammenities
The camp consists of around 20 tents, a big outdoor pool (with a pool bar, which was really fun), a small restaurant and, of course, several shared bathrooms.
The pool was great and clean. The bathrooms were also clean – or at least as clean as it gets in the middle of the desert – and the showers had hot water. The only thing is that all the bathrooms are located on the first level of the camp, away from the tents, so not very practical at nighttime.
---
Breakfast
The camp's restaurant is located on the left side of the pool.
Breakfast wasn't included in my stay but was offered at the camp's restaurant for around 20 soles. I asked for an American breakfast that was okay, although expensive in my opinion.
---
Pros & Cons
Last but not least, these were the pros & cons of staying at Ecocamp Huacachina.
Cons:
No air conditioning, which can be though in the desert. There was however a fan in our room.
Breakfast was not included, and a little expensive
Bathrooms were located far from the tents
Location
Pros:
Comfy beds
Nice pool
Good pricing
Friendly staff
Incredible views
Ultimate oasis experience!
As you can probably tell from these lists, staying at the eco-camp was very worth it. Waking up with the sand in my feet right outside my tent was unforgettable.
Also, the camp has an amazing view of the desert and is perfect for travelers that, like me, don't have any experience camping but would still like to experience a night in the desert.
---
Wrap-up: Camping in Huacachina
That's a wrap! I really hope this Ecocamp Huacacahina review was useful and inspires you to have this unique experience in the desert.
If you enjoyed this review and would like to stay at Ecocamp Huacachina, you can make your reservations on Booking.com.
What did you think of the camp? Would you like to camp in Huacachina? Let me know in the comments (:
---