/
Last Updated November 11th, 2023
18 Wonderful Things to do in Huacachina, Peru
Commonly known as 'The Oasis of the Americas,' Huacachina is one of those places that you have to see at least once in your life.
This desert oasis is unlike any other place in the world, and it's one of the most beautiful places on earth. Also, it is located nearly 4 hours from Lima and makes for a fantastic day trip from the big city.
With enormous sand dunes, an abundance of water, and plenty of palm trees, this little oasis is one of Peru's best-kept secrets and certainly a highlight on any South American adventure.
In this guide, you will read everything there is to know about the best things to do in Huacachina, Peru.
---
Plan your Perfect trip to Peru
🏨 Find the perfect hotel on Booking.com
🎫 If you'd like to go on a fun tour, check out the best tours to take in Peru
🎒 Pack a universal travel adapter, your favorite travel camera (We love this one!), and a good portable solar phone charger
Follow me on Instagram for more travel tips
Disclosure: Some links on this page are affiliate links. That means that at no extra cost to you, I earn a small commission if you book through these links, which helps me keep this blog running. Enjoy!
How to get from Lima to Huacachina
A great thing about the oasis of Huacachina is that it is very easy and accessible to visit from Peru's capital.
It is possible to leave for Huacachina one day and return to Lima on the next, which is great if you have a tight itinerary.
There are two main ways of getting from Lima to Huacachina:
By bus
Taking a bus is by far the easiest and most recommended way of getting to the oasis.
From Lima, it takes about 4 hours to get to Ica, and from there, you can take a taxi to the oasis for only ten soles.
I always recommend getting tickets from a reliable company like Busbud.
With a tour
Another easy way to get to Huacachina is by taking a tour there.
A fantastic thing about these tours is that they usually include stops at other wonderful destinations such as Paracas, Isla Ballestas, or even the mysterious Nazca Lines.
This can often be your best option if you are traveling alone, don't know the language, or simply want an easy way to see everything without having to research anything yourself.
---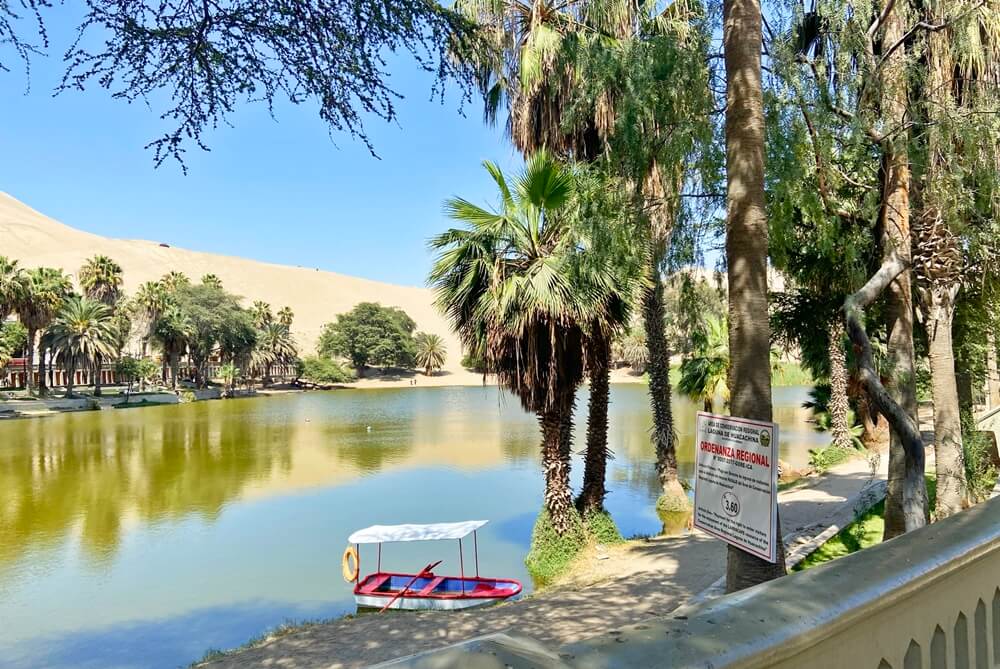 About the Huacachina Oasis
Huacachina is an oasis in the middle of the desert, surrounded by sand dunes and beautiful views. It is located in the Ica Region, about 200 kilometers south of Lima.
It's an incredible natural phenomenon that has attracted visitors from all over the world for decades.
Huacachina has a permanent population of only around a hundred people (primarily those who own or work at the hotels in the oasis) but welcomes thousands of visitors every year.
---
Is Huacachina worth visiting?
If you are planning your trip to Peru and wondering if Huacachina is really worth visiting, here is your answer: absolutely!
Visiting the Huacachina Oasis should definitely be on the bucket list of every passionate traveler.
It is a unique destination and one of Peru's most exciting places.
---
The best things to do in Huacachina, Peru
People come to Huacachina to enjoy the beautiful desert landscape, adventure, and relax.
The town itself is tiny, but there are plenty of activities to keep you busy during your stay.
Here are, without further ado, the best things to do in Huacachina.
1- Sandboarding on the dunes
The sand dunes in Huacachina are one of the biggest attractions of this little oasis and make for a thrilling experience while you ride them down on a sandboard.
Huacachina is one of the best places to get started with sandboarding, so if you haven't done it before, you have to give it a try while visiting Peru.
If you are scared to stand up on the board, that is perfectly fine. Sitting or lying down on the board is another great way to have a great time on the dunes.
2- Lounge by the pool
Due to its location in the middle of the hot Ica desert, most hotels and even hostels in Huacachina have great pools to relax in.
If you have a free afternoon in Huacachina, lazing around in the refreshing water with a cold drink in hand might be just what the doctor ordered.
3- Rent a paddle boat
For a unique perspective of the oasis, why not rent a paddleboat?
Several paddleboats are for rent at the shore of the oasis's lagoon, and this is a great way to get amazing views of Huacachina and understand why this place is so unique.
4- Go on an adrenaline-filled buggy ride
Going on a buggy ride is one of the most popular things to do in Huacachina.
Several companies offer this thrilling experience, and it's the best way to explore the dunes surrounding the oasis.
The buggies go pretty fast, but you will be provided with a safety belt and a helmet along with a driver who knows all the secrets about riding these machines over bumpy desert terrain.
If going on a buggy ride isn't already on your bucket list, it should be now because driving one of these super cool vehicles is an absolute blast!
5- Take a pisco tour at Hacienda Bodega Tacama
Hacienda Bodega Tacama is one of the oldest vineyards in South America. If you're into wine, taking a pisco and wine tour of the vineyard is a great way to connect with your inner connoisseur.
The tour starts off with a short walk through the life of a grape – from planting to harvesting – and then continues with an explanation about how pisco and wine are made.
At the end of this experience, participants will get to taste several different kinds of wine and pisco.
Pisco is the national drink of Peru, and everyone should try it at least once!
Pro-tip: If possible, grab lunch at the restaurant inside the vineyard. The food is incredible and reasonably priced.
6- Visit other vineyards and wineries
Besides Hacienda Bodega Tacama, the region of Ica is home to several very interesting vineyards and wineries.
Some vineyards worth visiting are El Catador, Bodegas Vista Alegre, Nietto Pisco and Bodega Ocucaje.
Although not all of them offer tours, it's worth asking around if you want to get a glimpse behind the scenes.
7- Have a glamping experience in the desert
Have you ever thought how amazing it would be to go camping in Huacachina? Well, this is possible.
On my trip, I stayed at Ecocamp Huacachina, which has an amazing glamping-style infrastructure with shared bathrooms, a big pool, and tents with double beds.
The best part of my stay was definitely the amazing views of the oasis from right outside my tent.
You can read my review of Ecocamp Huacachina here.
Here are more options for camping in Huacachina:
8- Enjoy the local eats
Around the oasis, you will find plenty of cute little restaurants with a great view of the lagoon.
From fresh fruit juices to tasty empanadas or ceviche, you will find many options to enjoy great local food.
9- Go on a daytrip to Paracas and Islas Ballestas
Paracas is a small town located around an hour and a half from Huacachina by bus.
It's one of the best places in Peru to go on a day trip and explore the Paracas National Reserve, famous for being one of the largest animal reserves in South America.
The Islas Ballestas are also part of this park and home to some amazing colonies of sea lions.
10- Party in the oasis
When the sun sets behind the dunes surrounding the oasis, Huacachina turns into a great party scene.
There are bars and party hostels scattered all across the oasis, which make for great places to go out, dance the night away and meet strangers from all around the world.
Make sure to start the night out with a pisco sour or a Cusqueña beer.
11- Learn about Huacachina's myths &folklore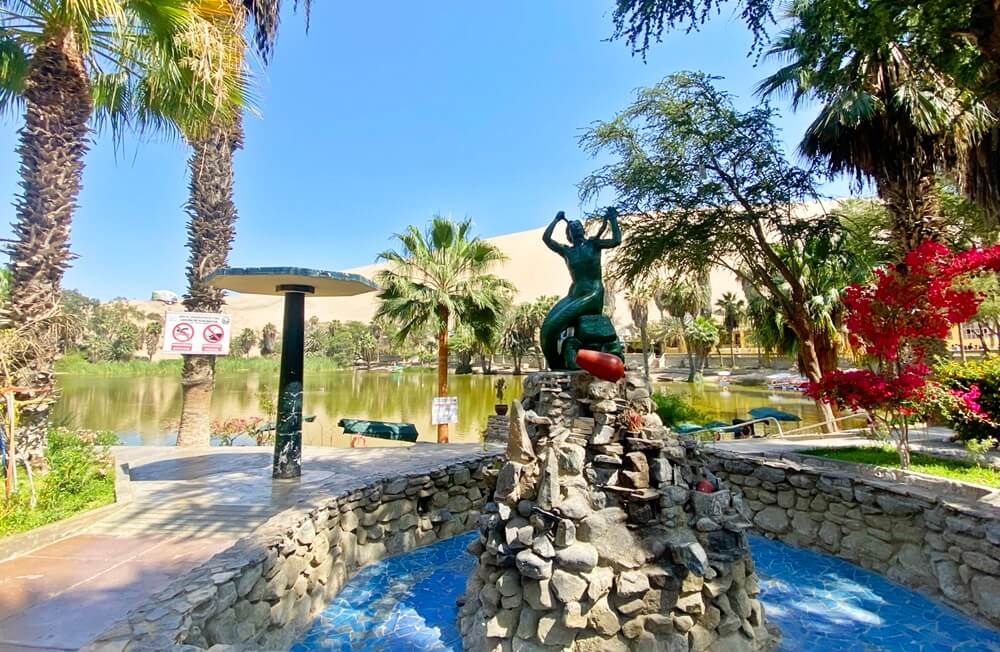 Since ancient times, a lot of folklore and mystery have surrounded Huacachina.
There are many legends about this special place, and if you talk to the right locals, they will be more than happy to tell you all about them.
One of the most popular myths says that Huacachina was named after a beautiful Inca princess called Huacay China, who married a warrior that one day died in battle.
Devastated, the princess cried for three whole days until her tear formed a lagoon.
Then, one day, while she was bathing, the princess noticed a hunter observing her. Scared, she jumped into the lagoon and hid for several hours.
Once she tried to get out, she discovered she had no legs anymore: she had become a mermaid.
Rumor has it that the princess crawls out of the lagoon on every New Moon to mourn her belated husband.
12- Climb up the dunes
My favorite thing to do in Huacachina was hiking up the dunes for an unbelievable view of the oasis.
The dunes are not as steep as they look, but make sure to wear the right shoes and try to go in the morning when it's not super hot out.
13- Get an aerial view of the Nazca Lines
The Nazca Lines are one of Peru's most mysterious attractions. The lines are made of geoglyphs carved into the ground by the Nazca people around 500 BC.
It is still unknown why they created these intricate drawings, but many theories have been proposed over the years. Scientists believe they could have been used for sacred rituals or to map out underground water sources.
From Huacachina, tours will take you to the Ica airport to board a plane to see the lines.
The flight has an average duration of one hour and allows you to observe many of the enormous figures.
14- Explore Cañon de los Perdidos
Cañon de Los Perdidos is a relatively unknown place to visit near Huacachina and Ica.
The drive to the canyon takes nearly 3 hours, but it's worth it.
Here, it is possible to observe lagoons, rocky formations, and fossils of whales, sharks, and other marine species that date more than 3 million years of age. Isn't that amazing?
15- Go on a city tour
If you wish to get to know the town of Ica on a deeper level, a great way to do so is by going on an Ica city tour.
The itinerary for these tours usually varies a lot so make sure to plan carefully with whatever agency or driver you choose to hire.
The main spots are usually Tacama, the Ica Regional Museum, the Seven-headed palm tree, the Sanctuary of Luren, and a chocolate factory.
16- Shop for souvenirs
Huacachina has a fair amount of places to get souvenirs for really good prices.
However, if you plan to visit Cusco later on the trip, I would wait to buy souvenirs there since there is way more variety.
17- Explore the oasis on foot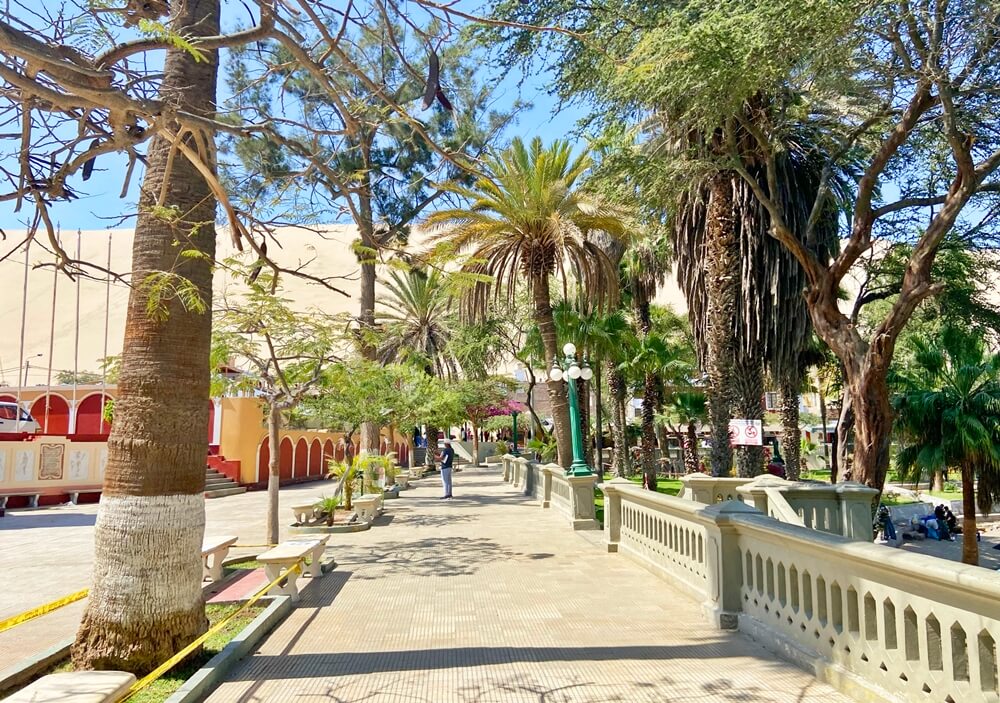 One of the nicest things to do in Huacachina is just relaxing and walking around the oasis to take it all in.
The oasis is really beautiful, and there are many spots to stop by for a photo op or a quick snack.
18- Paragliding in Huacachina
Paragliding in Peru is an activity not to be missed.
Huacachina is one of the most popular places to do so since paragliding offers an incredible bird's-eye view of the oasis.
---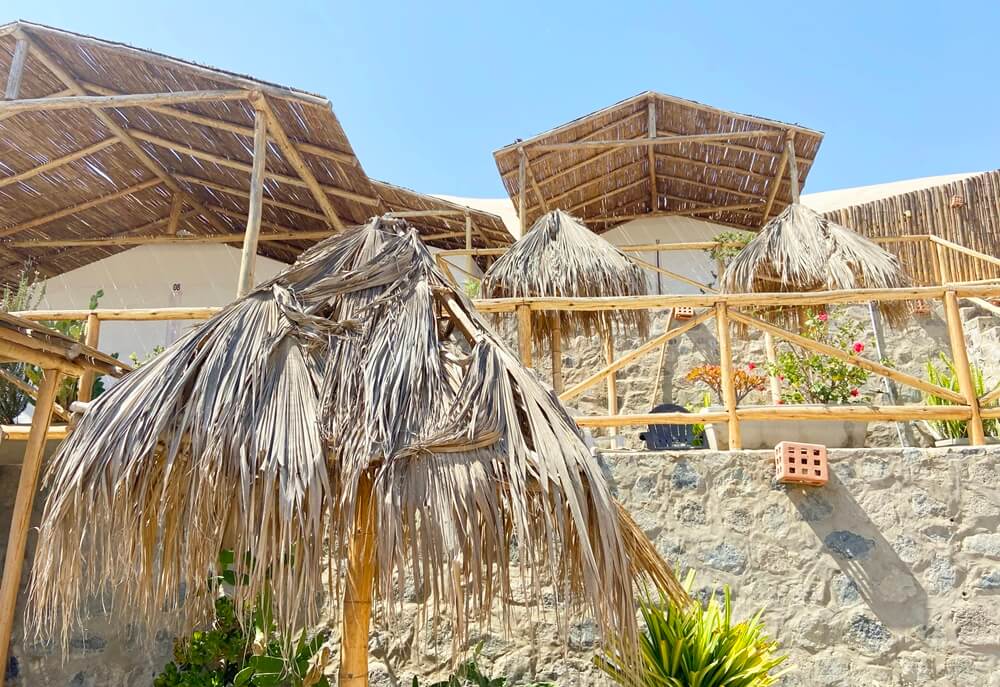 Where to stay in Huacachina
There are many nice places to stay in Huacachina and choosing the right one is very important for a good experience.
Here are some suggestions of places to stay in Huacachina:
| Ecocamp Huacachina
As I previously mentioned, on my trip to Huacachina, I stayed at Ecocamp Huacachina and really loved it!
Sleeping in the desert and feeling the sand on my feet just outside my tent felt like the ultimate oasis experience.
Also, they have some of the most affordable prices in the oasis.
| Hotel El Huacachinero
Hotel El Huacachinero has been in the town for many years and still remains one of the top places to stay in Huacachina.
The rooms are big and comfortable, and they offer a complimentary breakfast, so this place might be something worth checking out if you want to spend a little extra money.
| Desert Nights Hostel
Desert Nights is a really popular hostel located right in the heart of the oasis.
The hostel features a bar, shared lounge, garden, and free WiFi. There are shared and individual rooms available, so you can choose whatever fits your travel style best.
| Banana's Adventure Hostel
Banana's Adventure has an authentic party vibe. Mostly for the younger crowd, the place is full of life and always bustling with people who come to visit the oasis.
There is a lovely garden where you can relax after partying all night long. There are also hammocks all over the property which makes it even more inviting to stay there for an extended period of time.
There are multiple rooms available of different sizes. It's a good place to stay if you don't mind a party. They also have a great pool, which is always very appreciated in the heat of Ica.
---
Travel tips for visiting Huacachina
To make your time visiting Huacachina even more enjoyable, here are a few precious tips you should write down:
Protect yourself from the sun
Trust me on this: the sun is VERY strong in the desert!
Make sure you wear a hat, sunglasses and sunscreen to protect yourself from getting a burn.
Bring a swimsuit
Most hotels in Huacachina have outdoor pools, so make sure you bring a swimsuit if you plan on going for a swim.
Be careful with overpriced taxis from the bus staion
A taxi from the bus station in Ica to your hotel in Huacachina should cost you a maximun of 15 soles.
Have a good meal before taking a pisco tour
Most pisco and vineyard tours in Ica include wine tastings. Make sure to eat well before the tour to avoid getting too drunk.
Wear sunglasses to the buggy tours
On the buggy tours, make sure to bring sunglasses to protect your eyes from all the flying sand.
Double check the location of your hotel before making a reservation
Before booking a place to stay in Huacachina, make sure to double check its location on a map. A lot of hotels claim to be located in Huacachina but are actually in Ica.
---
Where to eat and drink in Huacachina
When traveling, one of my favorite things to do is try out new restaurants to get a taste of the local cuisine.
Huacachina, although small, has a few options of good places to eat and drink. These are some of my favorites.
8 Cepas
Penonetti Pizzas&winebar
El Cordon y la Rosa
La Casa de Bamboo
Wild Olive Trattoria & Guest House
The restaurant at Desert Nights hostel
When traveling, I always prefer to eat local dishes that are traditional to the specific country or region I'm exploring.
Some of the foods that you absolutely must try in Peru are lomo saltado, ceviche, arroz chaufa, and papa a la huancaina.
Also, make sure not to miss the deserts! They are delicious.
---
What to pack for the Huacachina Oasis
During your time exploring the oasis, you'll probably want to bring along some items to make yourself more comfortable.
Here's what I recommend bringing on a trip to Huacachina:
Sunglasses: The sun is really strong in this area so you're going to need sunglasses.
Sunscreen: As mentioned before, the sun is very present in Huacachina. Make sure you wear sunscreen!
A sarong or scarf: If you plan on renting one of those cool tours like sand buggy or sandboard , it can definitely get pretty windy out there so you'll want something with which to cover your face and neck. A sarong or scarf will do just fine! You could also use it as a towel to dry off in the pool.
A swimsuit: Most hotels have outdoor pools so be sure to bring one if you want to go for a swim.
Mosquito repellent: There are mosquitos out in the desert, so don't forget your mosquito repellent.
A camera with lots of memory: for taking all your pictures in this once-in-a-lifetime destination!
---
The best time to visit Huacachina and Ica
Ica is a hot place all year round and can be visited any time of the year.
However, to avoid the extreme heat the best time to visit Huacachina would be during the winter months, between May and September.
---
Frequently asked questions
Last but not least, here are the answers to some of the most frequently asked questions about visiting Huacachina.
Is Huacachina safe to visit?
Absolutely! As long as you follow basic safety measures, such as avoiding any shady characters and not leaving your belongings alone anywhere, Huacachina is 100 percent safe.
Is it easy to find my way around?
Huacachina is a tiny oasis so everything here is easily accessible by foot.
All the main attractions are just a stone's throw away from each other so I wouldn't worry about getting lost too much 🙂
How long should I stay in Huacachina?
Although beautiful, the truth is that Huacachina is a very small place. Up to 3 days would be more than sufficient to see everything there is to see in Huacachina.
---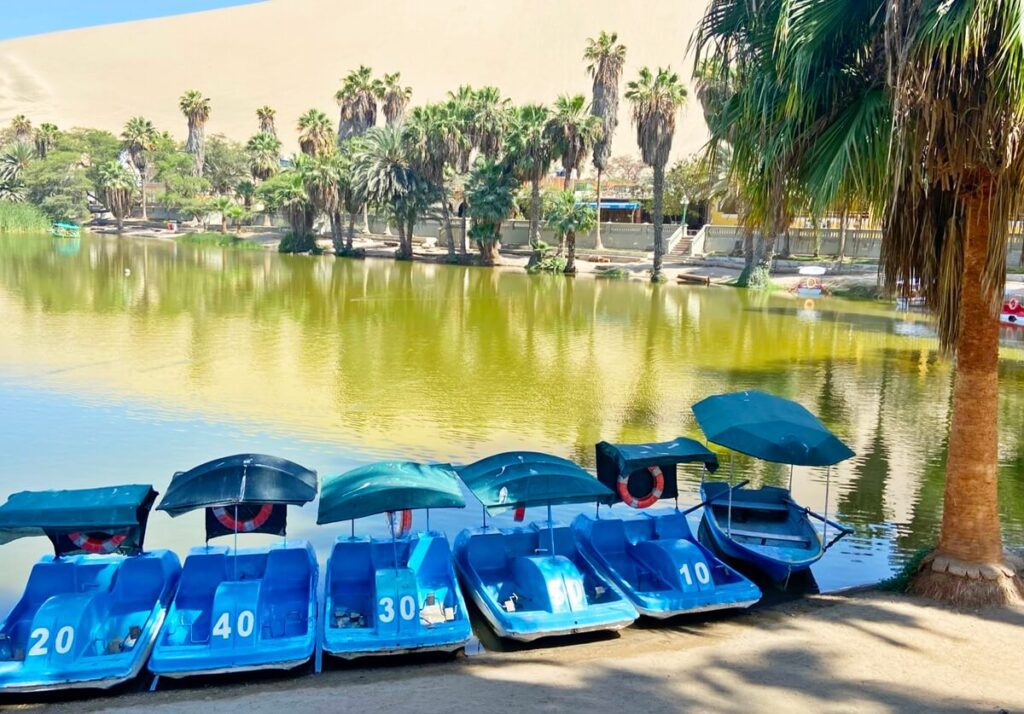 Wrap-up: The best things to do in Huacachina
That's a wrap! Now that you know exactly what to do in Huacachina, I'm sure your trip is going to be as amazing as it can be.
Huacachina is really one of those places that have magic surrounding it and has been a great highlight of my travels around South America.
I really hope you enjoyed these tips! For more travel content, make sure to follow me on Instagram.
---