/
Last Updated November 12th, 2023
12 Dreamy Airbnbs to Stay in Key West
Key West, the last of the Florida Keys, is an island of art, history, and culture surrounded by beautiful beaches and crystal clear waters.
More than that, it is one of the most popular destinations in the country due to its unique paradise-like atmosphere, friendly locals, and perfect weather all year round.
Whether it is your first time visiting this quaint place or not, Key West really has something to offer everyone.
In this guide, you will find a selection of some of the best Airbnbs to stay in Key West.
---
Plan your Perfect trip to Key West
🏨 Find the perfect hotel on Booking.com
🎫 If you'd like to go on a tour, check out the best tours to take in Key West
🎒 Pack a universal travel adapter, your favorite travel camera (We love this one!), and a good portable solar phone charger
Follow me on Instagram for more travel tips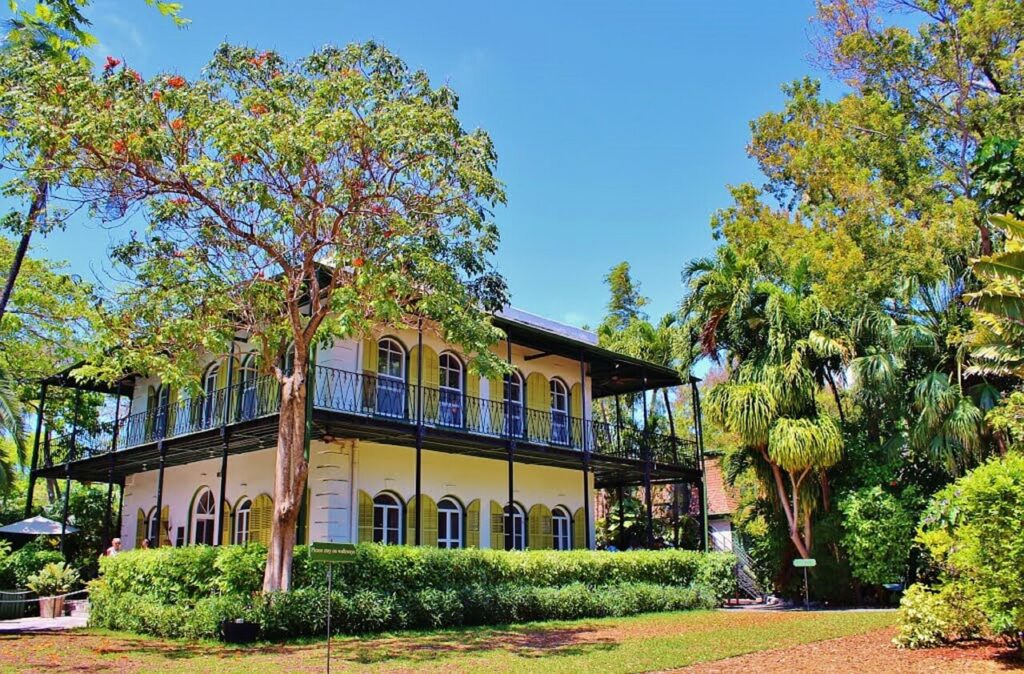 Disclosure: Some links on this page are affiliate links. That means that at no extra cost to you, I earn a small commission if you book through these links, which helps me keep this blog running. Enjoy!
About Key West
Key West is an island city in Florida, United States of America. The history of this island has been shaped by its geographic location and close proximity to the Caribbean Sea.
Today, it is home to approximately 25.000 people and lives mainly from tourism.
To get to Key West from Miami, the easiest way is by flying directly into the island or by driving the iconic Overseas Highway.
---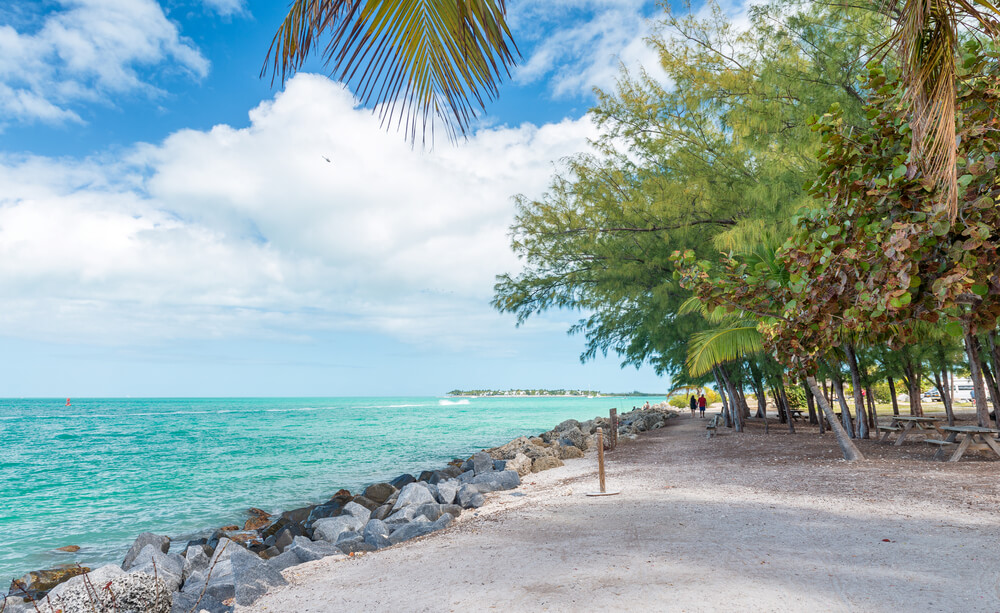 Why stay in an Airbnb in Key West
If you have already been to Key West, you know hotel fares on the island can get crazy expensive, depending on when you visit.
Although some of the best Airbnb's in Key West have prices similar to most hotels, staying in an Airbnb can save you a lot of money if you choose to cook your own meals or just have breakfast daily.
In addition, staying in an Airbnb will make you experience island living like a local and offer way more privacy than any hotel.
---
The 12 best Airbnbs to stay in Key West
Here are, without further ado, the best Airbnbs to stay in Key West.
From modern apartments by the beach to adorable historic cottages, each and every one of these places has something magical to add to your trip.
1- Mermaid Cove: Funky Getaway on Duval
Mermaid Cove is a wonderful artsy vacation rental compound consisting of four cottages, each one with a private entrance to the courtyard with an outdoor patio.
Carefully decorated, this is the perfect place for a fun-filled vacation in Key West.
Located on Duval street, the cottages contain a double bed and can accommodate up to twelve people.
2- The Tiki Suite
The Tiki Suite is one of the most unique places to stay in Key West.
Taking the best parts of boat life and combining them with the space and comforts of home, this Tiki Suite was designed to be a unique glamping experience on the water.
Make use of the hammock, stand-up paddleboards, and snorkel gear. In addition to the various bird species that are a regular sight, you can occasionally see dolphins, manatees, stingrays, conch, starfish, plus much other small fish that enjoy the shade beneath the Tiki.
Unfortunately, fishing from the boat is not allowed.
Inside you will likely first notice the gorgeous Brazilian hardwood flooring, which adds a touch of class to the otherwise humble thatched-hut styling.
The high vaulted ceiling makes the place feel very nice and spacious. Relax on the comfortable king-size bed and enjoy the view through the three French doors that open up right onto the ocean.
3- Classic Key West cottage
This charming Key West cottage is part of the Papa's Hideaway complex.
It's a fully furnished house with two bedrooms and two baths. The property includes a high-end kitchen, loads of modern amenities, a shared swimming pool, a sundeck, and a tropical courtyard. Street parking is available for you during your stay.
Outside there is an outdoor porch where you can enjoy your meals alfresco style!
4- Tranquilo: Key West Luxury Houseboat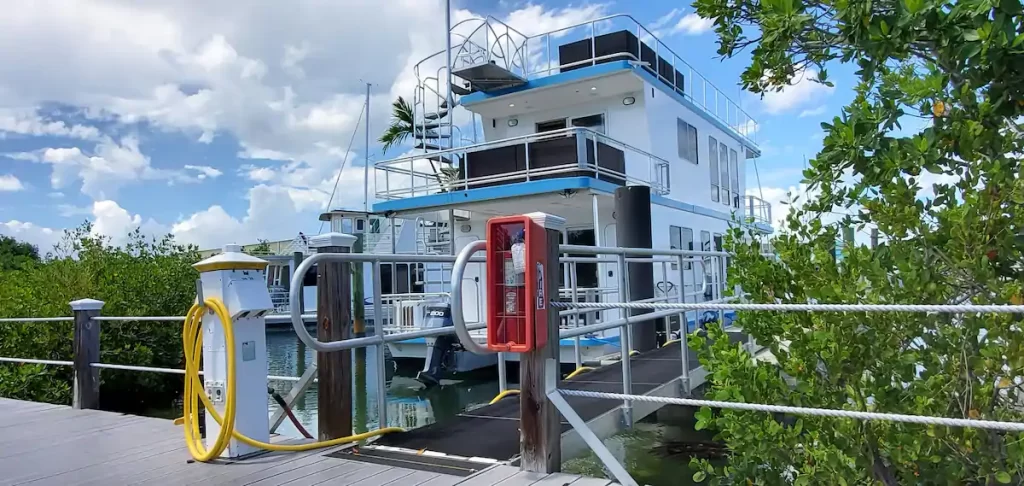 Have you ever thought about what it would be like to stay in an actual houseboat? Well, now you can!
Tranquilo is an 800 square feet, 3-floor high luxury houseboat.
Located at the Yacht Club, it has accommodations for six people with two queen bedrooms. It also has a sun deck and access to Pool, private beach, gym, restaurant, bar, and oceanside tiki bar.
5- Big Blu: 5 bedroom, 4 bath in old town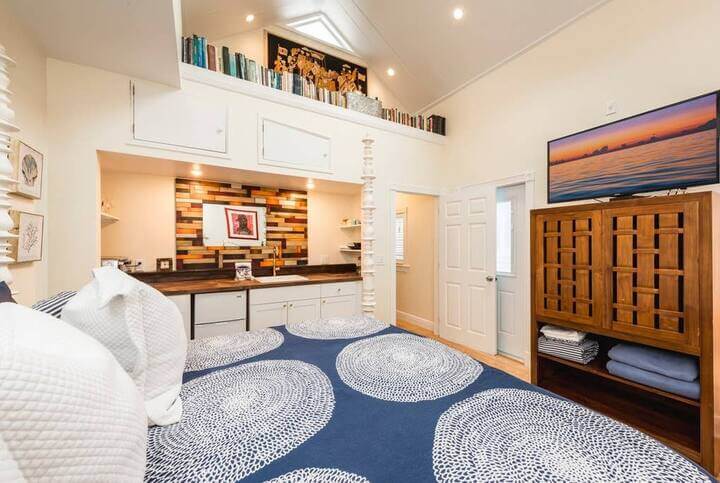 Big Blu is a recently renovated five-bedroom, four-bathroom traditional shotgun house with the perfect blend of formality and casualness.
The first-floor living area has an open vaulted ceiling that links directly to your backyard poolside deck (with jacuzzi jets!). This is one of my favorite Key West Airbnbs with a pool.
6- Southern Cross – 32 ft sailboat, beautiful marina
The Southern Cross is a yacht that's 32 feet long and has been beautifully crafted. The inside of the ship has luxury furniture, sleek lines, and modern amenities, just like a high-end hotel.
The Morgan sailboat resides at Key West Harbour Marina docks. It offers guests additional services such as an outdoor pool, beach, fitness facility, sauna, free ice, fishing and diving charters, and oceanside tiki hut.
7- Real World MTV House Key West
If you were a fan of the MTV show Real World, this is the perfect place for you to stay because it's the property used by MTV to film the 2006 Real World Key West.
This place is way more than just a house: it is like your very own private resort.
Picture 500 feet of oceanfront, eight to ten bedrooms, fourteen plasma TV, a gym, a tennis court, kayaks, paddleboards, bikes, a pool table, a racket ball court boat dock with multiple slips, and much more. Crazy, huh?
Needless to say, this is a great place for large groups.
8- Stay in a 48′ Yacht
This wonderful 48′ yacht is located in one of the finest resorts in Key West, with free access to its new swimming pools, fitness room, live music, & restaurants.
It has enough space to accommodate up to eleven people with four bedrooms and makes for the ultimate yacht experience in Key West.
9- Gorgeous historic Key West Home
This beautiful historic home is located in Old Town Key West, one of the most prestigious neighborhoods on the island.
With four bedrooms and 1.5 bathrooms, you can enjoy up to eight people staying here as it offers a great place for relaxation.
A great thing about this place is obviously the location. From here, you can easily walk to many points of interest, such as Duval Street and Fort Zachary Taylor State Park.
10- Casa Victoria in Old Town Key West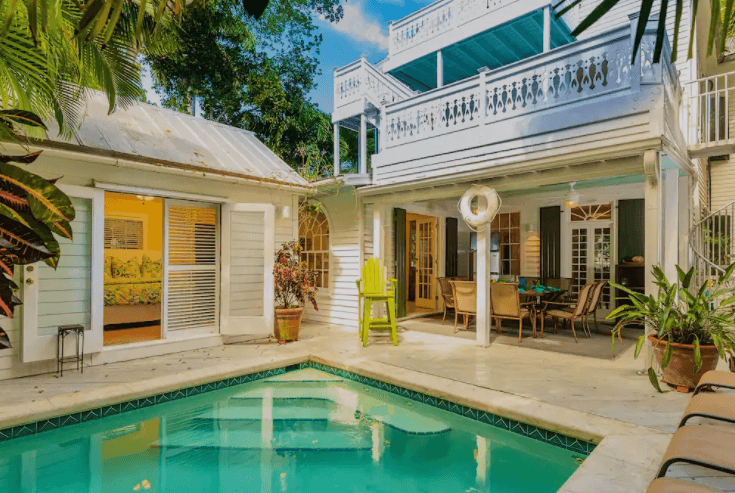 Located in the heart of Old Town, Casa Victoria is a classic 5-bedroom home built with the charm and quirkiness of early 20th-century Key West.
Picture french doors off the living room and kitchen opening directly to a private pool and heated spa with a waterfall. A large covered porch provides an outside dining space for cocktails or a leisurely meal prepared on the grill.
If that isn't paradise, I really don't know what is.
11- Romantic Retreat
This is the ultimate romantic retreat for two people in Key West.
With palm trees all around and decorated in a light Caribbean motif, this place is absolutely perfect for spending some quality alone time with that special someone while enjoying paradise.
12- Beach Club Ocean Front Condo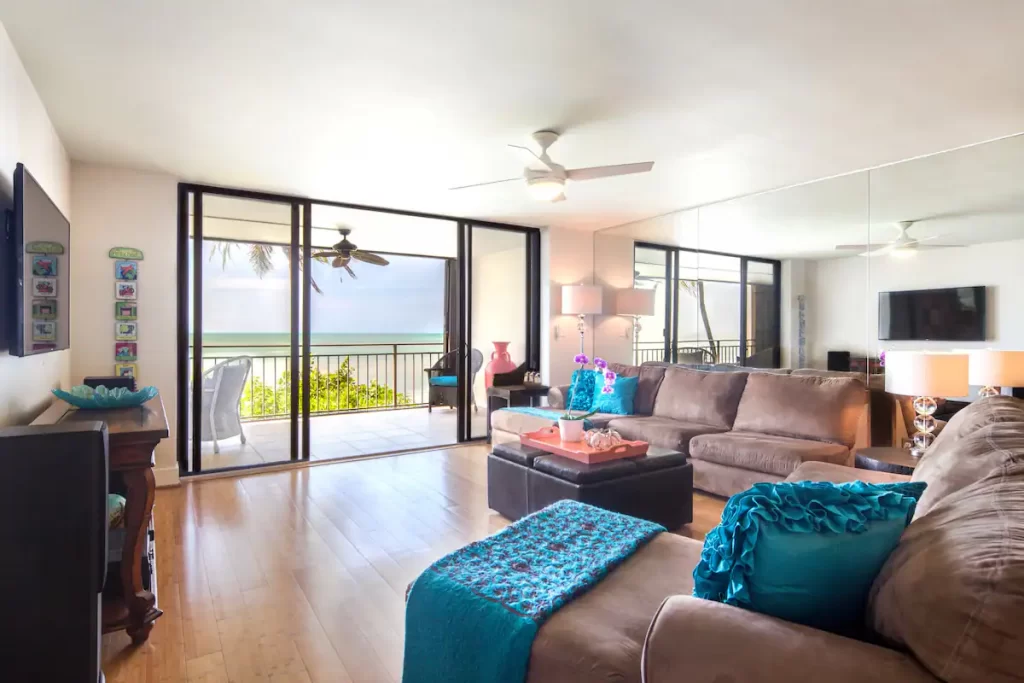 What about a luxurious ocean-front condo?
Enjoy this spacious two-bedroom unit with a spectacular view of the ocean.
Located on the Key West Beach Club, guests get access to amenities including two pools, a tennis court, outdoor cooking facilities, a fitness room, and a sauna, all with a view of the Atlantic.
---
Top 5 things to do in Key West
Last but not least, here is a sweet list of the most popular activities you can do on your trip to Key West.
Take a picture with the Southernmost Point Buoy, which marks the Southernmost point of the continental United States.
Explore the Ernest Hemingway House and Museum, which is filled with photos and memorabilia from famous authors like F. Scott Fitzgerald and Sherwood Anderson. You can also visit their museum shop to purchase some of his books.
Enjoy the beaches in Key West, including Fort Zachary Taylor State Park, which has a reef that is home to nurse sharks and rays. The park also includes a beach where you can snorkel in the shallow water to view marine life.
Visit Mallory Square at night to see the Sunset Celebration where people gather for local entertainment, street performers, tour guides, and street vendors. You can even purchase souvenirs or try out local cuisine!
Go on a day trip to Dry Tortugas, one of the most remote National Parks in the United States.
---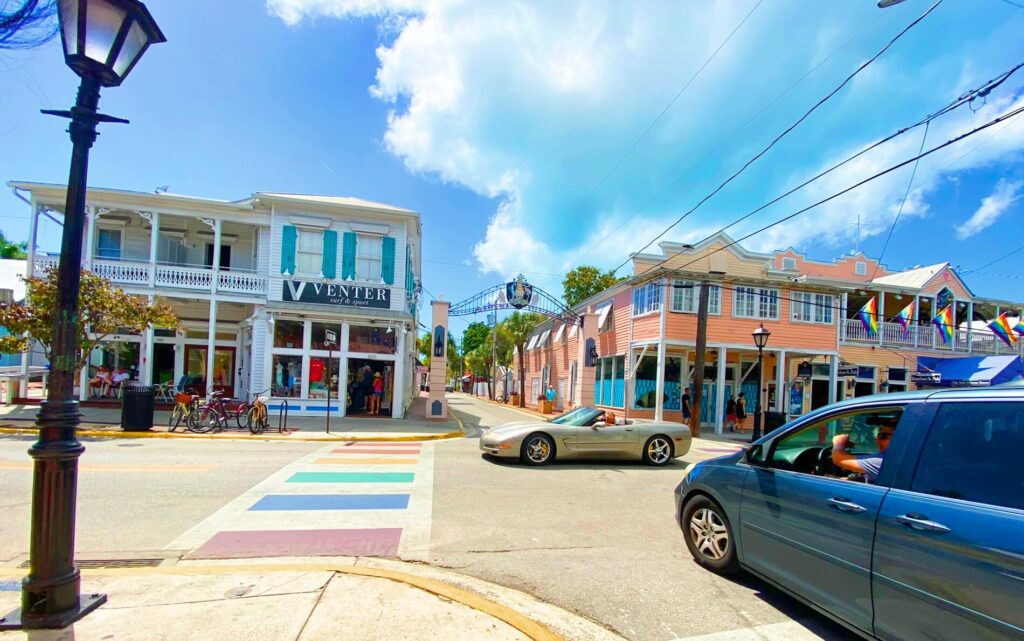 Wrap-up: The best Airbnbs to stay in Key West
That's a wrap! Now you know all the best Airbnbs in Key West and can choose the perfect one for you.
Make sure to enjoy all that this gorgeous island has to offer and, most importantly, have a great time! (:
---