/
Rainbow Mountain: 15 Things You Need To Know
Vinicunca, also known as Rainbow Mountain, is one of the most popular places to visit in Peru.
Last year, I had the opportunity to see it in person and let me tell you: it was absolutely wonderful!
The colors of the mountain – though not as vibrant as you would usually see on the internet – are indeed gorgeous.
Rainbow Mountain was only discovered in 2015 but today it has definitely become an absolute must on any trip to Cusco.
In this post, you will find 15 pieces of information you need to know before crossing Rainbow Mountain off your bucket list.
---
Plan the perfect trip to Peru:
Find the perfect hotel on Booking.com
If you'd like to go on a tour, check out the best tours to take in Peru
💵 Want to travel for free? Discover 16 ways to do it in this e-book
🎒 Pack a universal travel adapter, your favorite travel camera (I love this one!), and a good portable solar phone charger
Follow me on Instagram for more travel tips
1- Where is it located
Rainbow Mountain is located in the heart of the Peruvian Andes, right on the road to the Ausangate mountain and quite close to Cusco.
2- That the tours to Rainbow Mountain always leave from Cusco
A lot of people wonder if Rainbow Mountain is located near Machu Picchu and the answer is: not really, but both have Cusco as a starting point on almost every tour.
3- The best time to go
Choosing when to go to Rainbow Mountain normally depends on whether there will be more or less probability of rain.
The dry season in Cusco lasts from May to November, while the rainy season occurs from December to April.
I hiked the mountain on a beautiful day in July. The sky was clear and the sun was out – but hey, it was freezing!
4- Why it is so colorful
There is a simple explanation as to why Rainbow Mountain is so colorful:
The pretty colors you can see in Rainbow Mountain come from the exposure and erosion of sedimentary mineral layers formed from centuries of tectonic shifts and volcanic activity.
5- That you really should prepare for the altitude
Rainbow Mountain has an elevation of 5,200 meters – almost the same height as Everest Base Camp.
Therefore, spending a day or two in Cusco adjusting to the altitude before attempting this hike is very important!
You should also consider taking soroche pills or chewing coca leaves before leaving Cusco.
6- There are three ways to get to Rainbow Mountain
Hiring a taxi: You can hire a private taxi to take you to and from Vinicunca. This is the most expensive option because you will have to pay for the taxi to wait for you for the whole day.
Driving: Yes, it is possible to drive to Rainbow Mountain. If you choose to do it, search for "Rainbow Mountain Pitumarca Trail Parking" in Google, that's the best place to park.
Group tours: The easiest, safest and cheapest way to visit Vinicunca is by going on a full-day tour.
7- Breakfast and lunch are included
The tours to Rainbow Mountain usually include pick up from/to your hotel, meals, and a travel guide.
8- There is no need to book in advance
Depending on when you are planning to travel to Peru, there is no need to book the Rainbow Mountain tour in advance and u ou can do it once you arrive in Cusco.
However, if you prefer to book early, you can do that here.
9- What to bring
When hiking Machu Picchu, make sure to wear good and comfortable shoes, a bottle of water, and energy-powered snacks like chocolate.
10- It can get super cold
As you will be starting your day very early, make sure to bring a good jacket to protect you from the cold and the wind.
It is also a good idea to dress in layers so you can adapt to the temperature during the day.
11- That the hike is not as easy as it may seem
I'm going to be very honest here: hiking Rainbow Mountain is one of the hardest things I have ever done!
The hike itself isn't bad, what got to me was the altitude. I didn't acclimatize correctly (because I had done Machu Picchu the day before) and felt like I couldn't breathe the whole time.
Thankfully, my guide was super kind and patient and walked by my side the entire time, trying to distract me from the way I was feeling until I finally got to the top.
12- There is an alternative to Rainbow Mountain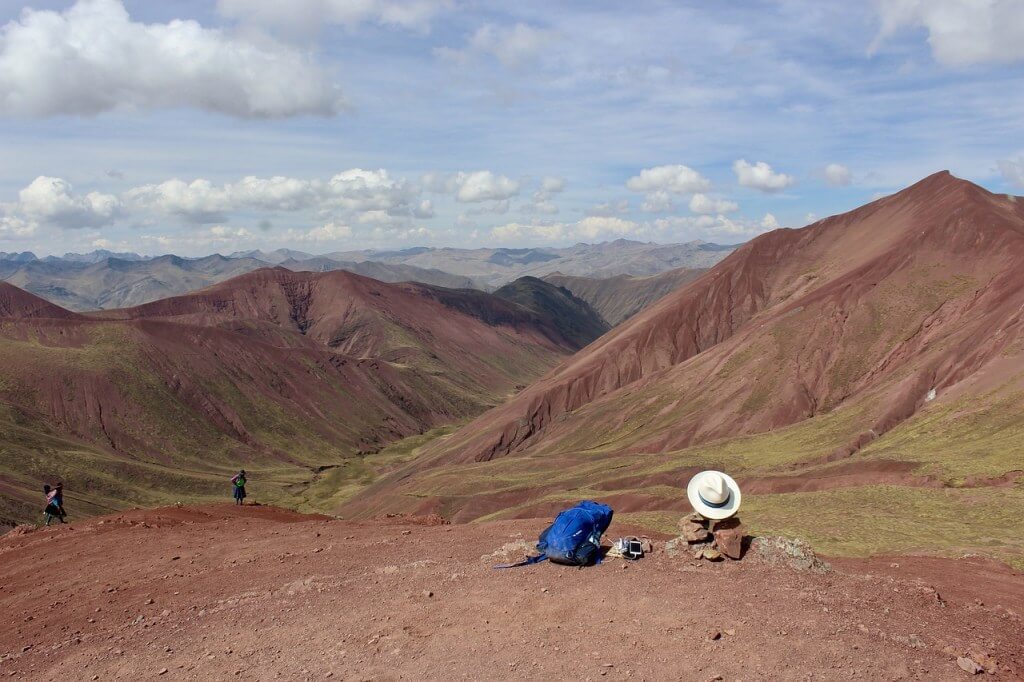 Since Rainbow Mountain has become so popular in the last few years, tourists have also started to visit Palcoyo, an alternative to Vinicunca that is far less crowded.
You can book a tour to Palcoyo here.
13- It doesn't look like in Instagram
Before you go, I think it's important to know what Rainbow Mountain really looks like to avoid any disappointment.
On Instagram, it is easy to find pictures of Rainbow Mountain with very strong, vibrant, and overly saturated colors, but in reality, the mountain doesn't really look like that.
41- It is so worth it
Yes, even though it's hard, hiking Rainbow Mountain is indeed worth it.
The views are absolutely breathtaking, and there is nothing quite like that feeling when you finally get to the top and see all the colors of the mountain face to face.
Tips for Hiking Rainbow Mountain
Wear warm trekking boots to protect your feet.
Take some coca leaves with you to prevent altitude sickness
Light snacks, like chocolate, are a good idea too.
Take a 2-liter bottle of water in your backpack. The weight will get lighter as you drink it.
Dress in layers. It's going to be cold in the morning, but it might get warmer later.
---
That's a wrap! I really hope you love these tips on hiking Rainbow Mountain. I am sure you will have a great time!