/
Last Updated November 11th, 2023
A Guide to Visiting the Huaca Pucllana Pyramid in Peru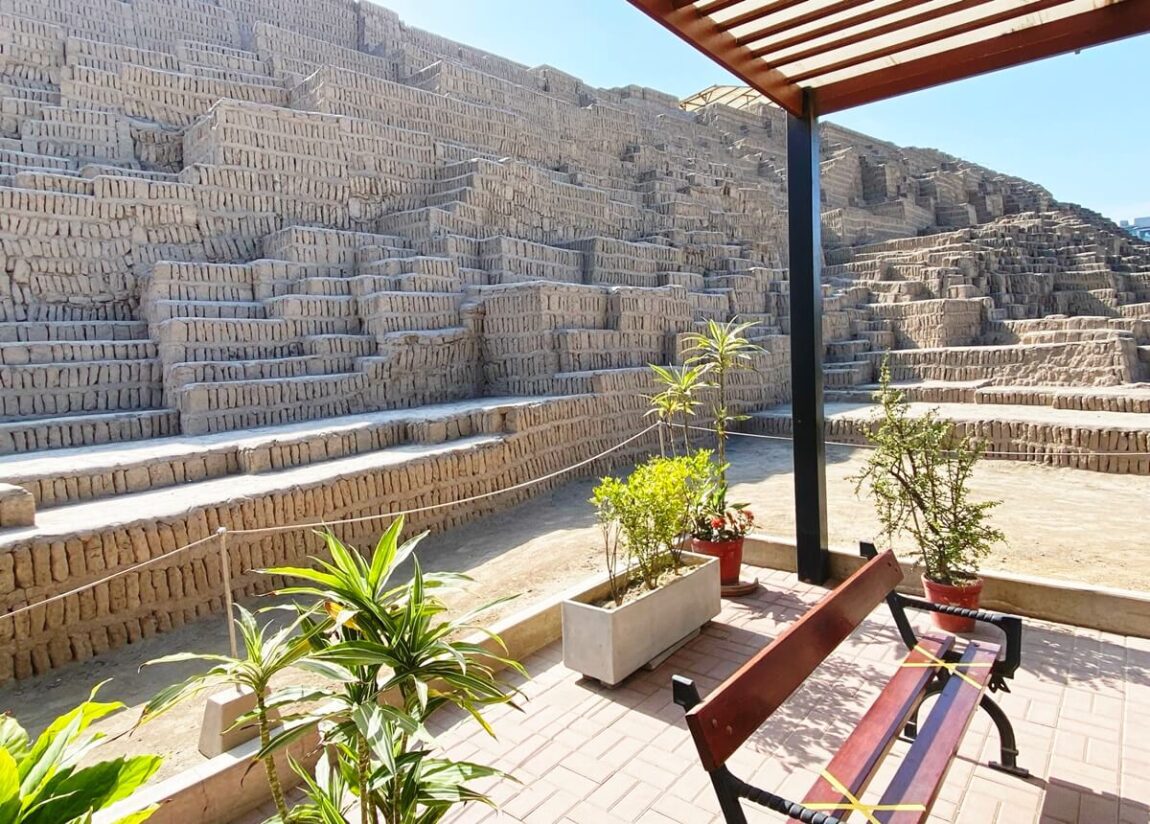 Planning a trip to Lima? Then you absolutely should add the Huaca Pucllana pyramid to your itinerary.
Exploring this wonderful archeological site was for sure one of the highlights of my visit to Peru's capital, and I recommend it to anyone who, like me, loves exploring unique places with hundreds and hundreds of years of history.
Pyramids in Peru are quite an unusual thing, and in my opinion, that makes Huaca Pucllana even more fascinating.
In this post, you will find everything you need to know about visiting Huaca Pucllana.
---
Plan your Perfect trip to Peru
🏨 Find the perfect hotel on Booking.com
🎫 If you'd like to go on a fun tour, check out the best tours to take in Peru
🎒 Pack a universal travel adapter, your favorite travel camera (We love this one!), and a good portable solar phone charger
Follow me on Instagram for more travel tips
Disclosure: Some links on this page are affiliate links. That means that at no extra cost to you, I earn a small commission if you book through these links, which helps me keep this blog running. Enjoy!
What is Huaca Pucllana
Among all the incredible Inca ruins found in Peru is Huaca Pucllana, a pre-Inca pyramid.
This pyramid and ancient archaeological site is located in the Miraflores District of Lima, Peru, and has incredible historical importance.
Also, it's not too far from the city center either and quite easy to get to, making it a perfect stop in any Lima itinerary.
The pyramid has seven staggering levels and is made of adobe and clay. The name Huaca Pucllana means a sacred place where games were played. Huaca comes from the Quechua word wak'a, which means "sacredness" or "holiness, while Pucllana means game.
---
The (brief) history of Huaca Pucllana
Huaca Pucllana was built between the years of 300's and 700's by the Lima Culture, a society that developed in Peru between the years of 200 AD and 700 AD.
For its construction, they used a method called the library technique, where adobe bricks were placed vertically next to each other, as they were books in a library.
During their occupancy, the Lima's used Huaca Pucllana as an important ceremonial and administrative center
A few years later, after the Lima's moved away from Huaca Pucllana for unknown reasons, the pyramid was then occupied by the Wari people, who used it as a tomb for some of the most influential people in their culture. Many remains from the Wari Culture were fund in the pyramid.
Huaca Pucllana was only discovered as we know it in 1967 and is one of the few pyramids in Peru. Even today, half of the pyramid, made of adobe and clay, is still in the process of being fully excavated.
Before the discovery of the archeological site, nobody knew it was there, and the population of Lima thought it was just a random hill in the middle of Miraflores. Isn't that crazy?
The contrast between the modern building that surround Huaca Pucllana makes it an even more unbeliaveble place.
---
How to get to Huaca Pucllana
The best way to get to the Huaca Pucllana ruins is by taking a taxi, Uber, or walking if you are staying in Miraflores.
The entry to the archeological site is located on the left of the Huaca Pucllana Restaurant and is indicated by a big sign, you can't miss it!
---
Hours of operation and cost of visiting Huaca Pucllana
Nowadays, Huaca Pucllana is open from 9 am to 15:30 every day except Sundays and Tuesdays, when the archeological site remains closed.
The general entry ticket costs 15 soles and includes a guided tour of the pyramid and its surroundings.
---
Taking a tour of Huaca Pucllana
The best – and only – way of exploring Huaca Pucllana is by taking a tour. Reservations are required and can be made on their official website.
The tours usually happen every half an hour and have about one hour of duration.
My guide, Bianca, was absolutely amazing! She was very knowledgeable and made sure everybody had a great time.
---
The Huacca Pucllana Restaurant
Today, besides the pyramid, the Huaca Pucllana complex includes an area for workshops, a souvenir shop, and the Huaca Pucllana restaurant, where you can grab lunch overlooking the ruins for an even more complete experience.
The Huaca Pucllana Restaurant is a sophisticated place specialized in traditional Peruvian Cuisine.
Make sure to try their Lomo Saltado, Ceviche and Suspiro de Limena.
You can find the menu of the Huaca Pucllana Restaurant here.
---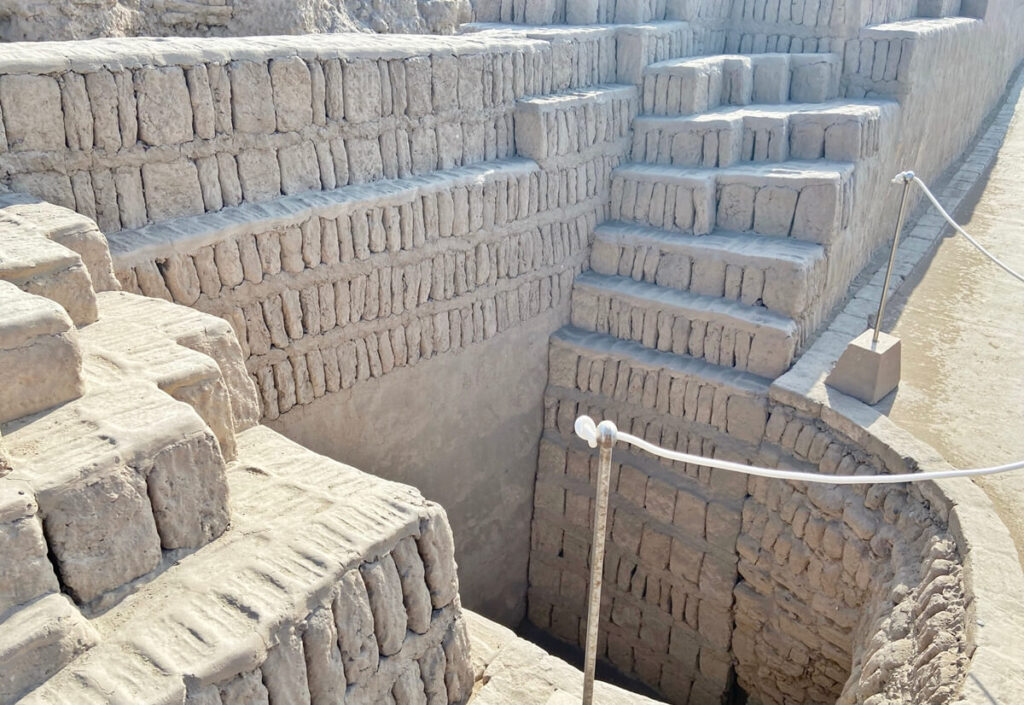 Helpful travel tips for visiting Huaca Pucllana
The entry fee for the archaeological site can be paid with soles, dollars, and credit cards.
Wear comfortable clothes and shoes during your exploration of the ruins.
There are bathrooms available near the site's entrance.
If you visit on a sunny day, make sure to use sunscreen and wear sunglasses and a hat to protect yourself from the sun.
Call ahead if your group has more than 10 people
---
Where to stay in Miraflores, Lima
Miraflores is, for sure, the best place to stay in Lima. It's beautiful, safe, and there are many great hotels in the area. Here are some travel tips for exploring Huaca Pucllana:
The area where Huaca Pucllana is located is known as Miraflores Centro. I would definitely recommend staying here because it allows you to enjoy all that Miraflores has to offer and walk just 10 minutes away from the Huaca Pucllana complex.
Personally, I stayed at Ayenda Patio Miraflores and had a lovely stay. They had great rooms, a delicious breakfast, and the hotel was overall very cozy. You can check their rates here.
---
Best time to visit Lima
Lima is a year-round destination, but it is important to keep in mind that the warmest months are January and February—though, given the city's location on the Pacific coast, even these two months tend to be cloudier than you might expect.
July is typically the driest month of the year.
---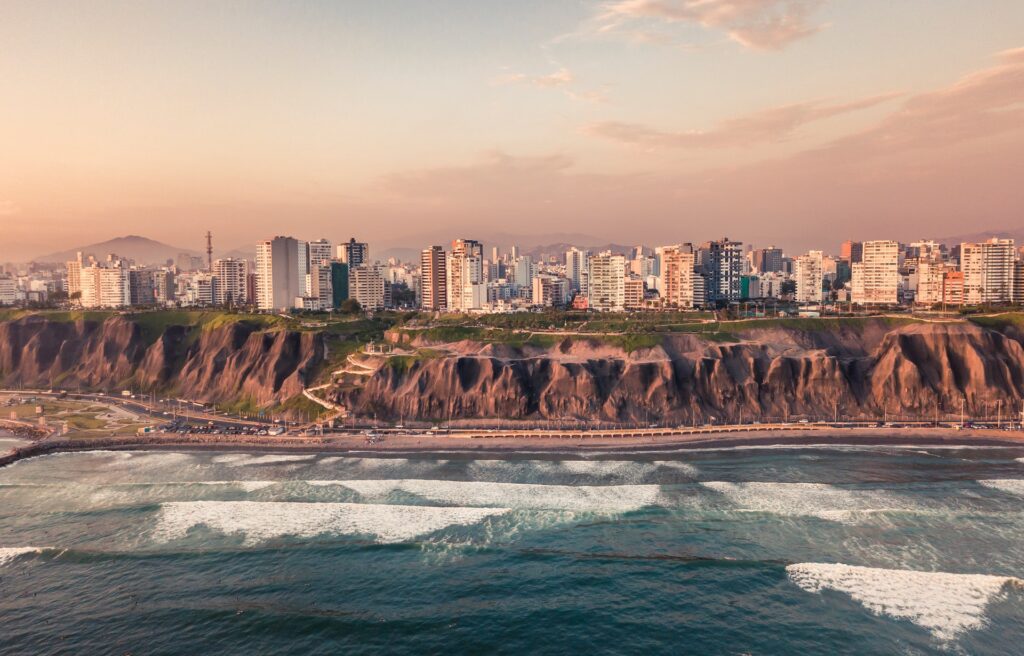 Other fun things to do in Lima
You have already visited the Huaca Pucllana ruins and have some spare time to explore Lima? That's great!
Here are some activities you might enjoy in the city:
Go on a walking tour
Get acquainted with the rich regal history of Lima on an educational sightseeing tour of the Peruvian capital.
Alongside a knowledgeable guide, delve into the ambient tangle of Lima's historical center; gaze at the fabulous façade of the Presidential Palace; descend to the eerie catacombs of San Francisco Monastery, and admire the ancient Dominicans Tower.
Enrich your knowledge of Lima's fascinating past on this enriching excursion.
See the Plaza de Armas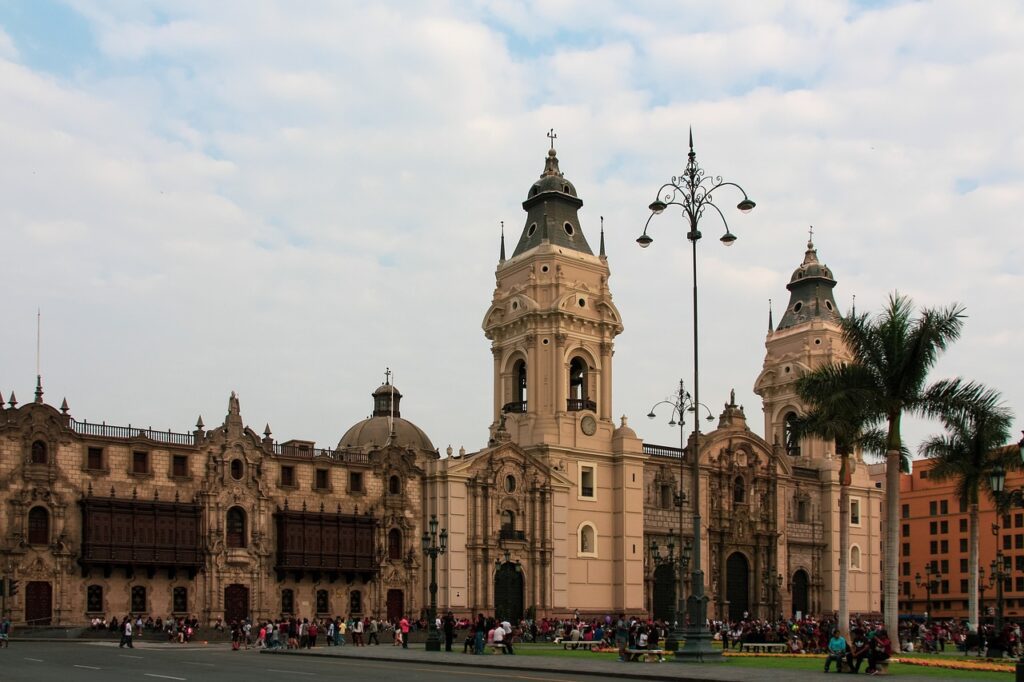 The Plaza de Armas is the very center of Lima. It is home to the buildings of the Lima Cathedral, the Government Palace (Palacio de Gobierno de la República del Perú), and many other important monuments.
Also, the Plaza de Armas is home to many restaurants, cafes, and shops.
Visit Parque del Amor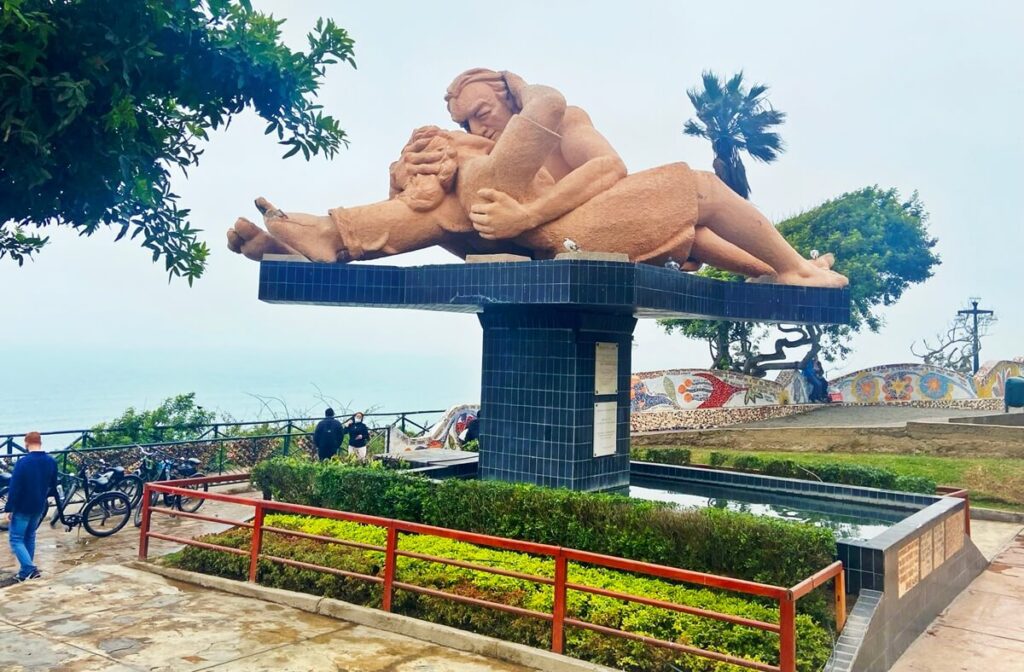 Parque del Amor is another wonderful place to visit in Lima.
This place is famous for its views of the city and the ocean. It is also famous for its monument, which represents unbreakable love.
Take an Ultimate Peruvian Food Tour around Lima
Lima's bohemian Barranco neighborhood has a thriving food scene but, for visitors, it can be difficult to choose which venues to visit.
Take the guesswork out of your trip on this small-group walking food tour that takes you to the area's best restaurants and shops to sample a plethora of Peruvian foods and drinks.
Visit the Sea Lions in Palomino Islands, near Lima
Calling all nature lovers, this tour allows you to swim alongside wild sea lions in their natural environment. Departing Lima, travel by boat to the Guanera Islands (Islas Guaneras), home to Humboldt penguins, guano birds, and sea lions.
Plunge into the water to enjoy a supervised swim with the marine mammals before admiring rock formations and other wildlife on your return journey. Refreshments are included.
Walk along Parque Kennedy
Parque Kennedy is a small and beautiful park located in Miraflores.
It is a great place to go for a walk and take some pictures. Also, the park is home to many adorable cats!
Take a peruvian cooking class
During this Lima cooking class, get hands-on experience preparing some of Peru's most iconic dishes and shopping at a local market.
First, stop by the market to pick out fresh meat and produce, discovering Peruvian cuisine's incredible diversity of ingredients.
Then head to the kitchen, choosing to prepare a choice of fish, chicken, beef, or vegetarian dish like 'Ceviche' or 'Lomo Saltado,' learning the necessary steps in a fun, relaxed atmosphere. Your cooking excursion also includes round-trip hotel transport (for most areas of Lima), professional chef instructor, snacks, and either lunch or dinner.
Explore the Marcahuasi stone forest
Visitors often overlook the Marcahuasi stone forest, but this mystical site shouldn't be missed by anyone with an interest in nature or history—and this private guided tour will show you why.
Discover monolithic stone forms, unobstructed vista points, and tucked-away attractions far from any crowds as you explore off the beaten path and delve into Peruvian lore.
See the street art
Lima has a powerful street art scene. There are many different artists, and you can find amazing art in most parts of the city.
Keep an eye out, especially for the beautiful murals painted on the buildings in Miraflores.
Go on a two-day trip to the Huacachina Oasis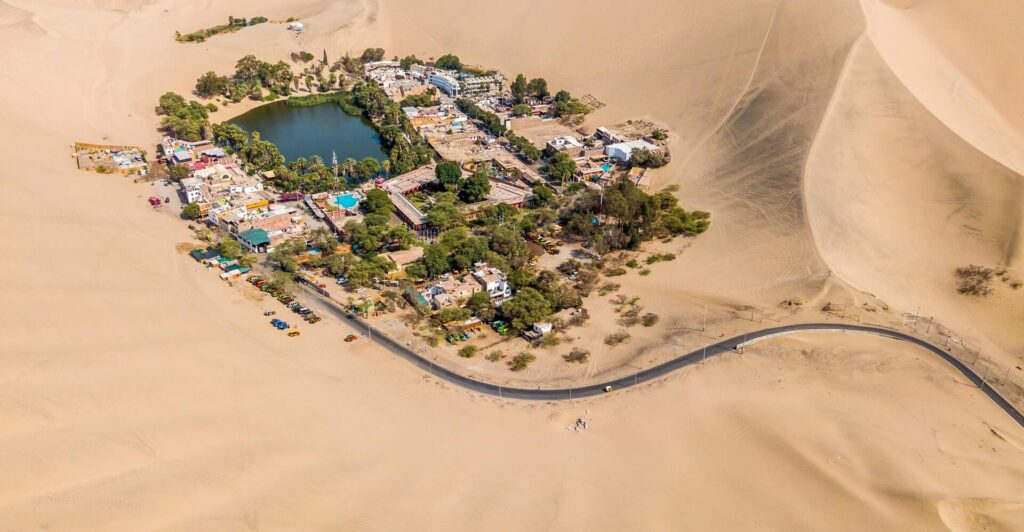 Huacachina Oasis is a desert oasis located near the city of Ica. This place truly has a magical feel to it, and you will love the beautiful surroundings.
From Lima, two days are more than enough to experience everything Huacachina has to offer.
---
Wrap-up: How to visit Huaca Pucllana in Peru
That's a wrap! Now you know everything you need to have a great time visiting Huaca Pucllana, an incredible ancient pyramid in Peru.
As I previously mentioned, I was totally surprised by this place. I really hope you fall in love with it as much as I did!
For more travel tips, you can follow me on Instagram.
---