/
Last Updated November 12th, 2023
15 Exciting Tours To Take In Puerto Rico
Puerto Rico is an island in the Caribbean Sea, east of the Dominican Republic and west of both the U.S. Virgin Islands and the British Virgin Islands.
It's known for its white-sand beaches, tropical climate, lush vegetation, historic landmarks like El Morro Castle and San Cristobal Fortresses, vibrant nightlife scene, and rich culture that includes music such as salsa dance rhythms, reggaeton, and bomba y plena.
In this guide, you will read about all the amazing tours to take in Puerto Rico.
---
Disclosure: Some links on this page are affiliate links. That means that at no extra cost to you, I earn a small commission if you book through these links, which helps me keep this blog running. Enjoy!
Why take a tour in Puerto Rico
Whether it's exploring the rainforest or going on a snorkeling adventure, there are so many tours available to explore the natural beauty of this island paradise!
Taking a tour is the best way to see this beautiful island because you'll also have a much easier time getting around with the help of a tour guide that knows all the best spots for sightseeing, shopping, good food, entertainment, and other fun activities.
You can visit Old San Juan or go on a day trip to Culebra Island, where you can snorkel among beautiful coral reefs or hike through rainforest trails.
Or maybe you want to see some amazing wildlife up close? You can take a tour deep into El Yunque National Forest, where there are waterfalls all over the place!
And if that isn't enough excitement for one vacation in this post, we have plenty more options, including kayaking in bioluminescent waters at night time.
---
The best companies to book tours in Puerto Rico
Viator and Get Your Guide are always my go-to for booking tours abroad.
The two of them have amazing tours all over the world, great prices, and a reliable cancelation policy.
---
Finding a place to stay in San Juan
Before we dive into the best excursions in Puerto Rico, I would like to share some of our favorite hotel recommendations in San Juan.
---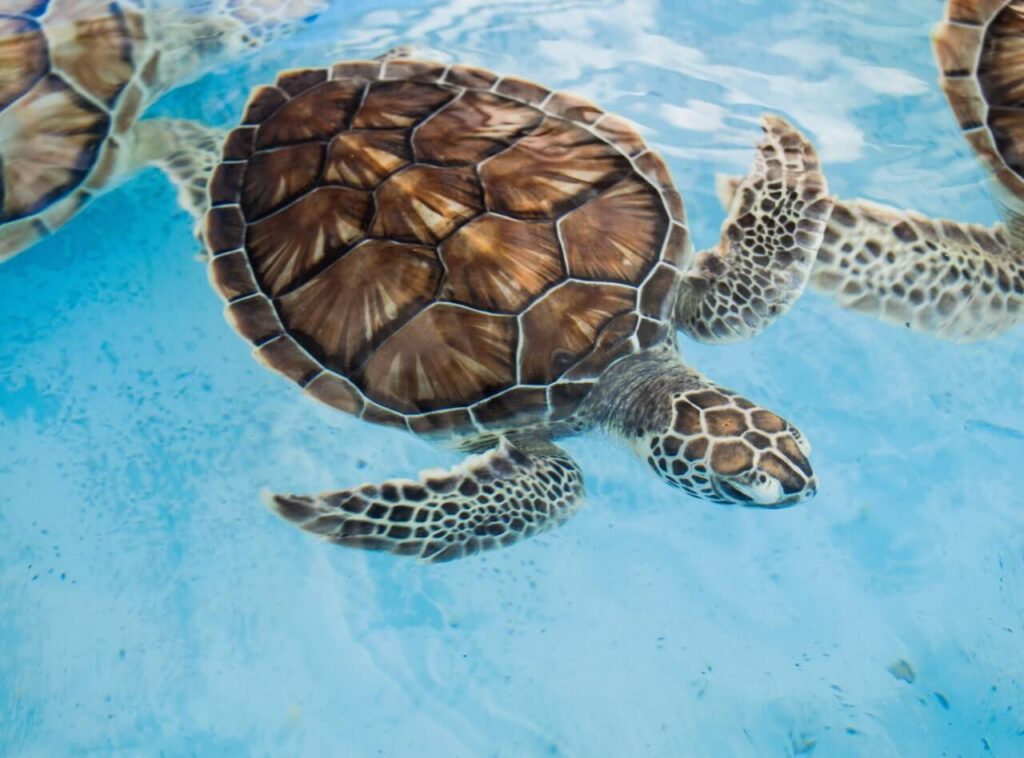 The best tours in Puerto Rico
Now that we have covered accommodation, here are, without further ado, the best Puerto Rico tours to take this year.
| Name | Duration | Book now |
| --- | --- | --- |
| Culebra Day Trip by Catamaran from Fajardo | 5 hours and a half | See prices |
| LED Night Kayak - Condado Lagoon - Guided Excursion | 1 hour | See prices |
| San Juan Guided Snorkel Tour | 2 hours | See prices |
| Atv Single Adventure Hacienda Campo Rico | 2 hours | See prices |
| Jet Ski Tour from Isla Verde | 1 hour and a half | See prices |
| El Yunque Rainforest, Waterslide, Beach, Dine and Shop Adventure with transport | 6 to 8 hours | See prices |
| From Fajardo: Icacos Deserted Island Catamaran & Picnic Cruise | 5 hours and a half | See prices |
| El Yunque Rainforest Guided Hiking with Waterfall Tour | 8 hours | See prices |
| Flavors of Old San Juan Food Tour | 3 hours | See prices |
| Sunset Harbor Boat Ride in San Juan | 1 hour 30 minutes | See prices |
| Horseback Riding On Secluded Beaches and Tropical Forests | 2 hours | See prices |
| Old San Juan Walking Tour | 2 hours | See prices |
| Bio Bay Kayak Tour in Fajardo | 2 hours | See prices |
| San Juan Bay Day Sail | 1 hour 30 minutes | See prices |
| Salsa Dance Class in San Juan | 1 hour | See prices |
Keep reading for the individual description of each tour.
Culebra Day Trip by Catamaran from Fajardo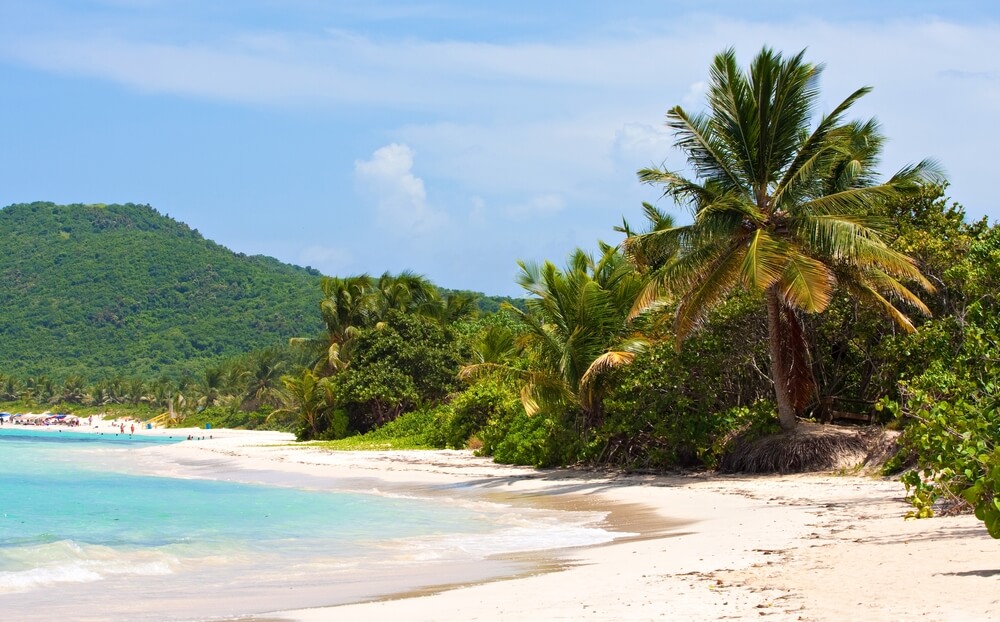 Cruise by high-speed catamaran to Culebra from Fajardo for a fun-filled day trip swimming, beachcombing, and sunbathing on this island paradise.
Spend your morning exploring the fascinating undersea creatures that populate the island's coral reefs before enjoying a buffet lunch complete with rum punch and piña colada refreshments.
Then take the afternoon to relax and swim on the area's perfect sugar-sand beaches, including Playa Flamenco and nearby Culebrita.
LED Night Kayak in Condado Lagoon
Paddle through Condado Lagoon at night in a kayak lit up by LED lights.
Enjoy views of the city lit up for the night, as well as views under the water through the clear-bottom kayaks lit up by the LEDs.
This unusual experience is led by a guide who will provide all navigation and narrative as you paddle and get nighttime views of active marine animals such as lobsters, stingrays, and giant starfish.
San Juan Guided Snorkel Tour
Explore the underwater world of Puerto Rico on a guided snorkeling adventure.
Receive a lesson from a professional diver and enjoy a hassle-free outing with all the equipment you need, then swim through the tropical waters off Guaynabo and see brilliantly colored tropical fish, sea turtles, and other marine creatures.
Afterward, revisit your experience with a GoPro video of your snorkeling excursion included in the tour price.
Atv Single Adventure in Hacienda Campo Rico
Hop on an ATV "Ride of a Lifetime."
Share fun with family and friends on 4X4 machines, feel the power beneath you as you track through different trails in this hidden paradise.
Experienced guides will take you through 2,200 acres of land, where you will enjoy views of mountains, mangroves, lagoons, limestone formations, and wildlife roaming freely.
Learn the history of the Puerto Rican countryside and the plants and animals that inhabit it during the short narrated breaks on your adventure.
Jet Ski Tour from Isla Verde
Explore the Isla Verde coast and the mangrove canals of the San Jose Lagoon area during this 90-minute jet ski tour.
El Yunque Rainforest, Waterslide, Beach, Dine and Shop Adventure
Explore El Yunque and Luquillo like a local!
Rather than watching through the tour bus window, see, smell, hear, touch, and taste what makes Puerto Rico the enchanted island!
When entering El Yunque, you will venture on a moderate walk through the lush canopy and natural landscape!
Making our way to the calm waters of La Barrigona, you will be able to jump in for a swim or relax and take in the unprecedented scenery that makes El Yunque a natural treasure.
Experience a beautiful waterfall and natural waterslide coveted as a hidden gem by those who call the island home. Enjoy a refreshing slide or the show from afar; this is suitable for all comfort levels.
Icacos Deserted Island Catamaran and Picnic Cruise
Get a taste of island life during this full-day catamaran cruise where you get to explore the tropical isle of Icacos and the area's fantastic marine life, then stroll the deserted beaches of a protected island for some shell hunting and sunbathing.
El Yunque Rainforest Guided Hiking with Waterfall Tour
Hike through Puerto Rico's lush El Yunque Rainforest, observe local wildlife, and take a dip in one of the park's pristine waterfalls.
Journey through the varied micro-climates and vegetation zones of this unique natural area. Hike through the jungle, learning about the plants and animals that inhabit the area and passing by a series of waterfalls, stopping to cool off with a swim.
Flavors of Old San Juan Food Tour
Get a taste for the flavor and culture of Puerto Rico on this small-group Old San Juan food tour featuring several local eateries.
Join your guide for a culinary exploration of island staples like plantains and sofrito, all with the cobblestone streets and colorful facades of the city's oldest neighborhood as your backdrop. Your tour includes an alcoholic beverage or non-alcoholic substitute if you prefer.
Sunset Harbor Boat Ride in San Juan
Enjoy a new perspective on Old San Juan—and soak up Caribbean breezes and sunset views—aboard this evening boat tour.
Following pickup at select local hotels, hop aboard the boat and find a comfortable seat on the deck. Then, spy highlights like Paseo De La Princesa, La Fortaleza, the San Juan City Walls, and more, all while the sun goes down.
Horseback Riding On Secluded Beaches and Tropical Forests
Horseback riding along secluded beaches and crystal blue waters in the Caribbean is everyone's dream.
Explore native wildlife in both tropical and almond forests – Whale watching December to April!
Old San Juan Walking Tour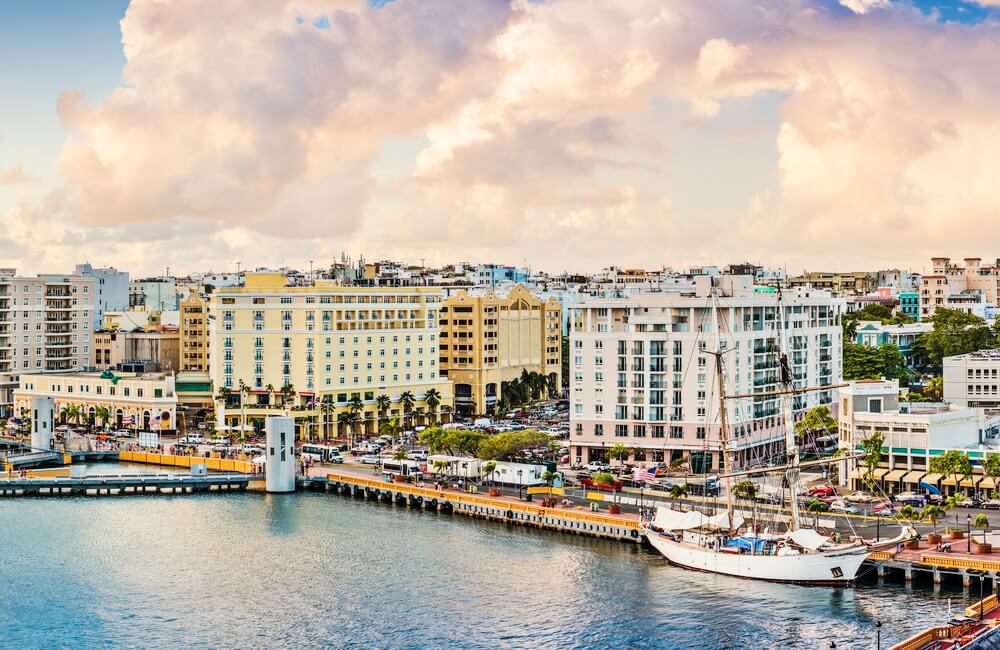 Explore the colorful buildings and charming streets of Old San Juan in a small group with the help of writer David Rodriguez, author of 'The Rise and Fall of the Great Barbate.'
During the course of your day, the knowledgeable author helps you discover the area's key historic sites and gain new insight into Puerto Rican culture.
It's a great opportunity to learn about the many stories of the people who helped define this unique neighborhood.
Bio Bay Kayak Tour in Fajardo
Paddle through the beautiful bioluminescent bay near Fajardo on this kayak tour.
Traverse the extensive mangrove forests with your marine biologist tour guide and learn about the science behind this natural phenomenon that occurs in Laguna Grande.
See the lights twinkle below the water as you paddle along and admire the beautiful coastal scenery at dusk before heading back to the starting point.
San Juan Bay Day Sail
Set sail across the Caribbean on this 1.5-hour cruise from San Juan and enjoy unforgettable views of the Puerto Rican capital.
Hop aboard a traditional sailboat and sip complimentary drinks as you cruise along the coast. Keep your camera to hand as you pass landmarks like San Juan Bay Marina and El Morro Fort and spot dolphins and sea turtles swimming and playing around the boat.
Salsa Dance Class in San Juan
Learn about the essential Puerto Rican art of Salsa dancing during this 1-hour class in San Juan. Suitable for both beginners and those looking to polish their skills, this class will let you understand Puerto Rican culture's musical and rhythmic soul.
---
Travel tips you should know
Here are some travel tips that will make your life easier in Puerto Rico.
Currency
The currency in Puerto Rico is the United States dollar, so bring your credit cards and ATM card.
If you can, speak Spanish
Even though Puerto Rico has English and Spanish as its official languages, Spanish speakers are dominant.
If you don't speak Spanish, make sure at least to learn how to say "Hello" (Hola), "Goodbye" (Adios), "Thank You" (Gracias), and numbers 1-10.
The legal drinking age in Puerto Rico is eighteen
That's right, in Puerto Rico, people are allowed to buy and consume alcohol at eighteen, so bring your ID.
If you are staying in San Juan, there is no need to rent a car
Taking taxis and Uber is the best way to get around San Juan. However, if you feel like exploring other island regions, renting a car is the way to go.
Us Citizens don't need a passport
What makes visiting Puerto Rico from the United States so convenient is that US residents don't need a passport; they only need their valid I.D.
If you are visiting Puerto Rico from any other country besides the United States, make sure to have a valid passport with at least six months before the expiration date.
---
What to pack for Puerto Rico
Puerto Rico is a popular and diverse tourist destination.
The climate there varies greatly, from the humid tropical heat of summer to the dry chilly air in the winter months.
As such, visitors should consult local weather forecasts before they make their packing lists for the trip. It all depends on what you plan to do while (or if) you're visiting this beautiful island!
You can expect warm temperatures regardless of what time of year it is. Still, generally speaking, it's advisable to pack lightweight clothing for Puerto Rico travel no matter when you go.
Think light, breathable fabrics; shorts; tank tops; sundresses; flip-flops. You get the picture!
Remember to take:
Tennis shoes and sandals
Comfortable clothing for water activities
Scuba gear (if you plan to do any diving)
---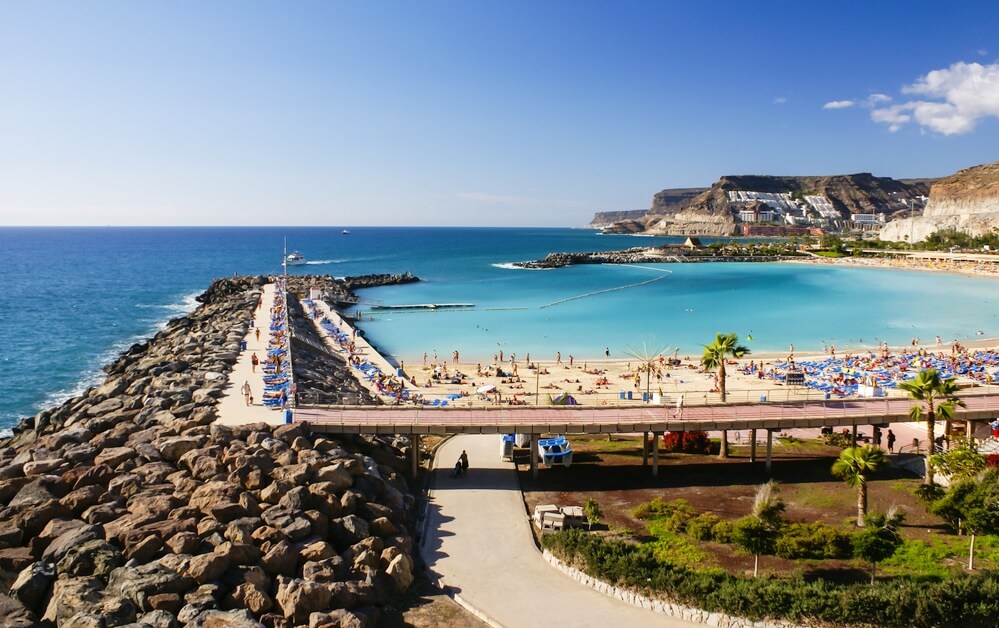 Fun facts about Puerto Rico
Last but not least, here is a little list of Puerto Rico fun facts that will make your trip even more interesting!
The island's national animal is the small coqui tree frog
It has more than 270 miles of beaches
Puerto Rico is a commonwealth governed by the United States
There are only five bioluminescent bays in the world, and three of them are in Puerto Rico
---
Wrap-up: The best tours to take in Puerto Rico
That's a wrap! I really hope you enjoyed this guide of the best tours in Puerto Rico. All of them are definitely worth looking into when planning your trip to Puerto Rico.
For more travel tips, make sure to follow me on Instagram.
---