/
Last Updated November 12th, 2023
What to Do in New York at Night: 28 Fun Ideas
New York is commonly known as the city that never sleeps. And for a good reason!
From the bustling streets of Broadway and Times Square to the iconic sights of Central Park, there's always something new to do in New York City at night.
Being one of the most vibrant cities on the planet, the Big Apple gets even better after dark when tourists from around the world come out to have some fun.
Are you looking for a memorable night out in New York City? Well, you have come to the right place.
In this guide, you will find 30 exciting ideas of ways to spend your nights in New York.
---
Disclosure: Some links on this page are affiliate links. That means that I earn a small commission if you book through these links at no extra cost to you.
28 Best things to do in New York at night
New York City is one of the most vibrant and exciting in the world. It's packed with things to do, places to see, and people to meet.
While you might know about all the tourist attractions to visit during daytime hours, we're here to tell you about a few other hot spots which only open their doors after sunset.
So what is there left to do in New York City at night? Plenty! There's never a shortage of fun events going on every night of the week.
Here are, without further ado, the best things to do at night in New York City:
1- See a Broadway Show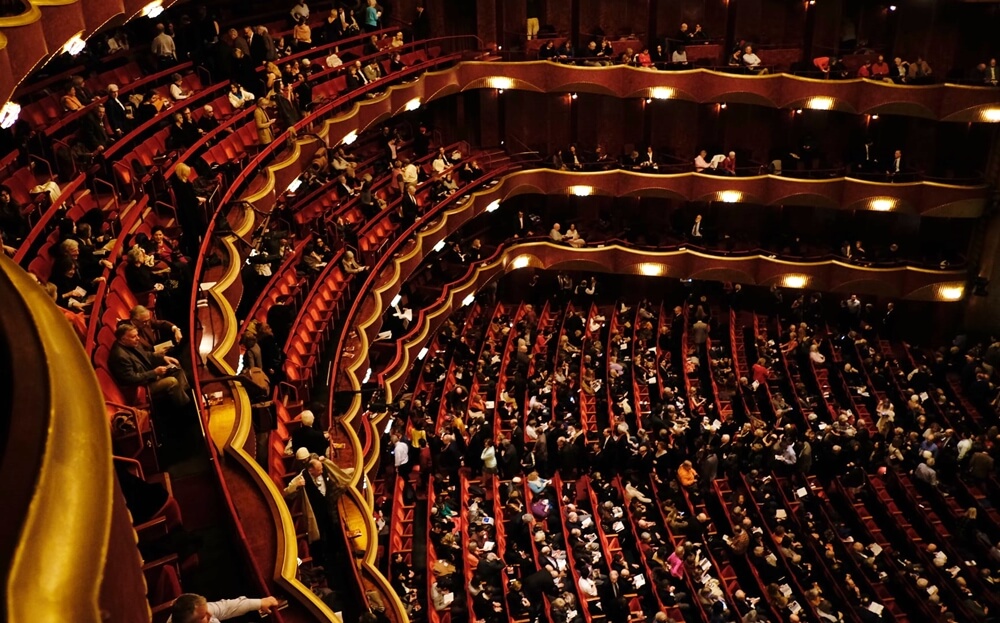 Broadway shows are timeless, and seeing one will definitely be an unforgettable experience.
From the production to the music and costumes, Broadway plays in New York City boast some of the most spectacular sets that you can only find in this city.
The best thing about going to a show at 8 p.m.? You don't have to deal with all the hustle and bustle of a crowded evening commute!
Plus, there's nothing quite like seeing a performance from inside a theater—you'll feel like you're truly experiencing art in its finest form.
I have seen The Phantom of The Opera, Anastasia and Mamma Mia on Broadway, and they were all SO good!
Pro-tip: Head on over to TKTS for discounted tickets to your favorite Broadway play
2- Visit Luna Park in Coney Island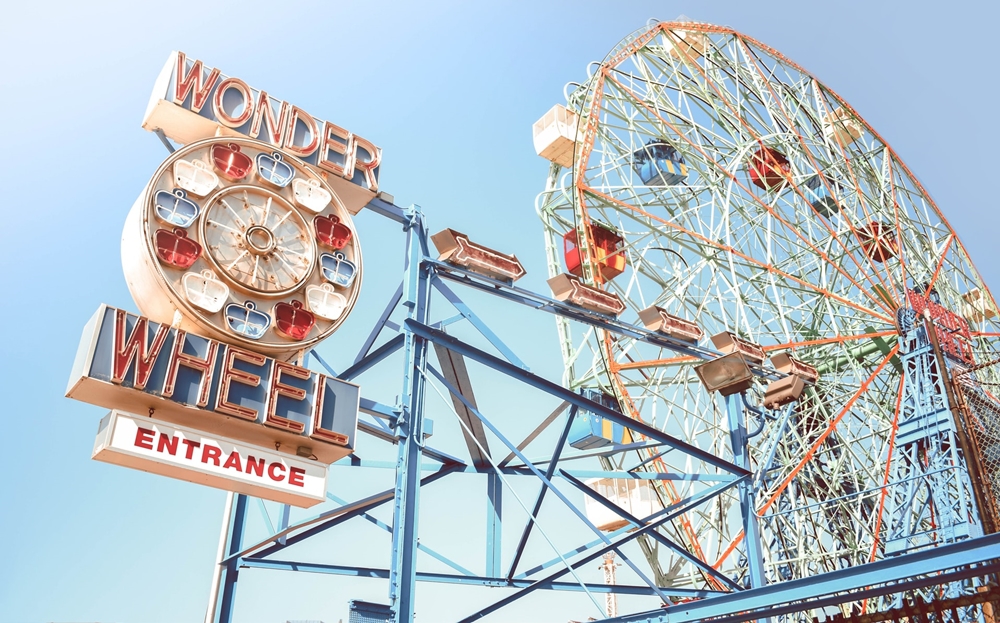 What about visiting a theme park at night? On Saturdays, Luna Park in Coney Island is open until 10 pm.
Coney Island is well known for its thrilling rollercoasters, fun carnival games, and delicious food.
But the amusement park really heats up at night when visitors ride the bumper cars or go on a coaster until they see stars.
3- See the NY Philarmonic
If you enjoy classical music, why not try to catch a concert of the NY Philarmonic while you are in the city?
This orchestra has been entertaining people with piano concerts and symphonies for decades.
While the tickets can be a little pricey, they are worth it since we are talking about watching one of the most renowned orchestras in the world.
You can check this year's agenda here.
4- Have a drink on a glamorous rooftop
Manhattan is home to some of the coolest rooftop bars in the world.
Each one has its own unique style and atmosphere, so you'll have a blast checking them all out at night.
The best thing about the NYC rooftops is the spectacular views they offer. It is not rare to find rooftops with views of The Empire State Building or the Brooklyn Bridge.
Some of the most popular ones are Harriet's Rooftop & Lounge, Le Bain, Magic Hour Rooftop Bar & Lounge, and Berry Park, but there are many many others.
5- Go on a dinner cruise
Dinner cruises are a great way to take in the beautiful skyline of New York City at night.
Sail along the Hudson or East River as you enjoy live jazz entertainment and dancing, a delicious 3-course meal, and take in all of those iconic sights.
You can book a NYC dinner cruise here.
6- Walk the Brooklyn Bridge
The Brooklyn Bridge connects the two boroughs of Manhattan and Brooklyn over the East River and is one of the most iconic landmarks of Manhattan.
You've seen Brooklyn Bridge in movies, but nothing compares to walking it yourself.
It's a romantic and fun way to spend an evening and experience the magic of New York City at night. Crossing the bridge without any stops takes about 30 minutes, but make sure to stop along the way to fully enjoy the moment.
7- Go on a NYC ghost tour
Feeling spooky? Then you'll love taking a NYC ghost tour at night.
You'll explore the historic and haunted parts of New York City as an expert storyteller tells you about some of the city's most terrifying legends and mysteries.
It makes for a great Halloween activity, but it's enjoyable all year round!
8- Party the night away at a nightclub
There are plenty of nightclubs in New York City where you can dance your heart out and let loose with some cocktails.
Keep in mind that some nightclubs in Manhattan have crazy huge lines and are very hard to get inside without connections. The dress code is also important.
You can read about the best nightclubs in New York here.
9- See the lights at Times Square
New York City is known for its bright lights, and Times Square is the center of it all.
Whether you go during the day or at night, this famous landmark has a magical quality that never gets old. However, it is at night that Times Square really comes alive.
Take in all of those beautiful billboards and neon colors as you make your way through one of the busiest parts of New York City.
Plus, there are plenty of fun attractions like Ripley's Believe It Or Not and Hershey's Chocolate World!
10- Watch "Shakespeare in the Park"
Every summer, the Public Theater produces free outdoor performances of Shakespeare plays, which take place in parks around New York City.
The plays often include really famous actors: past casts have included including Meryl Streep, Kevin Kline, Al Pacino, and Denzel Washington. Not bad, huh?
Free tickets are distributed via lottery a week before the show takes place.
If you're in NYC in the summer, this is one of the most magical free things to do at night.
11- Have dinner in an incredible restaurant
New York is one of the world's major cities and foodie destinations and, therefore, is a hub of incredible restaurants of all types.
Italian, Japanese, American, French… It doesn't matter which kind of food you love the most, because New York has them all. There are plenty of delicious restaurants in the city where you can enjoy a wonderful meal and take in stunning views.
Here are some of the best dinner restaurants in NYC.
12- Watch a concert at Madison Square Garden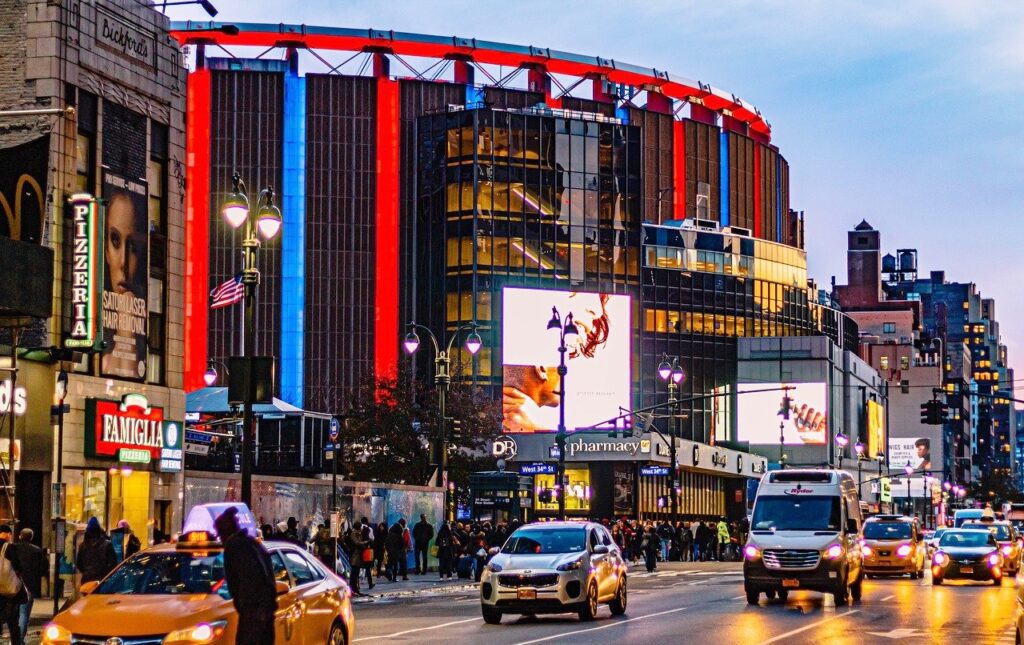 Madison Square Garden is one of the most famous arenas in the world.
From Beyonce to the Rolling Stones, all of your favorite artists have played at this historic venue. So why not catch a concert there on your next trip to New York?
You can check out the concert's schedule and see if your favorite artist is coming. It will for sure be an experience you will never forget!
You can read about all of Madison Square Garden's events here.
13- Get to the top of the Empire State Building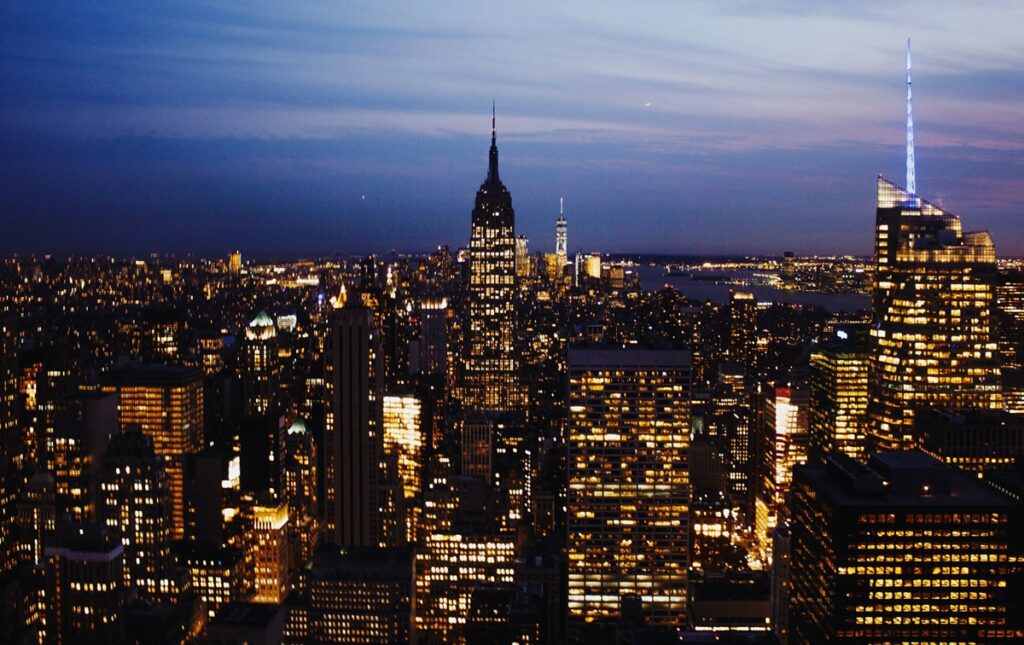 You can't go to New York City and not visit the Empire State Building. This is for sure one of the best things to do in Manhattan at night!
Whether you want to climb up the stairs or take an elevator, this iconic landmark is one of those things you just have to do at least once in your life.
The good thing is that the views from the top of the Empire States are even better at night.
Get skip-the-line tickets to the Empire state here.
14- Have a drink at one of the many great bars in New York City
Since you are in Manhattan, why not have a Cosmopolitan such as Carrie Bradshaw would?
There are countless bars in New York City where you can have some drinks, listen to great music and just have fun with your friends.
You can read about the best bars in New York City here.
15- See art at MOMA or the MET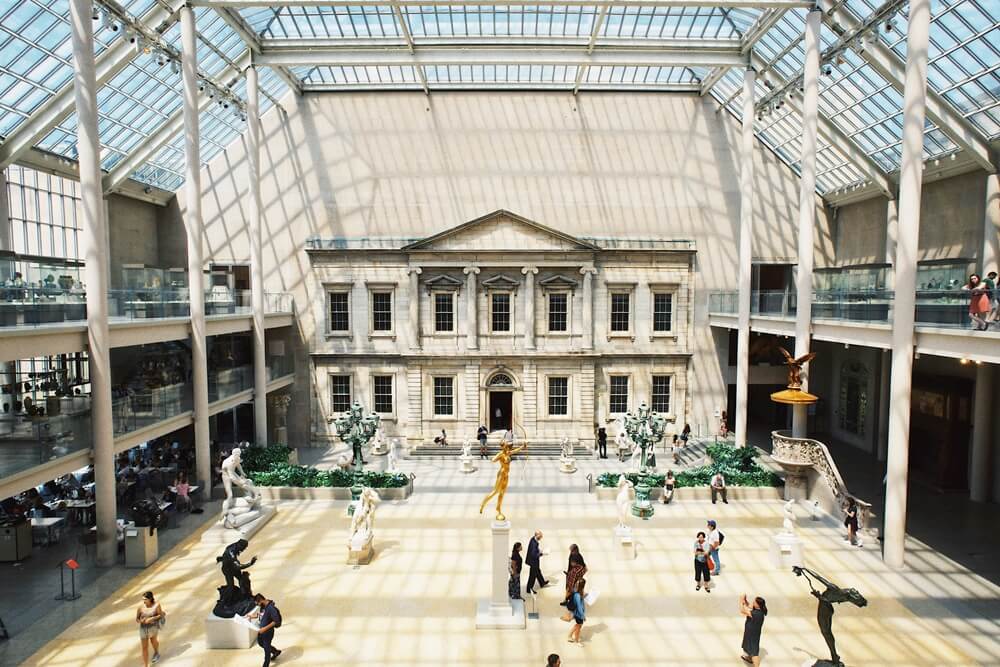 Have you ever visited an art museum at night time in New York? It is quite a fantastic experience.
The art museums in Manhattan are some of the most impressive in the world, and there are a number of new exhibitions on show all year round.
You can get to see in person paintings such as Van Gogh's Starry Night, Picasso's Les Demoiselles d'Avignon, and Salvador Dali's The Persistence of Memory.
The Metropolitan Museum of Art closes only at 10 pm on Fridays and Saturdays, while the MOMA usually has free Friday Nights until 9 pm.
16- Take a helicopter tour of the city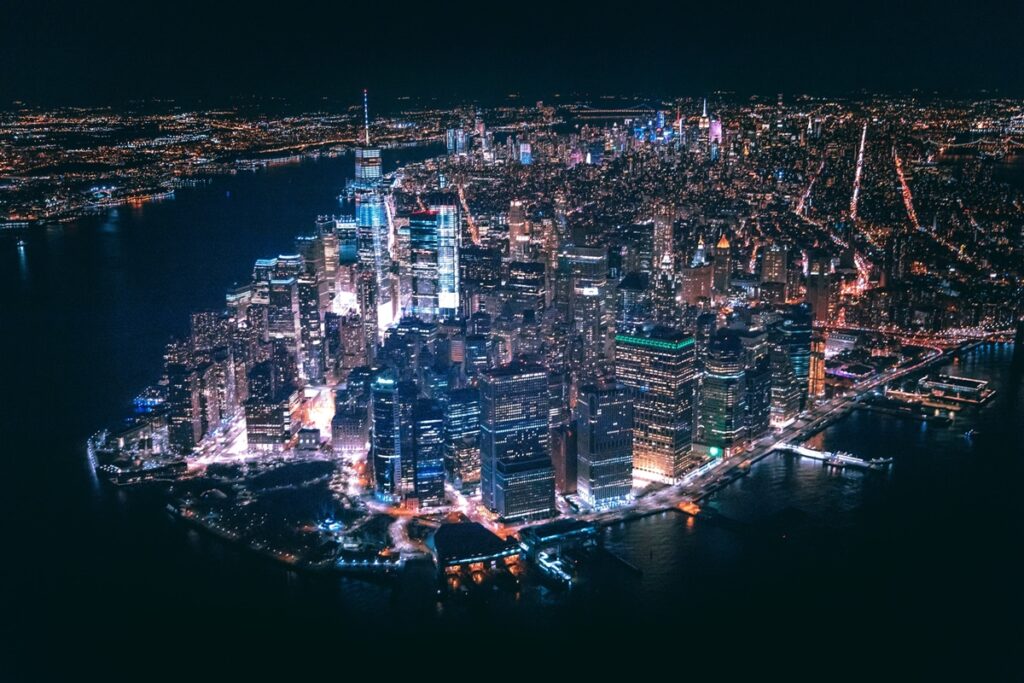 If you want to get a bird's eye view of New York City, then take a helicopter tour.
You'll be able to see everything from the Statue of Liberty and Brooklyn Bridge all the way up to the Rockefeller Center, Times Square, and the New York skyline.
The coolest thing about taking this tour at night is that you will see in frit hand how the city transforms itself after dawn. It really is an incredible experience!
17- Go ice skating at Rockefeller Center during Christmas time
The Rockefeller Center, a complex of skyscrapers and theaters, is a major NYC institution that has been around since 1928.
Every year in December, this iconic landmark turns into a winter wonderland with a beautiful ice rink, and ice skating at Rockefeller Center has become one of New York's most classic Christmas traditions.
Tickets for the ice rink can be purchased online on this website.
18- See a sports event in New York at night
If you are a fan of sports, you'll be glad to know that catching many sports games at night in New York is possible.
There are almost always games of basketball, baseball, ice hockey, and American football happening throughout the year, and watching a game in NYC is an amazing experience!
From the New York Knicks and Rangers to the New York Yankees or Jets, there are always all sorts of professional sports teams playing.
19- If it's Christmas season, check out the holiday light at Dyker Heights
Dyker Heights is a neighborhood in the New York City borough of Brooklyn.
William Dyker first developed the area as a commuter suburb for those who could afford it. He felt a need for a suburb with a "greater country ambiance" than what was out there, which led him to create Dyker Heights.
But what this neighborhood really got known for is its yearly holiday light decorations.
Every year around Christmas, hundreds of thousands of lights decorate this Brooklyn neighborhood, which makes for a very festive family-friendly event that attracts hundreds of visitors.
You can book a tour of Dyker Heights here.
20- Visit the 9/11 Memorial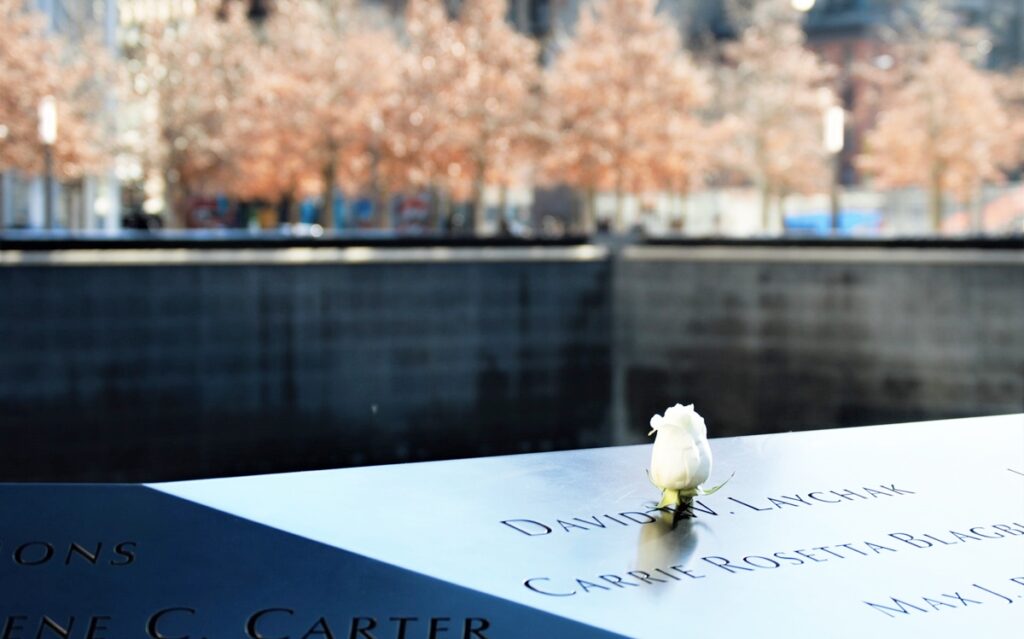 The 9/11 Memorial is a beautiful permanent public memorial to the 2,983 victims of the September 11, 2001, terrorist attacks.
The Memorial consists of two waterfalls set within the footprints of the original Twin Towers. Situated between large pools of water are sunken bronze fountains framed by two crescent-shaped benches.
It is open 24 hours a day, so you can visit whenever you please.
21- Take a ride on the Staten Island Ferry and see the Statue of Liberety at night
Many people don't know this, but taking the Staten Island Ferry is one of the best ways to see the Statue of Liberty from up close.
What's even better is that this ferry is completely free and runs 24/7, meaning you can totally catch it at night to contemplate the Statue of Liberty even after dawn.
To take the ferry, all you have to do is get to the Whitehall Terminal, which stands on the southern tip of Lower Manhattan, and take the ferry from there.
22- Go on a night bus tour of the city
It is very entertaining to see NYC at night on a bus tour.
On tour, you'll get to take in all the city's bright lights and all that jazz, but you can also hop off at various points of interest and explore them.
The best thing about this kind of tour is that you get to learn about New York's history and top sights from an onboard professional guide.
23- Get into a speakeasy bar
Have you ever imagined what it would be like to have a drink at a real-life speakeasy bar?
Well, in New York, you can certainly have that experience.
Many restaurants and bars in New York City have a speakeasy-themed bar within them where patrons have to have a secret password or discover the way inside to enjoy great drinks and entertainment at the bar.
Here is a great list of the 17 best speakeasy-inspired bars in NYC.
24- See the wax figures at Madame Tussauds
Madame Tussauds is a famous wax museum where you can see life-like wax figures of your favorite celebrities, musicians, and even US presidents.
This attraction is open until late at night, and it makes for a very fun family day out! It is especially fun if you really like taking pictures.
25- Watch the sunset from Brooklyn Bridge Park or Hudson River Park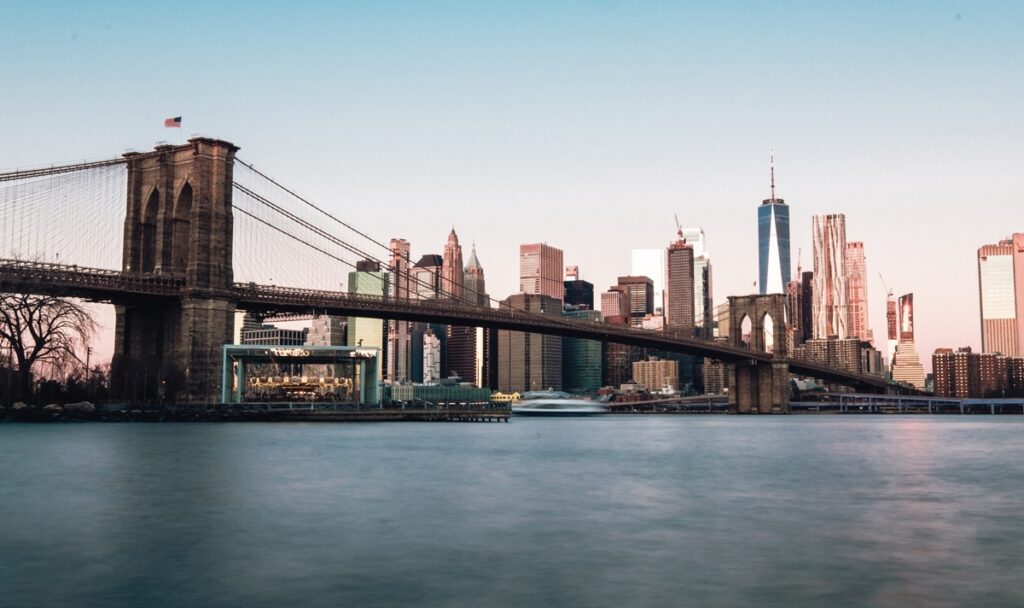 These two parks along the Hudson River offer great views across the water during sunrise and sunset because this is when both sides come to life with beautiful bright colors.
They are a great place to see the magic of the city at daybreak and start your night in New York.
Also, in the parks, you will frequently find incredible public art, and even food stands to get snacks.
26- Go bowling
Fan of bowling? Many bowling alleys in New York City are open until late at night and offer reduced rates for evening parties or after-hour groups.
Bowlero Times Square, for example, is located in the heart of the city and closes only at 1 am most nights! Frames Bowling Lounge and Lucky Strike Manhattan are the other two great options.
27- Watch a comedy show
Here are some great comedy clubs in New York City where you can catch a live stand-up show.
Try the New York Comedy Club, Gotham Comedy Club, or Comedy Cellar. They are all excellent clubs, and you'll definitely have a good laugh.
28- Shop for candy at Hershey's Chocolate World
Located at the heart of Times Square, Hershey's Chocolate World is a mecca for all fans of chocolates.
Here, you will encounter attractions such as the Amazing Candy Machine, HERSHEY'S largest s'mores experience, and Say it with a Kiss.
The store is open until late and even has an interactive showroom with various activities that you can enjoy if you are visiting the area at night.
29- Explore Grand Central Station at night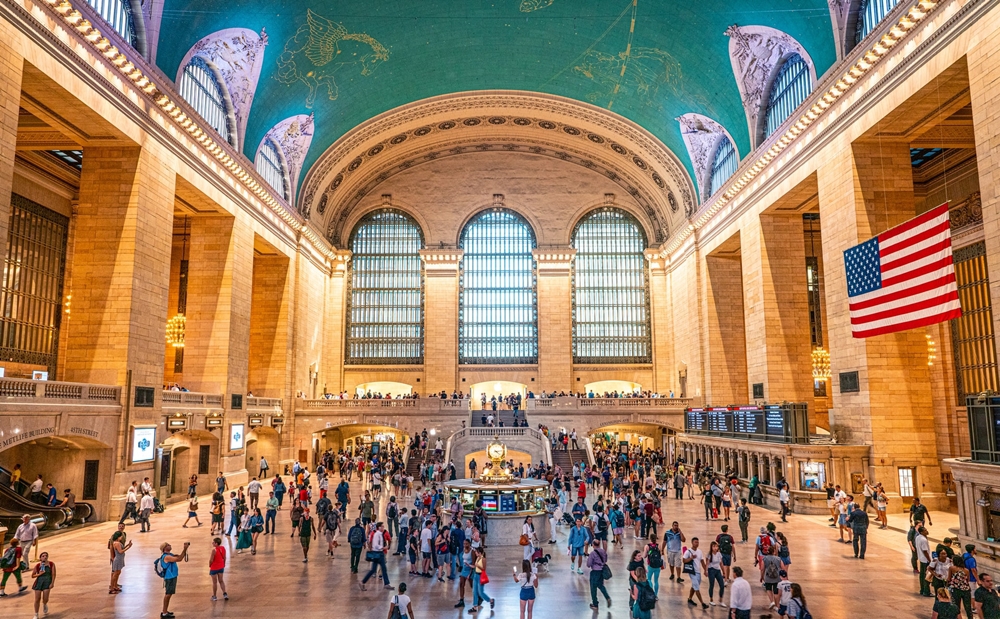 Grand Central Station is a must-see attraction in New York City. It's the world's largest train station, and it's an active transportation hub for subway lines, buses, taxis, and more.
There are also several restaurants within the station if you feel like grabbing something to eat, so this is all a great place to spend a couple of hours at night.
30- Enjoy an evening of jazz in Harlem
Harlem is one of the most historical neighborhoods in New York City.
But did you know that it's filled with jazz enthusiasts? Well, if you're looking to escape the hustle and bustle of Manhattan for an evening, then you can take a tour to Harlem for some good jazz music.
Watch Harlem come alive after dark with a 3.5-hour evening tour to historic churches, landmarks, and one of the neighborhood's best jazz spots.
Walk with your guide along vibrant Adam Clayton Powell Boulevard, and learn about the cultural heritage of Harlem's nightclubs and gospel churches.
Spot some of New York City's distinctive brownstone architecture as you walk, then finish your evening at a live jazz club, where some of today's best artists play tunes by Harlem's music greats.
---
Why visit New York
Now that you know all the best things to do in New York at night, we will cover other important info you should know before planning your trip.
For starters, let's talk about why visit New York.
Well, there are many good reasons to visit this incredible city.
First of all, there are so many things to do in New York. You can visit the most famous attractions and discover some good hidden gems that not everyone knows about.
Whether you're traveling with your family or friends, you can always find something interesting to do.
If you consider yourself an active person who wants to try something new or just relax and soak up the atmosphere– whatever is your type of activity, New York will meet your expectations.
NY is also a spectacular place for people-watching—everyone loves doing this in New York, especially when it comes down to Central Park, where people from all over the world come together and form unique relationships with each other.
Moreover, the city offers a wide range of shows for any taste.
You can watch all kinds of theater performances, concerts, operas, or even circus shows. If you are looking for something more casual, there are comedy clubs to enjoy a fun night out with friends.
And in case if you're an architecture lover, New York is the place for you.
The city is home to many skyscrapers, which serve as great photo spots for your Instagram photos—you just have to know where to look. You can take amazing pictures in Manhattan but also in Brooklyn and Queens.
And don't forget about Empire State Building—it's one of the most iconic buildings in New York City and should be on any traveler's bucket list.
---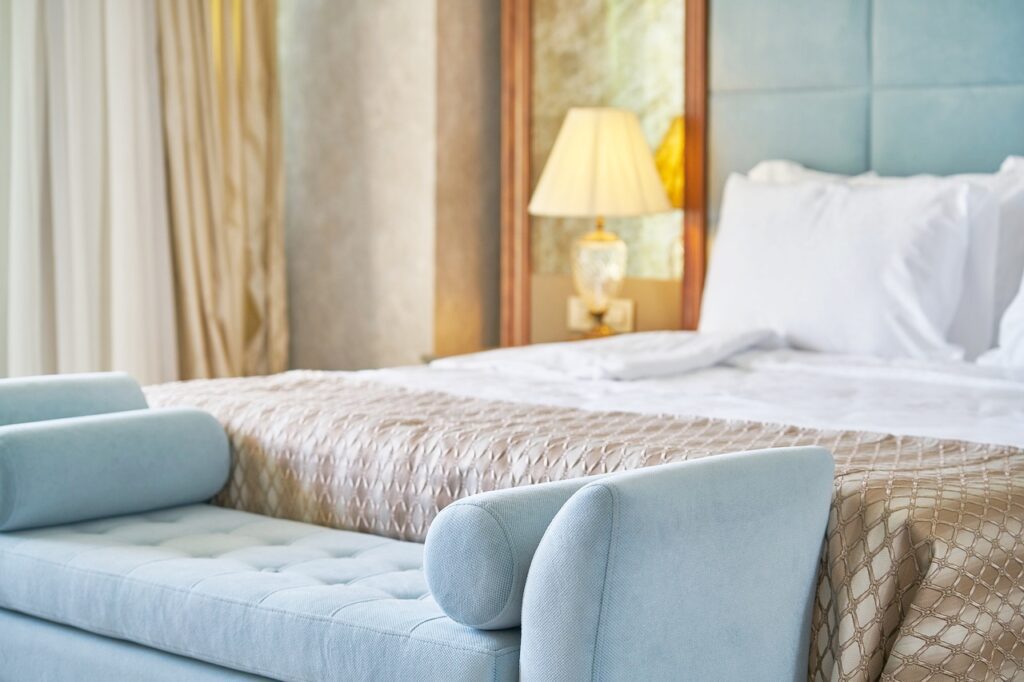 Where to stay in New York City
Deciding the best hotel to stay in New York can easily get tricky because there are just so many good options.
From luxurious 5-star hotels to budget-friendly boutique motels, you can find all kinds of accommodations in this amazing city.
Fortunately for you, we have done the hard work already and compiled a list of my favorite places to stay around NYC – both downtown and uptown – perfect for any type of traveler or budget.
Best Hotels to stay in New York
---
Most popular night tours in New York City
Taking a tour is a fun way to see New York at night.
Every tour is unique and offers visitors a chance to learn more about the city and its history.
Here are the most popular night tours in NYC:
New York Helicopter Tour: City Lights Skyline Experience
See the sights of New York City from up in the air on this nighttime helicopter tour of the city.
Take off, and soar over NYC as you take in aerial views of some of the most famous sights. See the Statue of Liberty, the Rockefeller Center, and Times Square all lit up, and then pass over the George Washington Bridge.
This is such a fun activity to do in New York at night.
New York Premier Dinner Cruise
Forget trying to snag a hard-to-get reservation at New York's hottest restaurants du jour. Instead, indulge in a delicious 3-course dinner during the cruise on an all-glass boat around New York City that offers you an up-close look at the Statue of Liberty and other famed sites.
As a live pianist plays relaxing music for you, take in the immense view of one of the world's great cities, and enjoy a delicious pre-set dinner by the onboard executive chef.
Dyker Heights Brooklyn Christmas Lights Tour
Christmas in New York City is a magical time, and some of the best festive spots in the Big Apple are Dyker Heights and Bay Ridge in Brooklyn.
With this tour, head to the neighborhoods where Christmas decorations are taken to a whole new level to see the most dazzling displays; on the way back, you can enjoy views of the lit-up Manhattan skyline.
New York City Ghost Tour of Greenwich Village
Greenwich Village is one of New York City's most beautiful and most haunted neighborhoods, but just strolling through alone, you'd miss out on all the spooky historical facts.
This Greenwich Village ghost tour is led by a guide who tells chilling stories of celebrity ghosts, lost children, phantoms, and more as you stroll through Washington Square Park, the New York University campus, and West 10th Street.
New York City at Night Bus Tour
Experience New York, the 'city that never sleeps,' magically lit up after dark during this guided evening tour of the city by bus.
Begin with a short nighttime stroll along the city's famous High Line Park, then hop on a bus for a ride past illuminated landmarks like Times Square, Rockefeller Center, and the neighborhoods of SoHo and Chinatown, and take a short walk through Grand Central Terminal.
---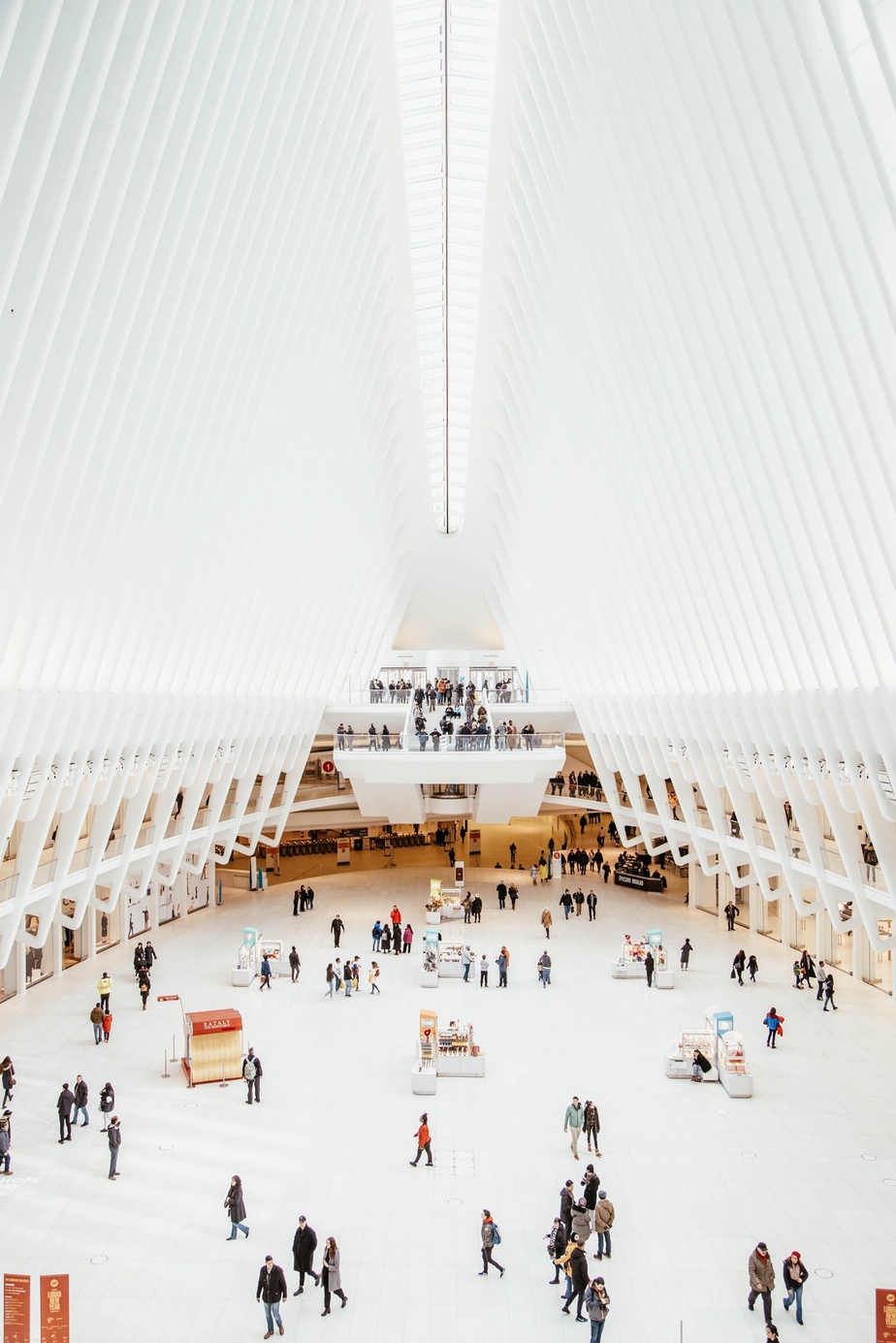 Best time to visit New York
New York is a year-round destination, meaning you can visit at any time of the year.
Each and every one of the seasons in New York is magical in its own way.
Spring comes with blooming flowers, warmer temperatures, and fewer crowds. The fall brings cooler temperatures, stunning foliage views, and fewer crowds as well.
Winter can be a wonderful time to visit New York City if you enjoy cold weather. Just make sure to pack lots of layers!
As for summertime, the city is hot during the day, so it's best to start early to beat the rush hour traffic. Nights are still nice though, so don't worry about trying out one of our nightlife options listed above.
---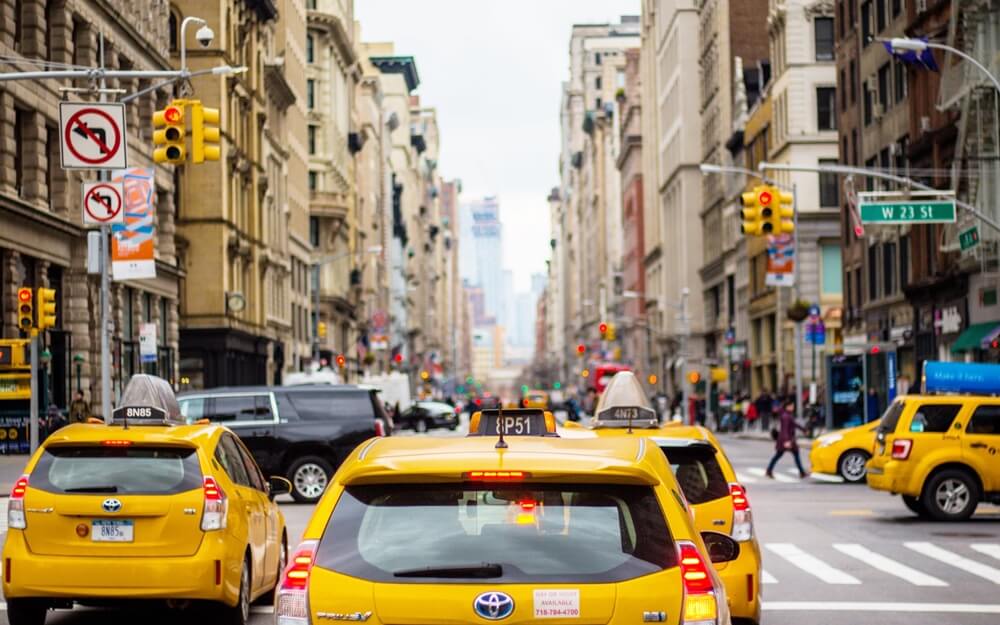 How many days to stay in New York
Deciding how many days to stay in New York can be a bit tricky. There's so much to see and do in New York City that you could never experience it all in one visit.
Personally, I think at least five days are necessary to do NYC properly. That should be enough time to explore Manhattan thoroughly and visit the city's main attractions while also finding time to visit Brooklyn.
---
How to get around NYC
New York is one of the biggest cities in the world, but what many people don't imagine is that the island of Manhattan on itself is not as big as we might think.
The island of Manhattan has an area of only 58,7 square kilometers.
The best ways to get around in New York are by foot, subway and taxi:
Subway
New York has, arguably, the most extensive public transportation system in any city in North America, much of which runs 24 hours a day.
The New York City Subway (called the "Subway" or simply the "IRT") is one of the oldest rapid transit systems in the world. It offers 24-hour service on some lines; other lines are open from 5 AM to 12 AM. Additionally, there is a 24-hour bus service on many routes.
Walking in NYC
New York is a very walkable city.
In Manhattan, streets are laid out in a numbered grid system, where streets run north to south and avenues run east to west.
This way, it is very easy to get around on foot. Also, you will notice that many attractions are located close to each other, so planning ahead and walking can save you a lot of time and subway tickets.
Taxi
In New York City, like any other major city, sometimes it can be very convenient to take taxis.
However, keep in mind that the traffic in NYC can be hectic at all hours of the day, so taxis might sometimes take a lot of time to take you to where you want to go.
To hail a taxi in New York, look for a yellow cab with the lights of the medallion number lit and then stretch your hand in the air.
NYC Bus and Coach Tours
Many bus tours offer day and night tours to tourists in New York City.
You might enjoy taking one of these during the day, just to get familiar with the city. They usually stop at all major attractions in the city.
---
New York travel tips
Last but not least, here are some very important travel tips for any first visit to New York.
These will save you a lot of time, stress, and money, so make sure to write them down.
No need to rent a car in New York City
There is absolutely no need or whatsoever to rent a car on a trip to NY.
There is very little parking IN THE CITY and traffic can be very busy. The subway or a taxi will get you anywhere you need to go in the city.
Eat all the local goodies
New York has all sorts of delicious local goodies, from bagels to cheesecake and hot dogs.
Be sure to taste everything you can during your visit. Even the food at most food carts is nice!
Cash is not necessary in New York
Most shops, stores, restaurants, etc., accept all major credit cards, so there is no need to carry cash with you.
There are exceptions, but this holds true for most places in New York, so just don't worry about it.
Catch at least one Broadway show
Broadway shows in NYC are amazing and fun to watch.
Tickets can be costly, but they might be sold for less on the day of the show! (:
Some of the most classic Broadway shows are Hamilton, The Phantom of the Opera, The Book of Mormon, Les Miserables, West Side Story, and Wicked.
Visit Central Park at different times of the day
Central Park is a huge park in the middle of Manhattan, with many attractions, such as the beautiful Bethesda Terrace or The Conservatory Garden.
Central Park offers something for everyone, no matter what time of day you visit it.
It's especially beautiful during sunset when all the lights come on throughout the park, and spectacular views of Midtown Manhattan can be seen.
If possible, visit New York City during Christmas time
Christmas time in New York City is truly special and one of a kind.
The entire city is lit up with gorgeous decorations and lights, and there are many fun events planned for this time of year, such as ice skating at Rockefeller Center or the Central Park Holiday Market.
Booking your hotel early is very important in New York City.
The city is always busy, and hotels get sold out fast, so be sure to book your hotel room in advance.
Explore outside of Manhattan
New York City is a huge city and has so many suburbs, such as Staten Island or Brooklyn.
Don't just stay in Manhattan the whole time.
Take some days out to explore Queens, Staten Island, and Brooklyn too.
These places also have lots of local attractions that are much less crowded than those in Manhattan, allowing for a more authentic New York experience.
Taxis are pricey in NYC
In general, taxis are expensive in New York City compared to other cities, especially during rush hour.
Make sure to keep an eye on the fare meter. If you are staying at a hotel in New York City, they might offer free shuttles so you don't have to take a taxi everywhere, which can save you quite a bit of money.
---
Wrap-up: Best things to do in NYC at night
That's a wrap! Now you know all the most exciting things to do and exactly how to spend your nights in New York City.
As you have seen, the city that never sleeps has plenty of fun things to do, even if the sun goes down.
I hope you enjoyed this guide and have an amazing trip to The Big Apple.
For more travel content, make sure to follow me on Instagram.
---