/
Last Updated November 10th, 2023
10 Beautiful Sunflower Fields To Visit In Long Island
If you love sunflowers and happen to be close to Long Island, here is a fun idea: Why not go sunflower hunting this weekend?
There's something about these sunny summer blooms that is just so special, and sunflower fields are just so fun to visit! The best part is that there are many sunflower farms to visit right outside of New York that are not only beautiful but also incredible local businesses.
So grab your camera, invite some friends and make a day trip out of it!
Here are some of the cutest sunflower fields in Long Island, NY.
---
Plan your Perfect trip to Long Island
🏨 Find the perfect hotel on Booking.com
🎒 Pack a universal travel adapter, your favorite travel camera (I love this one!), and a good portable solar phone charger
Follow me on Instagram for more travel tips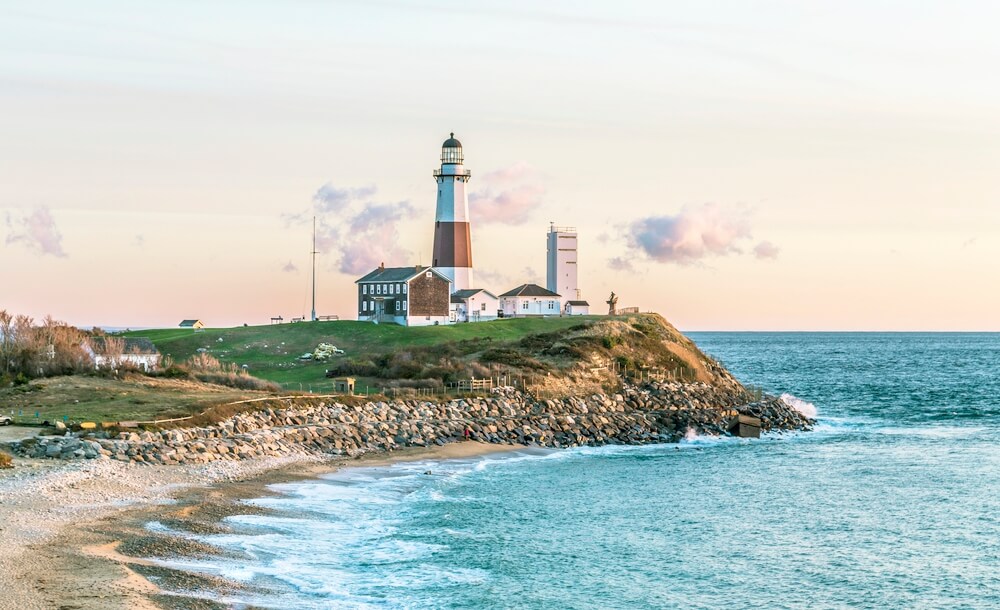 Disclosure: Some links on this page are affiliate links. That means that at no extra cost to you, I earn a small commission if you book through these links, and that helps me keep this blog running. Enjoy!
The Best Sunflower Fields in Long Island, New York
Long Island is known for its beautiful scenery, so it's no surprise that there are some amazing places to see sunflowers.
In the springtime, you can find fields of these bright yellow flowers in many towns across Long Island.
Here are five of the best spots to experience this vibrant and cheerful display:
Waterdrinker Family Farm & Garden
The family-led Waterdrinker farm has some of the most gorgeous sunflower fields in New York. Visiting this place will not only allow you to take home a beautiful bouquet but also experience an afternoon spent with your loved ones and friends while strolling through rows upon rows of plants that cover all four acres surrounding it!
The farm is located on 4 acres in upstate NY near Albany – best known for its lush green scenery and majestic mountain ranges. The field stands are filled with dozens upon dozens of different flowers like tulips, daisies, orchids… It's free entry so bring everyone along! You can pick whichever flower you want from their vast selection (pick as many stems as you want!)
But that is not all: during the year, the Waterdriker Farm hosts sweet festivals like 'The Vintage Car Show', 'Winter Wonderland' and 'The Tulip Festival'. The sunny backdrop is ideal for photoshoots and during your visit it is possible to hire a professional photographer for $25/hour.
Last but not least, they have also recently opened the Long Island Farm Brewery inside a barn on the property. So if you are looking for a place to have a beer with a view, this is definitely it.
The farm is open seven days a week from 9 am to 5 pm at 663 Wading River Rd, Manorville, NY.
Schmitt's Family Farm
The original F&W Schmitt Family Farm is another great option. It has a sweet sunflower field, a mini-golf facility, and sells snacks such as roasted corn, hot dogs, and caramel-dipped apples. During the fall season, they also have some of the best pumpkin patches around – be sure to stop by when you're in town this year!
You can find the Schmitt's Family Farm at 26 Pinelawn Rd, Melville.
Patty's Berries and Bunches
Patty's Berries and Bunches first opened in 1975 as Harbes Berry Farm and now belongs to Patti Devello, a Harbes family member that actually grew up right across the street. Isn't that sweet?
At the farm, you can pick strawberries, blueberries, Peonies, Dahlia, and of course, sunflowers!
Patty's Berries and Bunches is open seven days a week from 9 a.m. to 5:30 p.m at 410 Sound Avenue Mattituck, NY.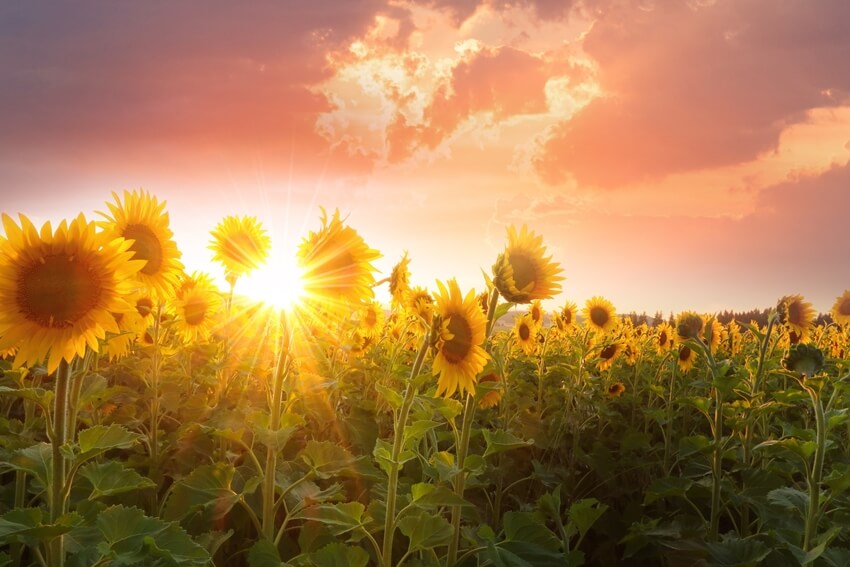 Manor Farm Sunflower Maze
Located in Huntington in Long Island, Manor Farm's sunflower maze has dozens of different types of sunflowers and makes for an epic photo spot.
Dozens upon dozens of vibrant red and yellow flowers line close to 10 acres of land and will make your photos pop like no other spot you can find.
It is completely free to visit but you can contribute as you wish in a donation box. Another great thing about this place is that it is just one hour away from New York!
Manor Farm is open seven days a week from 8 am to 8 pm at 210 Manor Road, Huntington, NY.
Sound Shore Farms & Market
Sound Shore Farms & Market has one of the nicest sunflower fields in the area and is the perfect place to go if you're looking for a sunny, serene outdoor experience.
They also have an extensive selection of flowers, produce andbaked goods that are perfect for any season.
Sound Shore Farms & Market is located at 5629 Sound Ave, Riverhead, NY 11901 and open seven days a week.
Martin Sidor Farms
The Sidor Farms, located in Mattituck, also have one of the best sunflower fields on Long Island, but what really makes them famous is their line of potato chips, North Folk Potato Chips.
The potato chips are made fresh off the farm and can be bought at a farmers market across from their storefront
You can find this hidden gem at 2010 Oregon Rd, Mattituck, NY.
Bayview Farms and Market
Bayview Farms and Market is a good place to see sunflowers later in August. They plant special hybrid varieties that last longer than most varieties of sunflowers.
They are so popular among customers that "we can't cut them fast enough," said Paul Reeve, the farmer. Also, in some fields, they don't ever cut the flowers, but leave them for customers to enjoy and take photos of.
Bayview Farms and Markets is open every day from 8 am to 6 pm at 891 Main Rd, Riverhead, NY.
Rottkamp's Fox Hollow Farm
The new sunflower maze at Rottkamp's Fox Hollow Farm is less of a maze and more of a colorful pathway, drawing 200 to 250 people a day.
Farm owner Eric Rottkamp thought it would be unique to have a sunflower walkway instead of the traditional corn maze.
The price of admission to get into the sunflower maze is $5 per person and you can find the farm at 2287 Sound Ave, Calverton, NY.
Pindar Vineyard and Sunflower fields
The Pindar Vineyard offers two of my favorite things: wine & sunflowers!
If you're looking for a place to enjoy your glass and soak up some rays, this is the spot. It's also dog-friendly–you can bring your pup on one side or walk them down by the vineyards.
The vineyard has been around for generations and it is one of the only vineyards in the region that allows you to bring your own food. This is a sweet choice for a day of sunflower picking and wine tasting.
The vineyard frequently hosts events like 'Paint and sip nights' and 'Sunset Fridays'. Yet, their epic sunflower field is what really gets all the attention.
You can visit Pindar Vineyard seven days a week from 11 am to 6 pm at 37645 NY-25, Peconic, NY
North Fork Sunflower Maze
The North Fork Sunflower Maze is actually a part of the previously mentioned Sidor Farms. It is beautiful and extremely photogenic! If you visit, make sure to pick some North Fork Chips for home. They are produced on the farm and so delicious.
You can find the maze at 8350 Wickham Ave, Mattituck, NY.
---
Best places to stay in Long Island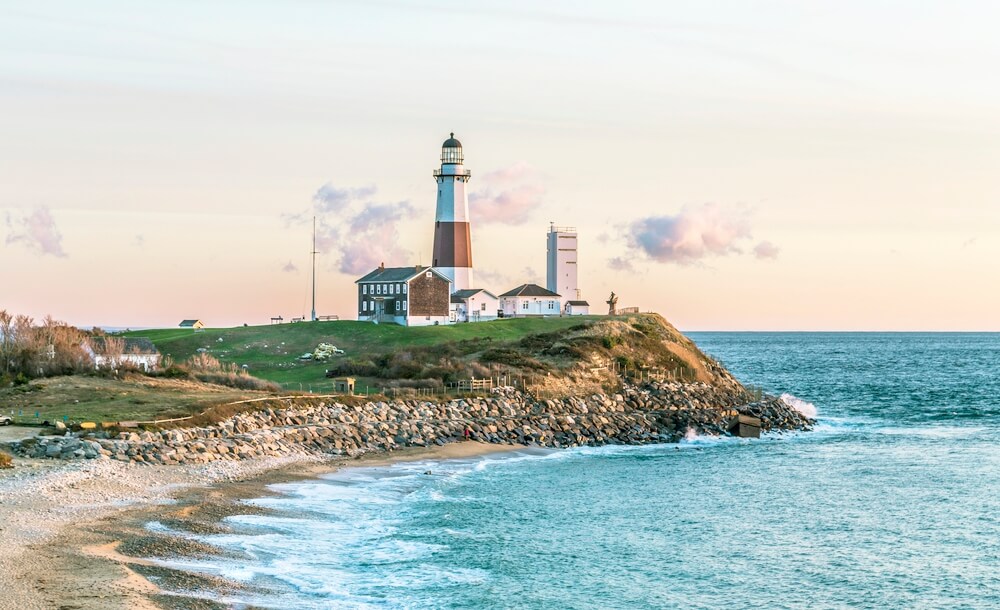 If you are looking for places to stay in Long Island, know that the island has plenty of lodges, luxury villas, and even pocket-friendly retreats where you can easily book even a couple of weeks before your trip.
These are some of our favorite hotels in Long Island:
---
Important things to know before you go
Here are some important things you should know beforehand to have a great time visiting these stunning sunflower fields.
This section of the guide covers information such as the best time to see sunflowers in Long Island, what to bring to a sunflower maze, and of course, how to get to the sunflower fields on the island.
Best Time To See Sunflowers in Long Island
The best time to see sunflowers in Long island is between July and August, but it is always important to check with each specific farm.
It is not unusual to find sunflowers fields as late as in October, so sometimes you can find the fields along some of Long Island's best pumpkin patches.
What to bring to a sunflower farm
Make sure to bring your camera, a packed lunch, gardening sheers, a wide-mouthed water bottle (to keep the flowers fresh), and if you can, a stool to sit on for pictures.
Also, wear good comfortable shoes and bring bug spray and some cash.
How to get to the sunflower mazes in Long Island
The best way to visit the sunflowers fields in Long Island is by car or uber. Even though Long Island has a fine public transportation system, the fields are usually in more remote areas and a car would be the easiest way to get to them.
Also, if you plan to visit more than one farm on the same day, it is a good idea to mark them on a map and create an itinerary to optimize your time.
---
Tips to visit sunflower fields in Long Island
Here are a few tips that will make your trip to any sunflower fields in Long Island way more enjoyable.
Visit during golden hour
Golden hour is the absolute best time to take pictures because the sun is pulling away from the sky, but there's still a lot of sunlight left.
In Long Island, it usually happens around 7 pm in summer.
Clothing
Avoid long dresses, they can get quite muddy in the fields! For shoes, old boots are the safest choice. They may be a bit heavy, but you can wear them all day long and your feet will feel better at the end of the day.
Call ahead
Make sure to call ahead each farm and see if they are really open before your visit. That way you can avoid an unpleasant surprise when you get there!
Beware of bees
They are super common around sunflowers, but, thankfully, they usually mind their own business. If you do find yourself getting bothered by bees, then the best solution is to simply move away and wait for them to lose interest.
Wear sunscreen
Bring sunscreen or a hat if you have sensitive skin as it could easily get burned from being outdoors in hot weather for such a long period of time!
Prepare yourself for the season's changeable weather conditions
Wear layers to prepare yourself for the season's changeable weather conditions (hot to cold). It is also recommended that you wear a light sweater even on warmer days because you may get cold from being exposed to the wind.
Go early to enjoy your day to the fullest
We recommend visiting mid-morning or early afternoon so you can enjoy the field at its fullest, and not fight with large crowds of people. Keep in mind that some fields are only accessible during certain hours and for a specified amount of time.
---
Interesting facts about sunflowers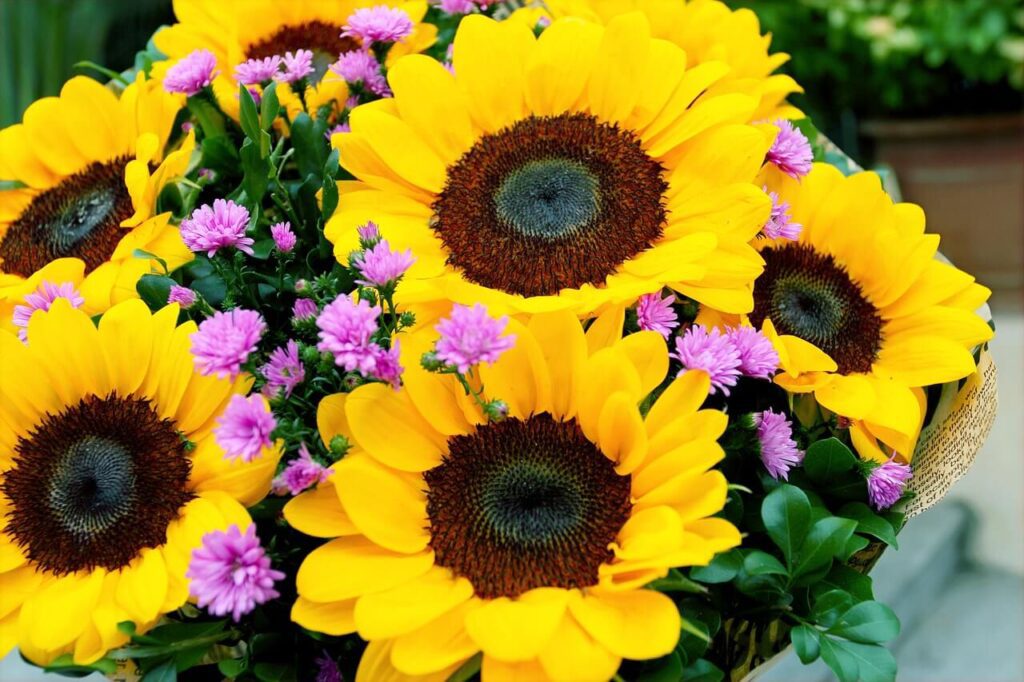 Here are a few fun facts you probably didn't know about sunflowers:
They were used as currency in medieval Europe.
They are the state flower of Kansas, and they grow well there.
Artists use sunflower oil for painting. It's a wonderful medium because it dries quickly, is flexible when dry, and has a high "tack" that isn't too sticky or brittle to work with. The oil makes the paint stick better to the canvas so artists apply more layers, building up richness and texture on their paintings than other oils allow.
The world's largest sunflowers were 12 feet tall and 46 feet in circumference each! In 2009, they were grown by Guinness World Records holder Steve Stanger.
In the 1920s, one of the best-known American artists, Thomas Hart Benton, made a career out of painting large canvasses full of sunflowers.
Sunflower leaves contain high amounts of vitamin K which is necessary for blood clotting and normal bone structure.
Sunflowers actually turn towards the sun. The base of their stem can pivot 90 degrees or more as they loosen their roots from the ground to reach out toward their source of light and warmth.
They also have about two dozen different mechanisms that allow them to sense where the sun is in relation to themselves. This helps them grow straight up toward the sky instead of curling over because they are too close to an obstacle like another plant, a wall, or even a person.
Sunflowers are extremely tall, growing to over 10 feet high. They can grow up to 10-12 feet under the right conditions.
Sunflowers were cultivated in Peru starting about 5,000 years ago by the Incas and other tribes of South America for their edible and oil-producing seeds.
---
Wrap-up: Sunflower Fields in Long Island
That's a wrap! I really hope you enjoyed this list of beautiful sunflower fields on Long Island. Since most of them are family-run, by visiting them you will also be supporting a local business that really needs it, which is just so nice.
There are a ton of awesome Long Island sunflower fields and farms out there, but these were my personal favorites. I'd love to keep this list updated over time, so if you have any suggestions please don't hesitate to get in touch with me!
Have you ever visited a sunflower field? Would you like to? Let me know in the comments!
And hey, if you enjoyed this post, don't forget to follow me on Instagram for more travel tips.
---