/
32 Epic Things To Do in Key West, Florida
Key West is one of the most beautiful places in Florida.
With its rich history and culture, it's a must-see destination for anyone who loves to travel and have a good time.
Even though most people that visit Key West stay only for a couple of days, there are actually enough fun activities on the island to keep one busy for days!
That's right! I lived there for a few months and I can tell you: there is much more to do on this gorgeous island than most people expect.
In this post, you will read about some of the best things to do in Key West, Florida.
---
Disclosure: This post may contain affiliate links. Meaning, I get a small commission if you purchase through my links, at no cost to you.
35 Best things to do in Key West
From snorkeling with dolphins to kayaking in the mangroves and even going on a day trip to the stunning Dry Tortugas National Park, you are sure to find tours and activities that will fit your liking with perfection.
1- Go for a swim at the MLK Community Pool & Community Center
A free thing to do in Key West that led me to a lot of wonderful afternoons swimming in the sun is the pool at the Martin Luther King Community Center!
The entrance is completely free and the pool is amazing. If you need goggles or something like that, you can ask the friendly staff to borrow one.
2- Shop at the adorable local shops
Key West has so many quaint and adorable shops where shopping is an absolute delight! My favorite shops are the ones right by Mallory Square.
3- Eat delicious Key Lime Pie
Key Lime Pie is the most traditional dessert in Key West! There are a lot of options of restaurants for you to try. Personally, I love the one at Caroline's and the Chocolate Key Lime pie on a stick!
The picture above is from Woman's World. Make sure to check out their delicious Key Lime recipe.
4- Go to the beach
Key West has tons of beautiful beaches and visiting them is one of the best things to do on the island for free.
All you gotta do is pack your favorite beach towel and swimsuit and enjoy yourself in the sun.
Read: What To Pack For Your Key West Vacation
Here are some of the best:
1- Smathers Beach
Smathers Beach is your classic Florida beach and oh, so beautiful!
I highly recommend riding a bike there and enjoying the rest of your day soaking in the sun.
2- Fort Zachary Taylor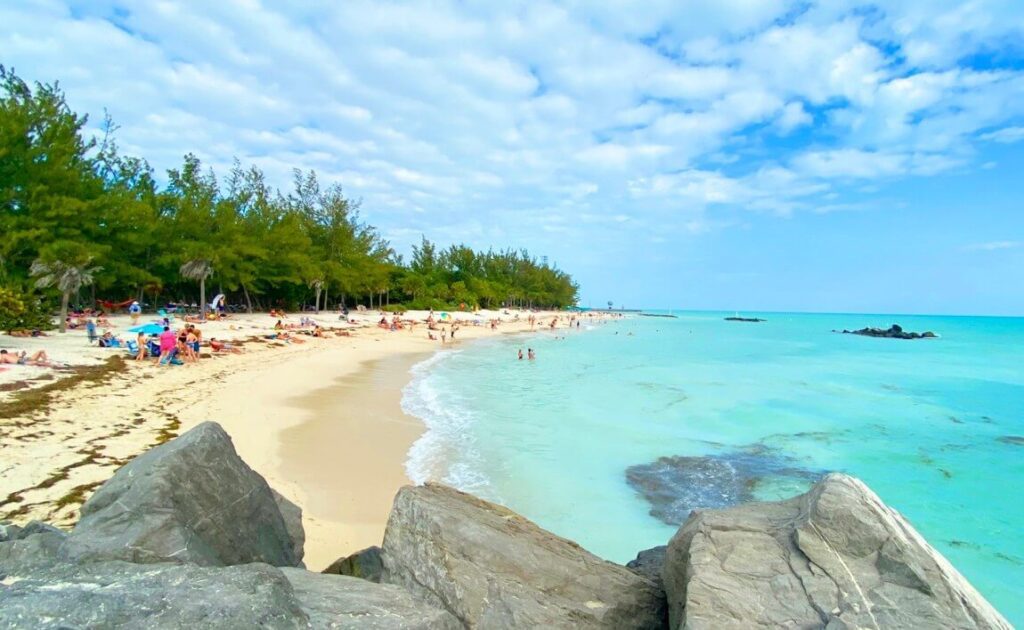 I have talked about Fort Zachary Taylor before and in my opinion, it truly is one of the best beaches on the island and also a great place to learn about American Civil War history.
Fort Zachary is actually one of the few natural beaches in the Florida Keys and it's amazing for snorkeling and watching the sunset.
3- Higgs Beach
Higgs Beach is a walking distance away from Smathers but far less crowded. I did think the water was not as clear as the other, but still good for swimming and even snorkeling.
Other than that, at the beach, you will also find options for having fun out of the water, like volleyball courts, a playground, and a dog park.
4- South Beach
South Beach is the name of the small beach located close to the Southernmost Point. It is not as beautiful as the others but makes a great beach opportunity close to Duval Street. It is also a terrific spot to watch the sunrise!
Read: The 7 Best and Most Beautiful Beaches In Key West
5- See the Southernmost Point
The Southernmost Point is an anchored concrete buoy that marks the lowest latitude point of the United States and also only 90 miles to Cuba!
This is a Key West must-do, so the line for taking pictures is always huge. I would highly recommend getting there early in the morning if you don't feel like facing a huge crowd.
6- Fort Zachary Taylor National Park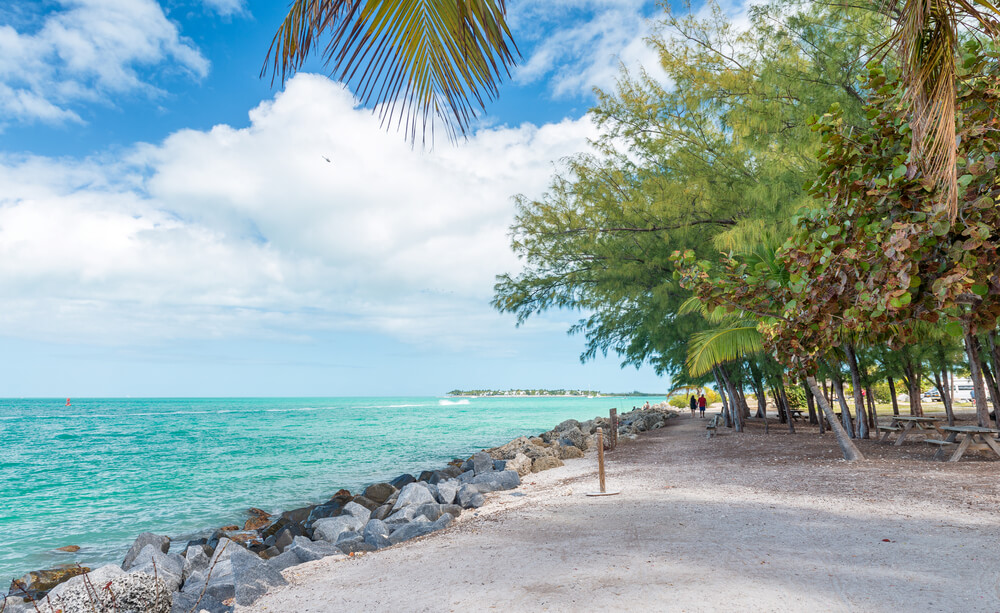 As mentioned above, Fort Zachary Taylor is one of the best beaches in Key West. But that is not the only reason to go there.
As the name of the National Park suggests, the highlight of the historic national park is the Zachary Taylor Fort. The building began to be built around 1845 to protect the island from pirates and became known as the largest cache of Civil War armament in the world.
On the third weekend of each month, Key West locals re-enactors organize historic demonstrations.
Read: A traveler's guide to Fort Zachary Taylor National Park
7- Visit a farmer's market in Key West
Every Thursday from 10 am to 2 pm, the Truman Water Front Park hosts an amazing farmer's market. There you can find all kinds of fresh, delicious fruit, hand-made clothes, pastries, etc.
I used to love buying a fresh pastry and sitting to read a good book by the ocean. It was so lovely!
8- Go paddleboarding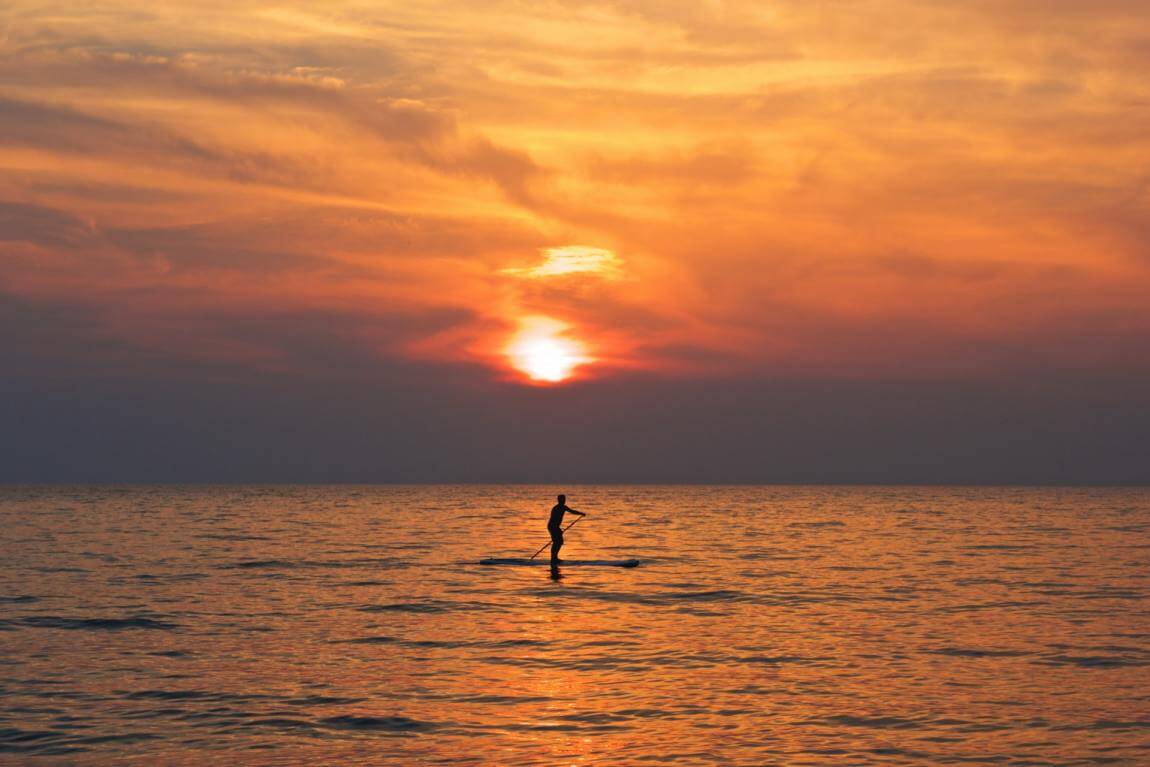 Beaches like Smather, Higgs Beach, and Fort Zachary make amazing spots for paddleboarding! You can also go on an eco-tour, as explained below.
9- Go on an Eco-tour of the mangroves
A Key West eco-tour is the perfect way to see the corals and mangroves around the island.
The best part is that the tour is lead by local nature guides that know exactly how to respect the space of all the living things you will be seeing.
10- Go Sightseeing in the Old-Town Trolley
Picture: Trolley Tours
The famous hop-on hop-off trolley tour offers 13 stops where you can get down and take a break anytime you want. Also, the ticket includes free Admission to Harry S. Truman Little White House, Key West Aquarium, and the Key West Shipwreck Treasure Museum
11- Take a picture in the Key West US 1 Mile Marker
In the corner of Fleming Street and Whitehead Street, you will find the US 1 Mile Marker zero sign. Make sure to take a picture of you in the southernmost point of USA route 1!
12- Go on a Dolphin Eco Watch
If you love dolphins, the Dolphin Eco Watch Tour is perfect for you! Prepare to sail among these beautiful creatures and stop for snorkeling after.
This is one of my favorite things to do in Key West.
13- Walk along Duval Street
With its funky shops, amazing restaurants, and hole-in-the-wall bars, it is safe to say that Duval Street is the heart of the city of Key West.
Go for a walk around Duval Street and you are sure to discover more amazing things to do in Key West.
14- Visit the Ernest Hemingway's Home and Museum
The beautiful colonial house located at 907 Whitehead Street is where Ernest Hemingway, one of America's most famous writers, lived for more than ten years.
Nowadays, the home has become a major Key West attraction and can be visited for $15.
A very adorable fact about this museum is that descendants of Hemingway's original cats continue to live on the premises and you can tell who they are because of their six and seven-toed paws, just like Hemingway's cats.
15- Visit the Key West Aquarium
The Key West Aquarium was actually the city's first official attraction! It is not that big, but it is sure to be entertaining, especially for kids.
The aquarium's main exhibit includes a touch tank, shark and turtle feeding, and an alligator exhibit.
16- Have fun in the Truman Waterfront Park
The Truman Waterfront Park is amazing for running, fishing and working out. It even has a fitness trail with exercise stations.
17- Climb to the top of the Key West Lighthouse
For more than a hundred years, the Key West Lighthouse was essential to assist vessels in avoiding dangerous coral and finding their way around the city of Key West.
Today, the lighthouse is a museum and it is said to have one of the best views of the island. If you manage to climb the 88 steps to the top, that is.
Rumor has it that on a clear and sunny day you can even see Havana from the top of the lighthouse!
18- Rent a bike
If you wanna feel like a local and enjoy first-hand everything the beautiful island has to offer, the best way to get around in Key West is undoubtedly by bike.
There are tons of shops where you can rent one but it's worth asking your hotel if they happen to rent them.
19- Go deep- diving
Key West is an awesome diving destination!
One of the most popular excursions occurs at the popular dive site, the Vandenberg, located just seven miles off the coast of Key West in the Florida Keys National Marine Sanctuary.
Another good idea is trying out the Key West SNUBA experience, which is perfect for inexperienced divers.
20- Catch a movie at Tropic Cinema
Tropic Cinema is a quaint, adorable cinema that looks like out of a 70's movie.
This cinema is known for showing independent and foreign films almost every day of the week. It is not your typical mainstream box-office movie theater but it's well worth the visit.
21- See butterflies at the Key West Butterfly and Nature Conservatory
Located right by the Southernmost Point, the Key West Butterfly and Nature Conservatory is one of the most kid-friendly attractions on the island!
The conservatory is home to more than 60 different species of butterflies and 20 species of birds (including flamingos!).
22- Visit the Mel Fisher Maritime Museum
After 17 years of searching, a man called Mel Fisher and his crew discovered $450 million worth of buried treasure from the ocean floor just offshore from Key West. The found turned Mel Fisher into a Key West Hero!
Today, visitors can explore and touch some of the breathtaking artifacts that defined the famed treasure hunter's life at the Mel Fisher Maritime Museum. The museum is located close to the aquarium, so you can visit both of them in one afternoon.
23- Harry S. Truman Little White House
The Harry S. Truman Little White House is Florida's only presidential site. Truman used it as a base of operations for several stays during his presidency.
The house is today a museum dedicated to American History and to all the special guests that have stayed at the house.
24- Fort East Martello Museum and Gardens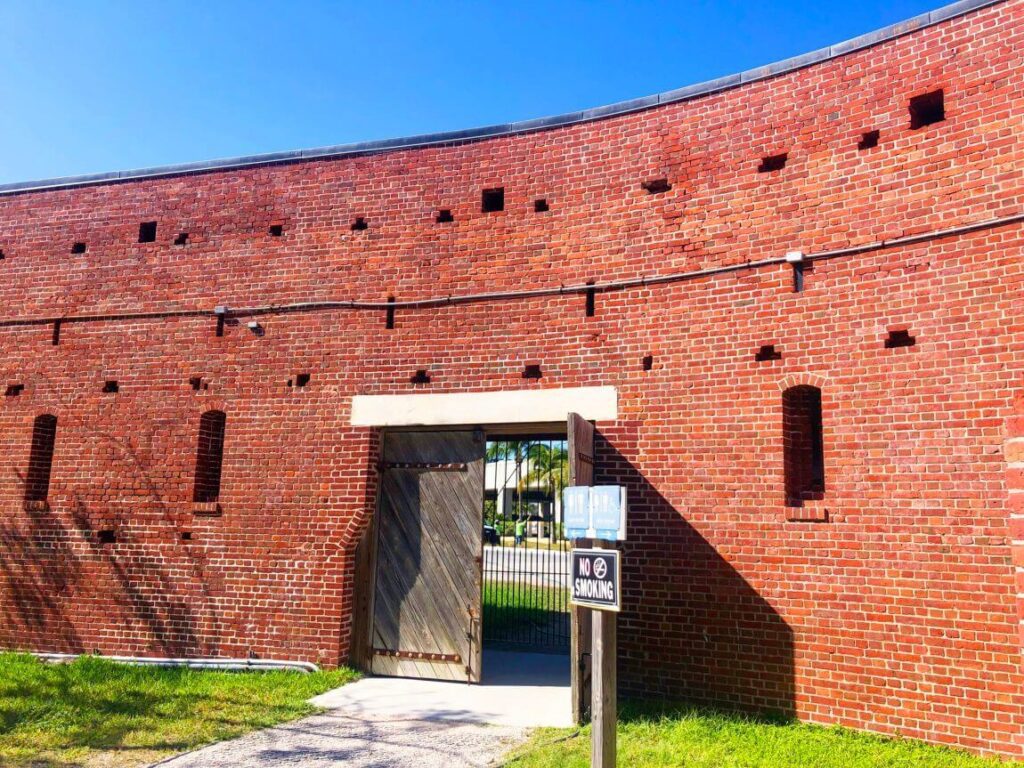 Fort East Martello was originally constructed in 1862, during the Civil War, and is today home to the Fort East Martello Museum and Gardens, operated by the Key West Art & Historical Society.
The museum showcases exhibit about Cuban influence in Key West, military involvement, and more.
One of the highlights of the museum is "Robert The Doll", a creepy doll that inspired the movie "Child's Play" and is said to be haunted. Make sure to ask Robert before you take a picture!
25- Shipwreck Treasure Museum
In the Shipwreck Treasure Museum, you will discover how in the 1850s people made a living out of shrinking ships near Key West.
The museum exhibits include films on the history of wreck salvage in the Florida Keys and the sinking of the legendary Isaac Allerton. Visitors can also climb to the top of the 65-foot Captain's Observatory.
26- Go snorkeling
Key West is an amazing snorkeling spot and a great place to spot beautiful fish – if you know where to go, that is. Snorkeling is for sure one of the most fun things to do in Key West.
Snorkeling tours in Key West
There are tons of snorkeling tours, with destinations like Sand Key Lighthouse, Eastern Dry Rocks, Western Dry Rocks, and Cottrell Key.
27- Watch the sunset at Mallory Square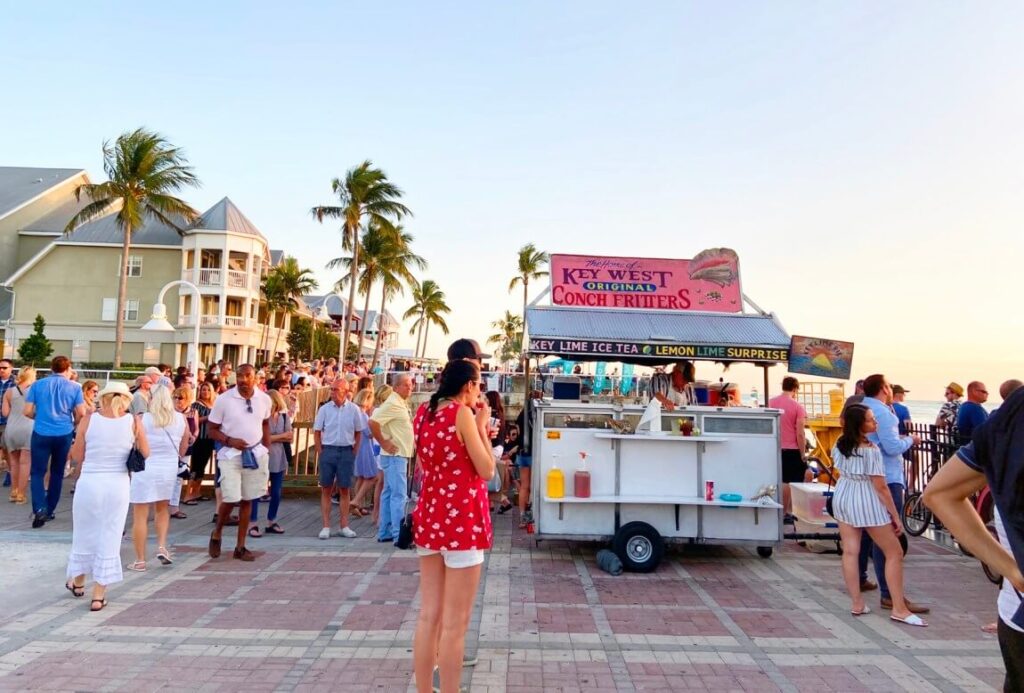 The sunset is a huge deal in Key West and Mallory Square is the most popular place to go watch it.
Every day, hundreds of tourists and natives gather at Mallory for the spectacle. It is just one of those unmissable things to do in Key West.
One of the most special moments is right after the sun gets out of sight and there is a huge round of applause to celebrate the sunset.
28- Go on an epic Sunset Sail
Another option for sunset is going on a sunset sail.
The sail usually takes around two hours and includes food and beverages.
29- Go on a Ghost Tour
There are many quaint Key West attractions! The Key West Ghost and Gravestone Trolley Tour is perfect for those that love ghost stories and are willing to discover the dark side of Key West and its most haunted spots.
30- Go on a Day trip to Dry Tortugas
Dry Tortugas is one of the United States' most remote National Parks and you can get there by taking a ferry from Key West. This day trip is for sure one of the best things to do in Key West.
31- VISIT THE Florida Keys Eco-Discovery Center
The Florida Keys Eco-Discovery Center is a world-class visitor center with exhibits and displays about the Florida Keys Ecosystem.
The center also has a gorgeous theater, where you can watch a 20-minute film about nature in South Florida. The entrance is completely free.
32- Party until you drop
Key West gets even more fun and crazy at night! After the sun goes down the city comes even more alive and there are tons of options to discover.
---
Finding a Place To Stay in Key West
If you haven't booked a hotel in Key West yet, that's okay! Here are some of our favorites:
Read: The Best Hotels and Resorts In Key West
---
Best time to Visit Key WEST
While there's no bad time to visit Key West, the best time to go is between December and April. Known as the "high season," this span of months offers the most pleasant weather, with average highs in the low 80s and only a small chance of rain.
It's also the busiest time of year, so be sure to book your accommodation well in advance. If you're looking to avoid the crowds but still enjoy good weather, shoulder season (May-November) is a great option. Summer can be hot and humid, but you'll find lower prices on hotels and flights. And while there is a greater chance of hurricanes during hurricane season (June-November), Key West is typically spared from the worst of the storms.
---
How many days in Key West?
When it comes to visiting Key West, one of the biggest questions that many travelers face is how much time to stay in this sunny and charming city.
There are definitely a lot of things to see and do in Key West, from exploring historic downtown to relaxing on one of the gorgeous beaches or enjoying delicious seafood at a local restaurant. Ultimately, though, the amount of time you spend in Key West will depend on your personal preferences and finances.
Personally, I would recommend at least 3 days in Key West, but if you have the time and budget to stay longer, you will definitely not run out of things to enjoy.
---
Wrap-up: The best things to do in Key West, Florida
That's a wrap! Now you know all the best things to do in Key West and I am absolutely sure that your trip is going to be very special.