/
Last Updated November 17th, 2023
Alaska Bucket List: 50 Best Things to Do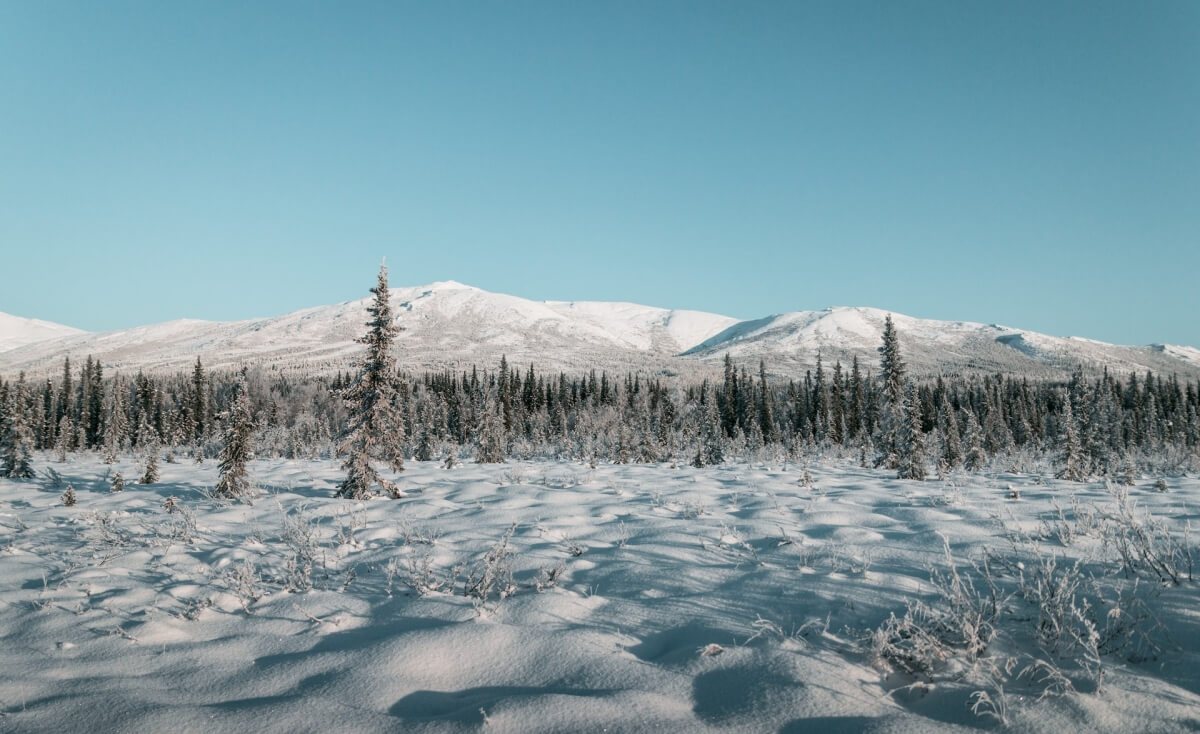 Alaska: a place of the midnight sun, breathtaking glaciers, northern lights, and stunning mountain views. It is true when people say that nothing quite compares to it.
The thing about this beautiful state, however, is that it is impossible to see all that it has to offer in one trip – maybe even a lifetime.
I myself stayed there for two wonderful months and it was barely enough time to see a few of the coolest places.
So, if you're planning a trip to Alaska, my advice is to plan really well and make a list of all the places you want to see the most. This way you won't be disappointed when you have to leave and won't feel like you missed out on anything.
And to help you with that, I've created the ultimate Alaska bucket list – a compilation of all the most incredible places in this state, from national parks to glaciers, lakes, and mountains.
Keep reading for the ultimate list of things to do in Alaska.
---
Plan your Perfect trip to Alaska
🏨 Find the perfect hotel on Booking.com
🎫 If you'd like to go on a tour, check out the best tours to take in Alaska
🎒 Pack bear spray, waterproof hiking boots, and a rain jacket
Follow me on Instagram for more travel tips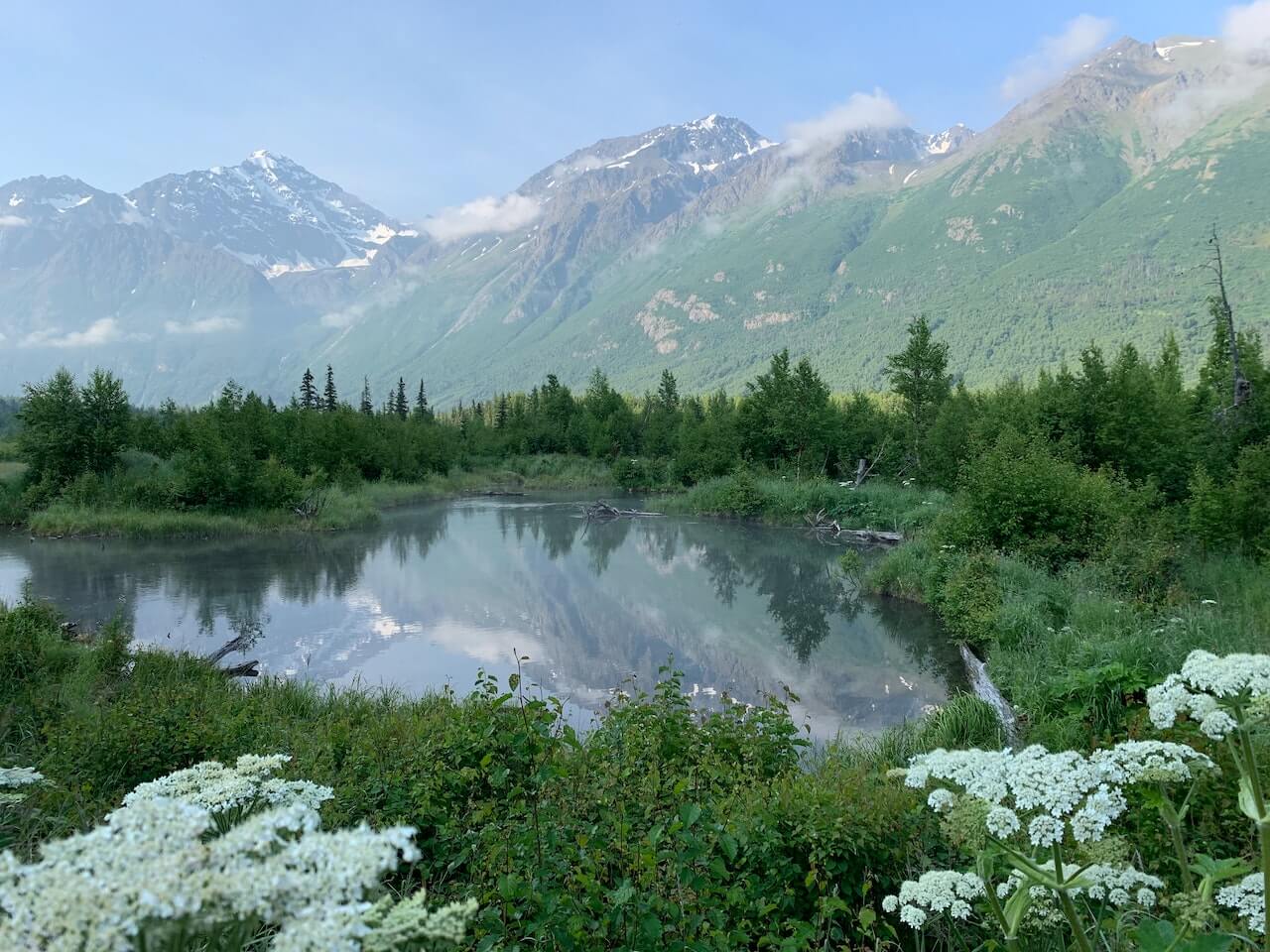 Disclosure: This post may contain affiliate links. Meaning, I get a small commission if you purchase through my links, at no cost to you. This helps me to keep the blog running with free travel content (:
The best things to do in Alaska
1- See the Northern Lights
Seeing the northern lights is a truly magical experience.
As the sun sets and the sky grows dark, a colorful light show begins. Waves of green, pink, and violet dance across the sky, often accompanied by a sense of awe and wonder. For many people, seeing the northern lights is a lifelong dream (personally, it has been on my bucket list for ages, and sadly I didn't get to stay in Alaska long enough to see them. Maybe next time!).
And there is no better place to see them than Alaska. With its wide open spaces and clear night skies, Alaska offers some of the best conditions for witnessing this natural phenomenon.
2- Fly to Barrow and swim in the Arctic Ocean
Barrow is the northernmost city in the United States, and although the town itself doesn't offer a lot in terms of tourist attractions, it is a great jumping-off point for exploring the Arctic and even having the opportunity of actually swimming in the Arctic Ocean! Talk about a bucket list experience, huh?
The water is freezing, but that doesn't stop hardy swimmers from taking the plunge. Just make sure you have a warm place to dry off afterward!
3- Camping in Denali National Park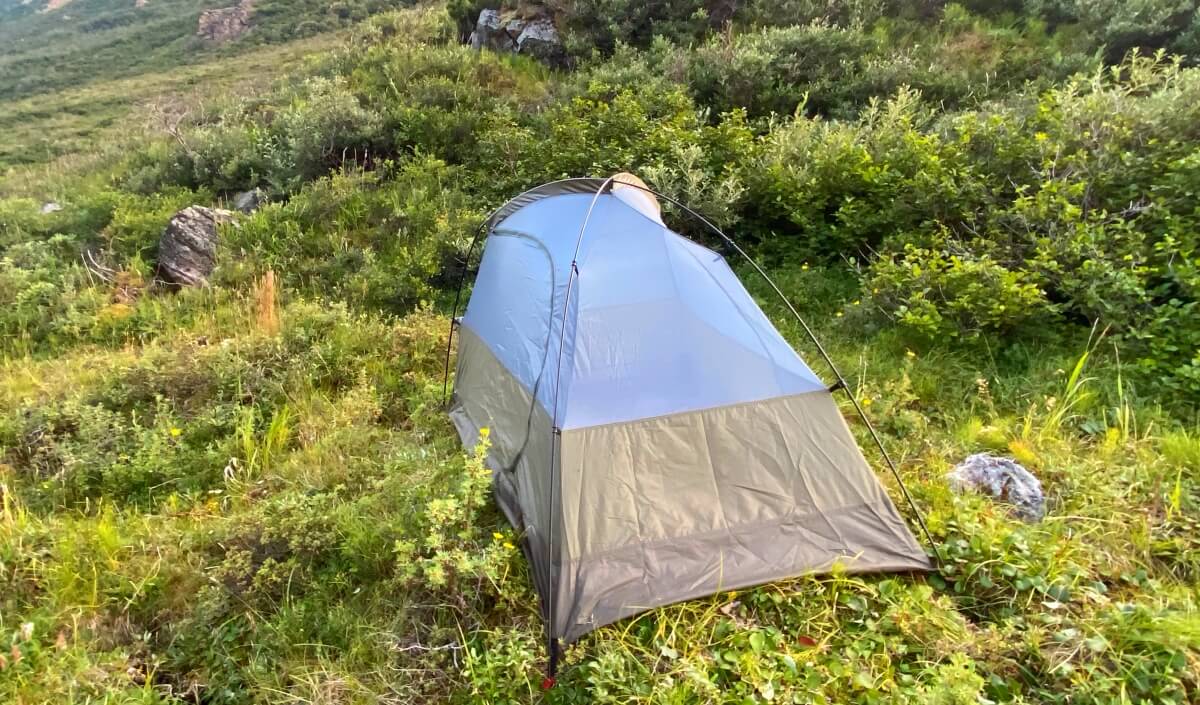 Home to Mount McKinley, the tallest mountain in North America, Denali is one of the most iconic national parks in the United States.
But there's more to Denali than just mountains. The park also offers a wide range of camping opportunities, from primitive backcountry sites to developed campgrounds with all the amenities, and also beautiful hikes, and stunning views.
4- Go on a wildlife cruise in Kenai Fjords National Park
Kenai Fjords National Park is home to some of the most spectacular scenery in Alaska. And what better way to experience it than on a wildlife cruise?
These cruises take you into the heart of the park, where you can see glaciers calving into the ocean and an abundance of marine life. From humpback whales to orcas, there's plenty to see in the open ocean.
5- Bike the Tony Knowles Coastal Trail in Anchorage
The Tony Knowles Coastal Trail is an 11-mile bike trail that runs through the city of Anchorage.
Biking this trail is one of the most popular things to do in the city because it goes through some of the best landscapes in the area. But not only that: The Coastal Trail is also known as one of the best places to see a moose in Anchorage!
6- Hike to Exit Glacier in Kenai Fjords National Park
Kenai Fjords National Park is home to Exit Glacier, one of the most famous glaciers in Alaska (however, if you are in for a more strenuous hike my advice would be to hike Harding Icefield instead!)
This easy hike takes you to the edge of the glacier, where you can get an up-close look at this amazing natural wonder.
7- Visit the Arctic Circle
The Arctic Circle is the northernmost point on Earth, and it's a popular destination for tourists. You can reach the Arctic Circle by driving, flying, or taking a cruise.
And once you're there, you can enjoy a variety of activities, including dog sledding, snowmobiling, and seeing the northern lights.
8- Go on a helicopter tour and land on a glacier!
There's nothing quite like getting up close and personal with a glacier.
And what better way to do it than on a helicopter tour? These tours take you to some of the most stunning glaciers in Alaska, where you can get out and explore.
The best part is that a lot of them also include a glacier landing within the price.
9- Explore Kennicott, an abandoned copper mining town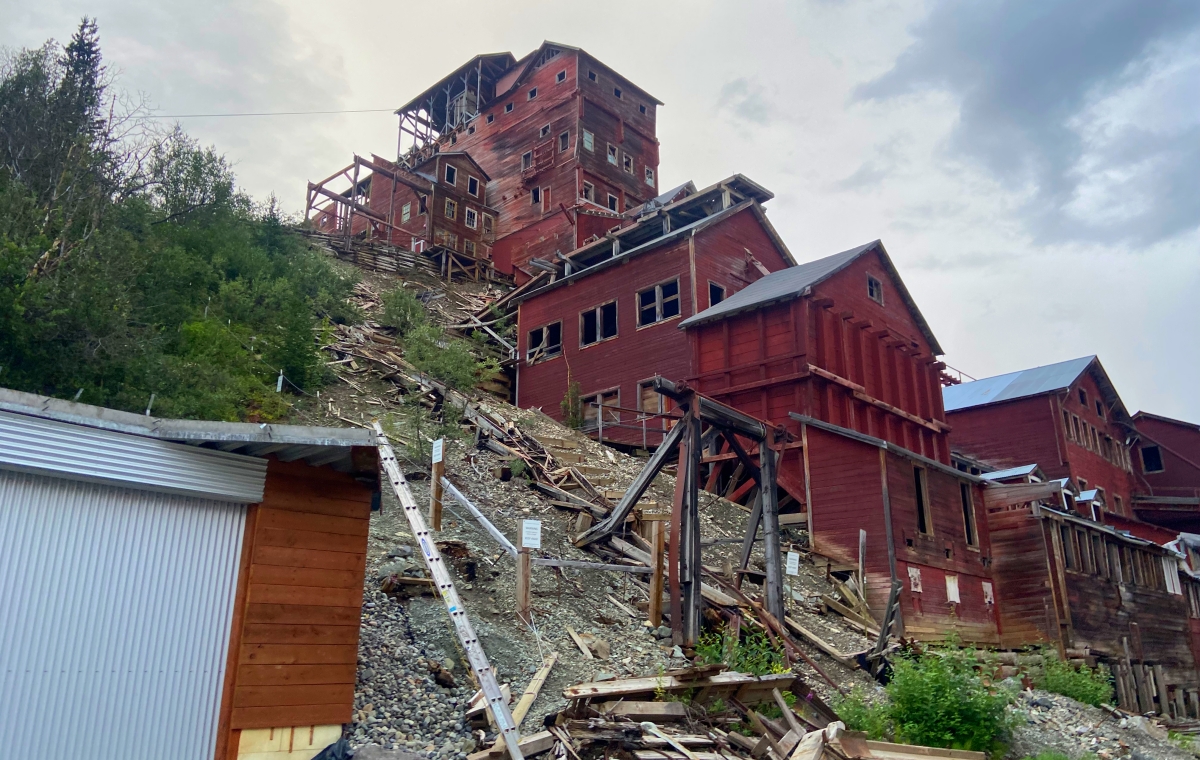 Kennicott is an abandoned copper mining town in Alaska.
This ghost town is a popular destination for history buffs and adventure seekers. And with its stunning views of the Wrangell-St. Elias Mountains and the oldest building in the state, it's no wonder why.
For me, seeing Kennicott was definitely one of my favorite experiences in Alaska.
10- Hike the Matanuska Glacier
The Matanuska Glacier is one of Alaska's most easily-approachable glaciers.
On a moderate hike – that has to be booked in advance here – nature lovers can spend the day exploring the Matanuska Glacier on a hiking tour that traverses the glacier's picturesque terrain.
11- Paddle to Mendenhall Glacier
Or, if you are looking for an even more adventurous experience, you can join an adventure tour where you will paddle Mendenhall Lake past icebergs, giant waterfalls, and wildlife.
Upon landing the canoe at a remote beach site, your guides will safely lead you on an interpretive hike around the rocky surfaces located directly in front of the glacier.
12- Try a reindeer sausage Alaskan hot dog
The reindeer sausage Alaskan hot dog is an affordable and delicious Alaskan staple. I tried it at Red Umbrella Reindeer and love it!
The owner is a very cool guy and gave me some travel tips as well.
13- Walk on the Harding Icefield
The Harding Icefield is a massive ice field located in Alaska's Kenai Fjords National Park.
The hike necessary for getting an up-close look at this amazing natural wonder is quite strenuous but definitely worth it.
14- Take a scenic train ride through Alaska
Riding the Alaska Railroad is one of the most classic and comfortable ways to contemplate Alaska's beautiful landscapes.
These gorgeous trains are quite luxurious and offer an incredible experience (especially if you have never traveled by train before!)
Depending on where you are headed and what time of the year it is, there are different train options to choose from. You can find them all on the Alaska Railroad website.
15- Drive The Dalton Highway
The Dalton Highway is a remote Alaska highway that runs for over 400 miles through some of the most rugged and untouched wilderness in the United States.
The road is named after James William Dalton, an arctic engineer involved in early oil exploration efforts on the North Slope.
Today, the Dalton Highway is mostly used by truckers transporting supplies to the North Slope oil fields, as well as by adventurers seeking to experience the beauty and solitude of the Alaskan bush.
Despite its remote location, the highway is surprisingly well-maintained and offers stunning views of mountains, glaciers, and wildlife.
16- Go dog-sledding in the wild
What is more adorable and more "Alaska" than dog sledding through the beautiful Arctic Tundra?
Dog-sledding is a popular and traditional mode of transportation in Alaska, and nowadays visitors can experience it.
17- Visit an Alaska Native village
Out of 550 total in the United States, Alaska has 229 federally recognized Indian tribes, making it the absolute best to see this culture from up close
Most Alaska villages welcome visitors and even have cultural centers dedicated to showcasing the region's history, arts and crafts and even hosting events.
You can read more about visiting native villages in Alaska here.
18- See Denali from above on a flightseeing tour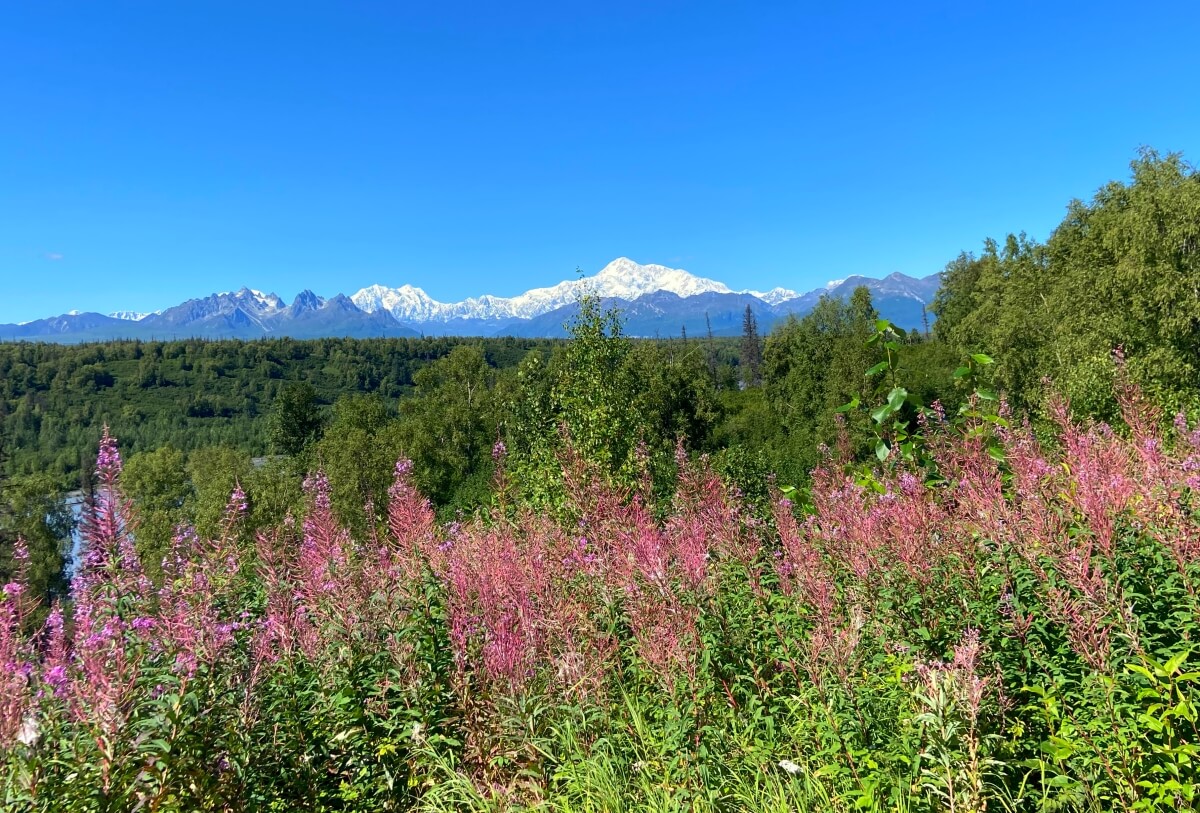 Denali is the highest mountain in North America, with its peak frequently hiding above the clouds. That's why the absolute best way of making sure you will see it is by taking a flightseeing tour.
During my time working in a hostel in Alaska, I heard more than one guest saying this was the best experience of their trip.
19- See bears in their natural habitat
Alaska is home to a variety of different wildlife, including various types of bears.
If you want to see these amazing animals in their natural habitat, there are a few different ways to do it. You can take a guided tour, which will take you to some of the best places to see bears (like this one!). Or you can head out on your own and explore Alaska's wilderness.
Either way, seeing bears in the wild is an unforgettable experience.
20- Go whale watching
Alaska is a great place to go whale watching.
Set sail on a thrilling whale-watching cruise along the coast and look out for humpback whales, as well as other wildlife such as bald eagles and blue herons.
21- Stay in a dome to see the Northern Lights
One of the best ways to see the Northern Lights is by staying in a glass dome. These domes offer an unobstructed view of the night sky, so you can see the Northern Lights in all their glory.
You can book a dome experience here.
22- Bathe in the Chena hot springs
The Chena hot springs are a popular tourist destination for those looking to relax and rejuvenate. These hot springs are said to have healing properties, and they're a great place to unwind after a long day of exploring Alaska. So if you're looking for a unique way to experience Alaska, be sure to add the Chena hot springs to your list.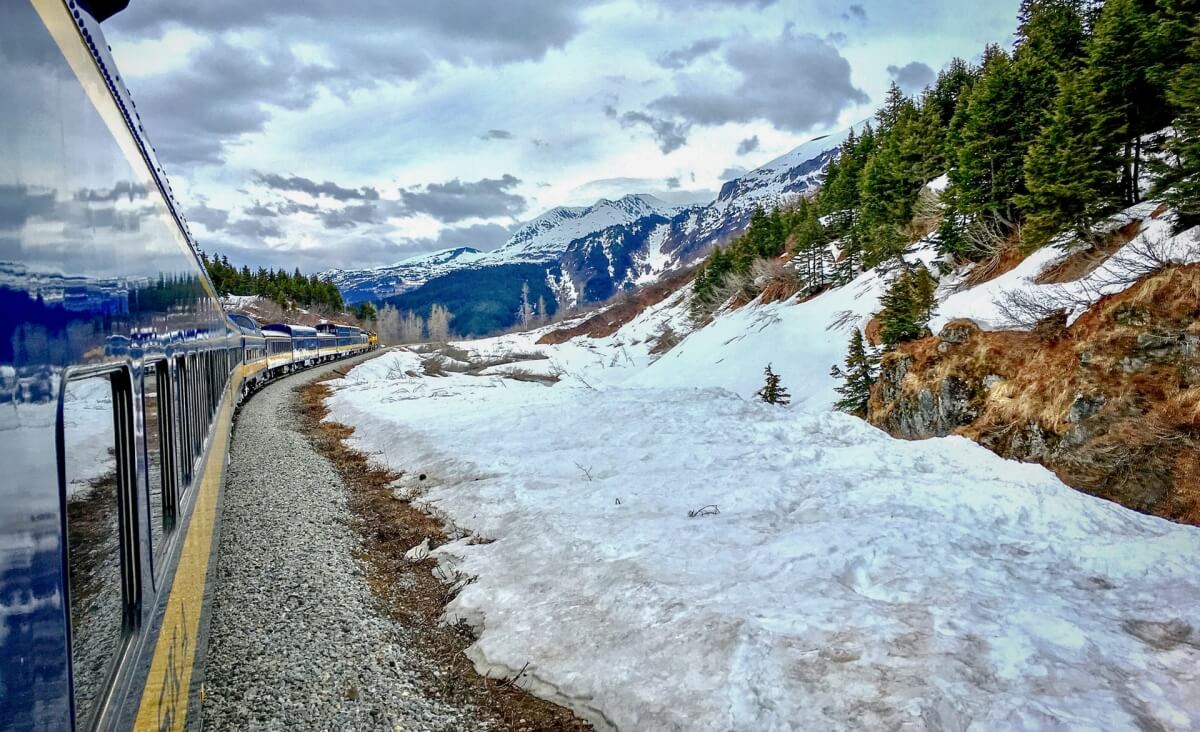 23- Ride the Aurora Winter Train
The Aurora Winter Train is the train that goes from Anchorage to Fairbanks between mid-September to May.
During those months, Alaska turns into a gorgeous winter wonderland and the train ride really feels like a movie (The Polar Express, anyone?).
24- Explore Talkeetna
Talkeetna is an adorable small town located in the heart of Alaska.
Filled with cute coffee shops, restaurants, and souvenir shops, Talkeetna makes for a great place to stop on your way to Denali National Park – you might even consider spending the night if you love the quaint small-town vibe.
25- Snowmobiling
Speed through winter landscapes on a snowmobile adventure and watch for all the wildlife and incredible sight you will encounter.
In Alaska, North Pole is one of the best places for snowmobiling.
26- See a frozen waterfall
Frozen waterfalls are a common sight in Alaska, and they're truly a sight to behold.
There are many beautiful frozen waterfalls around the state, but some of the most remarkable are located in Keystone Canyon, Turnagain Arm, and Prince William Sound.
27- Taste true Alaskan salmon
Alaska is well-known for its salmon, and it's easy to see why. Not only is the fish very (very!) abundant in the state, but it does really taste incredibly fresh, and it's easy to find in any restaurant.
28- Visit an Alaskan brewery and try the local beer
Alaska is home to a number of different breweries, and each one offers a unique experience and excellent beer.
Some of the most famous ones are Alaskan Brewery and Bottling Company, Kenai River Brewing Company, HooDoo Brewing Company, and Homer Brewing Company.
29- Rafting on the Nenana river
Rafting on the Nenana river is a popular tourist activity for those looking to experience Alaska and allows you to float along the natural boundary of Denali National Park.
30- Hike Mount Marathon in Seward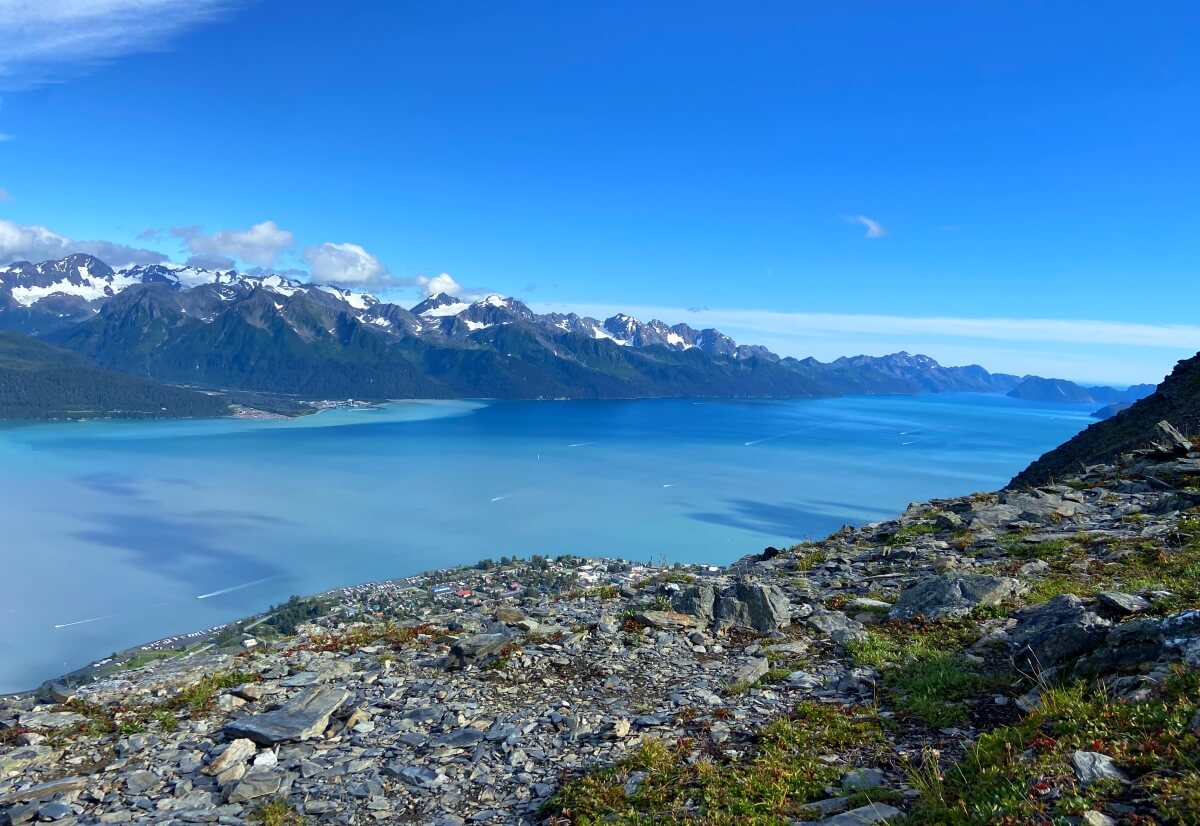 For those who love a challenge, hiking Mount Marathon in Seward is a must-do.
Standing at 3,022 feet, the mountain is one of the tallest in the area and offers stunning views of the surrounding landscape.
The hike itself is relatively strenuous, but it is more than worth it when you reach the summit and take in the panoramic views of the city of Seward right below.
31- Attend Salmon Fest for amazing local music
Salmon Fest is an annual music festival that takes place in Seward, Alaska.
The festival features a variety of different genres of music and it's very popular with tourists and locals alike. I highly recommend it if you enjoy live music and want to experience a bit of the Alaskan party scene.
32- Take a scenic drive down the Seward highway
The Seward Highway is one of the most scenic roads in the United States – maybe even in the world.
Spreading through 127 miles, this highway connects Anchorage to Seward and the views are seriously unbelievable.
33- See the 'Into the Wild' bus in Fairbanks
The famous bus from the book and movie "Into the Wild" was originally located near Denali National Park.
However, it was eventually moved to Fairbanks (people died trying to find it!), where it is now on display for tourists. So if you're a fan of the book or movie, be sure to add this to your list of things to do in Alaska.
34- Kayaking to Bear Glacier
Surrounded by icebergs, Bear Glacier is one of the most jaw-dropping glaciers in all of Alaska.
To reach it, a popular option is kayaking the glacier's calm lagoon while taking all the amazing views in.
35- Explore the Ice Caves in Spencer Glacier
Spencer Glacier is located near the town of Whittier and offers the unique opportunity of exploring ice caves.
Hiking Spencer on your own is possible, but I would highly recommend going on a guided walk since glaciers and inexperience are definitely a recipe for disaster. You can read all about hiking Spencer Glacier here.
36- Visit the Alaska Wildlife Conservation Center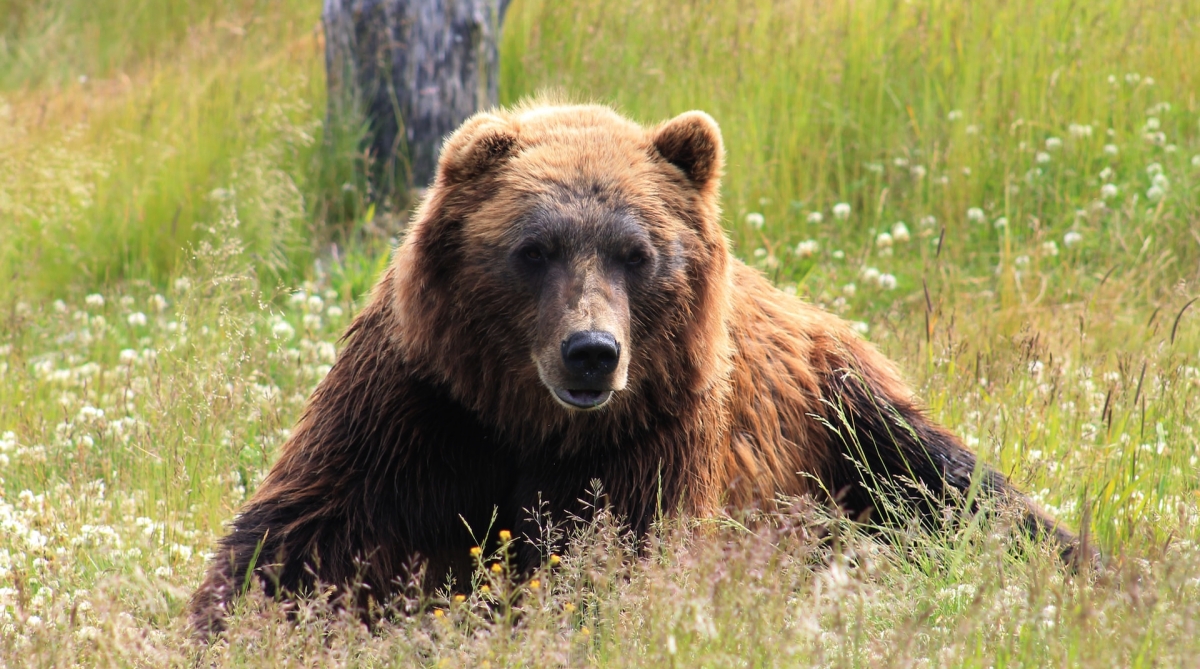 When seeing animals in the wild, it is always important to keep a good distance for ecological and safety reasons.
However, in The Alaska Wildlife Conservation Center, you can see all the Artic's most famous animals up close! The best part is that this institution actually cares for injured and orphaned animals and has incredible conservation programs.
37- Visit the Alaska Native Heritage Center
The Alaska Native Heritage Center is an educational institution that promotes an opportunity to observe, learn and experience Alaska Native Culture right in the city of Anchorage.
Makes for a great visit for the first days of your trip to begin understanding all the history and culture you will be exposed to in Alaska,
38- Visit the small town of Whittier and drive across the Whittier Tunnel
The small town of Whittier is located in the southeastern corner of Alaska. Despite its small size, the town is home to a number of different tourist attractions.
To get here, you will drive across the Whittier Tunnel, which is one of the only ways to access the town and one of the coolest works of engineering in Alaska.
39- Spot a bald eagle in Haines
Haines is a small town in southeastern Alaska known as "The Valley of the Eagles" because of its vast population of bald eagles that raises from 400 to over 3,500 in the months of October to December.
40- Try baked Alaskan halibut
If you want to try a fish other than salmon, go for the delicious Alaskan halibut.
Halibut is one of the most popular types of fish in Alaska. And while you can find it cooked in a variety of different ways, baked halibut is one of the most popular.
41- Hiking up Flattop Mountain
Flattop Mountain is an incredible hike located super close to Anchorage, in the Chugach State Park,
Suitable for beginners, this hike takes about 2 hours and a half to complete, is super fun (it gives you a little bit of rock climbing at the end, which I personally love), and offers fantastic views of Anchorage from the top.
You can read about hiking Flattop here.
42- Go on a seaplane tour of Misty Fjords
Misty Fjords National Monument is a remote, roadless wilderness area that can only be reached by air and sea.
A floatplane flight tour takes you into the heart of the park where you can see untouched areas of Alaska far from the hoards of cruise ship passengers that flock to more accessible areas.
43- Hike Peak O'Malley in the summer
Hiking Peak O'Malley was the first thing I did when I got to Alaska and highly recommend it.
The views are some of the most beautiful that I have ever seen (they even reminded me of Switzerland!) and the hike is an easy-moderate.
44- Mingle with locals at the Golden Saloon in McCarthy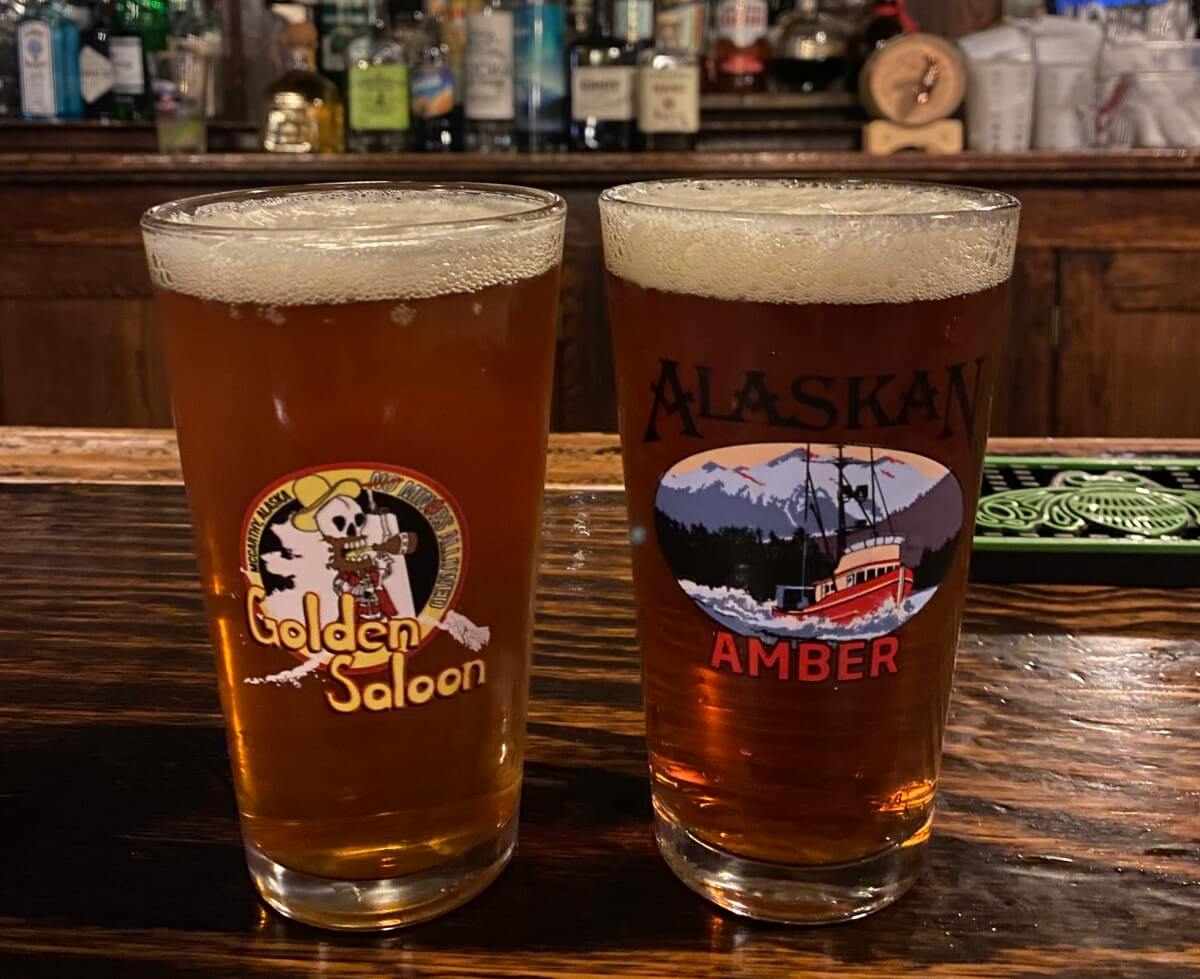 Located inside Wrenge's Trading Post in McCarthy, the Golden Saloon is a must-see for any visitor to the area.
The bar was established in 1907 and is one of the oldest bars in Alaska. It's also one of the most popular tourist attractions in McCarthy, so be sure to stop by and mingle with the locals.
45- Hike the Byron Glacier Trail
This 3.2 miles hike is easy, family-friendly, and goes through some really cool glacier caves and beautiful views.
46- See a moose!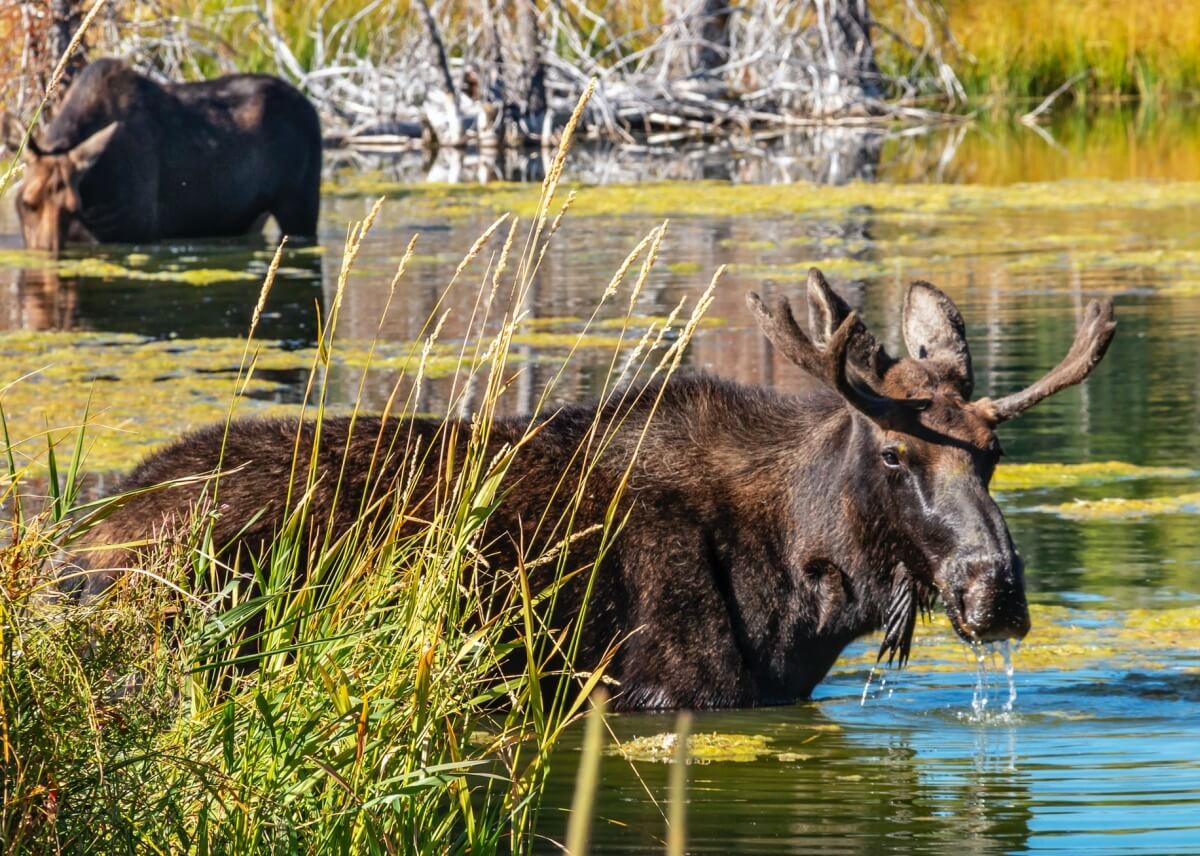 One of the best things about Alaska is its wildlife. And while you can see a variety of different animals, moose are one of the most iconic.
The good news is that spotting a moose in Alaska is super easy! Even in Anchorage, they are everywhere where there's nature around.
47- Explore the largest national park in the United States
Wrangell-St. Elias National Park & Preserve is the largest national park in the country. Also, due to its remoteness, it is one of the most unique and wild ones in the park system.
48- Visit the town of Valdez
The small coastal town of Valdez was a nice surprise!
Known as the southern terminus for the Trans-Alaska Oil Pipeline, this charming place is full of personality, cute shops, and restaurants. Also, its location in Prince William Sound makes it a great place for venturing out into the sea and exploring places such as Columbia Glacier.
---
Top 7 things to do in Alaska
For me, if I had to redo my entire trip to Alaska, these would be my top seven things to do in the state in no particular order:
See the Northern Lights
Hike Harding Icefieldd
Fly over Denali
Camp in Denali National Park
Go on a wildlife cruise from Seward
Explore Wrangell-St Elias National park
See a bear!
---
Wrap-up: The ultimate Alaska bucket list
That's a wrap! I hope that this post gives you plenty of ideas for your future trip to Alaska. And if you have already been there before, that it might inspire another trip.
You can read my other posts about Alaska here.
Happy travels!
---