/
Last Updated November 10th, 2023
24 Epic Things To Do In Seward, Alaska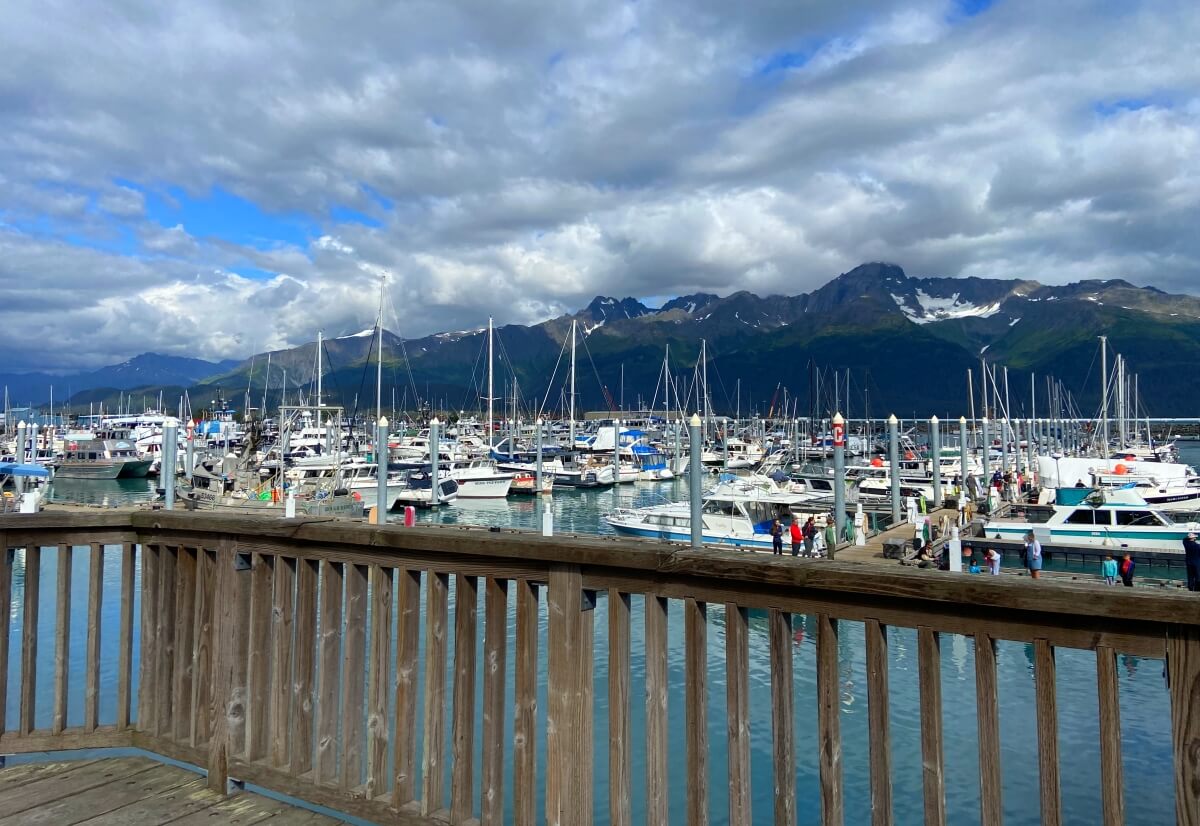 Seward is a charming small town in Alaska. Located on the Kenai Peninsula, it is surrounded by incredible mountains, glaciers, and wildlife and is a fantastic destination for outdoor adventure.
Its popularity is mostly due to its proximity to Anchorage and Kenai Fjords National Park and in recent years, Seward has also become increasingly popular as a cruise ship port of call, offering visitors the chance to explore this beautiful corner of Alaska.
In this guide, you will find all the best things to do in Seward + all the tips and information you will need to know before your trip.
---
Plan your Perfect trip to Alaska
🏨 Find the perfect hotel on Booking.com
🎫 If you'd like to go on a fun tour, check out the best tours to take in Alaska
🎒 Pack bear spray, waterproof hiking boots, and a rain jacket
Follow me on Instagram for more travel tips
Disclosure: Some links on this page are affiliate links. That means that at no extra cost to you, I earn a small commission if you book through these links, and that helps me keep this blog running. Enjoy!
How to get to Seward, Alaska
There are a few different options when it comes to getting to Seward, Alaska.
The most popular way is to fly into Anchorage and then take a shuttle or drive the 125 miles down to Seward.
However, in my opinion, taking the train is the best way to get to Seward as it's a scenic journey and you get to see so much more of Alaska this way!
---
30 Amazing things to do in Seward
Here are, without further ado, the best things to do in Seward, Alaska.
In a hurry?
Check out some of our favorite things to do in Seward
1- Hike to the Harding Icefield
Hiking to the Harding Icefield was definitely my favorite thing I did in Seward.
This hike isn't for the faint-hearted as it's around 8.4 miles return and takes around 6-7 hours to complete but it is so worth it!
The trail first leads you through beautiful forests of cottonwood trees before opening up to give views of the Kenai Mountains and Resurrection Bay.
You then continue hiking up and up and once you make it to the top, you are rewarded with truly breathtaking views of the Harding Icefield.
You can do this hike either on your own or on a tour.
2- Take the train back to Anchorage
As I mentioned above, taking the train is definitely the best way to get to Seward, but taking it on the way back is also an excellent idea.
The Alaska Railroad runs daily from Seward to Anchorage and it's a super scenic journey as the train winds its way through mountains, forests, and by Turnagain Arm, a tidal inlet of the Cook Inlet.
3- Hike Exit Glacier
Have you ever imagined actually hiking on a glacier? Well, in Seward you can do just that!
Exit Glacier is one of the most popular glaciers in Alaska and it's easy to see why. It's easily accessible being only a short drive from Seward. However, to walk on the glacier it is necessary to go with a guide since it can be very dangerous without the right experience and equipment.
4- Explore the town
Seward is a small town but there are still plenty of things to do.
One of the best things to do is simply wander around and explore. Check out the funky shops, art galleries, and cafes.
If you're interested in history, then make sure to visit the Seward Museum which chronicles the town's fascinating history.
And, of course, no visit to Seward is complete without taking a walk down to the harbor to watch the boats coming in and out.
5- Visit the Alaska SeaLife Center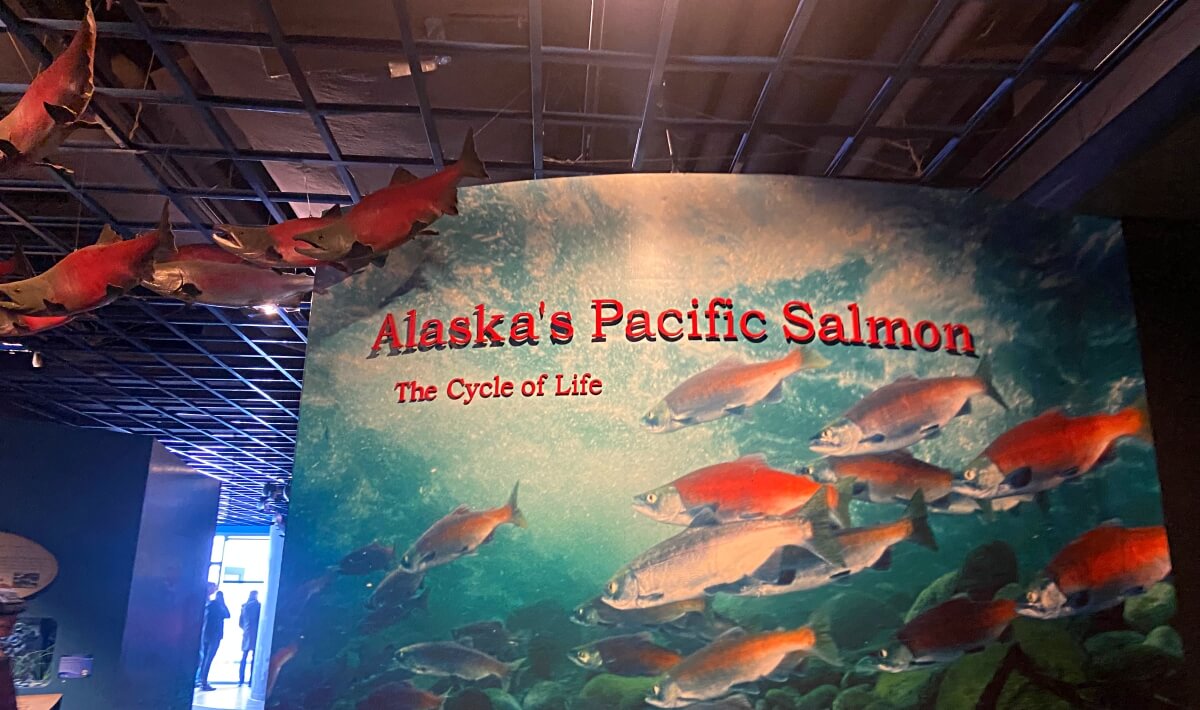 The Alaska SeaLife Center is one of the most popular tourist attractions in Seward and is the perfect place to learn more about the local marine life.
I simply loved seeing sea otters, seals, and puffins from close!
6- Have breakfast or grab some coffee at Resurrect Art Coffee House
If you're looking for a great place to grab breakfast or coffee in Seward, then head to Resurrect Art Coffee House.
This funky little cafe is located in an old church and it has a really cool vibe. The food is also delicious and they have a great selection of coffees and teas.
7- Go on a Kenai Fjords National Park Glacier & Wildlife Cruise
Kenai Fjords National Park is one of the highlights of Seward and there is no better way to explore it than on a glacier and wildlife cruise.
On the cruise, you'll get to see towering glaciers, pristine icebergs, and an abundance of marine wildlife including whales, sea lions, otters, and more.
8- Take a scenic drive down the Seward Highway
One of the best ways to explore Seward and the surrounding area is by taking a scenic drive down the Seward Highway.
Make sure to take your time and stop for incredible pictures along the way.
9- Take a Helicopter and Glacier Dog Sledding Tour
Looking for an unforgettable experience in Seward? Then take a helicopter and glacier dog sledding tour!
On the tour, you'll get to fly in a helicopter over the Kenai Peninsula before landing on a glacier where you'll go dog sledding. It's an incredible experience.
10- See the view from the top of Mount Marathon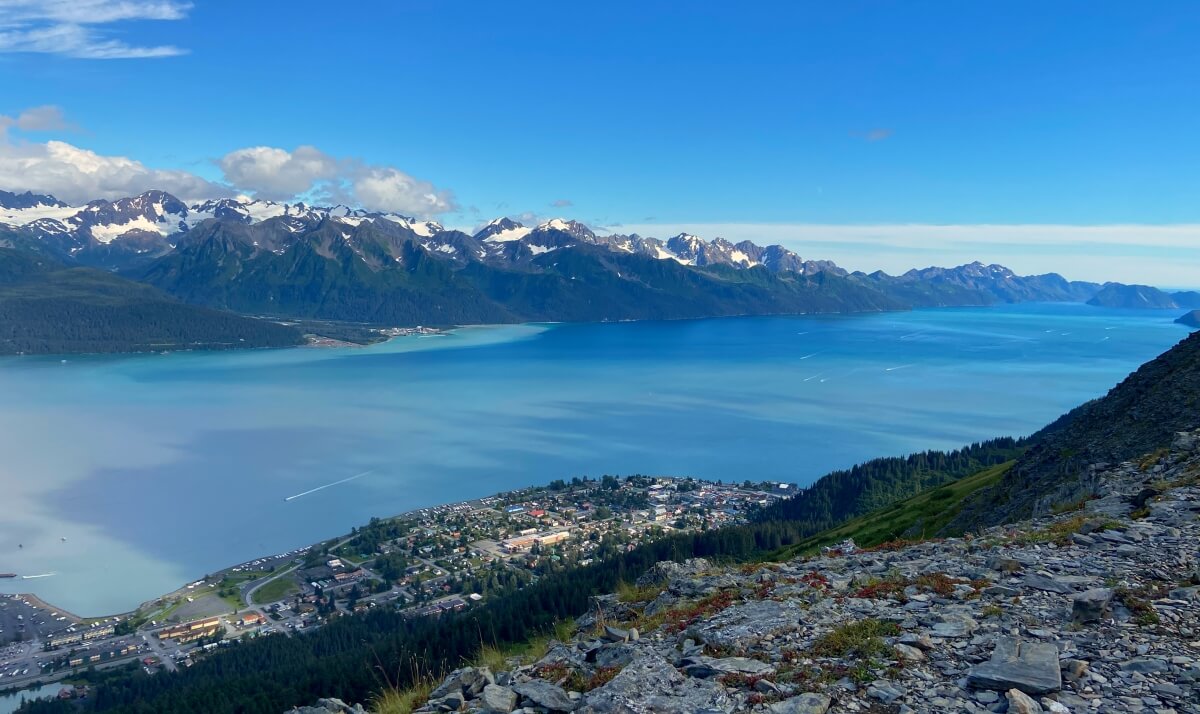 If you're up for a challenge, then make sure to hike to the top of Mount Marathon. The hike is tough but it's worth it for the incredible views that you'll be rewarded with at the top.
The best thing about this hike is that the trailhead is located in town so there is no need to drive there.
11- Discover the foodie scene in Seward
Seward is a foodie paradise and there are plenty of great places to eat in town.
For breakfast, make sure to try the blueberry pancakes at the Smoke Shack. For lunch or dinner, check out The Cookery for some delicious seafood. Salmon Bake is another good option right by the Kenai Fjords National Park,
And for something sweet, get your hands on gelato from Sweet Darlings.
12- Buy souvenirs at Forest tIDES AND tREASURES
Forest Tides and Reasyres is the perfect place to buy souvenirs for friends and family back home. Not only does the shop have a great selection of locally made products, but it's also a great place to stock up on food and supplies for your travels.
13- Experience ziplining
Ziplining is one of the most popular activities in Seward and for good reason. There's nothing quite like soaring through the air with stunning views of the mountains and ocean below.
If you're looking for an adrenaline-pumping activity, then ziplining is definitely for you.
14- Kayak to a Historic WWII Army Fort
For a truly unique experience, kayak to the historic WWII Army Fort Raymond on Fox Island.
The fort is only accessible by boat and it's a great place to explore and learn about the history of Seward during World War II.
15- Fly over Bear Glacier
Bear Glacier is one of the most impressive glaciers in Alaska and you can get a bird's eye view of it on a scenic flight.
On the flight, you'll fly over the glacier and get views of the surrounding mountains and ocean.
16- Gold panning
If you're looking for a fun and unique activity, then go gold panning in Resurrection Creek.
This creek is known for its gold deposits and is a good place to learn about gold panning. Even if you don't find any gold, it's still a fun experience.
17- Go rafting on the Ressurection River
Raft down a glacial river located just outside the city of Seward for an incredible adventure.
18- Hike or bike to Lost Lake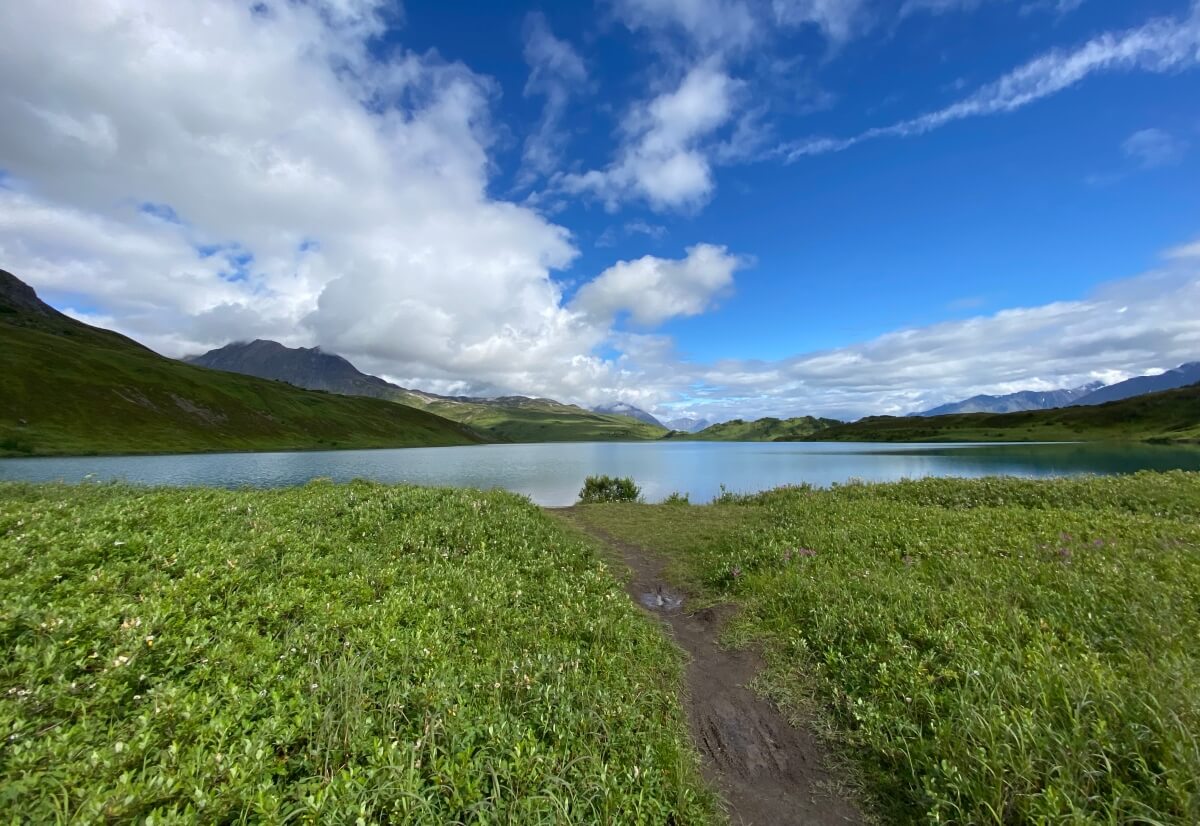 The hike to Lost Lake is long but so incredibly beautiful!
The trail takes you through pristine forests and meadows with stunning views of the mountains and valleys near Seward.
19- Visit Fox Island for a day of kayaking and beachcombing
Fox Island is a small island located in Resurrection Bay, just a short boat ride from Seward. It's the perfect place to spend a day kayaking, beachcombing, and exploring the island's hiking trails.
20- Go deep sea fishing
If you're looking for a truly unique Alaska experience, then go deep sea fishing in Seward.
Here, you can fish for halibut, salmon, rockfish, and more. And, if you're lucky, you might even catch a glimpse of a whale or two.
21- Learn at the Seward Community Library & Museum
The Seward Community Library & Museum is the perfect place to learn more about the history and culture of Seward and the Kenai Peninsula.
22- Stroll along Lowell Point Beach
Lowell Point Beach is one of my favorite places in Seward to relax and take in the stunning scenery.
This secluded beach is located just outside of town and it's the perfect place to go for a walk, read a book, or simply enjoy the view.
23- Explore the Tonsina Trail
The Tonsina Trail is a popular hiking trail located just outside of Seward.
The trailhead is located at the end of Lowell Point Road and it's the perfect place to get away from the hustle and bustle of town.
24- Stop by the Kenai Fjords Visitor Center
The Kenai Fjords Visitor Center is the perfect place to learn more about Kenai Fjords National Park.
Here, you can watch a short film about the park, explore the interactive exhibits, and even go on a ranger-led hike.
25- Walk along the waterfront
One of the best things to do in Seward is to simply walk along the waterfront.
This is a great place to people watch, catch a glimpse of the stunning scenery, and maybe even spot some wildlife.
---
What to pack for Seward
When packing for Seward, be sure to pack layers as the weather can change a lot during the day!
Also, since it rains often, be sure to pack a raincoat and waterproof shoes. And if you're planning on doing any hiking, be sure to pack plenty of water and snacks.
Here are a few other items that we recommend packing:
---
Best places to stay in Seward
There are many good places to stay in Seward but these are our top three picks:
Harbor 360 Hotel Seward: This lodge is located just minutes from downtown Seward and has stunning views of the ocean.
Gateway Hotel: is one of the nicest hotels in Seward and offers continental breakfast and great amenities.
Moby Dick Hostel: If you are backpacking or on a budget, Moby Dick is a very nice and affordable hostel.
---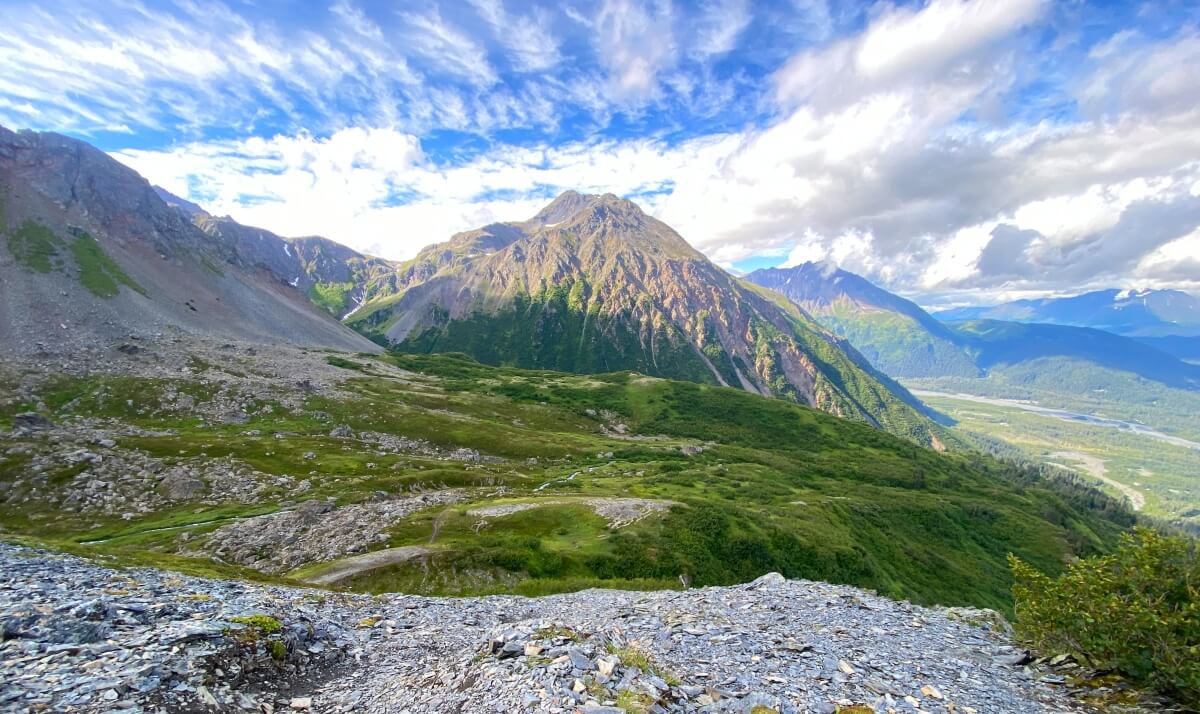 Best time to visit Seward
The best time to visit Seward is during the summer months from June to August. During this time, the weather is warm and sunny with very little rainfall.
If you're looking to avoid the crowds, then September is a great time to visit as many people start to head back home after the summer.
---
Seward travel tips
Last but not least, here are a few travel tips you should know before visiting Seward.
If you visit during high season, book tours in advance
Seward can get surprisingly busy during peak season so it's important to book your hotel room and tours in advance.
Don't forget to pack rain gear
Seward is located in Alaska and it rains A LOT. Be sure to pack a raincoat and waterproof shoes so you can stay dry during your travels.
Take bear spray with you
When hiking in Alaska, it is always important to prepare for unexpected bear encounters. Be sure to take bear spray with you on any hikes and know how to use it.
The bus is the cheapest way of getting from Anchorage to Seward
If you are on a budget, the cheapest way to get from Anchorage to Seward is by taking the bus.
The cost is $100 and it's a great way to see the beautiful scenery of Alaska.
Food is expensive in Seward
If you are on a budget, I recommend packing your own food or eating at the local fast food restaurants (there is a Subway near the marina!).
Food is surprisingly expensive in Seward and it can be hard to find affordable options.
---
Wrap-up: The best things to do in Seward, Alaska
So, there you have it – a list of the best things to do in Seward, Alaska.
I hope this list is useful and that you have a wonderful time in Seward. For more travel tips and content, make sure to follow me on Instagram.
---