/
How to Spend One Day in Santa Barbara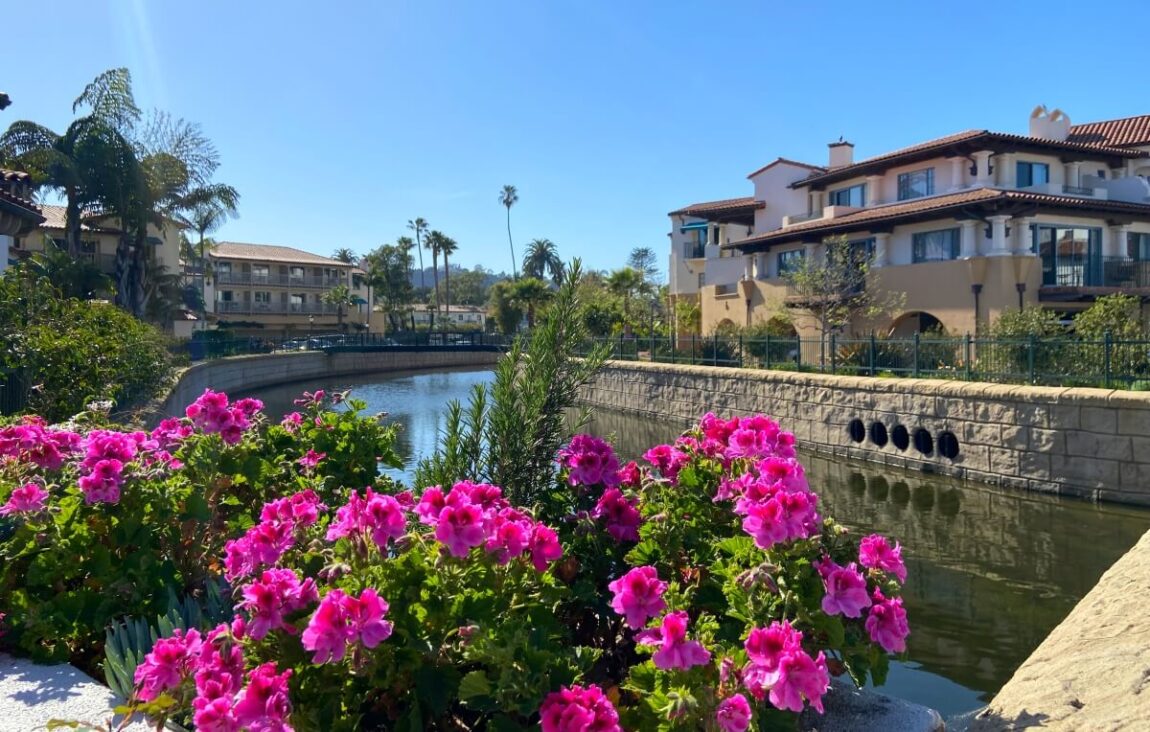 Planning on going on a day trip to Santa Barbara?
The charming town of Santa Barbara is one of my favorite places in Southern California and while most people have heard about it before, few know about all the culture and history surrounding this place and the variety of cool things to do there.
From the beaches and amazing weather to the wide range of cultural attractions and events, there are many good reasons to visit this lovely town for a day or more and enjoy the city's Mediterranean climate, stunning ocean views, and friendly locals.
In this guide, you will find all the best things to do in one day in Santa Barbara.
---
Plan the perfect trip to Santa Barbara:
Find the perfect hotel on Booking.com
 Get exploring by booking tours and excursions on Viator and Get Your Guide
Disclosure: This post may contain affiliate links. Meaning, I get a small commission if you purchase through my links, at no cost to you. This helps me to keep the blog running with free travel content (:
---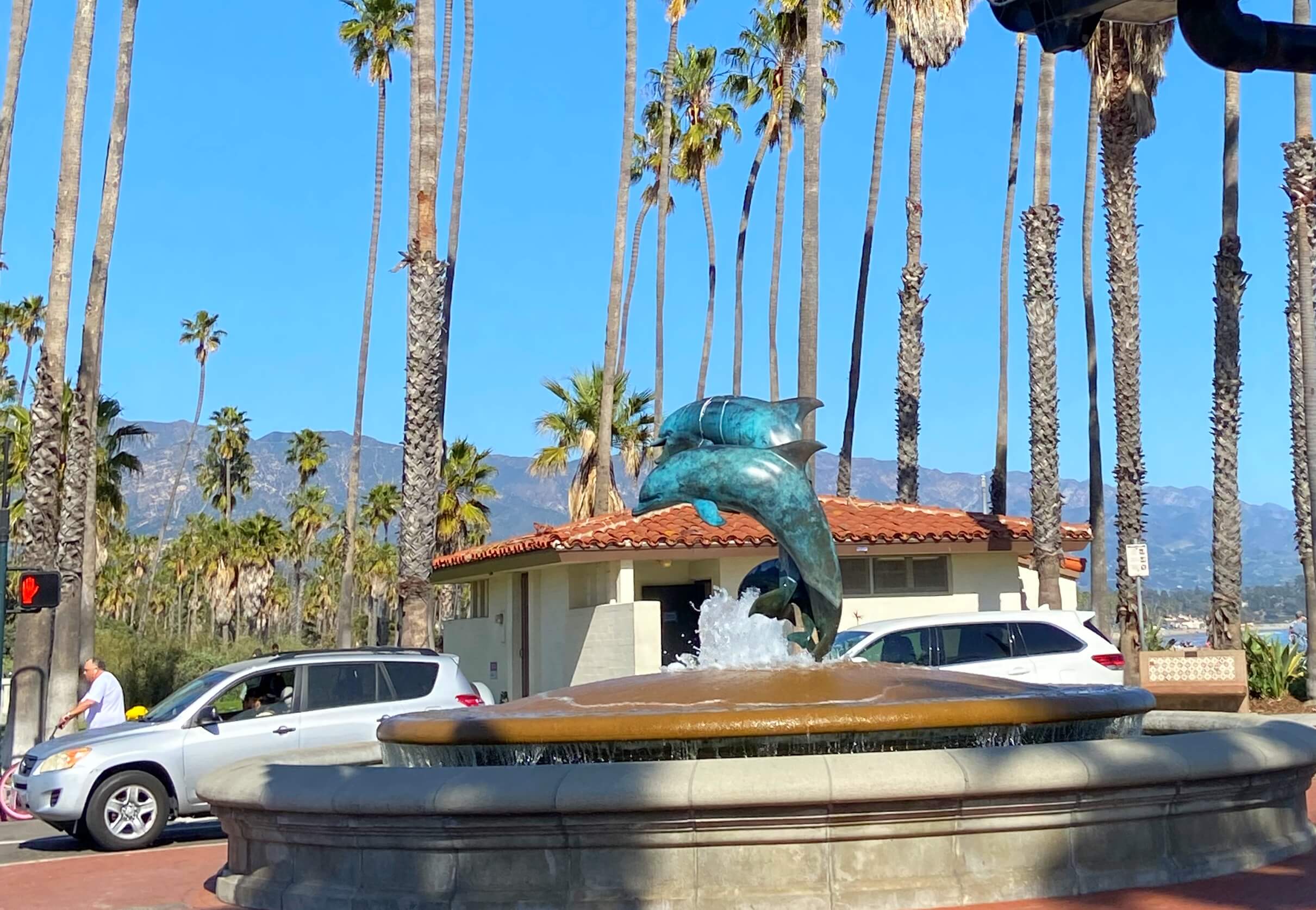 Best things to do in Santa Barbara in one day
Santa Barbara has been around since 120 when Padre Junipero Serra founded the mission that would be named in his honor.
Now, every building seems to have a story attached to it and the town really has this wholesome, friendly, small-town feel to it.
There are so many things to do in Santa Barbara, from exploring its charming downtown area, strolling along its beautiful beaches, and attending one of its many amazing festivals and events.
1- Visit The Santa Barbara Mission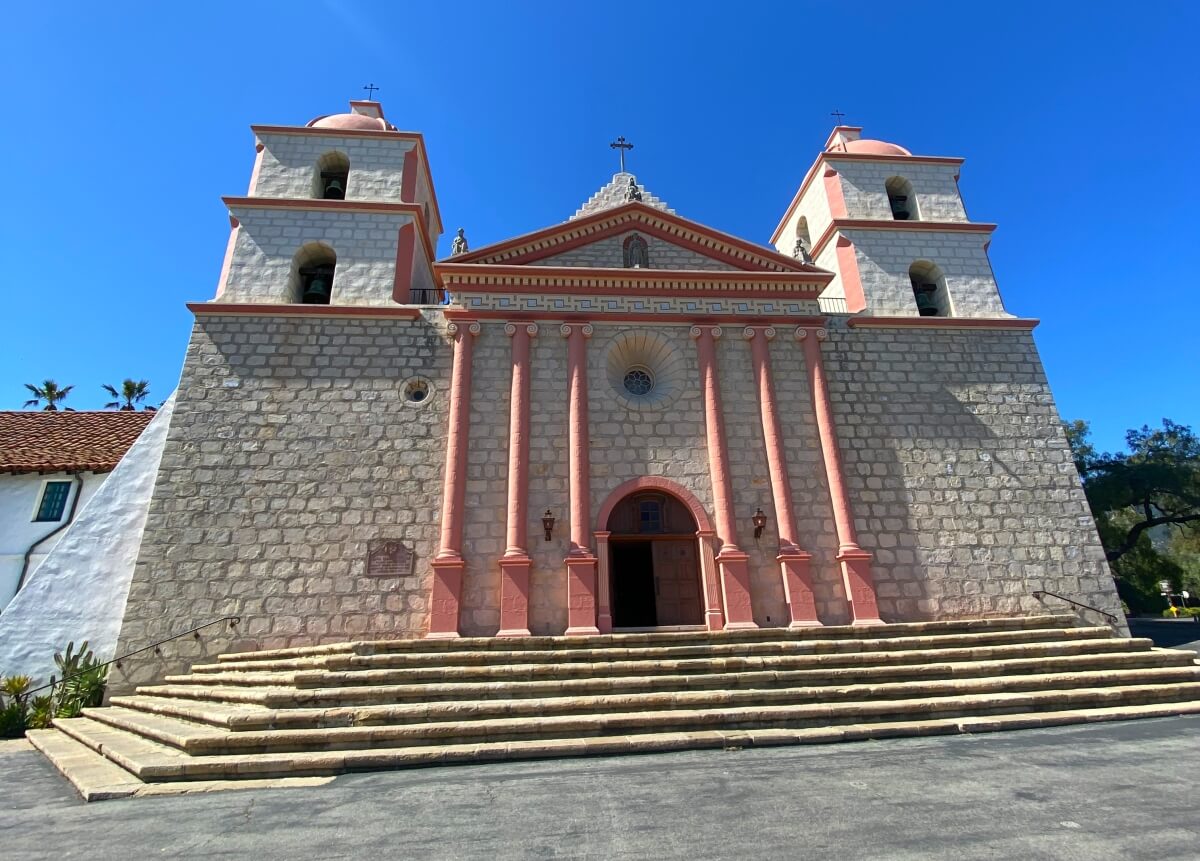 The Santa Barbara Mission is a popular tourist destination and a reminder of the rich history of California.
Founded in 1820, the mission is a historic landmark and it is the only mission still standing that was founded by Father Junipero Serra.
The mission was originally built with adobe bricks, but after an earthquake destroyed much of the original structure in 1812, it was rebuilt using brick and stone.
Today, the mission is open to the public and houses a museum showcasing the history of the area.
Visitors can also explore the beautiful grounds, which feature gardens, a fountain, and a cemetery.
2- Have an ice cream sandwich at McConnell's Fine Ice Creams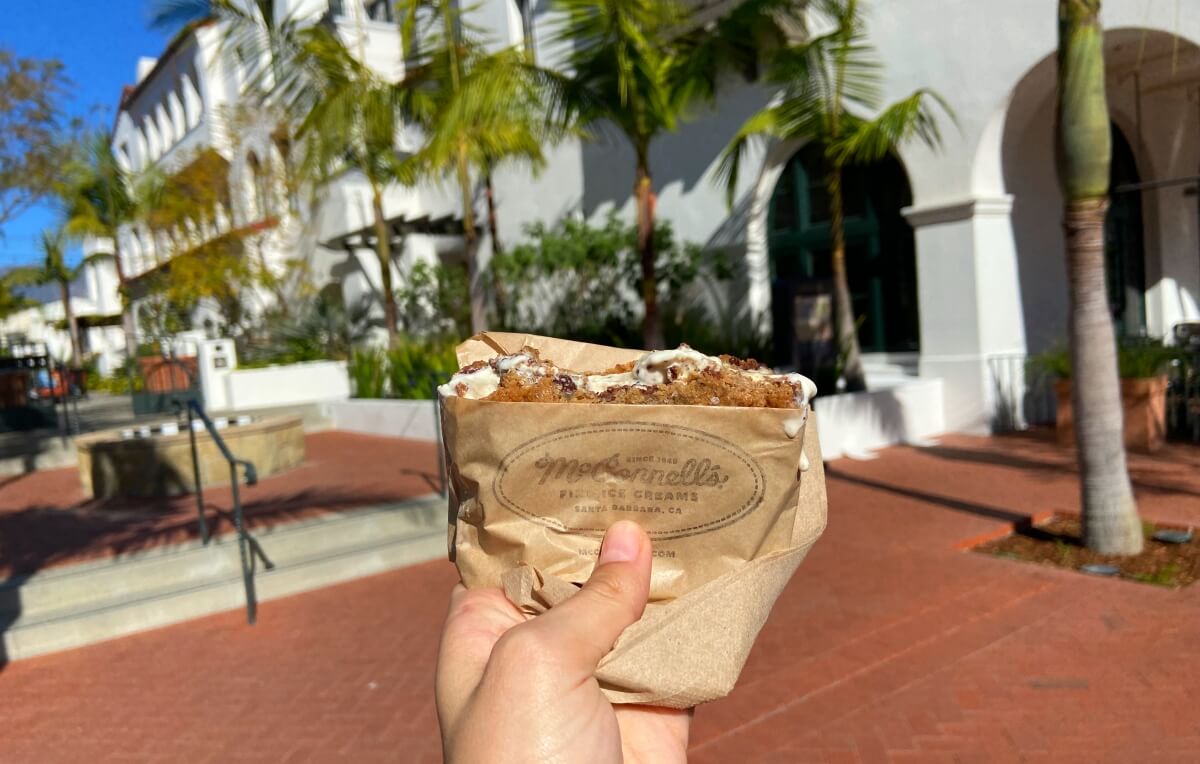 If you're looking for a sweet treat, stop by McConnell's Fine Ice Creams. This family-owned shop serves up delicious artisanal ice cream in flavors like rocky road and mint cookie crumble.
But the real star of their menu is the famous McConnell's ice cream sandwich, which features two housemade cookies stuffed with creamy vanilla ice cream in the center. It's so so good!
3- Ride a bike along the beach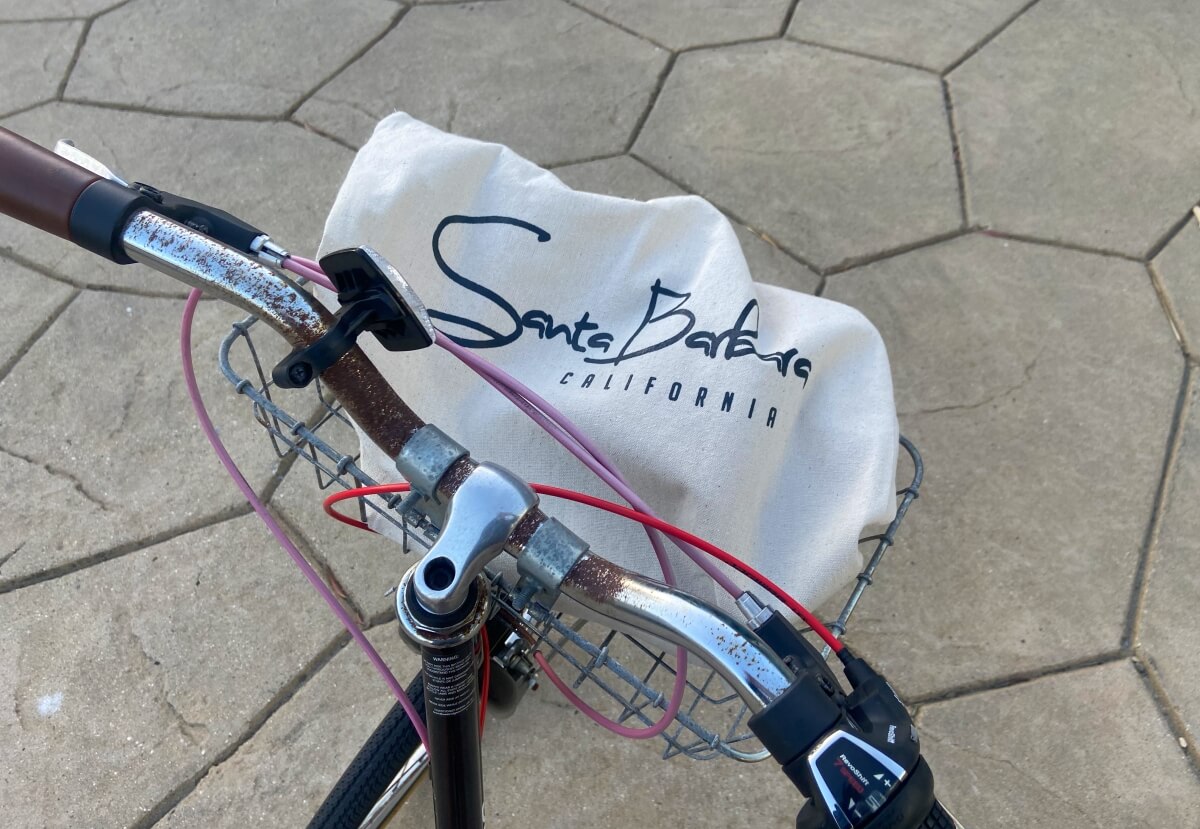 Another great activity to enjoy on a sunny day in Santa Barbara is biking along the ocean. There are plenty of bike rentals available, and many of them will even drop you off at one end of the beach so that you can explore freely.
The beaches here are absolutely stunning, with miles of wide open sand stretching out in front of you. Whether you want to fly down the coastline or take it slow and enjoy the views, a bike ride along the beach is sure to be an unforgettable experience.
4- Go on a food tour of Santa Barbara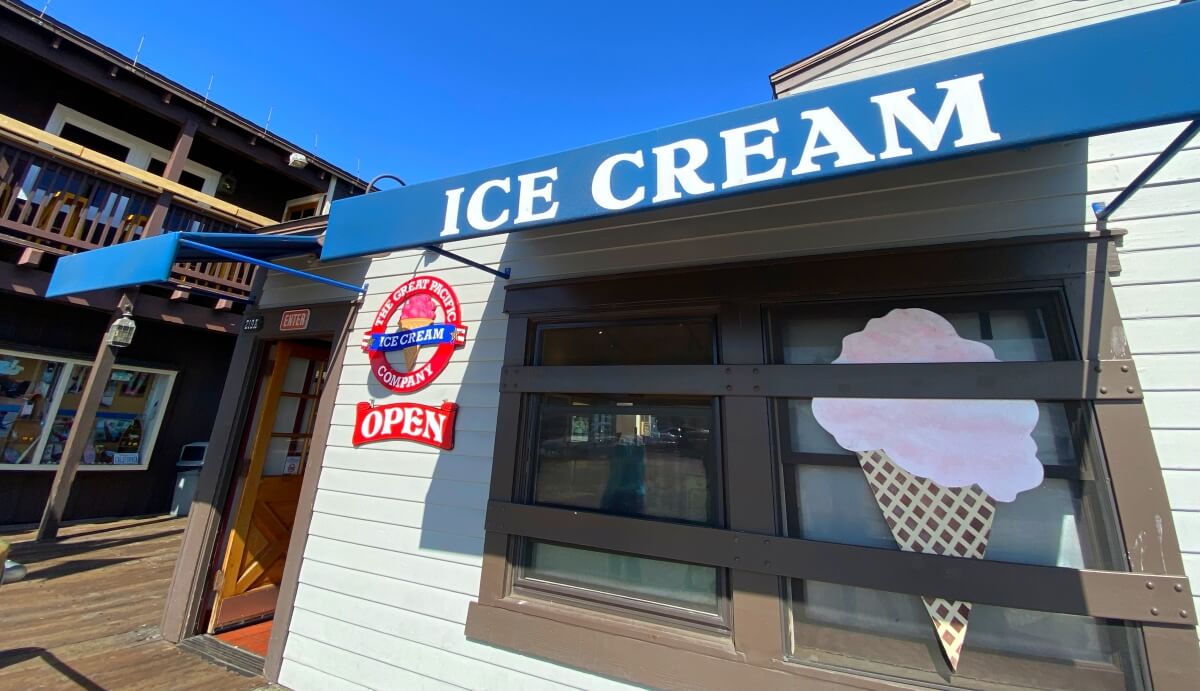 If you're looking to try some of the best food in Santa Barbara, the best way to experience the local culinary scene is by going on a guided food tour.
There are many different options available, including walking tours that will take you downtown and let you sample dishes from dozens of restaurants and food trucks. With so many amazing eateries in one place, you're bound to find something delicious on Santa Barbara's epicurean trail!
5- Explore Santa Barbara's wine country
Santa Barbara is home to a number of beautiful wineries and vineyards, making it the perfect place for wine lovers.
There are many different tours available, including organized bus tours that will take you to wineries throughout Santa Barbara County. If you're a true oenophile, there's no better way to spend a day in Santa Barbara than sipping your favorite wines and enjoying the stunning views!
6- Visit the Santa Barbara Museum of Natural History
If you're looking for a fun, educational activity to do in Santa Barbara, the Natural History Museum is the perfect option.
The museum features interactive exhibits that teach visitors about everything from local wildlife to astronomy and even history.
It's a great place to bring kids or just spend an afternoon learning something new.
7 – Hike to Inspiration Point
Located in the beautiful Los Padres National Forest, the hike to Inspiration Point is a must-do activity while visiting Santa Barbara Whether you're an experienced hiker or just looking for a relaxing stroll in nature.
The trail winds up through lush forests and along rocky cliffs, providing incredible views of the surrounding area along the way.
And at the top, you'll be rewarded with sweeping panoramic vistas that truly take your breath away.
8- Explore Stearns Wharf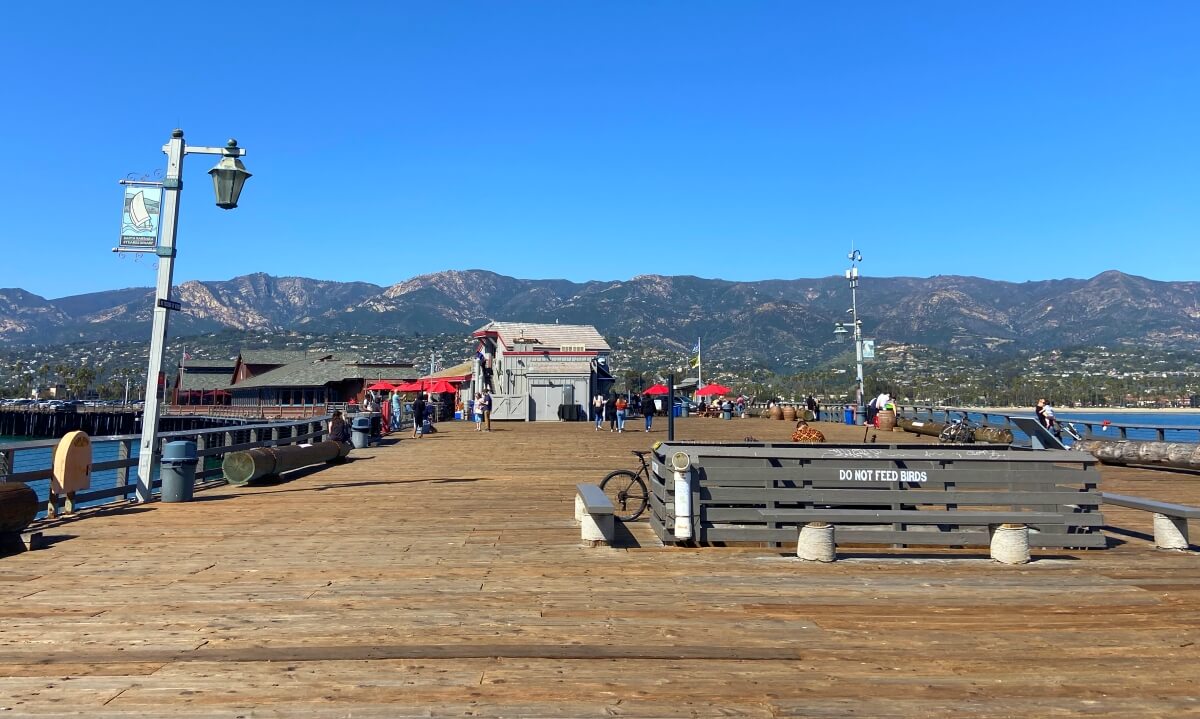 Stearns Wharf is one of the most iconic landmarks in Santa Barbara, and for good reason. The pier juts out into the ocean, providing incredible views of the beaches and surrounding area.
It's also home to many shops, restaurants, and other businesses, making it a popular place to spend an afternoon or evening.
Also, no trip to Santa Barbara would be complete without experiencing one of its famous sunsets and Stearns Wharf is the best place to see it.
9- See art at the Santa Barbara Museum of Art
If you're a fan of art and culture, you won't want to miss the Santa Barbara Museum of Art while visiting Santa Barbara.
Located in the heart of the city, this museum showcases a collection of ancient through contemporary works and photography and makes for a great visit.
10- Go on a trolley tour around the city
Ideal for first-time visitors, a trolley tour is always a good way of getting to know a new city if you are short on time, and Santa Barbara is no exception.
Drive past landmarks like the courthouse, the zoo, the Mission, and the Museum of Natural History. Learn about the town's culture and history from live commentary and note places that you might want to return to independently later.
11- Explore Lotusland in Montecito
Located in Montecito, a lush, scenic neighborhood of Santa Barbara, Lotusland is one of the best places to experience nature and beauty in this beautiful city.
Featuring 37 acres of stunning botanical gardens, as well as gorgeous outdoor walking paths and serene water features, Lotusland is a must-visit destination for anyone looking to spend some time outdoors in Santa Barbara.
12- Visit the oldest continuously performing theatre in California
Located in downtown Santa Barbara, the Lobero Theatre is one of the most iconic landmarks in the city.
Not only is it the oldest continuously performing theatre in California, but it's also home to a wide range of performances and events, from music concerts and comedy shows to art exhibitions and film screenings.
13- Spend a day at the beach in Arroyo Burro Beach Park
Arroyo Burro Beach Park is a beautiful oceanfront park that offers stunning views of the Pacific Ocean, as well as a wide range of amenities for visitors to enjoy. picnicking, hiking, fishing, swimming, and surfing are just some of the activities that can be enjoyed at the park.
The park also features a variety of native plants and animals, making it a perfect place for a nature hike or picnic.
14- Shop for local goodies at The Santa Barbara Certified Farmers Market
The Santa Barbara Certified Farmers Market is a great place to shop for fresh and unique local goods. From fruits and vegetables to flowers and homemade baked goods, this market has something for everyone. And with live music performances and fun activities like yoga classes on certain days, it's a great place to spend an afternoon.
---
One day in Santa Barbara itinerary suggestion
Now that you know all the best things to do in Santa Barbara, it's time to plan an exciting day of exploration in this vibrant California city. Here is a suggested itinerary to get you started:
1. Start your day with a scenic trolley tour around the city. With incredible views and fascinating insights into Santa Barbara, this is a must-do activity that will give you a great overview of the city.
2. Next, head to the Santa Barbara Mission.
3. For lunch, check out Stearns Wharf and enjoy the fresh seafood at one of the restaurants on the pier (X is a great choice!)
4. Spend the afternoon at Arroyo Burro Beach Park, one of Santa Barbara's most popular beaches. With a wide range of activities like swimming, fishing, and surfing, there is plenty to keep you entertained here.
5. As the day winds down, head over to the Santa Barbara Certified Farmers Market for an evening of shopping and delicious local food.
---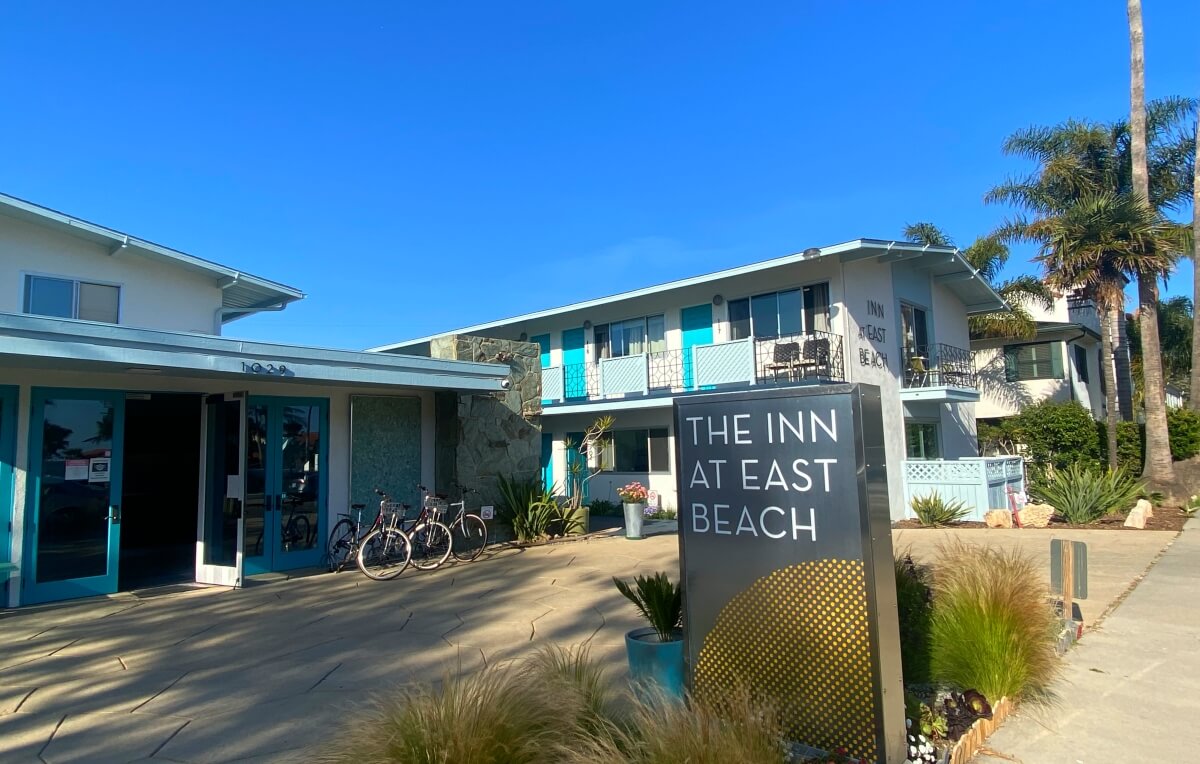 Where to stay in Santa Barbara
If you're looking for a great place to stay in Santa Barbara, there are plenty of options to choose from. Whether you prefer a luxury hotel with all the amenities or an affordable hostel, there is something for every budget and travel style.
Some popular choices include La Playa Inn, Marina Beach Motel, and Cheshire Cat Inn & Cottages. Personally, I stayed at Inn at East Beach and thought it was amazing value for the price as it is located right by the beach and breakfast was delicious 🙂
---
Tips for visiting Santa Barbara
If you're planning a trip to Santa Barbara, here are a few tips to help you make the most of your visit.
First, be sure to pack your sunscreen and a hat – the sun can be quite intense in this part of California.
Second, take some time to explore the city's Spanish colonial history – there are some beautiful buildings and landmarks to see.
Third, don't miss out on the area's incredible wine country – there are hundreds of wineries to choose from.
And finally, be sure to enjoy the city's stunning natural setting – whether you're hiking in the hills or strolling along the beach, Santa Barbara is a truly beautiful place. Follow these tips and you're sure to have a great time in Santa Barbara.
By following these tips, you will surely have a memorable visit to Santa Barbara.
---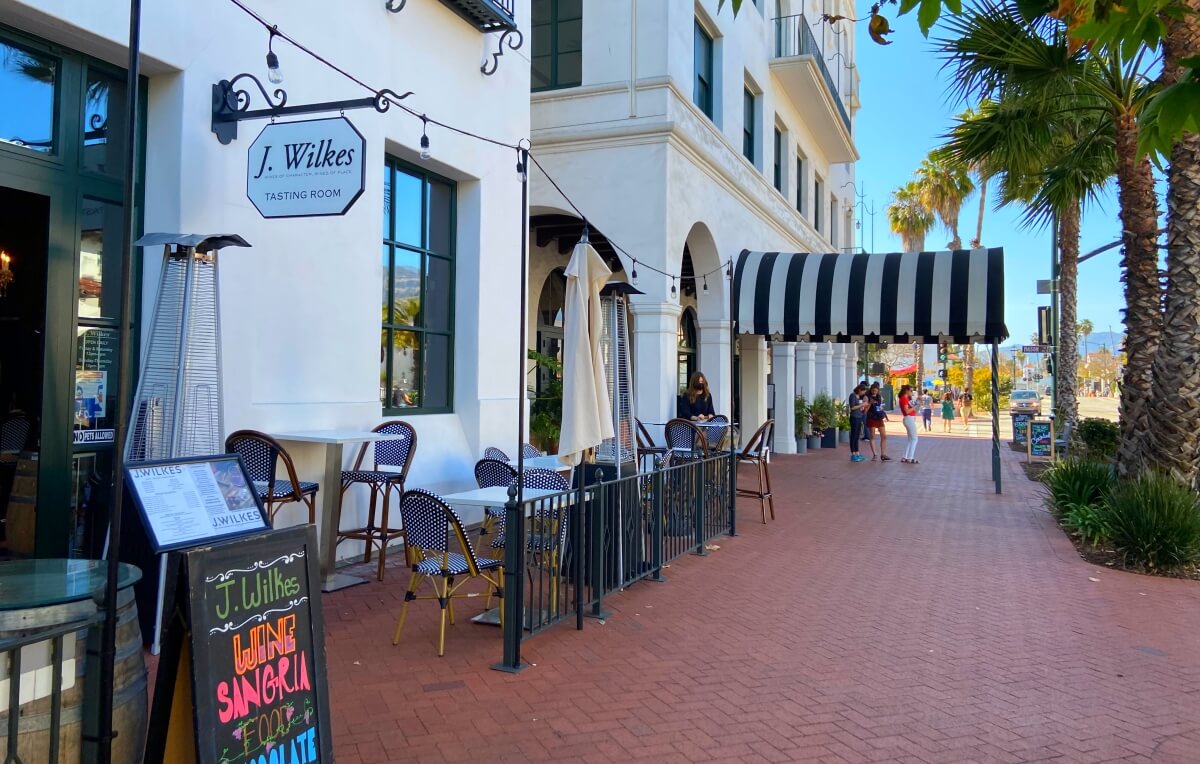 Facts about Santa Barbara
First Europeans who visited the region were a Portuguese expedition in 1542.
Due to its wonderful climate, architecture, and beaches, Santa Barbara is commonly referred to as the American riviera.
Santa Barbara Mission It is the only Franciscan mission that's remained operating since its establishment date in 1786.
Michael Jackson's Neverland Ranch is in Santa Barbara.
It is legal to enjoy nude sunbathing on some beaches of Santa Barbara County.
The local Spanish architecture is authentic as it was built by Spanish settlers.
Santa Barbara is the home of the oldest skeleton in North America, the Arlington Springs Man from Santa Rosa Island.
---
Wrap-up: Things to do in one day in Santa Barbara, California
That's a wrap! Now you know exactly how to spend one day in Santa Barbara.
This wonderful city has a special place in my heart and I hope you love it as much as I did. Happy travels!