/
Last Updated November 12th, 2023
Visiting Alaska in Winter: The Ultimate Guide
As beautiful as it is emblematic, Alaska is the ultimate winter destination.
When I was living there, I even used to joke that Alaska was like nature on steroids. Because it is! Never in my life had I seen such pristine and untouched landscapes. Its winter scenery, in special, is like nowhere else on earth.
In this post, you will find out what winter in Alaska is like, plus all the information you need to know before planning a trip to the 49th state in its coldest months.
---
Plan your Perfect trip to Alaska
🏨 Find the perfect hotel on Booking.com
🎫 If you'd like to go on a tour, check out the best tours to take in Alaska
🎒 Pack bear spray, waterproof hiking boots, and a rain jacket
Follow me on Instagram for more travel tips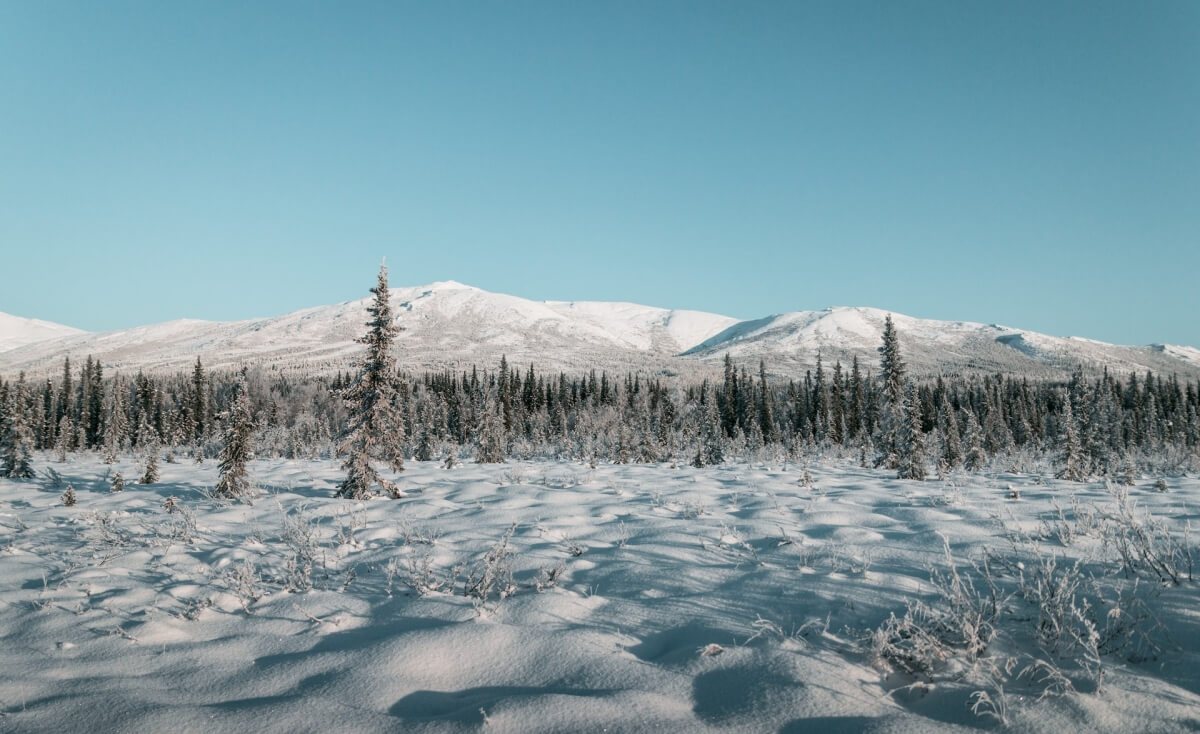 Disclosure: This post may contain affiliate links. Meaning, I get a small commission if you purchase through my links, at no cost to you. This helps me to keep the blog running with free travel content (:
What is winter in Alaska like?
The first thing to know about winter in Alaska is that it is dark. For almost half the year, the sun doesn't rise above the horizon in some parts of the state.
This can take some getting used to but it also means that when the sun does make an appearance, it's all the more special and you can really make the most of those few hours of daylight.
Second, winter in Alaska is cold. Really cold. It's not uncommon for temperatures to drop below -30 degrees Celsius and sometimes even lower.
So if you're planning a trip here in winter, make sure you pack all your warmest clothes – but we'll get to that later.
---
Why visit Alaska in winter?
Visiting Alaska in winter is not for amateurs, especially if you are planning on doing any hiking or other outdoor activities.
This is a place for those that love adventure and are willing to face some challenging conditions. But if you're up for it, winter in Alaska will reward you with experiences that you will never forget.
Also, winter is the best time to see the incredible Northern Lights. They are truly a sight to behold and something that should be on everyone's bucket list.
These are other great reasons to visit Alaska in winter:
1- No crowds
Since most people avoid traveling to Alaska in winter, you will have the place almost to yourself.
This is especially great if you want to hike some of the most popular trails, which are usually packed during summer.
2- Great deals
You can find some amazing deals on accommodation and flights if you visit Alaska in winter. So if you're on a budget, it might be the time to go.
3- Alaska is worth facing the cold for!
There's no denying that Alaska is a stunning place.
But in winter, when the landscape is covered in a blanket of snow, it becomes even more magical. Trust me, it's worth braving the cold for.
4- There's a great variety of winter sports and activities to take on
If you enjoy winter sports, Alaska is the place for you.
There's a great variety of activities to take on, from skiing and snowboarding to dog sledding, glacier hiking, and ice fishing.
5- Again, the Northern Lights
Winter is the absolute best time to see the Northern Lights in Alaska. So if that's something you would like to see, winter is definitely the time for it!
While you can see the Northern Lights anywhere in Alaska, Fairbanks is a particularly good base for seeing them.
6- unIQUE EVENTS AND FESTIVALS
Some of the coolest events in Alaska happen during winter, like the Iceworm Festival, the Alappaa Film Festival, the Willow Winter Carnival, and the Sitka Jazz Festival.
7- Alaska is heaven if you love skiing or snowboarding
If you love skiing or snowboarding, you will be in heaven in Alaska.
There are plenty of great places to hit the slopes, such as Alyeska Resort near Anchorage and Hilltop Ski Area in Fairbanks.
If you are adventurous and experienced, you can also go backcountry skiing pretty much anywhere in the state.
8- You can see glaciers with your very own eyes (and even walk on them)
Believe me: there is nothing quite like the feeling of seeing a real-life glacier for the first time.
And, lucky for us, there are plenty of glaciers to be found in Alaska and you can even go on glacier hikes or walks. How cool is that?
Some of the most popular glaciers are Matanuska Glacier, Worthington Glacier, and Mendenhall Glacier.
Just make sure you are well prepared and book a guided tour before attempting any glacier activities, as they can be quite dangerous.
The Aurora Winter train travels from Anchorage to Fairbanks and is a great way to see some of Alaska's stunning scenery.
The journey takes about 12 hours and you will get to see some incredible views of mountains, forests, and rivers. During its route, the train stops in Wasilla, Talkeetna, Healy, and Nenana before arriving in Fairbanks.
10- You can get to really know the locals
People in Alaska are incredibly warm and friendly, despite the cold temperatures.
If you take the time to get to know the locals, you will quickly realize that they are some of the most hospitable people you will ever meet, and since winter gets way fewer tourists than summer, it's the perfect time to get to know them and have a more authentic experience.
11- It is a true winter wonderland
Winter in Alaska is a magical time.
While some people may dread the thought of winter, others see it as a time of beauty and wonder.
Nowhere is this more true than in Alaska, where the winter months bring with them a host of unique sights and experiences. From the stunning Northern Lights to the majestic glaciers, Alaska is a true winter wonderland.
---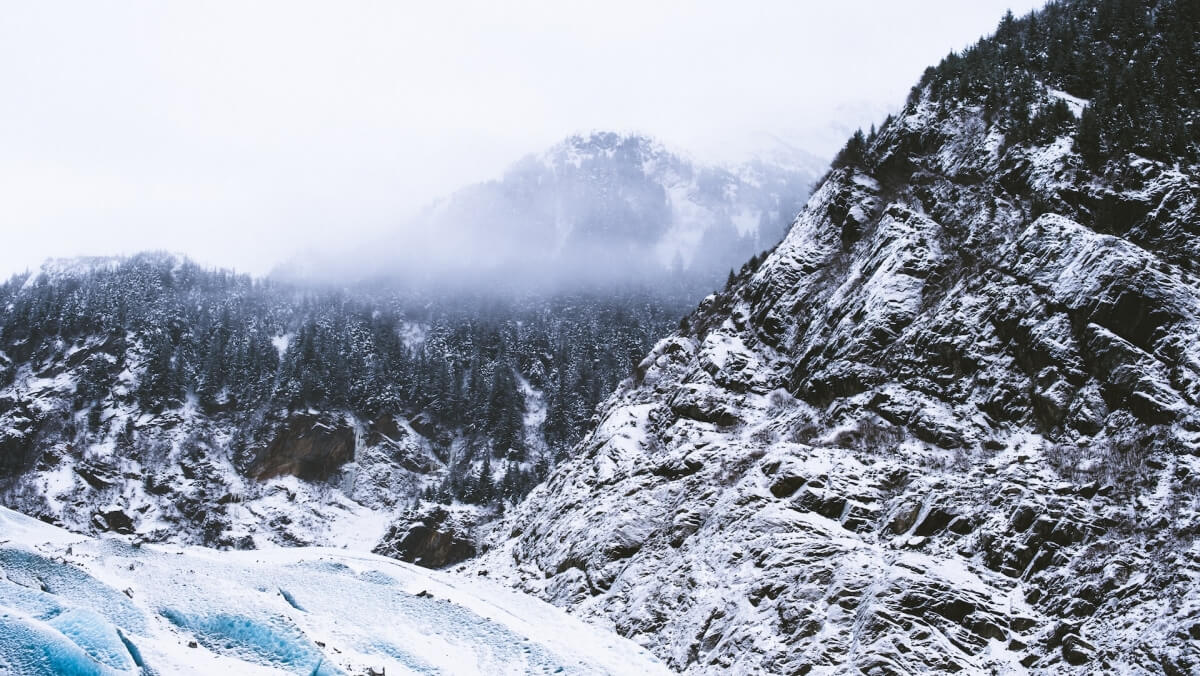 Weather
The temperatures in Alaska vary depending on the month and where you are located (remember: Alaska is as big as France, Spain and Portugal combined).
But in general, you can expect the following weather conditions in winter:
Alaska in November
Alaska is a land of extremes, and that is especially true in the winter months.
November is typically the start of the long, dark winter, and temperatures can dip well below freezing. Expect temperatures that range from an average low of 16°F (-9°C) to an average high of 28°F (-2°C).
The aurora borealis is often visible in the night sky, and wildlife watching is excellent at this time of year as animals prepare for the winter months.
Alaska in December
Hope you're bundled up because December in Alaska is even colder.
The average low temperature in December is 10°F (-12°C), and the average high is 26°F (-3°C).
December is an excellent month to see the northern lights, as well as to enjoy winter sports and wildlife watching. Reindeer, caribou, elk, bison, and moose can all be seen in their natural habitats.
Alaska in January
January is Alaska's coldest month, with average low temperatures of 5°F (-15°C) and average highs of 22°F (-6°C).
This is a great time of year to enjoy winter activities such as dog sledding, ice fishing, snowmobiling, and cross-country skiing.
Alaska in February
February is the final month of winter in Alaska, and temperatures begin to slowly warm up. The average low temperature is 9°F (-13°C), and the average high is 25°F (-4°C).
Wildlife watching is still excellent at this time of year, as animals prepare for the coming of spring.
Alaska in March:
March is the start of spring in Alaska, and although temperatures are still cool, they are gradually warming up. The average low temperature in March is 13°F (-10°C), and the average high is 29°F (-2°C).
This is a good time of year to enjoy outdoor activities such as hiking, camping, fishing, and wildlife watching. The northern lights may also be visible in the sky.
Now that you know what to expect weather-wise, it's time to start thinking about what to pack for your trip.
---
What to pack
When packing for a trip to Alaska in winter, it's important (in fact, it is a matter of survival) to remember that this is a place where temperatures can dip well below freezing.
A high-quality winter coat is an absolute must, as are warm clothes such as sweaters, hats, gloves, and scarves. Waterproof boots are also essential to keep your feet warm and dry.
If you're planning on doing any outdoor activities, you will need to pack appropriate gear. This includes items like thermal underwear, windproof pants, and layered shirts.
It's also a good idea to pack a first-aid kit in case of any minor injuries.
Alaska essential packing list:
A thermal and waterproof winter coat (these are there are a few good ones)
Long waterproof hiking boots – I like Columbia's Ice Maiden II
Bear spray – a must on any trip to Alaska.
A few pairs of heated winter socks.
Waterproof gloves (invest in a good pair).
---
Best things to do in Alaska in winter
Although summer is the best time to go hiking and camping in Alaska, the winter months offer epic adventures without the crowds.
Here are some of the best things to do in Alaska in winter:
Dog sledding
Dog sledding is an incredible and authentic way to experience the Alaskan wilderness.
Some tours (like this one!) even combine dog sledding and helicopter rides, which is the perfect way to see Alaska's stunning landscapes from above and below.
Contemplating the Northern Lights
It is needless to say that seeing the Northern Lights is what brings many visitors to Alaska in winter.
The best time to see them is between late September and early April, with the peak months being December, January, and February.
There are many ways to see the Northern Lights, but one of the best is by taking a tour with an experienced guide. This way, you'll not only have the best chance of seeing them, but you'll also learn about this natural phenomenon.
Ice fishing
Another great way to experience the Alaskan winter is by going ice fishing.
This is a winter sport that requires patience, skill, and a little bit of luck. The first step is to cut a hole in the ice, using an auger or an ice saw. Once the hole is big enough, fishermen lower their bait—usually live minnows—into the water and then wait for a bite.
Ice fishing can be challenging, but it's also a great way to enjoy the peace and quiet of winter.
Viewing Denali from above on an airplane tour
Soar over Denali, North America`s highest peak, on a once-in-a-lifetime airplane ride.
On a clear day, you'll get what is possibly some of the best views in Alaska as you fly over the 20,310-foot (6,190 meters) mountain.
Most airplane tour companies offer both scenic flights and glacier landings.
Snowmobiling
Snowmobiling is another classic Alaskan winter activity and it's so much fun!
There's something about hurtling through the snow on a powerful machine that just gets the adrenaline flowing.
This Fairbanks Snowmobile Adventure from North Pole is one of the most popular tours.
Seeing wildlife in their natural habitat
Alaska is teeming with wildlife and winter is actually a great time to see animals, as they are easier to spot against the snow.
Some of the best places to see wildlife like bears, moose, and whales in Alaska are Kenai Fjords National Park, Chugach State Park, and Tongass National Forest.
If you don't have a lot of time, you can also always visit the Alaska Wildlife Conservatory Center near Anchorage or go on a wildlife tour.
Skiing
There's something about skiing in Alaska that is truly magical.
Maybe it's the vast expanses of wilderness, the tall mountains, or the deep powder snow. Or maybe it's the sense of adventure that comes from tackling some of the most challenging terrains in the world.
Popular ski resorts in Alaska include Alyeska Resort, Eaglecrest Ski Area, and Artic Valley Ski Area, but if you are looking to go backcountry the Chugach Mountains offer some of the best skiing in Alaska, with towering peaks and pristine powder snow.
Also, with the help of a ski plane, Denali National Park is another fantastic place to ski, with endless backcountry terrain to explore.
Hiking Matanuska Glacier
Matanuska Glacier is one of the most popular tourist destinations in Alaska and for good reason.
The glacier is massive, beautiful, and easily accessible. There are many different ways to experience the glacier, but one of the most popular is by taking a hike.
Hiking on the Matanuska Glacier in winter, however, will require booking in advance and wearing crampons and other safety gear.
Going on a helicopter tour and landing on a glacier
One of the best ways to experience the Alaska winter is from above, by taking a helicopter tour like this one.
On a helicopter tour, you'll get stunning views of the Alaskan landscape, as well as the opportunity to land on a glacier and even go for a walk on the ice.
Biking
Biking in Alaska during winter is possible with the help of studded tires, which provide traction on the ice and snow.
There are many great places to go biking in Alaska, including Kincaid Park in Anchorage, Potts Preserve near Fairbanks, and Chena River State Recreation Area. Just remember to dress warmly!
This is just a list of some of the things you can do in Alaska in winter, but there are endless possibilities for adventure and exploring the Last Frontier in all its winter glory!
---
Best places to visit in Alaska in winter
Now, it's time to start thinking about where exactly you want to go on your winter trip to Alaska.
When deciding on an itinerary, it's important to remember that Alaska is really big (it's actually the largest state in the US!) and it is impossible to see everything in one trip.
That being said, here are some of the best places to visit in Alaska during winter:
1) Seward
Seward is my favorite place in Alaska and an excellent choice for a winter vacation.
This small town is located on the Kenai Peninsula and is surrounded by stunning scenery, including glaciers, mountains, fjords, and forests.
2) Anchorage
Anchorage is the largest city in Alaska and is a great place to base yourself for exploring Southcentral Alaska. From Anchorage, you can easily visit places like Seward, Girdwood, and Whittier.
There are also many things to do in Anchorage itself, including hiking and biking trails, museums, restaurants, and breweries.
3) Fairbanks
Fairbanks is located in Interior Alaska and is one of the best places to see the Northern Lights. This city is also a great jumping-off point for exploring the Arctic Circle.
Some of the best things to do in Fairbanks in winter include visiting the ice sculptures, going dog sledding, and checking out the Aurora Ice Museum.
4) Denali National Park
Denali National Park is one of the most popular places in Alaska and for good reason.
This massive park is home to North America's tallest mountain, Denali (formerly known as Mount McKinley), and is open all year round.
In winter, you can explore the park on a dogsledding tour, go cross-country skiing, or even take a scenic flightseeing tour.
5) Kodiak Island
Kodiak Island is located in Southcentral Alaska and is home to some of the most stunning scenery in the state. This island is great for wildlife viewing, as it is home to many different species of animals, including bears, eagles, and otters.
Some of the best things to do on Kodiak Island in winter include taking a bear-watching tour, going whale watching, and exploring the many hiking trails.
6) Talkeetna
Last but not least, Talkeetna is another great choice for a winter vacation in Alaska.
This small town is super cute and located at the base of Denali, making it a great place to get some amazing views of the mountain.
Exploring shops and coffee shops in Talkeetna is a great way to spend a winter day.
---
Best time to visit Alaska in winter
February and March are generally the best months to visit Alaska in winter. This is because the days are starting to get longer and there is less chance of bad weather.
Keep in mind that no matter when you visit, you will need to dress warmly! Alaska is a very cold place during winter and temperatures can dip well below freezing, even in the southern parts of the state.
---
Alaska winter itinerary suggestion
Last but not least, here is a 10-day itinerary suggestion for Alaska. Feel free to adapt it to your own needs and interests.
Day 1: Arrive in Anchorage and explore the city.
Day 2: Drive to Seward and explore the town's marina, shops, and restaurants.
Day 3: Go on a glacier cruise of Kenai Fjords National Park.
Day 4: Drive to Girdwood and explore the Alyeska ski resort.
Day 5: Drive back to Anchorage and take the train or drive to Talkeetna.
Day 6: Spend the morning exploring Talkeetna's cute shops and coffee spots and in the afternoon, head to Denali National Park.
Day 7: Day to enjoy Denali! Go on a hike or take a scenic flightseeing tour.
Day 8: In the morning, go on one of Denali's guided tour buses. In the afternoon, drive or take the train to Fairbanks and go on a Northern lights excursion at night.
Day 9: Take a day trip to Chena Hot Springs or visit the ice sculptures.
Day 10: Fly back to Anchorage and catch your flight home.
This is just a suggested itinerary and you can of course change it to fit your own needs. For example, if you're not interested in seeing the Northern Lights, you could add an extra day to Denali National Park or Seward instead.
---
Wrap-up: Alaska in winter
I hope this has given you some ideas for planning your winter vacation in Alaska! Whatever you decide to do on your winter trip to Alaska, you're sure to have an unforgettable experience.
If you have any questions, feel free to ask in the comments below or send me a message on Instagram. Happy travels!
---