/
Last Updated November 12th, 2023
11 Best Places to See Moose in Anchorage, Alaska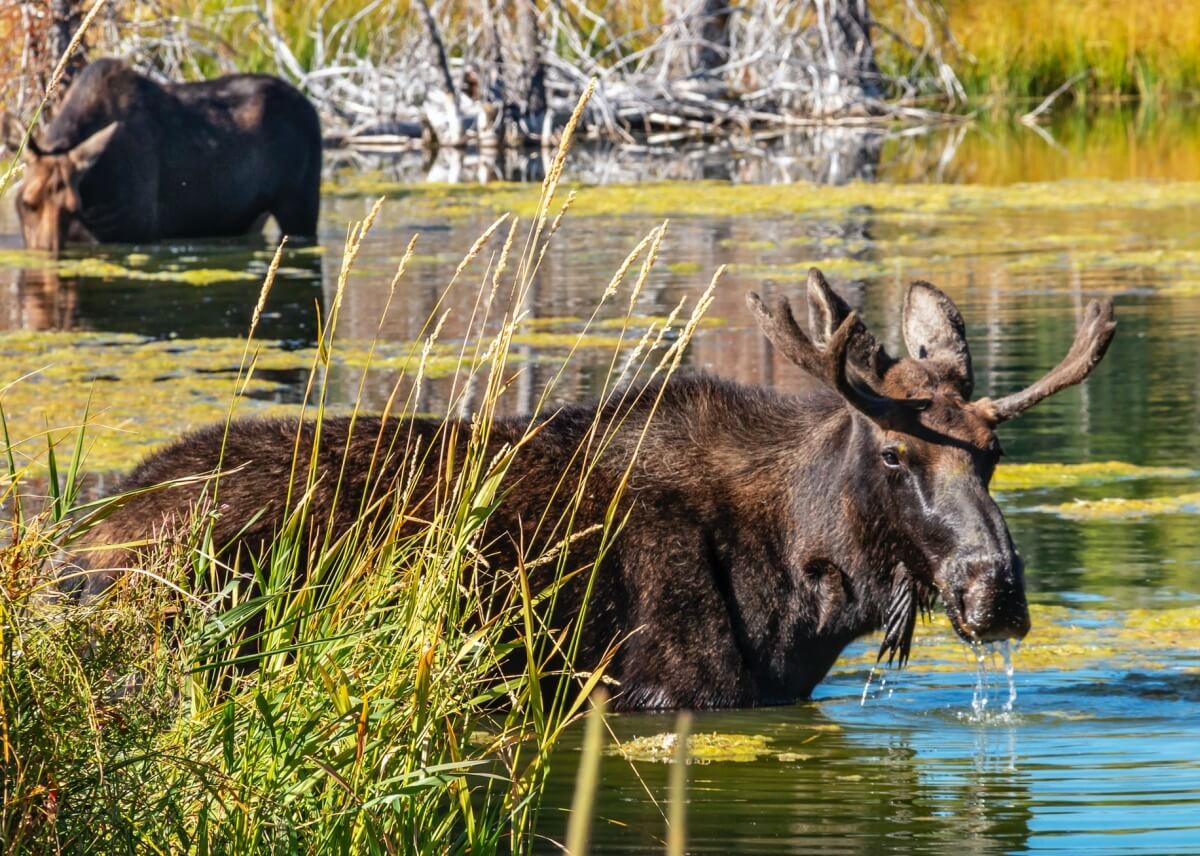 Alaska is home to some of the most magnificent wildlife in the world, and moose are no exception. These massive animals are a sight to behold, and lucky visitors may even get the chance to see one up close.
These impressive animals can be found throughout the state, and there are plenty of opportunities for viewing them in their natural environment.
Whether you're into hiking, camping, or simply driving through the wilderness, you're likely to spot a few moose on your Alaskan vacation.
---
Plan your Perfect trip to Anchorage
🏨 Find the perfect hotel on Booking.com
🎫 If you'd like to go on a tour, check out the best tours to take in Anchorage
🎒 Pack bear spray, waterproof hiking boots, and a rain jacket
Follow me on Instagram for more travel tips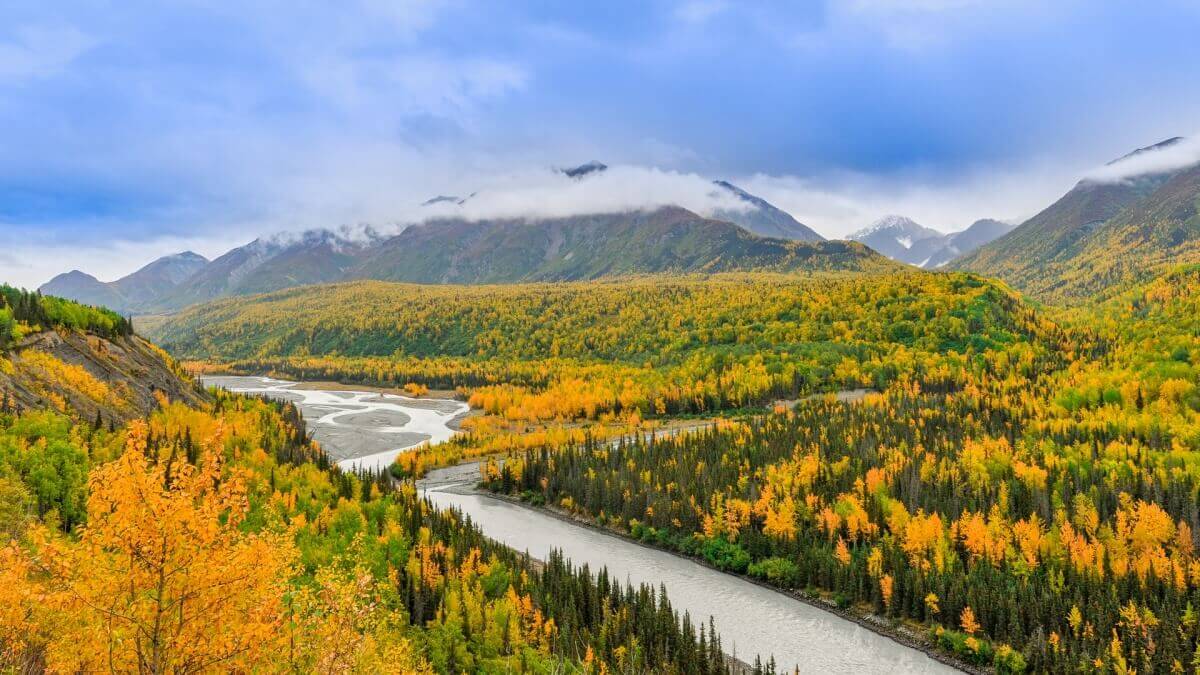 Disclosure: Some links on this page are affiliate links. That means that at no extra cost to you, I earn a small commission if you book through these links, and that helps me keep this blog running. Enjoy!
How many moose are there in Alaska?
The moose is the largest member of the deer family, and Alaska is home to the largest moose population in North America. According to the Alaska Department of Fish and Game, there are an estimated 150,000 moose in the state.
Moose are most commonly found in the wooded areas of Alaska, but they can also be found in open tundra and muskeg.
---
Best places to see moose in Anchorage
If you're only visiting Anchorage during your trip, do not worry: it is totally possible to see moose in Anchorage and there are a few great places for that in town.
Alaska Wildlife Conservation Center
Although technically located in Girdwood, The Alaska Wildlife Conservation Center is a unique place where you can see all sorts of Alaskan wildlife up close.
The center is home to animals like bears, moose, eagles, and reindeer. You can also learn about the Alaskan ecosystem and the efforts to conserve it.
The best part of the center is that you can get involved in the conservation efforts yourself! Whether you're a local or a tourist, the Alaska Wildlife Conservation Center is a great place to learn about and appreciate Alaskan wildlife.
Tony Knowles Coastal Trail
The Tony Knowles Coastal Trail is a great place to see moose and other wildlife.
The trail stretches 11 miles from downtown Anchorage to Kincaid Park, winds through several parks and forests, and offers stunning views of Cook Inlet.
Moose are often seen grazing along the trail, so keep your eyes open!
The viewing platform at Glen Alps in Chugach State Park
The Chugach State Park is one of the best spots for moose watching, as it's home to a large number of these majestic animals. This huge and beautiful park is also a great place for hiking, camping, and fishing.
In the park, Glen Alps is a great place to see moose, as well as stunning views of the Chugach Mountains. The viewing platform is located at the top of a small hill, giving you plenty of space to spread out and enjoy the view.
On clear days, you can see for miles. And on days when the weather is bad, the platform is still a great place to take in the sights and sounds of the Chugach forest.
Airport area
The airport area is a great place to see moose, especially during the winter. The animals often come down from the hills to forage in the open areas near the airport. So keep your eyes peeled while you're waiting for your flight!
Kincaid Park
Kincaid Park is one of the most popular parks in Anchorage, Alaska.
Spanning over 4,000 acres, the park offers a variety of activities for visitors to enjoy, including hiking, biking, and picnicking.
In addition to its many recreational facilities, Kincaid Park is also home to a variety of wildlife, including moose, bears, and eagles.
The park is open year-round, and its scenic views make it a popular destination for both locals and tourists alike.
Powerline Pass trail
This is one of the most popular trails in Anchorage and for good reason.
The trail offers stunning views of the city and the Chugach Mountains, and it's a great place to see moose. The Powerline Pass trail is 4 miles long and relatively easy to hike. It's a popular trail, so be sure to start early to avoid crowds.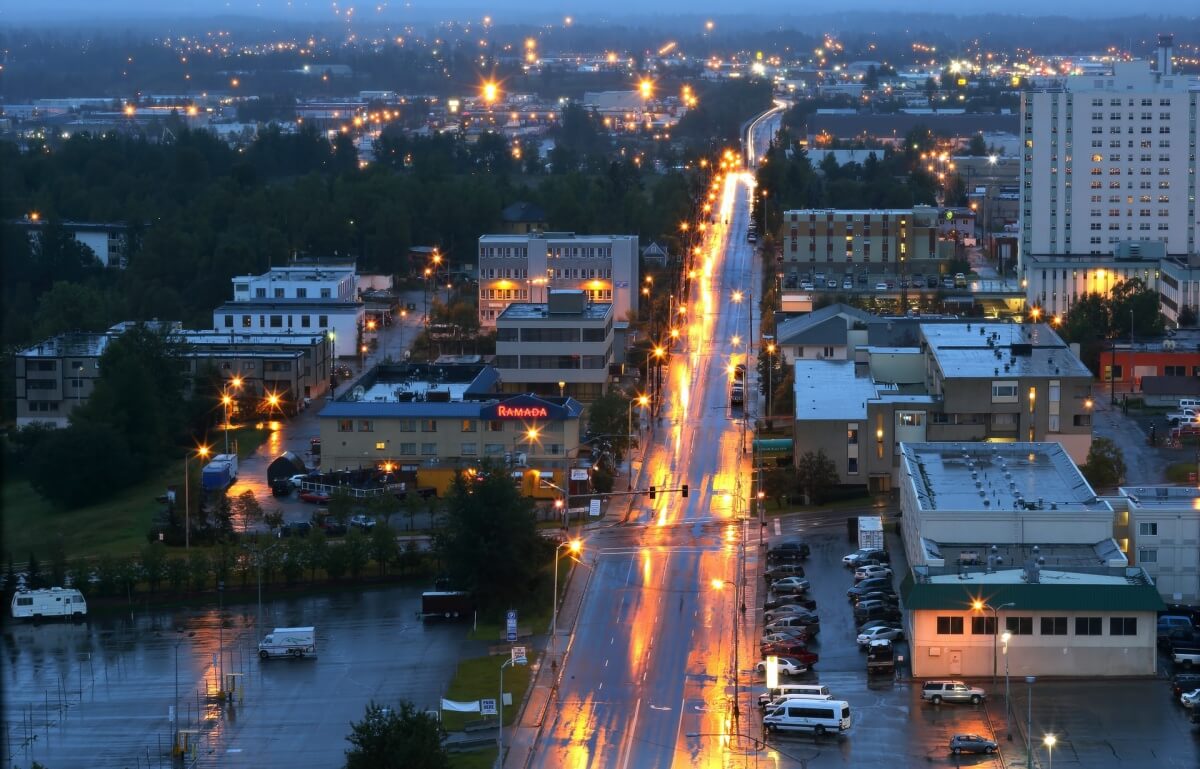 Point Woronzof Park
Point Woronzof Park is a forested area in the Coastal Trail system and a favorite place for locals to see Moose. The park offers stunning views of the Cook Inlet, Anchorage skyline, and the Chugach Mountains.
During the summer you can find wildflowers blooming all over the park. And in the winter, the views of the city lights are breathtaking.
Potter Marsh
Potter Marsh is a nature lover's paradise, located just outside of Anchorage.
The marsh is home to various wildlife, including trumpeter swans, beavers, and moose. There are also many hiking trails that wind through the marsh, providing visitors with the opportunity to see the area's natural beauty up close.
In addition to its scenic value, Potter Marsh is also an important stopover for migrating birds. Every year, thousands of birds travel through the marsh on their way to their nesting grounds. As a result, Potter Marsh is an important part of the local ecosystem and a cherished asset for the people of Anchorage.
Earthquake Park
Earthquake Park is a must-see for anyone visiting Anchorage.
The park was created after the 1964 earthquake that struck Alaska, and it offers stunning views of the city.
The park is also home to a variety of wildlife, including moose. So, if you're looking for a great place to see moose and learn about Alaskan history, Earthquake Park is the perfect spot.
Alaska Zoo
The Alaska Zoo is a non-profit wildlife conservation center located in Anchorage, Alaska.
The mission of the Alaska Zoo is "to provide a unique educational and recreational resource for Alaskans and visitors while promoting the conservation of arctic, subarctic, and like ecosystems worldwide."
The zoo is home to over 100 animals, representing more than 50 species from across the globe. Some of the animals that can be seen at the Alaska Zoo include grizzly bears, bald eagles, reindeer, muskoxen, and moose.
In addition to its animal residents, the zoo also features a variety of plants and trees from Arctic and subarctic regions. The Alaska Zoo is open year-round and offers a variety of educational programs and public events.
Everywhere!
Honestly, there are chances of seeing moose pretty much everywhere in town – some locals even told me it's not rare to find them wandering around big avenues like Northern Lights.
---
Tips for viewing moose
There are a few things to keep in mind if you're hoping to view moose in their natural habitat.
Here are a few tips to help you make the most of your moose viewing experience:
Give them space. Moose are generally shy animals and may be spooked if you get too close. It's best to view them from a distance.
Be patient. Moose are creatures of habit and tend to stick to the same routines day after day. If you wait long enough, you're sure to catch a glimpse of one eventually.
Pay attention to your surroundings. Keep your eyes peeled for movement if you're in an area with thick vegetation.
Don't forget to enjoy the experience! Viewing moose in the wild is a truly once-in-a-lifetime opportunity.
---
What to pack for Alaska
Having a good packing strategy is essential when planning for a trip to Alaska.
Here are some essentials you should have in your bag:
---
Moose viewing tours in Anchorage
Most moose viewing tours take place in the summer months when the animals are most active.
Tours typically last around 2-3 hours and take place in areas where moose are known to frequent. During the tour, you'll have the opportunity to see moose up close and learn about their habits and behavior. You may even get the chance to see a newborn calf!
These are some of the most popular ones in Anchorage:
Wilderness, Wildlife, Glacier Experience, and Portage Glacier Cruise
Get out of the city and deeper into the Alaskan wilderness than is typical on a sightseeing tour.
This tour takes you to Chugach National Forest, Beluga Point, Portage Glacier, and more to spot brown bears, wolves, bison, and belugas. Enjoy live commentary and learn about the unique landscapes of Alaska from your expert guide.
Turnagain Arm Tour
Experience the breathtaking landscape of the Turnagain Arm on a half-day tour with an informative guide.
Ride along the scenic Seward Parkway to the Anchorage Coastal Wildlife Refuge and Beluga Point, stopping for photo ops and wildlife observation.
Visit the Alaska Wildlife Conservation Center, a large nature preserve where injured animals are rehabilitated. Continue to the town of Girdwood, then travel up into the Chugach Mountains for another great vantage point on the Turnagain Arm. Includes round-trip transportation from Anchorage.
Tony Knowles Coastal Trail Scenic Bike Tour
A stroll along the Tony Knowles Coastal Trail is a great Anchorage outdoor activity, but you can cover much more ground on a bicycle. This small-group guided bicycle tour begins at Kincaid Park and shows you the beauty of the Cook Inlet, with views of Denali and, possibly, moose along the way.
---
Frequently asked questions
Last but not least, here are the answers to some frequently asked questions about moose viewing in Alaska.
Can you eat moose in Alaska?
Moose meat is a delicacy in Alaska, and many residents hunt the animals for their meat.
However, it is important to note that it is illegal to hunt moose without a permit, and moose should only be hunted with the proper equipment and safety precautions.
What do moose eat?
Moose are herbivores and their diet consists mostly of plants and vegetation. In the summer months, they enjoy eating leaves, twigs, and buds.
In the winter, their diet shifts to include more woody plants like shrubs and tree bark.
Are moose dangerous?
While moose are generally peaceful animals, they can be dangerous if they feel threatened.
If you encounter a moose in the wild, it is important to give them plenty of space and avoid making any sudden movements. If a moose does charge, try to put something between you and the animal, such as a tree or car. Never approach a moose calf, as the mother moose may view you as a threat.
Can you own a moose in Alaska?
No, it is not legal to own a moose in Alaska. Moose are considered wild animals and cannot be domesticated.
When can you see moose in Alaska?
Moose can be seen year-round in Alaska, but they are most active in the spring and summer months.
Are there moose in Anchorage Alaska?
Yes, there are moose in Anchorage Alaska. In fact, Anchorage is considered one of the best places to see moose in the wild.
---
Wrap-up: Moose viewing in Anchorage
That's a wrap! Now that you know all about where and how to spot mooses in Anchorage, with a little luck, you'll be able to catch a glimpse of one of these amazing creatures in the wild.
I really hope you get to experience an encounter with one of the most magnificent animals in Alaska!
For more travel tips, please make sure to follow me on Instagram.
---