/
Last Updated November 12th, 2023
20 Best Places To Enjoy Snow in California
While California may not be the first place that comes to mind when thinking of snow, the Golden State does have a fair number of amazing snowy places to enjoy and satisfy all your winter needs.
From the epic Lake Tahoe to beautiful mountains located just outside of Los Angeles, these locations are perfect weekend getaways and great for practicing sports such as skiing and snowboarding.
In this post, you will find all the best places to find snow in California this winter.
---
Plan your Perfect trip to California
🏨 Find the perfect hotel on Booking.com
🎫 If you'd like to go on a tour, check out Viator and Get Your Guide
🎒 Pack a universal travel adapter, your favorite travel camera (I love this one!), and a good portable solar phone charger
Follow me on Instagram for more travel tips
Disclosure: Some links on this page are affiliate links. That means that at no extra cost to you, I earn a small commission if you book through these links, and that helps me keep this blog running. Enjoy!
Best places to find Snow in Southern California
If you live in the area, you already know that snow is something not overly available in Southern California.
But do not worry: Surprisingly, there are plenty of stunning areas to see snow and even practice winter sports in the southern part of Cali.
Here are some of the best:
Mount Whitney
Mount Whitney is located in the city of Lone Pine, California, and is a major hiking destination. To get to the summit, most hikers choose the 22-mile classic Mt. Whitney Trail.
Winter is the most difficult time of year to climb Mount Whitney, but the snowy views are incredible and make it so worth it!
Big Bear Lake
Being home to two alpine resorts, Bear Mountain and Snow Summit, Big Bear Lake is very popular with frequent skiers and snowboarders.
There, the snow usually begins as early as October and continues until February.
Some off-the-slopes activities in Big Bear Lake include zip-lining, hiking, and taking a bobsled-style sled down the mountain.
Address: 43101 Goldmine Drive, Big Bear Lake, CA 92315
SkyPark at Santa's Village
Skypark at Santa's Village is an outdoor adventure park with year-round mountain biking, hiking, fly fishing, and other open-air activities.
Located in the Skyforest section of Lake Arrowhead, California, it is a true winter wonderland.
Address: 28950 Highway 18, Skyforest, CA 92385
Palomar Mountain State Park
The Palomar Mountain State Park is located in San Diego County and is another great place to find snow in southern California.
Months with snowfall in Palomar Mountain State Park are January through May, October through December.
Address: 19952 State Park Drive, Palomar Mountain, CA 92060
Palm Springs
Yes, surprisingly, it is possible to find snow in Palm Springs, but you will have to take the Palm Springs aerial tramway for that.
In just 10 minutes, the tram ascends from the desert up to more than 5,800 feet and takes you all the way up to Mountain Station, where you can see the desert transform into a stunning and snowy landscape.
Address: 1 Tramway Road, Palm Springs, CA 92262
Mount Baldy
Mount San Antonio, more popularly known as Mount Baldy, is visible from most parts of Los Angeles and is one of the best places to find snow in California.
To find snow on Mount Baldy, the chances get better the higher you climb into the mountain summit. Other than hiking, it is also possible to hop into Mount Baldy's ski lift.
Address: 8401 Mount Baldy Road, Mount Baldy, CA 91759
---
Running Springs
The famous Snow Valley Mountain Resort is located in Running Springs, just between Butler and Keller Peaks.
Visitors also go to Running Springs for whale watching and camping.
Wrightwood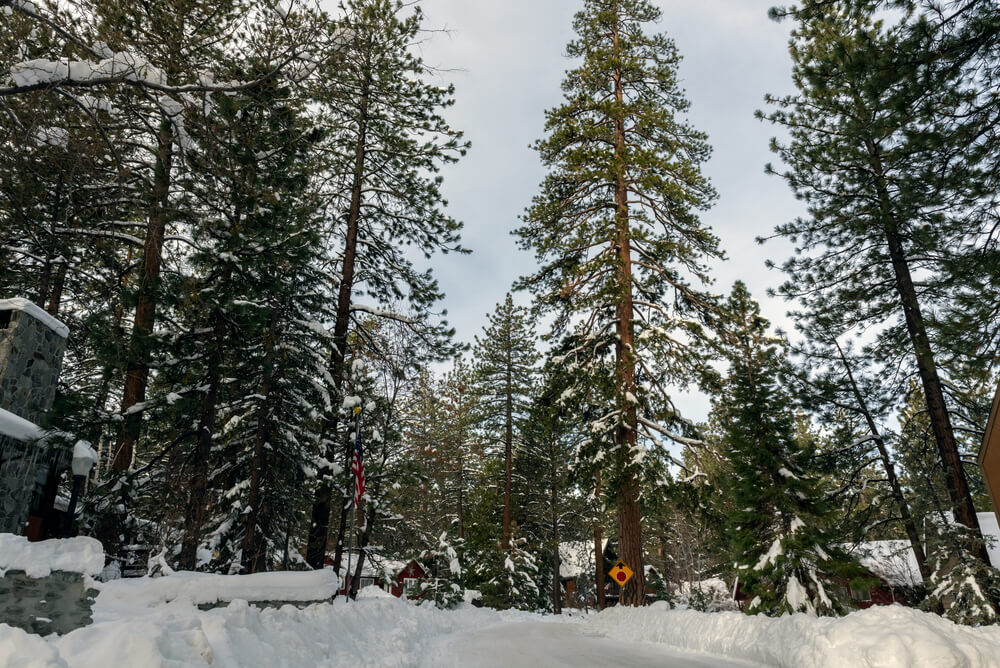 The San Gabriel mountain town of Wrightwood usually experiences its first snowfall in November! It is a good destination for skiing and zip-lining. The Grassy Hollow Visitor's Center is another must!
Idyllwild
Idyllwild is a small hiking town near the San Jacinto Mountains. Though skiing is not allowed in the region, it is still a great place to relax and experience snow in California.
Address: 54405 North Circle Drive, Idyllwild, CA 92549
Green Valley Lake
Green Valley Lake, a hidden gem in the San Bernardino Mountains, receives 25 inches of snow per year and offers many snow-related activities like the largest snow tubing park in California.
Lake Arrowhead
Lake Arrowhead, also known as "The Alps of Southern California" is a true full-on snowy winter wonderland.
Some of the best things to do there include ice skating at Santa's Village and of course, skiing and snowboarding at Snow Valley Mountain.
Address: 28200 Highway 189, Lake Arrowhead, CA 92352
Santo Antonio Falls
The Santo Antonio Falls in San Bernardino County is one of the most beautiful waterfalls in the United States, especially after a snowfall.
---
Places to find Snow in Central California
In Central California, the middle third of the state, you will find some of the best mountains and national parks to enjoy in winter.
Here are some of the best places to find snow in Central California:
Mammoth Mountain
Mammoth Mountain is a lava dome complex in Mono County, California. It is known as one of the top places to ski in California and offers stunning mountain views.
Address: 10001 Minaret Road, Mammoth Lakes, CA 93546
Mammoth Lakes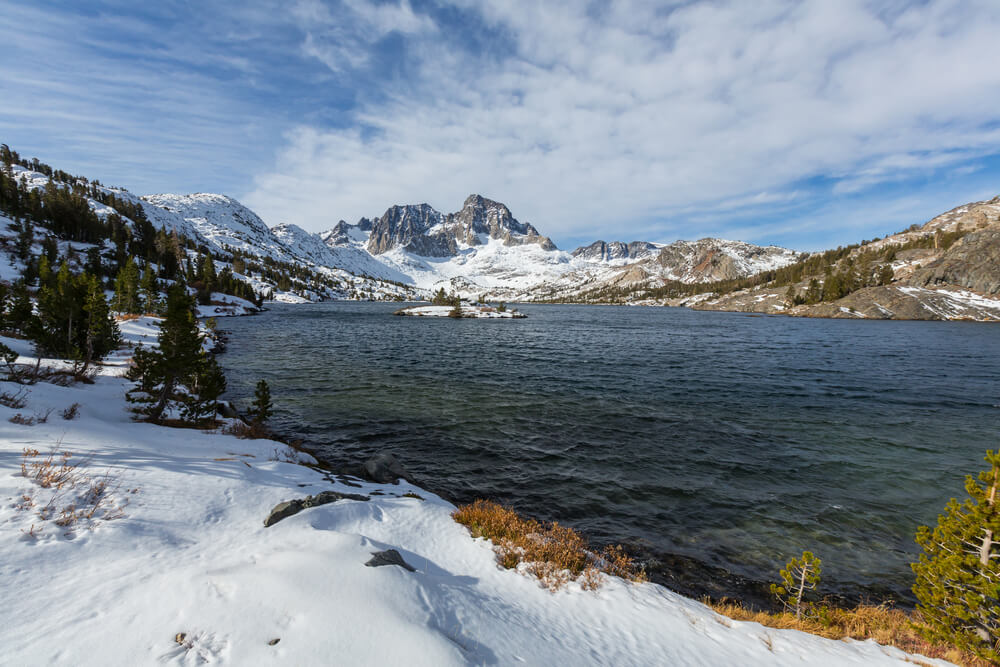 Mammoth Lakes is the perfect spot for some good old-fashioned snow play and admiring the beautiful surroundings.
January through June, September through December are months with snowfall in Mammoth Lakes.
Yosemite National Park
During winter, most of the beautiful Yosemite National Park is covered in snow. That makes it even more beautiful than it already is in the other seasons!
You can find my two-day itinerary to Yosemite National Park here.
Address: 9035 Village Drive, Yosemite Valley, CA 95389
Sequoia National Park
Sequoia National Park is not only another great place to find snow in California, but also the best place to see giant sequoia trees. These trees are legendary and so unique!
In the park, there are several fun winter activities like sledding and snowshoeing.
---
Where to find Snow in Northern California
Being home to places such as Lake Tahoe and Squaw Valley, Northern California is the best region when it comes to finding snow.
Here are some of the best places to find snow in Northern California:
Lake Tahoe
Lake Tahoe is home to some of the most famous ski resorts in the world and incredibly beautiful. Some of the most popular resorts in the area include Heavenly, Northstar, Tahoe Donner, Diamond Peak Squaw Valley, and Sierra-at-Tahoe.
Eldorado National Forest
Eldorado National Forest is a U.S. National Forest located in the central Sierra Nevada mountain range in eastern California.
The area gets about 5 to 10 feet of snow per year and in the wintertime, you can practice activities like skiing, snowboarding, snowmobiling.
Mount Sashta
Mount Sashta is a potentially active volcano at the southern end of the Cascade Range in Siskiyou County, California.
Winter in Mount Shasta is equal to tons of snow and many options of fun winter sports.
Lassen Volcanic National Park
The Lassen Volcanic National Park park receives up to 30 feet of snowfall November through May.
It is a wonderful spot for stargazing and overall winter recreation.
Squaw Valley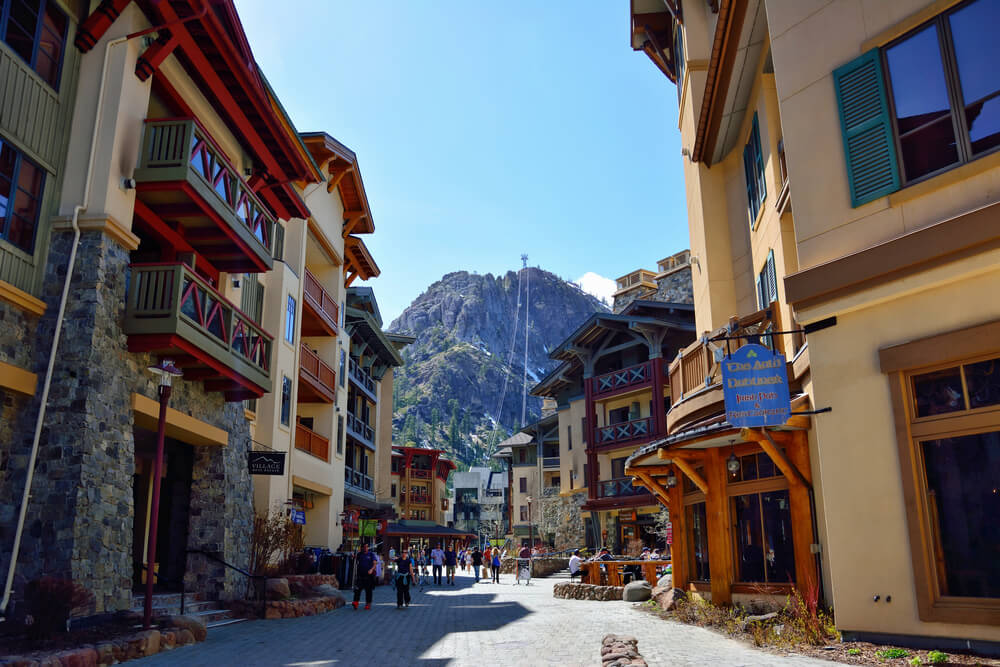 Squaw Valley not only is an adorable little town but has also hosted the 1960 Winter Olympics. Which, in my opinion, is super cool!
Another great thing about Squaw Valley is that it is located only 180 miles from the Bay Area, making it a perfect snow destination for those that live in the area.
---
The Best Ski Resorts In California
California is home to a variety of incredible ski resorts! Besides skiing, the public can usually practice sports such as snowboarding, snowshoeing and cross country skiing as well.
Here are the top 5 best ski resorts in Cali:
1- Heavenly Ski Resort
Heavenly is for sure one of the best ski resorts in Cali. Located right by South Lake Tahoe, the resort is known for its fun party atmosphere and stunning views of the lake.
2- Mammoth Mountain Resort
We have mentioned Mammoth Mountain previously in this post but it is worth mentioning again! Mammoth is a complete high-end resort and offers one of the longest ski seasons in the United States.
3- Kirkwood Resort
Kirkwood is a great resort for those that are already good at skiing. Its adventurous terrain attracts fewer crowds, but the resort actually gets the deepest snow in the Tahoe region.
4- Northstar California Resort
Northstar California is a luxurious and vibrant family-friendly ski resort located only 45 minutes away from Reno, Nevada.
5- Squaw Valley Alpine Meadows Resort
In Northern California's Sierra Nevada Mountains, there is Squaw Valley Alpin Meadows. Very popular, this resort is perfect for every level of skier.
For an even more luxurious experience, the Village at Squaw Valley offers fine dining and shopping close to the resort.
---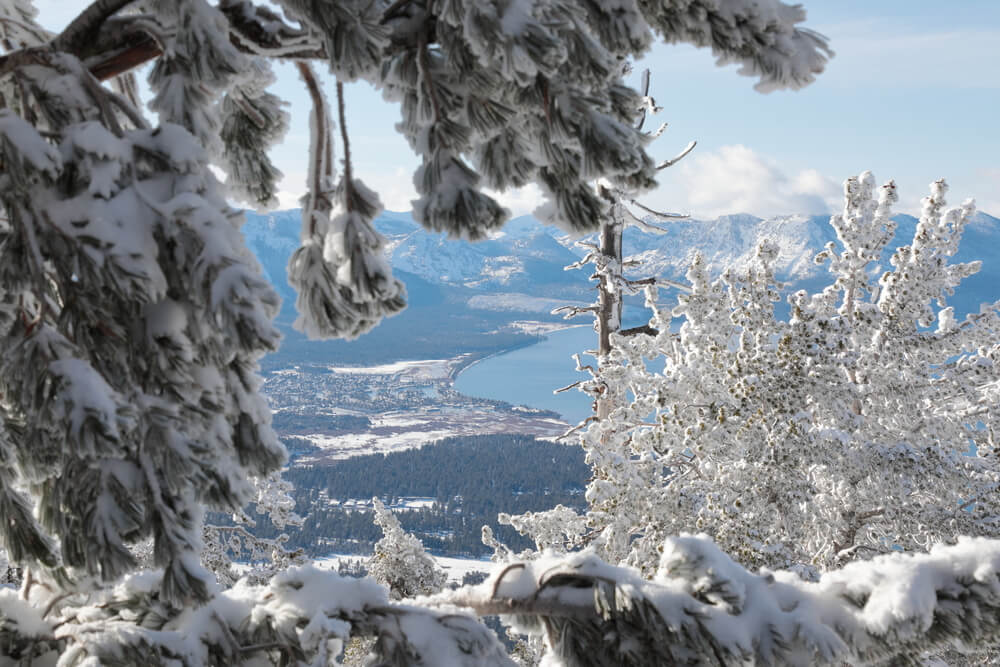 Fun facts about winter in California
Winter temperatures are cool to mild in most of California.
You have to climb to higher elevations if you want to see snow in California.
It does snow in Southern California. However, it is rarer than in the north.
The town of Tamarack holds the record for the greatest seasonal snowfall in California.
---
Wrap-up: The Best Places To Find Snow In California
That's a wrap! I really hope you enjoyed this guide to the best places in California that have snow and that it helps you to find the perfect Sunshine State winter getaway.
Which of these places was your favorite? Let me know in the comments 🙂
For more travel tips, make sure to follow me on Instagram.
---