/
The 7 Best And Most Beautiful Beaches In Key West, Florida
Key West – the last of the Florida Keys – is one of the best beach locations in the United States.
I lived on the island for a while and one of my favorite things to do was go to the beach. Even during winter, the weather was always so nice, sunny, and perfect!
In this post, you will read all about the most beautiful beaches in Key West.
---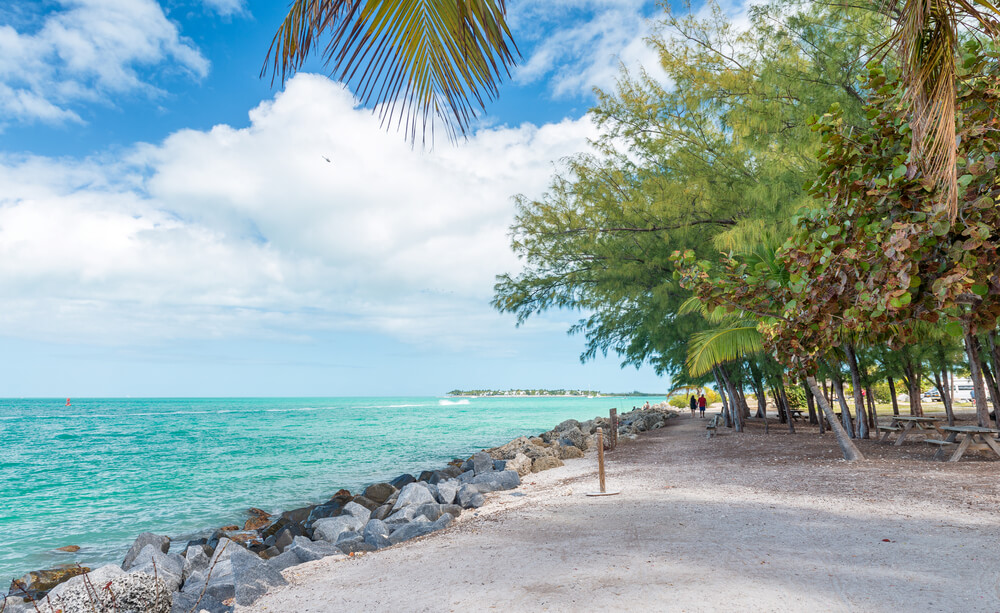 Disclosure: This post may contain affiliate links. Meaning, I get a small commission if you purchase through my links, at no cost to you.
What are the beaches in Key West like?
Key West is located quite close to Cuba and the Bahamas and that location makes for exceptional beaches.
The beaches in Key West are clean and the water is clear, warm, and amazing all year round!
---
Best time to go to the beach in key west
A wonderful thing about the tropical weather of Key West is that you can spend a day at the beach in any month of the year and the weather will still be warm and lovely.
---
What to pack to Key West
When packing to Key West, it is fundamental to bring a good array of sundresses, sandals, swimsuits, and flip-flops. Accessories like hats are also welcome.
For the beach, make sure to bring tons of sunscreen (you will need it) and maybe water shoes. You can get both of those items at the island but it will be way more expensive.
Read: What To Pack To Key West
---
The Best Beaches In Key West
Here are, in no particular order, the most beautiful beaches in Key West.
1- Smathers Beach
Since I have lived in Brazil for most of my life, I'm pretty used to beautiful beaches, but let me tell you: Smathers Beach got me stunned! It's just so beautiful and movie-like.
I highly recommend riding a bike there, finding a good spot under a palm tree, and getting some fresh coconut water to drink. If watersports are more your style, Sunset Watersports is your go-to in Smathers.
Tips for visiting Smathers Beach
Take a bottle of water with you
Find a good place under the palm trees to avoid getting sunburnt
There is free parking available near the beach
2- Fort Zachary Taylor National Park
The beach at Fort Zachary Taylor State Park is one of the best beaches in Key West and also a great place to learn about American Civil War history.
Fort Zachary is actually one of the few natural beaches in the Florida Keys and it's amazing for snorkeling and watching the sunset.
Read: A Traveler's Guide To Fort Zachary Taylor
Tips for visiting the beach at Fort Zachary Taylor State Park
The sand is super rocky here! Make sure to bring water shoes or be very careful when walking barefoot on the beach.
Make sure to tour the Zachary Fort when you visit.
There is a small entrance fee to the park.
There are picnic tables and barbeque grills available for use near the beach.
Stay to watch the sunset! Fort Zachary Taylor is one of the best places to watch the sunset in Key West.
3- Higgs Beach
Higgs Beach is a walking distance away from Smathers but far less crowded. I did think the water was not as clear as the other, but it is still good for swimming.
On the beach, you can find amenities like volleyball courts, a playground for children, and a fun dog park.
Another cool thing is that every other Sunday the Key West Artisan Market is hosted just across the street, so you can grab lunch and soak in some sun after!
Tips for visiting Higgs Beach
In the water, stay close to other swimmers. The water is very dark and get's pretty deep near the pier.
Arrive early to grab a good spot at the beach.
The pier is a great place to take pictures and contemplate the view.
4 – South Beach
South Beach is located on the south end of the island and it's quite small. I didn't go swimming there but I can tell you that it's a great place to lie in the sun and catch the sunrise.
I highly recommend going to South Beach on weekdays, since it can get pretty crowded on the weekend.
Tips for visiting South Beach
Arrive early! South Beach is small and get's crowded quite fast.
The Southernmost Café is a great place for lunch or breakfast.
You can easily rent chairs for about 10$/hour.
5- Dry Tortugas National Park
Even though Dry Tortugas is not technically in Key West, it does belong to the Florida Keys and you can get there by taking a ferry from Key West.
Dry Tortugas is one of the most beautiful places I've ever been to and for sure one of the best beaches in Key West.
The water is marvelous, warm, and absolutely perfect for snorkeling.
Read all about Dry Tortugas here.
Tips for visiting the beach at Dry Tortugas
Book your tour to Dry Tortugas in advance. It sells out frequently.
This is an amazing place for snorkeling!
Bring drinks and food. There is nowhere to buy them on the island.
6- Dog Beach
Tucked away next to Louie's Backyard, this 20-foot-wide welcomes dogs of all types and sizes for a good swim. If you have a furry friend, make sure to bring it here. If you don't, then sticking to other beaches is probably best since Dog Beach is not that pretty.
Tips for visiting dog beach
After visiting the beach, grab a bite at Louis Backyard – it's pet-friendly!
This is a beach where humans are likely to swim. Dogs love it, though!
7- Rest Beach
Rest Beach, also known as C.B. Harvey Park is a hidden gem located at the end of White Street. Even though it is small, this beach offers some of the best views of the sunset and the sunrise in Key West.
tips for visiting rest beach
Take a yoga class on the deck at Rest Beach. Locals teach the classes every morning and night.
You can visit Mallory Square right after.
The beach has free picnic tables available for visitors.
---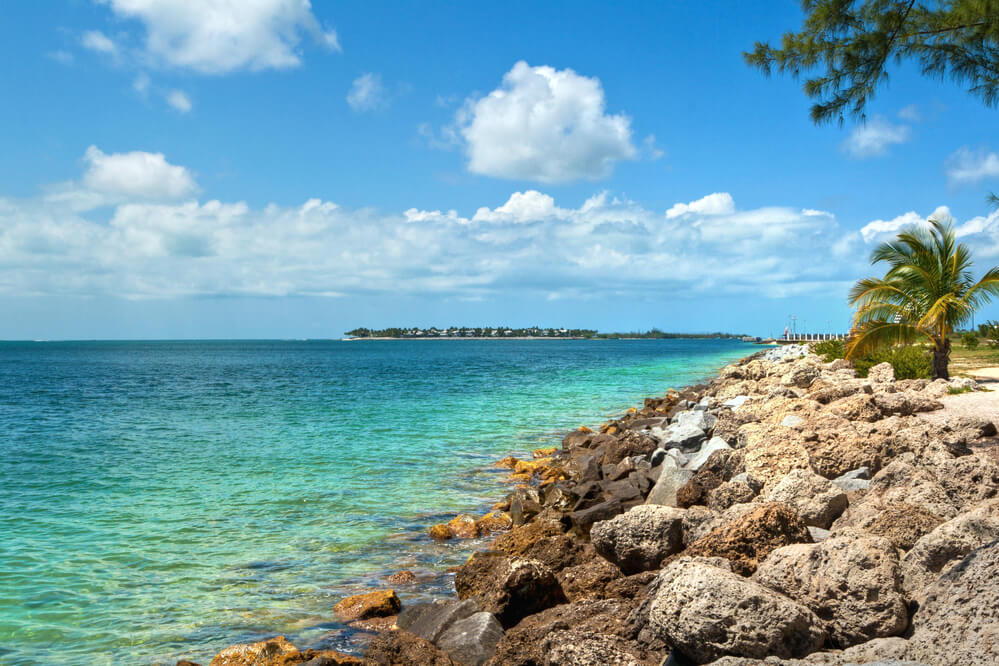 Popular tours to take in Key West
Besides going to the beach, there are tons of fun things to Key West.
Here are the most popular tours to take on the island:
Key West Southernmost Food and Cultural Walking Tour
Eat your way around Key West on this food tour with a guide who introduces you to 'mom and pop' eateries in the Old Town historic district.
Taste seafood, Cuban cuisine, and, of course, key lime pie.
The walking tour route takes you off typical touristy streets so you can see Key West like a local, listening to insights about the city's food, architecture, and history along the way. Tastings are enough for a hearty lunch.
Key West Sunset Sail with Full Bar, Live Music & Hors D'oeuvres
Watch the sunset and the moon rise off the coast of Key West on this sunset cruise. Enjoy the scenery and peaceful calm of a late afternoon sail aboard a 70-foot catamaran with plenty of deck space to stretch out and enjoy the breathtaking view.
Then watch a legendary Key West sunset as the sun glistens and gently settles into the water. Hearty appetizers plus champagne, wine, full liquor bar, ice-cold beer, and soft drinks are included.
Key West Mangrove Kayak Eco Tour
Paddle a kayak through mangrove creeks and shallow water on a Key West kayaking tour that offers an up-close look that this unique coastal environment.
This guided tour is the perfect way to spot Florida wildlife in a natural habitat.
Shark and Wildlife Viewing Adventure in Key West
Get up close with sharks and other marine wildlife on this boat tour from Key West. Travel onboard an eco-friendly, 34-foot catamaran just a few miles off the coast of Key West.
See dolphins, stingrays, turtles and birds and learn about Key West's waters, and then watch as the pilot drops bait to draw a variety of sharks right to the edge of the boat. Bring a camera to capture the excitement as these super predators swarm.
Key West Florida Reef Half-Day Snorkeling Excursion
Enjoy an afternoon of swimming and snorkeling on this cruise off the coast of Key West.
Spend a relaxing afternoon on a 69-foot catamaran headed to North America's only living coral barrier reef for the adventure of a lifetime.
Pass some of Key West's top attractions on the way, then dive right in to see more than 600 species of colorful fish, coral, and other sea life.
---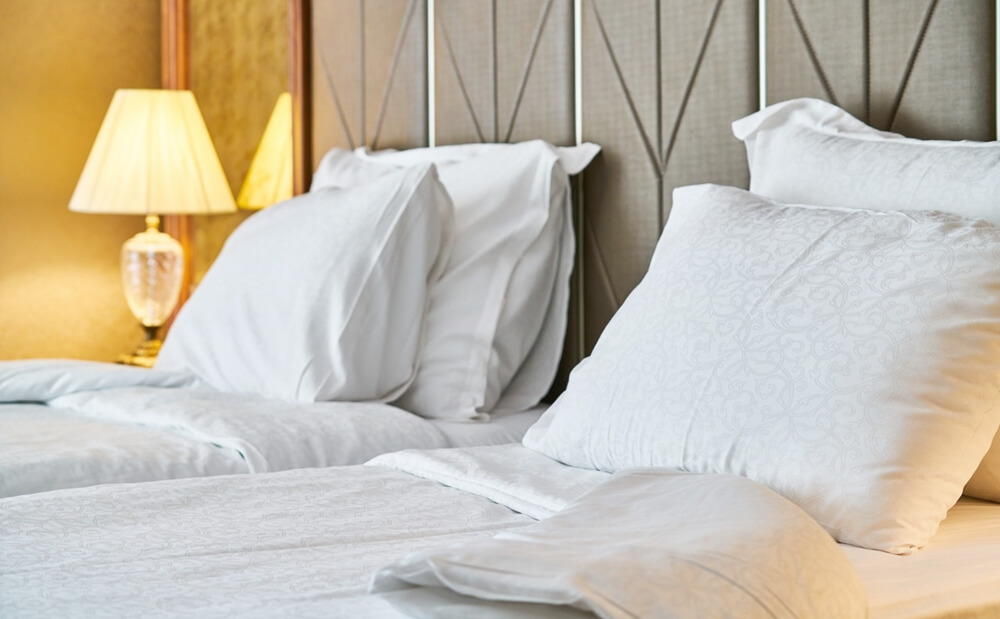 Finding a Place To Stay in Key West
If you haven't booked a hotel in Key West yet, that's okay! Here are some of our favorites:
---
Wrap-up: The best beaches in Key West
That's a wrap! I am pretty sure you will fall in love with every single one of these beaches when you visit Key West. Which one was your favorite?
If you enjoyed this post, make sure to follow me on Instagram for more travel tips.