/
Last Updated November 12th, 2023
Hiking Harding Icefield: A Must-do in Seward
The Harding icefield hike is, in my opinion, the best hike in Seward, Alaska.
Nestled at the base of Kenai Fjords National Park, this beautiful trail starts at Exit Glacier. From there, it winds its way up through hemlock and spruce forests before emerging onto a huge expanse of ice.
Hikers are treated to stunning views of both the glacier and the surrounding mountains, as well as the chance to see wildlife such as mountain goats and even bears!
The hike itself is relatively challenging, with an elevation gain of over 3,000 feet, but views from the top of the glacier are absolutely incredible and definitely worth the effort it takes to get there.
In this guide, you will find everything you need to know about how to hike Harding Icefield.
---
Plan your Perfect trip to Alaska
🏨 Find the perfect hotel on Booking.com
🎫 If you'd like to go on a tour, check out the best tours to take in Alaska
🎒 Pack bear spray, waterproof hiking boots, and a rain jacket
Follow me on Instagram for more travel tips
Disclosure: Some links on this page are affiliate links. That means that at no extra cost to you, I earn a small commission if you book through these links, and that helps me keep this blog running. Enjoy!
Quick Details
Distance: 8.2 miles
Elevation Gain: 3,022 feet
Difficulty: Challenging
Time: 5-7 hours
---
How to get to the Harding Icefield Hike trailhead
Getting to the Harding Icefield hike trailhead is easy, even if you don't have a car.
The trailhead is located at Exit Glacier inside Kenai Fjords National Park, which is only a short drive from Seward and about a 2.5-hour drive from Anchorage.
There is a shuttle that runs between Seward and Exit Glacier several times a day, making it easy to get there without a car. The good thing is that the shuttle is also very affordable, costing only 15 dollars for the roundtrip.
---
Trail map
You can see the official Harding Icefield trail map here.
---
Harding Icefield Hike Highlights
The Harding icefield hike is really good. It is challenging, but it's worth it because you get to see a lot of cool things.
The trailhead starts at Exit Glacier and then it goes up through the forest all the way to Marmot Meadows, the first big lookout on the hike.
Marmot Meadows is about 1.8 miles into the trail and it is already super beautiful. If you don't have enough time or the complete trail seems too hard for you, it is still worth it to hike up to Marmot Meadows.
From there, the trail gets a little bit steeper as it switchbacks its way up through the forest. This section of the trail is called "the wall" because it is pretty much a giant staircase.
Finally, you will reach the top of the glacier and get some of the most incredible views. You can see Exit Glacier, the Kenai Peninsula, and even all the way to Cook Inlet on a clear day.
If you have time, I definitely recommend walking around on the glacier for a bit. It is really cool to see all of the blue ice up close. Just be sure to use caution and stay on the marked path, as it can be easy to get lost.
The hike back down is pretty much the same as the hike up, just in reverse.
Overall, the Harding icefield hike is an incredible experience and I would highly recommend it to anyone visiting Seward, Alaska.
---
How hard is the Harding Icefield Hike?
The Harding Icefield hike is definitely challenging, with an elevation gain of over 3,000 feet. However, the views from the top are more than worth the effort it takes to get there.
If you are reasonably fit and have some hiking experience, you should be able to complete the hike without too much trouble. Just be sure to take your time and rest when you need to.
For me, the hike took about 7 hours because I hiked down to the glacier.
---
What to bring
There are a few essentials you should definitely bring with you on this hike.
First, make sure to bring at least two liters of water per person, especially on a warm day.
It is also important to bring plenty of water and snacks, as there is no water available along the trail.
These are other important things:
---
Footwear recommendation
Personally, I have been using these affordable hiking boots from Columbia and highly recommend them. They are super comfy and waterproof.
---
Tips for hiking the Harding Icefield trail
As previously mentioned, Harding Icefield is a fantastic trail, but not an easy one.
Here are some tips to make the most out of your experience:
Make sure you have enough time
Harding Icefield is not only a strenuous but also a long hike. The trail is 8.2 miles long one-way and can take up to 8 hours, so plan accordingly.
There is no phone signal in Kenai Fjords National Park
So it is important to let someone know where you are going and when you expect to be back. Also, if you take the shuttle from Seward, make sure to plan your return trip ahead of time.
It's easy to hitchhike back
If you end up starting the hike in the afternoon as I did and therefore missed the last shuttle back to Seward, don't worry! Hitchhiking back to town is very easy as 100% of the hikers will be heading there after they finish the trail.
---
Frequently asked questions
These are the answers to some of the most frequently asked questions related to hiking the Harding Icefield. (:
How old is the Columbia Icefield?
The Columbia Icefield is between 30,000 and 70,000 years old.
Can you drive to the Columbia Icefield?
Yes, the Columbia Icefield is accessible by car from the Trans-Canada Highway.
What is the best time of year to hike the Harding Icefield trail?
The best time of year to hike the Harding Icefield trail is in the summer. The course is usually snow-free from June to September.
Can you camp on the Harding Icefield trail?
You can camp near Harding Icefield, as long as you follow the Leave No Trace principles and on bare rock or snow at least 1/8 mile off the trail. However, there are no designated campsites along the trail.
Can you walk on the Harding Icefield without a tour?
Yes. I mean, I did!
However, remember that walking on a glacier without appropriate gear or training can be dangerous.
If you want to walk on the icefield, I recommend doing a guided tour with an experienced guide.
---
Hiking Harding Icefield in winter
Hiking Harding Icefield in winter is an adventure that few people get to experience.
During winter, Harding Icefield is covered in snow and is considered a "mountaineering route, according to the National Park's system official website.
Those who are willing to brave the elements, should have advanced mountaineering skills and be prepared for steep snow climbing.
---
Where to stay in Seward, Alaska
There are plenty of great places to stay in Seward, Alaska.
If you're looking for a place with an amazing view, I recommend the Sea View B&B. The owners are super nice and the breakfast is delicious!
For those on a budget, there are several hostels in town that are clean and comfortable.
Lastly, there are also several campgrounds in Seward if you're looking to rough it.
---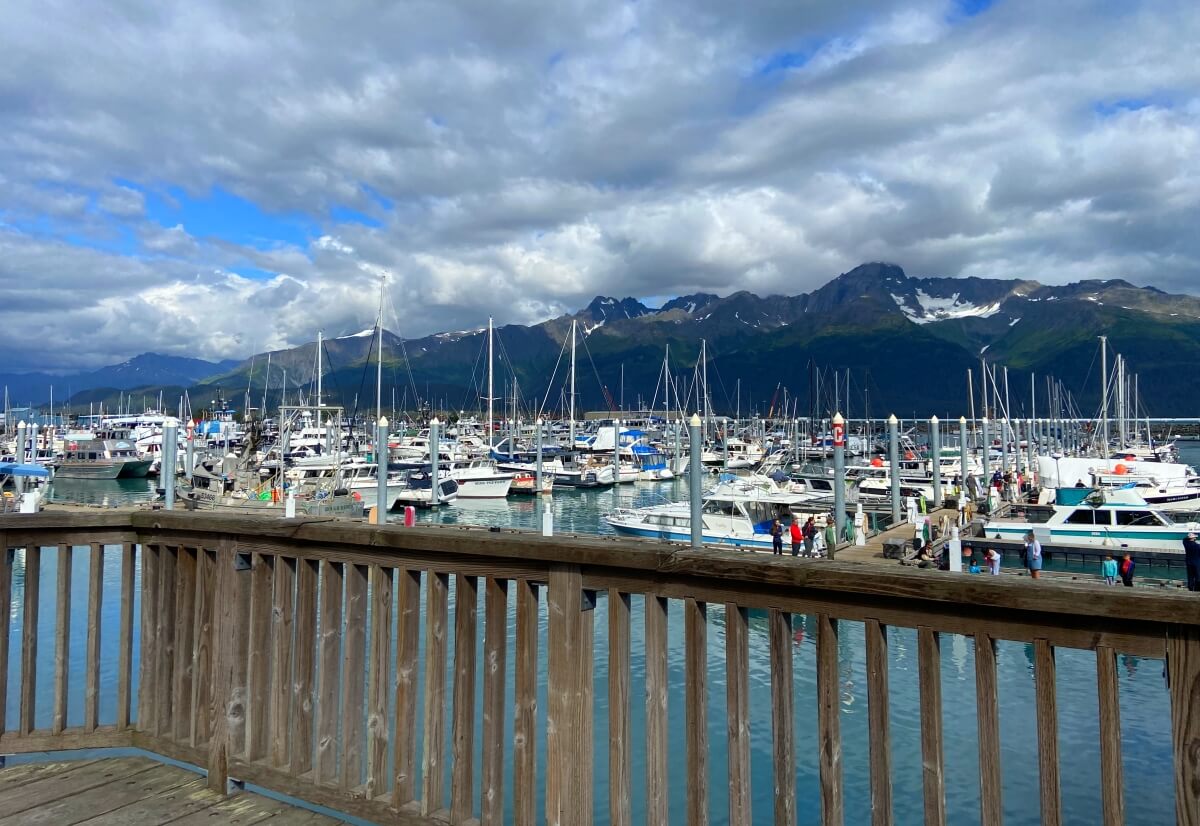 Other cool things to do in Seward
Hiking Harding Icefield is my favorite thing to do in Seward, but the town has so much more to offer!
These are some other cool activities to do in Seward, Alaska:
Explore the town
Seward is absolutely adorable and has so many cute shops and coffee places to explore.
Visit the Alaska SeaLife Center
The Alaska SeaLife Center is a marine science facility that is open to the public.
You can learn about the ocean and the animals that live there, and even see some puffins up close!
Go on a boat tour
There are plenty of boat tours you can take in Seward.
My favorite is the Kenai Fjords National Park Glacier & Wildlife Cruise because you get to see so much wildlife, including humpback whales, otters, sea lions, and more.
Take a glacial dog sledding adventure
Nothing says Alaska as much as a dog sled ride pulled by a team of huskies and mushers along the Godwin Glacier, offering sweeping views of Alaska's snowy landscape.
Hiking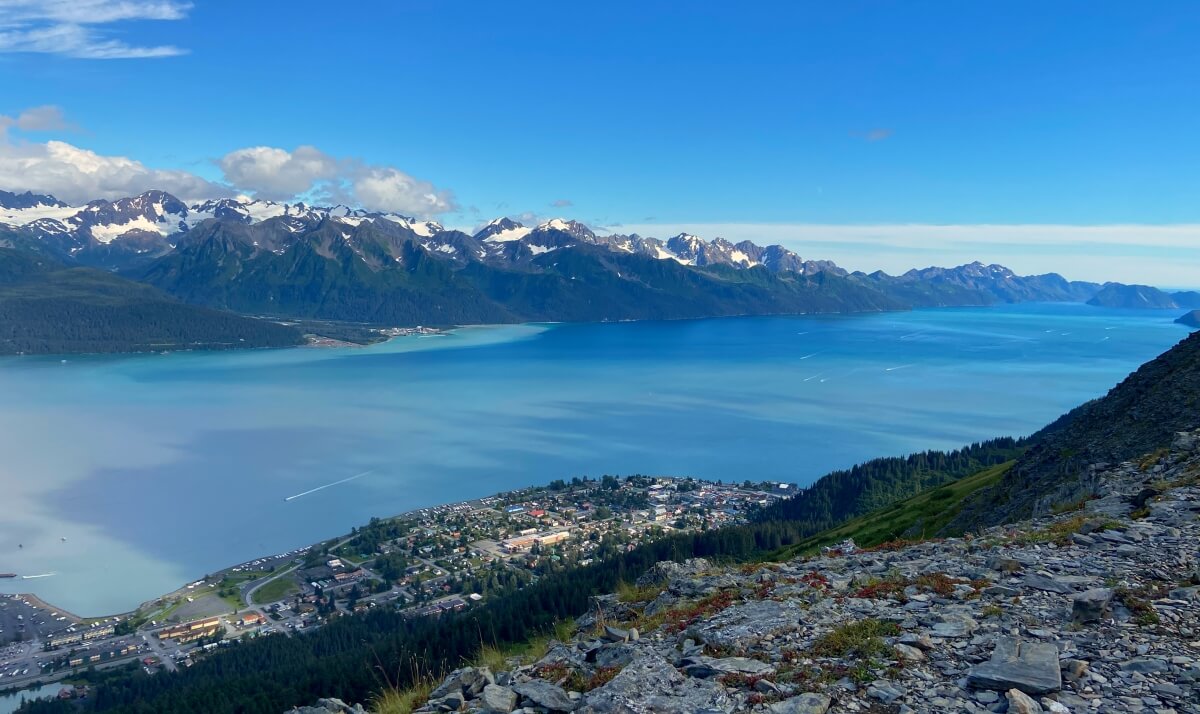 There are, of course, many other incredible hikes to do in Seward.
My personal favorites are Mount Marathon and Lost Lake.
Go kayaking
There are plenty of places to go kayaking or paddleboarding in Seward.
One of the most popular spots is Kenai Fjords National Park, where you can see glaciers up close.
I also recommend paddling around Resurrection Bay for some stunning views of the mountains.
Try out ziplining
Discover the beauty of Alaska's old-growth, Pacific forests—and enjoy a one-of-a-kind, thrilling way to take in the scenery—during this small-group ziplining experience.
---
Wrap-up: How to hike the Harding Icefield Trail
The Harding Icefield hike is an incredible experience that should not be missed when visiting Seward, Alaska.
Just be sure to come prepared and you will definitely have the time of your life contemplating one of the best views in Alaska,
For more travel tips, make sure to follow me on Instagram.
---