/
Last Updated November 11th, 2023
15 Amazing Things to Do in Ilha Grande, Brazil
If you're looking for a place to relax and enjoy nature, then Ilha Grande in Brazil is the perfect destination.
Located only two hours away from Rio de Janeiro, it is fast becoming one of the most popular destinations in Brazil for nature lovers and outdoor enthusiasts alike. It also makes for an incredible day trip from the big city.
Picture crystal clear water, white sand beaches, and friendly locals. This is the ultimate Brazilian island experience.
In this post, you will find all the best things to do in Ilha Grande + other valuable information you should know before planning your trip.
---
Plan your Perfect trip to Ilha Grande
🏨 Find the perfect hotel on Booking.com
🎫 If you'd like to go on a fun tour, check out Viator and Get Your Guide
🎒 Pack a universal travel adapter, your favorite travel camera (We love this one!), and a good portable solar phone charger
Follow me on Instagram for more travel tips
Disclosure: Some links on this page are affiliate links. That means that at no extra cost to you, I earn a small commission if you book through these links, which helps me keep this blog running. Enjoy!
About Ilha Grande, Brazil
Ilha Grande is an island near Rio de Janeiro that has some of the most beautiful beaches in all of South America.
Known as "the Island of Wonders," it lives up to its name with stunning beaches, crystal clear waters, and lush jungles that are home to hundreds of species of birds and animals.
With over 70 miles worth of trails, it's also perfect for hiking, exploring nature, and many other activities.
You can hike through rainforest trails or take a boat ride out to an incredible waterfall. There are plenty of places to relax on the beach or go snorkeling with turtles in crystal clear waters.
The best part about this island paradise is that no cars or motorized vehicles are allowed here, which helps keep this place as genuine as possible.
If you want an adventure-filled getaway without having to deal with crowds or traffic jams, then Ilha Grande is an excellent place for that.
---
How to get to Ilha Grande
First things first! Depending on where you are leaving from, there are different ways to get to Ilha Grande.
Personally, I think taking the bus + ferry boat combo is the best way because, as previously mentioned, cars are not allowed in Ilha Grande, and finding a place to park yours might be tricky.
From Rio de Janeiro
The best way to get to Ilha Grande from Rio de Janeiro is by taking a bus from Rio to Mangaratiba, Conceição do Jacarei or Angra dos Reis. A one-way ticket will cost you around 60 reais.
There are ferry boats and water taxis you can take to Ilha Grande from any of those places.
The trip to Ilha Grande can last anywhere between 1 hour and 1.5 hours, depending on how large the waves are that day.
Pro-tip: Boats leave from Conceição do Jacarei more frequently than from the other places.
Another option is hiring a private shuttle from Rio de Janeiro to Ilha Grande, which I also recommend.
From São Paulo
From São Paulo, you don't necessarily have to take a plane to Rio de Janeiro. You can also take the bus or even drive if you want to.
For those leaving from São Paulo, the closest place to take the ferry to Ilha Grande is Angra dos Reis.
By bus, the trip to Angra takes near 8 hours and costs around 110 reais.
From Paraty
It is not uncommon to visit Paraty, a charming little historical town in Brazil, on a trip to Ilha Grande.
To get from Paraty and Ilha Grande, things are even more accessible. Several tourism agencies offer direct transportation between both places, and that works really well.
You can choose between taking a taxi boat, schooner or boat and be snorkeling in Ilha Grande in a breeze.
---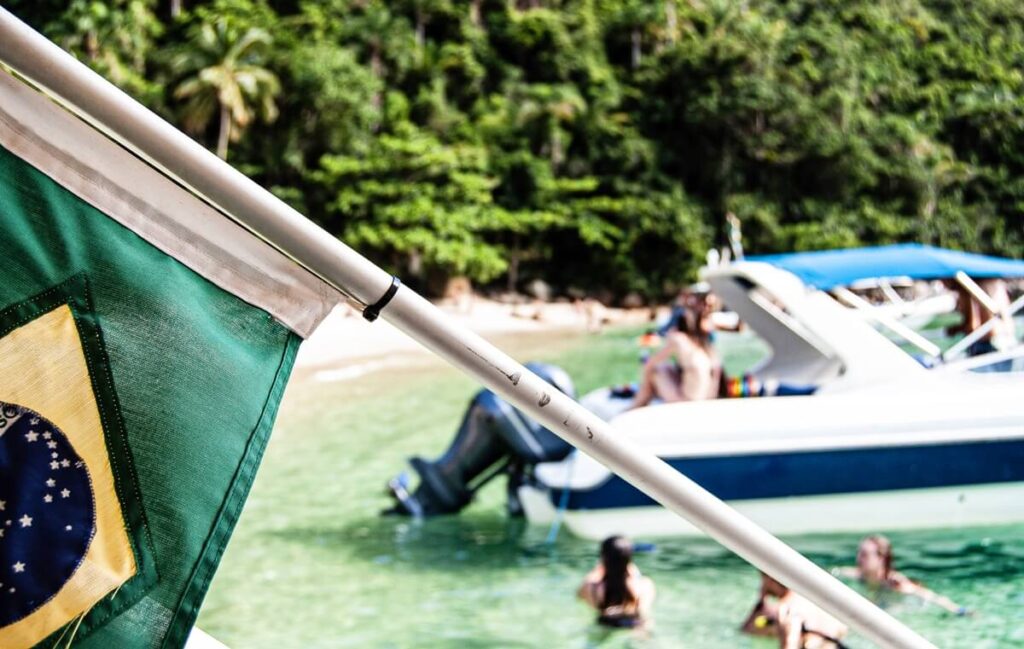 The best things to do in Ilha Grande
Now that you know how to get to Ilha Grande, here are, without further ado, the best things to do in Ilha Grande, Brazil.
As you'll probably notice, most activities in Ilha Grande involve either water or jungle, making this a perfect destination for adventurous travelers or even those who just appreciate relaxing at beautiful beaches.
1- Spending the day at Palmas Beach
Palmas is one of my favorite beaches in Ilha Grande.
Pretty remote, it's usually the perfect place to be totally secluded and enjoy nature since it only has a few simple restaurants.
To get to Palmas, there are two main options: hiking the T10 trek from Vila do Abrãao to Palmas or taking a taxi boat directly to the beach – which costs around 50 soles the roundtrip.
Discovering beautiful waterfalls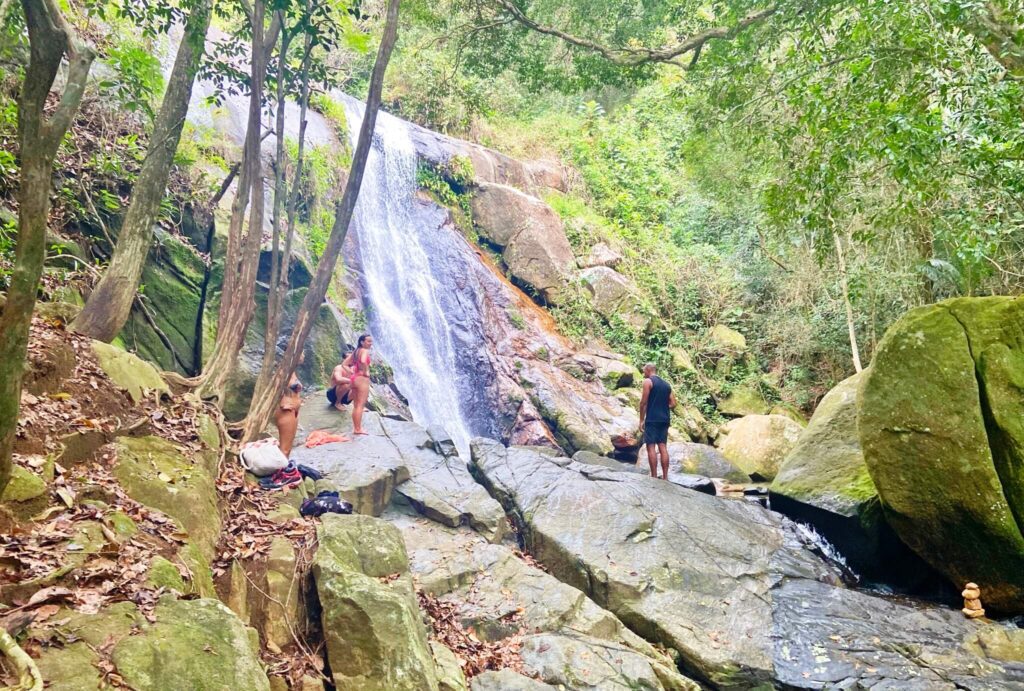 Ilha Grande has a few impressive waterfalls that are well worth visiting.
For example, Cachoeira da Feiticeira is up in the hills and perfect for hiking around to find. The hike isn't that hard but does require good hiking shoes.
Once you get there, you can rest and bathe in the waterfall before continuing the trek to Praia da Feiticeira.
Besides Cachoeira da Feiticeira, there are also many small waterfalls where you can cool off by swimming under them or playing around in their pools.
Cachoeira dos Escravos is another popular one. With 6 meters of depth and crystal clear water, it is perfect for taking a refreshing dip in the water.
Exploring Vila do Abraão
With the increasing popularity of Ilha Grande, the main town on the island, Abraão, is continuously growing and offers relaxed island vibes like no other.
It is a great place to eat some local seafood, shop for souvenirs, and listen to live music at night. If you happen to be traveling in high season, you will probably even find a few parties.
Go hiking
Ilha Grande is an excellent place for hiking.
On the island, there are more than 16 official hiking trails identified from T01 to T16. The trails vary in difficulty so you can pick your level.
Here are some of the best hikes in Ilha Grande:
This trail has moderate difficulty and leads to Cachoeira da Feiticeira, a vast and stunning waterfall in the middle of the jungle. Some parts of the trek might get a bit tricky, so it's essential to wear the right shoes.
The Circuito do Abraão trail is an excellent way to get to Preta and Galego's beaches and have a general view of the island. Although it's pretty short, most of it is uphill.
Another cool thing about this hike is that it also takes you to a beautiful waterfall called Poção.
Praia do Pouso to Lopes Mendes Beach
This trail is about 6 kilometers and it takes nearly 3 hours to get to the final destination: Lopes Mendes Beach.
This beach is one of the most beautiful in Brazil (and Brazil has a LOT of beautiful beaches, trust me) and is so worth it.
If you don't feel like hiking your way back to Vila do Abrãao after the hike, many taxi boats are available at the beach.
Take a boat ride out to Parnaioca beach
About an hour away from Vila do Abraão by boat, Parnaioca is one of the most secluded beaches on Ilha Grande.
One of the most exciting things about this beach is that at some point, the ocean is joined by the Parnaioca river, creating a big natural pool with both salty and sweet water.
Also, just a few minutes from the beach, there is a waterfall that is very good for bathing.
Snorkeling in Lagoa Verde and Lagoa Azul
Lagoa Verde and Lagoa Azul are some of the most breathtaking places in Ilha Grande. These natural pools are incredible snorkeling spots and usually attract the attention of many visitors.
Here, simply explore the beauty of its turquoise blue waters and white-sand shores. In both places, you can snorkel to have a closer look at Ilha Grande's amazing underwater scenery.
Go on a boat trip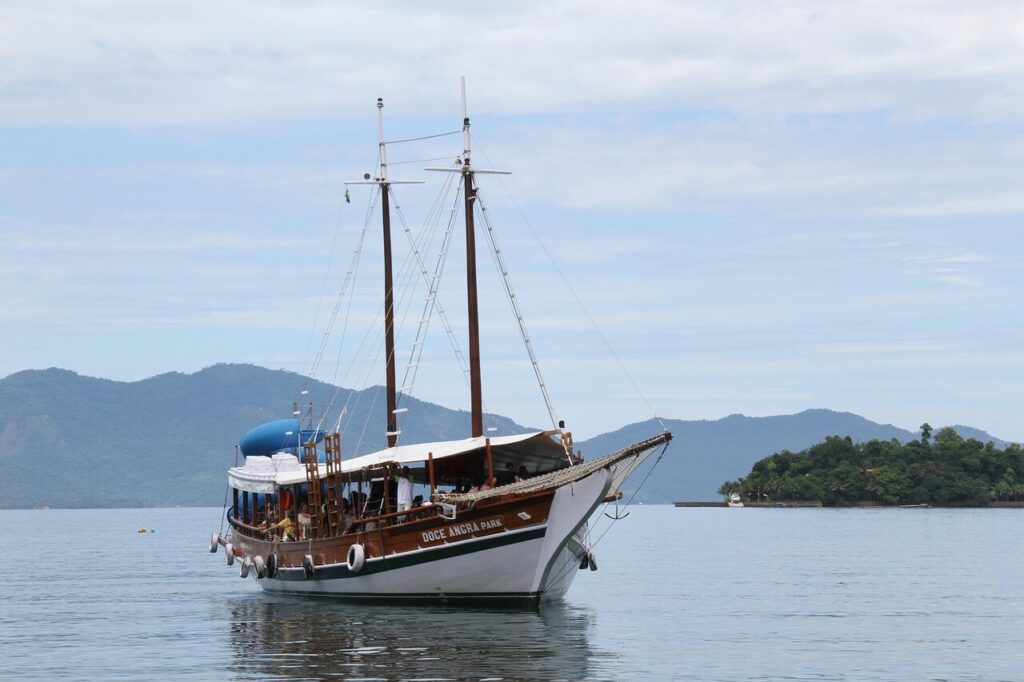 Going on a full-day boat trip is undoubtedly the most popular thing to do in Ilha Grande. It basically consists of visiting some of the island's most beautiful beaches and having a great time.
A full-day boat trip through Ilha Grande might cost around 150 reais per person if you go with an agency in Abraão. This price usually includes transportation, lunch, and snorkeling equipment and can be easily negotiated.
There are some of the most popular boat tours in Ilha Grande and the beaches they stop in.
Volta a Ilha: Caxadaço, Parnaioca, Aventureiro, Meros and Maguariquessaba.
Meia Volta: Lagoa Azul, Lagoa Verde, Japariz , Praia do Amor, Praia da Camiranga and Maguariquessaba.
Ilhas Paradisíacas: This tour takes you to some paradisiac beaches and islands in Angra dos Reis.
Super Sul: Jorge Greco Island, Dois Rios, Caxadaço and Lopes Mendes beach.
No matter what you choose to do in Ilha Grande, a boat tour is an absolute must and will show you why Ilha Grande is such a magnificent place.
See the fluoresent water at Gruta do Acaiá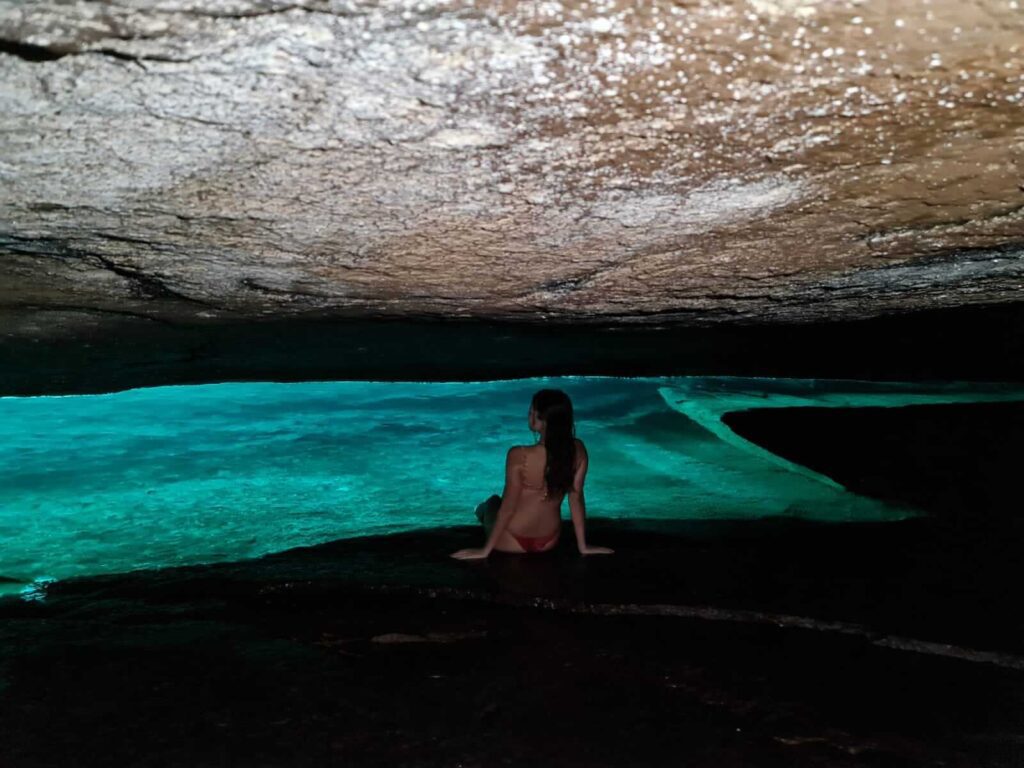 Exploring Gruta do Acaiá (Cave Acaiá) was the highest point of my trip to Ilha Grande.
Inside the cave, I was mesmerized to find a river of bright turquoise luminescent water. You have to see it for yourself! It was so beautiful it didn't even look real.
The entrance to the cave is a little tight and scary but trust me: it's SO worth it!
After spending a few minutes inside the cave, hop into the water with a snorkel to see the natural aquarium that forms right in front of your eyes.
Relax at Lopes Mendes beach
Lopes Mendes has been voted the 13th most beautiful beach in the world several times and is a must on any trip to Ilha Grande.
The beach has around three kilometers of extension and looks like out of a movie. If you are looking for a place to relax, this is the place to go.
It has calm waters, and it's perfect for swimming. The sand is soft and white, and there aren't many people around, which gives you a really tranquil vibe.
Since this beach barely has any kind of touristic infrastructure, make sure to bring your own food and drinks.
Climb Pico do Papagaio
If you're feeling adventurous, climbing Pico do Papagaio is a must!
The peak is 982 meters high and is the second-highest point in Ilha Grande – the first place goes to Pico da Pedra d´Água, with 1.035 meters.
Climbing Pico do Papagaio takes around 6 hours to climb up and down. This is for sure the most challenging trail in Ilha Grande, so don't attempt it unless you are used to hiking already and feel really prepared.
I didn't do this myself, but I've been told that the view from the top is nothing short of spectacular.
Enjoy the local eats
Ilha Grande is known for its seafood. The food there is just delicious, simple, and tasty.
I recommend trying the seafood dishes made of locally fished shrimp and fish. If you feel like splurging a little, many restaurants in Abraão are located right on the sand. It's a beautiful experience!
For something more affordable, you can try one of the many creperies, which serve delicious crepes filled with all kinds of different toppings.
For dessert, you will notice a few carts selling traditional sweets. Absolutely try some of them! They are affordable and delicious.
Take a picture with the famous palm tree at Praia do Aventureiro
Aventureiro has also been voted one of Brazil's most beautiful beaches, and its stunning landscape makes the walk along the beach worth it.
But what this beach is really famous for is this charming crooked palm tree that has recently become a trendy Instagram spot – with lines and everything!
Go scuba diving
With its warm, crystal clear water, Ilha Grande is an incredible scuba diving destination!
The best diving spots in Ilha Grande include the Pinguino and Vapor California shipwrecks, Lage do Gurir, Jorge Grego island, and finally, the helicopter shipwreck.
If you don't have a diving certification, you can do your baptism dive here. Otherwise, remember that you'll need a diving license to explore the beautiful underwater scenery in Ilha Grande, but it's well worth it!
Several companies organize day trips for scuba divers, and you can find some outstanding deals in Vila do Abraão.
Have some Brazilian açai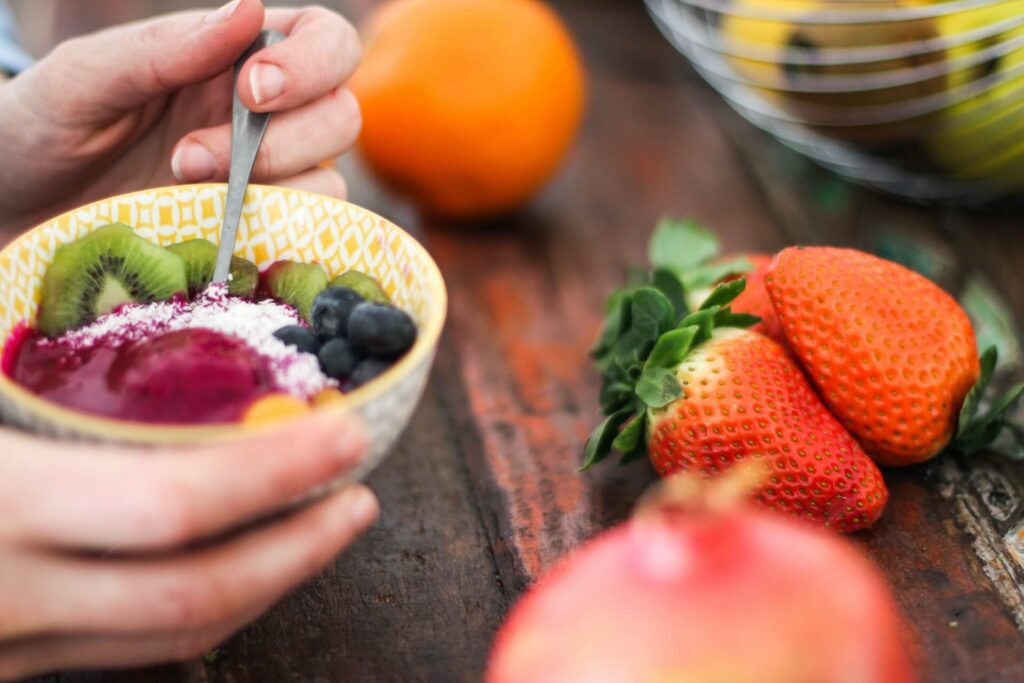 Nothing says Brazil like a good bowl of açai. On Ilha Grande, you can find it everywhere.
The good thing about this power food is that it's super refreshing and healthy, too. It will provide you with antioxidants and vitamins that your body needs to recharge.
Visit the abandoned Cândido Mendes penitentiary
If you hike all the way to Praia de Dois Rios, it is possible to visit the abandoned Cândido Mendes penitentiary.
The penitentiary – which has now been turned into a museum – once housed famous writers like Orígenes Lessa e Graciliano Ramos, and inspired the iconic Brazilian book "Memórias do Cárcere."
Drink all the capirinhas you want
All the caipirinhas – or caipivodkas – I tried in Ilha Grande were so delicious!
Caipirinhas are made with cachaça, which is Brazilian alcohol made from sugar cane.
The history of the caipirinha is not very clear, but it is said that it was first made by accident when somebody forgot about their rum and lime mixture, but realized soon after that the result was delicious!
So, when you visit Ilha Grande, make sure to try at least a few variations of this delicious drink. My favorite is strawberry with vodka instead of cachaça.
Admire the local wildlife
Ilha Grande has vibrant wildlife. Keep an eye out for armadillos, several kinds of monkeys, sea turtles, and even some snakes!
It is not unusual to spot sea turtles, octopuses, and all kinds of colorful fish in the water. You might even see a dolphin or two if you are fortunate!
---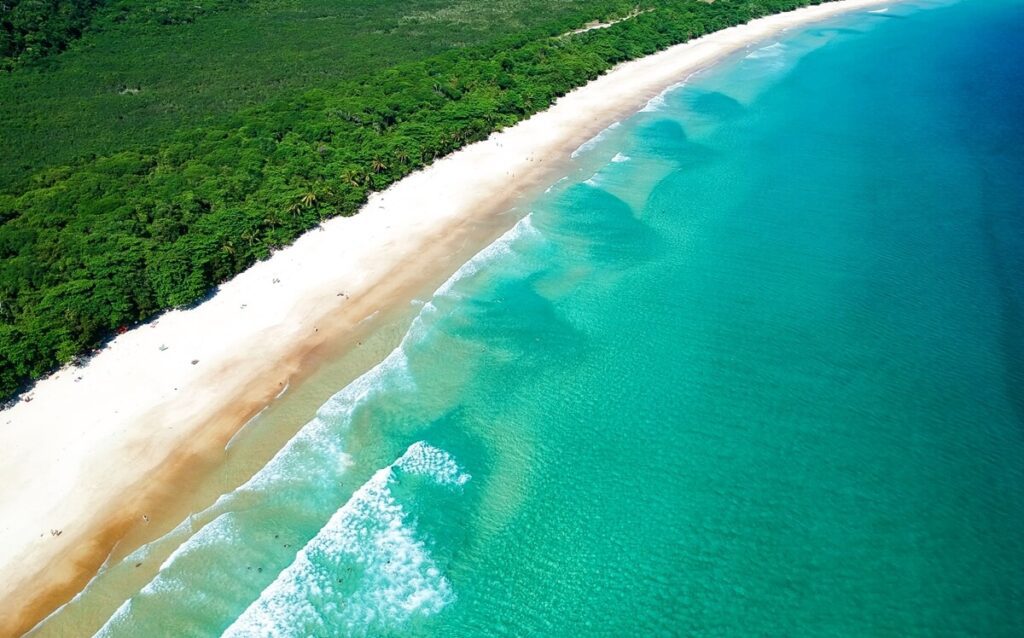 Quick travel guide to Ilha Grande
Now that we have covered all the top attractions on the island, here is a quick and straight-to-the-point Ilha Grande travel guide.
Here you will find valuable information that will make planning your trip so much easier!
Where to stay in Ilha Grande, Brazil
You already know all the fun things to do in Ilha Grande? Great! Now it's time to find a hotel – or pousada, as we call it in Brazil – that fits all your needs.
It is essential to mention that Ilha Grande doesn't have a lot of modern or luxurious buildings, so most hotels are pretty simple – but still super comfy!
Here are some great options of places to stay in Ilha Grande:
Pousada La Pionera | Check availability
La Pioneira is a simple bed and breakfast in Vila do Abrãao. It offers a nice place to sleep and an excellent location for an affordable price.
Paraíso Azul Retiro | Check availability
This fabulous retreat in Araçatiba beach is a luxurious hotel surrounded by the Atlantic Forest. It is the ultimate stay for those looking to disconnect and have a more authentic island experience.
The rooms are amazing, and the hotel has amenities such as an on-site rustic restaurant, a bar, a hot tub, an outdoor pool, and a spa.
Also, the hotel is pet-friendly, and guests that have stayed there also noted that the complimentary breakfast is divine!
Pousada Tagomago | Check availability
Tagomago Eco-lodge is located in Vila do Abrão and offers six exclusive suites with scenic ocean views. The property is very quiet and perfect for a relaxing getaway.
Guests can enjoy a delicious breakfast buffet with fresh natural juices, granola, and bread rolls.
---
Best time to visit Ilha Grande
As with many tropical destinations, Ilha Grande's weather is warm year-round.
However, the best time to visit the island city is during Brazil's dry season, which lasts from May through October.
The months between December to April are also high season – because of the Brazilian school calendar – but during that time it is more likely to rain.
My personal advice is to research if there are going to be any holidays – feriados – in Brazil when you visit.
During holidays, the island attracts many people from all around the country and gets crazy packed, so the experience is not as pleasing as during calmer times.
Best restaurants in Ilha Grande
I always make sure to try out local cuisine when I travel, and here are my favorite spots in Ilha Grande:
Morango das Palmas:
This restaurant is located in Palmas Beach and has some of the best caipirinhas I have ever had! We also had a selection of grilled seafood, which was delicious.
What I loved most about Morango das Palmas is that it is a strawberry-themed restaurant. Everything you can see in the restaurant has adorable drawings of strawberries and it is just so cute.
Gurisa Bistrô:
Gurisa Bistro is an amazing bistro for breakfast, lunch, and even dinner. Here, I tried the vegetarian poke bowl and fell absolutely in love (and I'm not even vegetarian).
A great thing about this place is that even though the food is absolutely delicious, the prices are not as high as they are on the rest of the island.
Peixe com banana:
This restaurant is located at Maguariquessaba, so a lot of boat tours stop here for lunch Try the fried fish with salad, it's divine.
---
What to pack for Ilha Grande
Ilha Grande is a tropical destination and it can get pretty hot, so try to pack light and wear comfortable clothes.
The island has some beautiful beaches that you'll want to spend all day at so keep sandals, swimsuits and flip-flops in your suitcase.
If you plan on doing any jungle exploring or hiking, bring a good pair of sneakers. And don't forget your camera! You won't want to miss out on the incredible views around Ilha Grande.
Other things that you should pack to Ilha Grande include:
---
Insider travel tips for Ilha Grande
The following are some insider travel tips for any trip to Ilha Grande. Make sure to write them down (:
Bring snorkel gear to the boat tours
If you cant bring your own snorkel gear, that's okay. Many places in Ilha Grande rent them for really cheap. Sometimes they also give you fish food as a bonus.
Don't forget the snacks
Make sure to bring snacks on the boat tours if they are not already included. Lunch is usually the last top on the tours (super late!) and swimming can get you really hungry.
Pack as light as you can
Pack light. Since there are no cars in Ilha Grande, you will have to carry your stuff to the hotel. If possible, take only a reliable backpack.
You can book tours the day before
No need to book tours ahead of time. As soon as you get to the island, you will find dozens of travel agencies ready to sell you a boat tour for the next day.
Take cash with you
Take a good amount of cash to Ilha Grande.
Today, most places accept PIX and credit cards but it is still better to be safe than sorry since the island doesn't have any ATMs.
---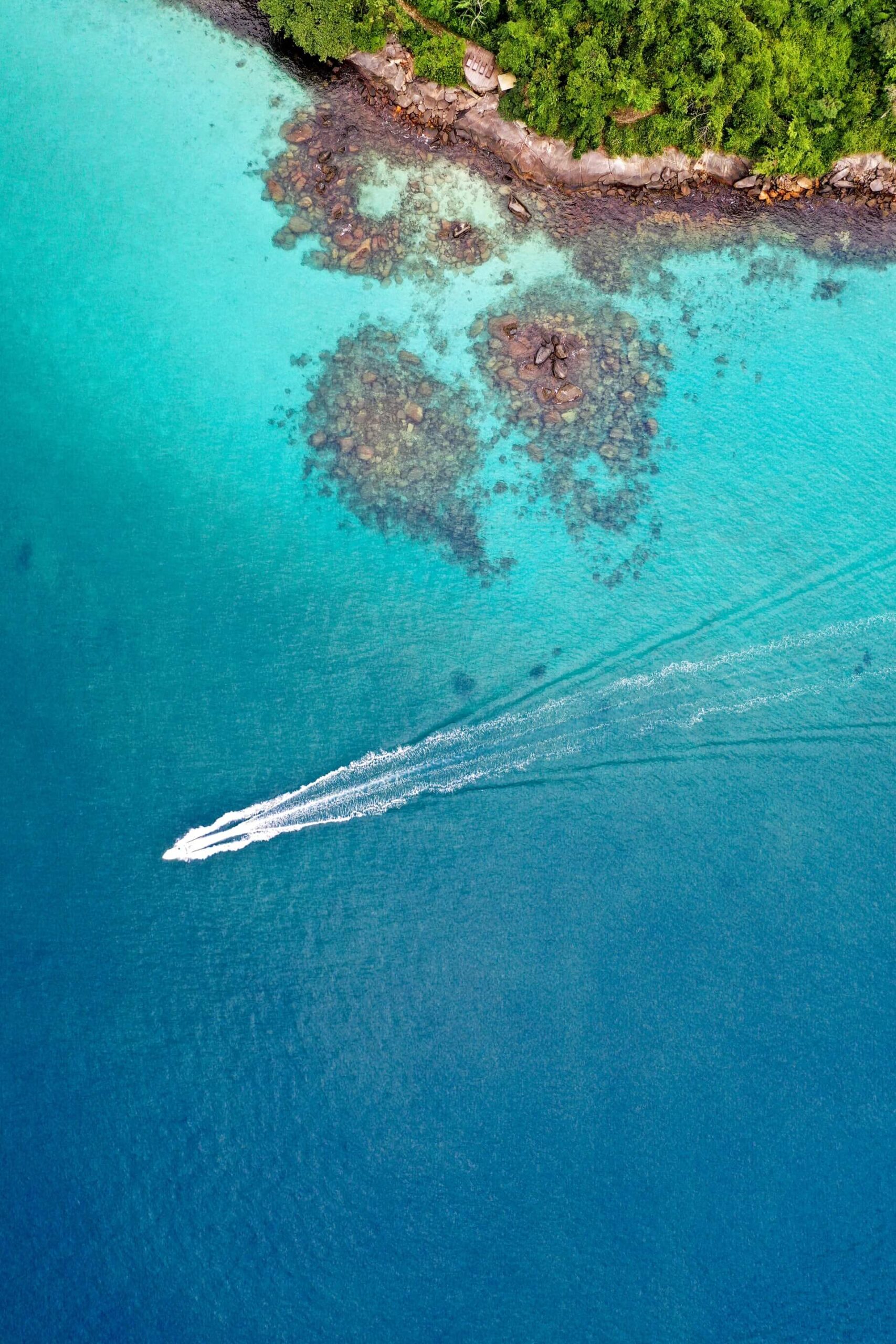 How many days to stay in Ilha Grande, Brazil
Anything between three and five days is a great amount of time to explore Ilha Grande.
If you are planning on visiting Ilha Grande for a day or two, I recommend either staying at one of the hostels in Vila do Abraão or camping.
However, if you want to explore more than just Ilha Grande city and stay somewhere else, like Lopes Mendes Beach, for example, I would leave at least 3-4 nights so you can see as much as possible.
Personally, I stayed for three days and I didn't want to leave!
---
Itinerary for 3 days in Ilha Grande
Here is a simple three-day itinerary you can follow on your trip. If you have extra days, add more boat tours or even some scuba diving if you are into it.
Day 1: Enjoy the beaches in Vila do Abraão, explore the village
Day 2: Volta a Ilha boat tour
Day 3: Take a taxi boat to either Lopes Mendes or Palmas beach.
---
Wrap-up: The best things to do in Ilha Grande Brazil
That's a wrap! Now you know all the best things to do in Ilha Grande and have every piece of information you need to know before visiting.
As you can see, this gorgeous tropical island has a lot to offer to visitors. It has breathtaking scenery, many places of interest to explore and lots of attractions as well as beaches. I am sure you will love it as much as I did.
I hope you enjoyed these tips and that you have an amazing trip. For more travel content, make sure to follow me on Instagram.
---