/
Last Updated November 12th, 2023
4 Days in Puerto Rico: The Perfect Itinerary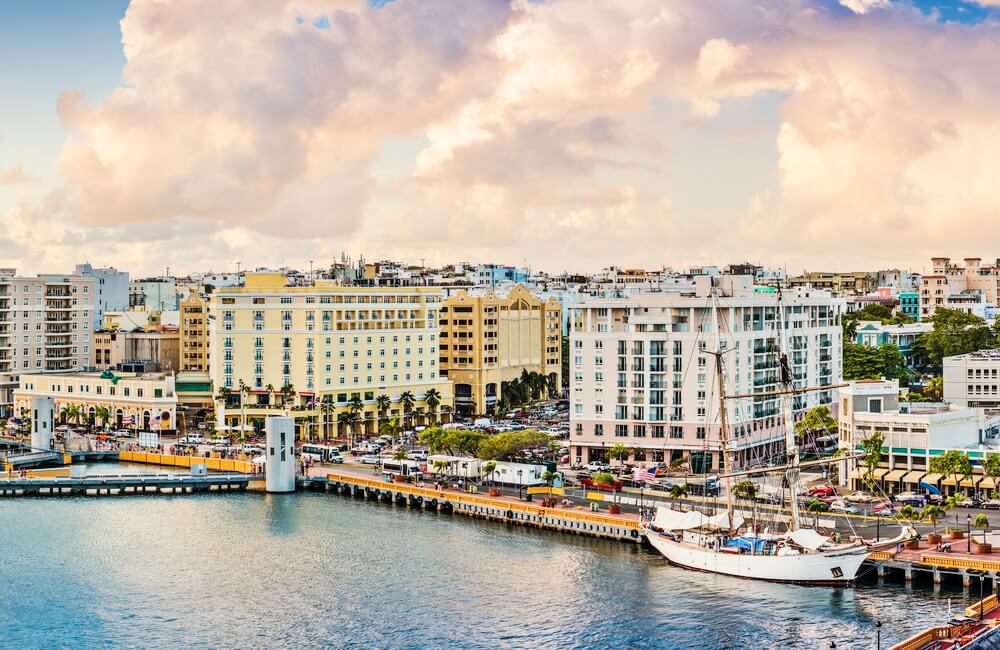 With stunning natural views, pristine beaches, offbeat attractions, and a super-rich culture, Puerto Rico is a trip of a lifetime.
It doesn't matter how many days you have; this gorgeous island is worth visiting for any amount of time and is a perfect Caribbean getaway from the US.
In this particular guide, we will be discussing the best way to spend 4 days in Puerto Rico, which is more than enough to get a real feel of the country's main attractions.
In this post, you will find the perfect 4-day itinerary for Puerto Rico + travel tips to make planning your trip even easier.
---
Disclosure: Some links on this page are affiliate links. That means that at no extra cost to you, I earn a small commission if you book through these links, and that helps me keep this blog running. Enjoy!
Who is this itinerary for?
This itinerary is for anyone who is planning a trip to Puerto Rico but doesn't have a lot of time available.
In just 4 days, it covers the most bucket-list-worthy places in the country so you can get to know Puerto Rico and its stunning sites.
Most of the activities named here are attached to a tour option to save time, but you can do them on your own if that's what you prefer. It's fine either way! (:
---
The Perfect Itinerary For 4 Days in Puerto Rico
Without further ado, here is my 4 day itinerary to Puerto Rico. I hope it inspires you and helps you to organize your own travel plans for this beautiful country.
Disclosure: This post may contain affiliate links. Meaning, I get a small commission if you purchase through my links, at no cost to you.
Day 1 – Old San Juan
Fly into San Juan
On your first day in beautiful Puerto Rico, you will probably fly into the Luis Muñoz Marín International Airport in San Juan.
From there, you can take an uber to your hotel and prepare to start exploring.
Explore beautiful Old San Juan
The neighbordhood of Old San Juan is pinteresque, exciting and an absolute trill to visit!
This Unesco World Heritage Site has buildings that date to the 16th and 17th centuries and is one of the most charming historical areas in San Juan.
While you are there, make sure to visit some of the city's ancient forts like El Palacio de Santa Catalina, San Cristobal, and San Felipe Di Morro.
You may consider going on an Old San Juan Walking Tour to explore with an experienced guide and make new friends.
Restaurants in Old San Juan
As concerning food, some great restaurants in Old San Juan are Cafe Finca Cialitos, Hecho en Casa, and El Jiberito.
Enjoy the local eats
Speaking of restaurants, there is nothing like a good old foodie tour to explore all the incredible local eats San Juan has to offer.
Join a guide for a culinary exploration of island staples like plantains and sofrito, all with the cobblestone streets and colorful facades of the city's oldest neighborhood as your backdrop.
Visit The Capitol of Puerto Rico
For Puerto Ricans, El Capitolio de Puerto Rico stands as a powerful symbol of self-government. Located just across the ocean, it is a beautiful white marble building with a large dome.
The Capitol is open to visitation during weekdays and is a great free thing to do in Puerto Rico.
See the smallest house on earth
"La Casa Estrecha" on Calle Tetuán is only 5 feet wide and considered the smallest and most narrow house in the world.
Nowadays, the proprietor and architect Antonio Álvarez has turned the house into an art gallery and happily welcomes visitors from all over the world.
Go on a sunset sail around San Juan Bay
To finish a day of sightseeing across the stunning San Juan on a golden note, go on a sunset sail around San Juan Bay.
In this tour, you will sail from Old San Juan and enjoy a magical trip across the ocean waves aboard a historic schooner. Appetizers and beverages are included!
Experience the Puerto Rican nightlife
Last but not least, if you like going out at night, San Juan is a lovely place to experience a vibrant nightlife.
Make your way to Calle San Sebastian, the heart of the San Juan nightlife and home to the infamous Fiestas de la Calle San Sebastian.
There, some great places to visit are La Factoría, Callejón de la Tanca and even maybe El Batey.
Other fun things to do in San Juan
Paseo De La Princesa
Catedral de San Juan Bautista
Castillo San Felipe del Morro
Sitio Histórico Nacional de San Juan
---
Day 2 – Tour of Puerto Rico + El Yunque Rainforest
Get a comprehensive tour of the island of Puerto Rico during a single outing from San Juan. Spend the day in the company of a guide who will follow a carefully curated itinerary that includes many points of interest that typical tours don't cover.
You'll see many of the island's natural features, including caves, beaches, and rivers, and visit the El Yunque Rainforest.
At nearly 29,000 acres, El Yunque National Forest is the only tropical rainforest in the national forest system.
There, you can enjoy the landscape, swim in the water, rope swing or even free dive from multiple heights.
This is a highly requested tour so I recommend booking in advance! (:
---
Day 3 – Go on a Daytrip to Culebra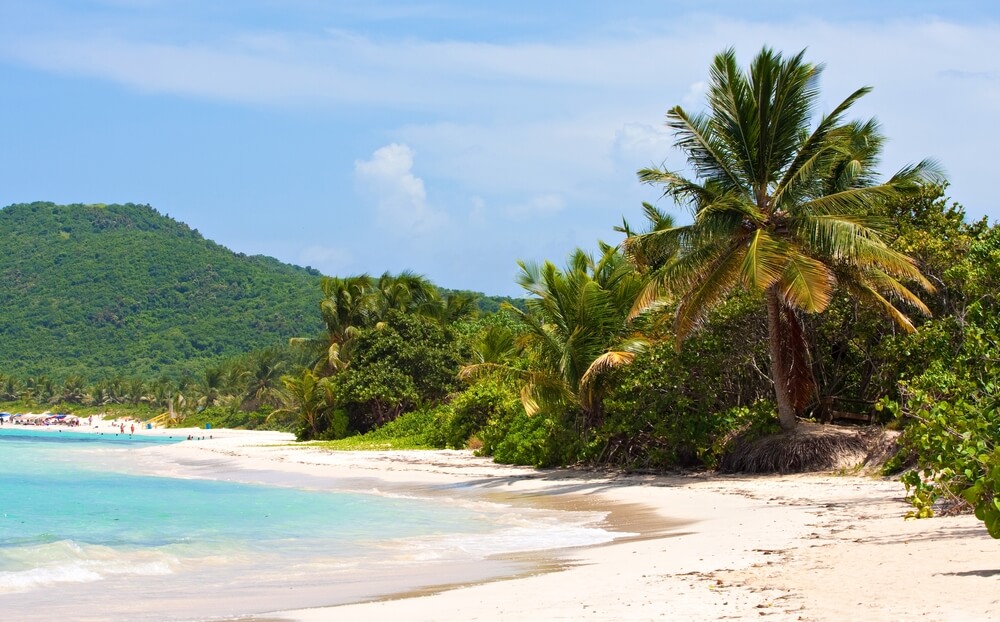 On your third day in Puerto Rico, you can visit the island of Culebra, which is located only 20 miles off the coast of Fajardo and is considered a national gem.
Cruise by high-speed catamaran to Culebra from Fajardo for a fun-filled day trip swimming, beachcombing, and sunbathing on this island paradise.
Spend your morning exploring the fascinating undersea creatures that populate the island's coral reefs before enjoying a buffet lunch complete with rum punch and piña colada refreshments.
Then take the afternoon to relax and swim on the area's perfect sugar-sand beaches, including Playa Flamenco and nearby Culebrita.
---
Day 4 – Adventure day near San Juan!
It's your last day in Puerto Rico! Since you have already seen a bit of San Juan, visited El Yunque, and even went to Culebra island, the last day of this 4 day Puerto Rico itinerary focuses on something Puerto Rico is great for: adventure!
Families will especially love this experience.
Go on a rappelling and zipline adventure
If you have the full day available, you can go on a rappelling and zipline adventure at Puerto Rico's Carite State Forest. This is one of the most fun things to do near San Juan, and adrenaline junkies love it!
In the tour, you will rappel down a waterfall and fly across ziplines in the forst. After that, you will get to explore Carite State Forest and refuel with a delicious homecooked meal
However, if you only have a part of the day available, you can go on a quick zip-lining adventure like this one or tour the Bacardi Rum Factory in San Juan before heading to the airport.
Casa Bacardí
The Bacardi Corporation was founded in1936 in San Juan, Puerto Rico. It is part of the family-owned Bacardi Limited, the largest privately held spirits company in the world.
The current state-of-the-art rum production facility is the largest premium rum distillery in the world and one of the more than 20 Bacardi manufacturing facilities globally.
Visiting Casa Bacardi will definitely be a highlight in your 4 Day Puerto Rico itinerary. There, you can go on a rum tasting tour, attend a mixology class and of course, learn stories about the rich history of the Bacardí family and brand.
You can read all about the experience in the oficial website.
---
Where to stay in Puerto Rico for 4 days
If you haven't booked your accommodation in Puerto Rico yet, no worries! There are several fantastic and affordable hotel options to choose from.
Here are some of our favorite hotels in San Juan:
If Airbnb is more your style, you can see some options of lodging here.
---
Travel tips for your trip to Puerto Rico
Language
Spanish and English are the official and most spoken languages in Puerto Rico, tough according to World Atlas, less than 10% of Puerto Ricans actually speak English.
Currency
The United States Dollar (USD) is the unit of currency in Puerto Rico. Also, all major credit cards like American Express, Visa, Diner's Club, and Master Card are widely accepted in the country.
Best way to get around Puerto Rico
If you are staying in San Juan, Uber is the best way to get around.
However, for exploring other destinations, taking a tour or renting a car is the best choice.
The best time to visit Puerto Rico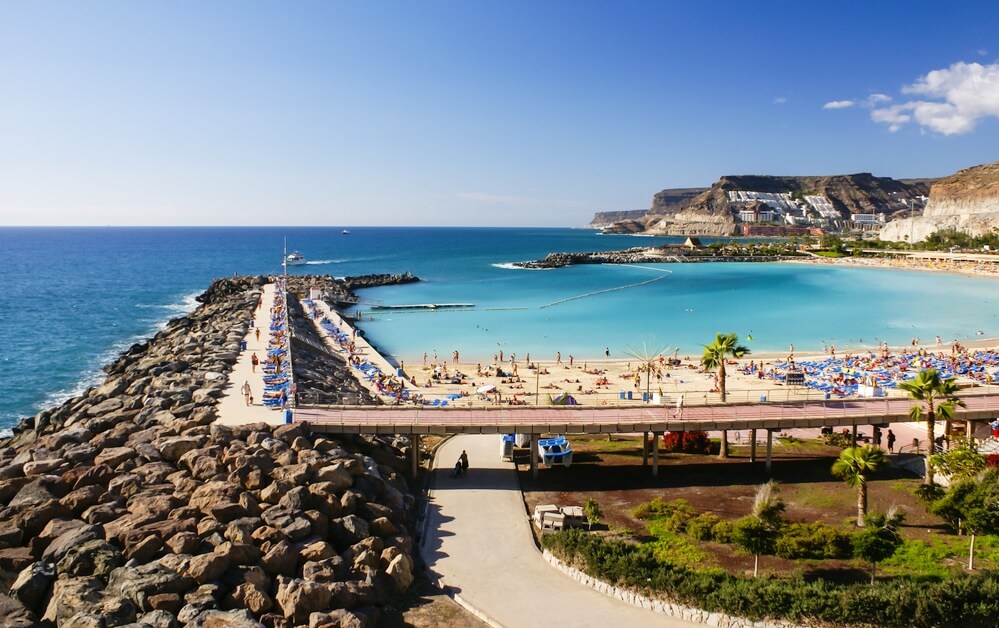 According to US News, the best time to visit Puerto Rico is from mid-April to June, right after the busy winter season and just before the rainy summer.
Winter is when the island gets the best weather and get's more crowded, but Fall is a lovely time to visit if you are looking for a more affordable vacation.
---
What to pack for Puerto Rico
What to pack for Puerto Rico is an excellent question! Of course, the tropical weather from the Caribbean asks for light clothes, but there are other items you can pack to make your life easier.
Here are some essentials that you absolutely have to take with you on your trip to Puerto Rico:
A waterproof cell phone case
A good bottle of bug spray
UV clothes
Reef-safe sunscreen
Sundresses
A filtered water bottle
A GoPro for taking adventure and underwater pictures (See on Amazon)
Pretty coverups
---
The best excursions from San Juan
If you have some spare time on your trip or end up staying a few days longer, that's great news! There are several fun day trips you can take from San Juan to compliment your itinerary.
Here are some of the best tours to take from San Juan in Puerto Rico:
Rainforest and Luquillo Beach
Combine two of Puerto Rico's top attractions, Luquillo Beach and the Rainforest, into one great trip on this full-day excursion from San Juan.
Enjoy the lush beauty of this tropical forest as you complete a short hike to a nearby natural water slide for wildlife viewing, sightseeing, and swimming.
Finish the day with time to sunbathe and swim along one of the island's more scenic stretches of sand.
snorkeling near San Juan
Explore the underwater world of Puerto Rico on a guided snorkeling adventure. Receive a lesson from a professional diver and enjoy a hassle-free outing with all the equipment you need.
Then swim through the tropical waters off Guaynabo and see brilliantly colored tropical fish, sea turtles, and other marine creatures. Afterward, revisit your experience with a GoPro video of your snorkeling excursion included in the tour price.
Day trip to Culebra
Ride a power catamaran to a gorgeous reef and nature preserve. Swim in crystal-clear waters and relax on a Caribbean white sand beach
Deserted Island Catamaran Day Sail from Fajardo
ive out your island castaway fantasies aboard a luxury catamaran as you visit the deserted tropical island of Cayo Icacos from San Juan on this half-day sailing cruise.
Sail into the aquamarine waters of the Caribbean, admiring views of the El Yunque mountains in the distance, before arriving at the nature preserve of Icacos for a leisurely day of swimming, snorkeling, and a lunch buffet with drinks.
El Yunque Rainforest Guided Hiking with Waterfall Tour
Hike through Puerto Rico's lush El Yunque Rainforest, observe local wildlife, and take a dip in one of the park's pristine waterfalls. Journey through the varied micro-climates and vegetation zones of this unique natural area.
Hike through the jungle, learning about the plants and animals that inhabit the area and passing by a series of waterfalls, stopping to cool off with a swim.
Bio Bay & El Yunque Rainforest Combo Tour
Experience two of the greatest natural attractions in Puerto Rico, all in one day! This full-day package brings you the best of the East Coast.
El Yunque is the most biologically diverse forest, hosting hundreds of plants and animals, some only found here in Puerto Rico!
Bioluminescence is one of planet Earth's best-kept secrets. Tiny organisms called "dinoflagellates" make the water glow at night and fortunately, they have found the perfect place to live in the Fajardo Bio Bay, so we are able to experience them all year round.
---
Wrap-up: The Perfect 4 Day Puerto Rico Itinerary
That's a wrap! Now that you know the best way to spend the perfect 4 days in Puerto Rico, all you gotta do is book that plane ticket and have fun!
Puerto Rico is a fascinating destination and I am sure you will have the time of your life.
For more travel tips, make sure to follow me on Instagram. See you soon (:
---