/
Last Updated November 12th, 2023
Fernando de Noronha: The Ultimate Travel Guide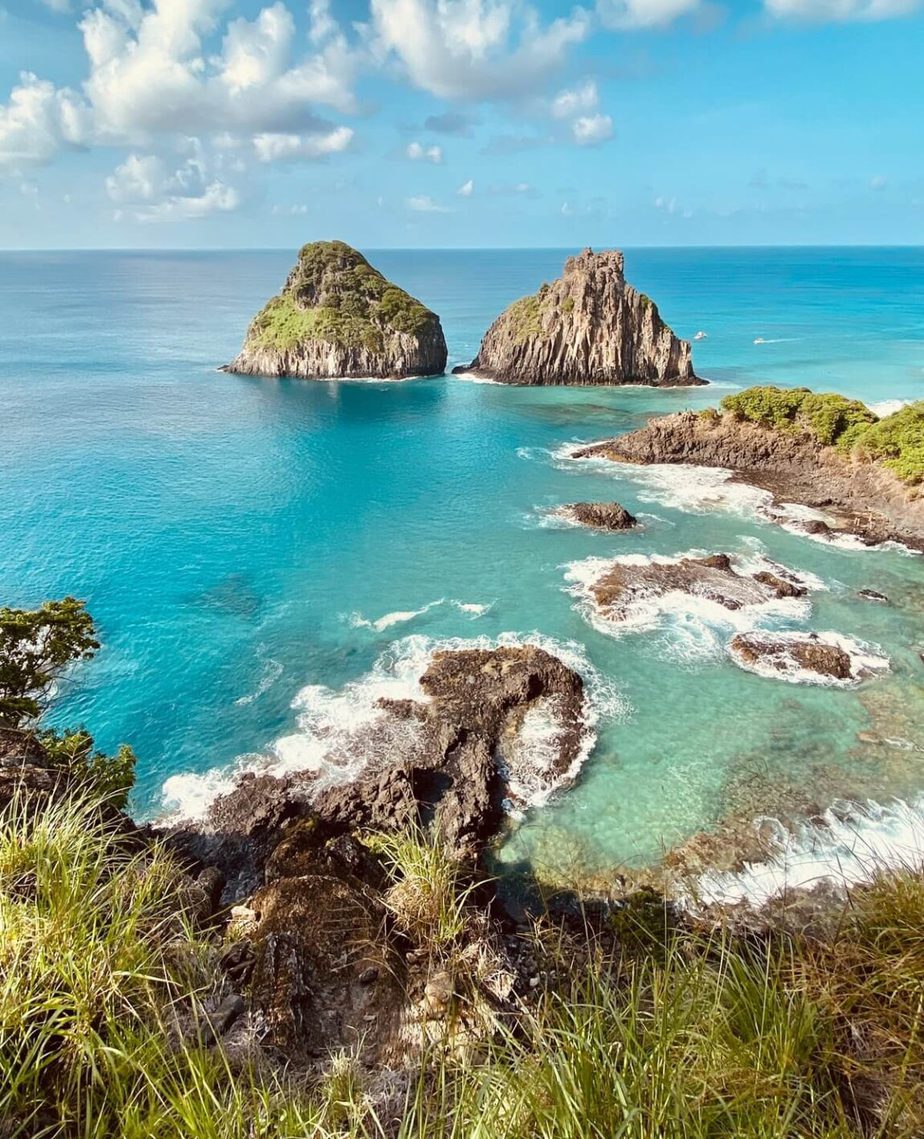 Fernando de Noronha, a beautiful archipelago located approximately 300 kilometers away from the South American continent, is one of Brazil's best-hidden treasures.
This group of islands is a premium diving destination, a top Brazilian beach getaway, and home to Baía do Sancho, voted the most beautiful beach in the world by TripAdvisor for seven years.
Though it is one of the most luxurious and known destinations for Brazilians, many foreigners are yet to hear about this tropical paradise.
And that is what I am here for! I just came back from a trip of a lifetime to Noronha and can't wait to tell you all about it.
In this guide, you will find every piece of information you need to know before visiting Fernando de Noronha.
---
History of Fernando de Noronha
Disclosure: This post may contain affiliate links. Meaning, I get a small commission if you purchase through my links, at no cost to you.
Fernando de Noronha was discovered in 1503 by the Italian Américo Vespúcio, a member of the second exploratory mission of the Brazilian coast.
Then, the archipelago was donated to a Portuguese man called Fernão de Noronha, who had financed the trip.
Fernando de Noronha remained unprotected and abandoned for over 200 years, being taken and occupied several times by the English, the Dutch, and later, the French.
In 1737, the government of the state of Pernambuco finally decided to permanently inhabit and guard the island, making it one of the biggest fort systems in Brazil.
Americans in Fernando de Noronha
Another major episode in the history of Fernando de Noronha happened in 1942 when Brazil agreed to allow Americans – that were then entering the Second World War – to live and create a military base on the island.
Fernando de Noronha as a UNESCO World Heritage Site
Fernando de Noronha was only officially recognized as a Unesco World Heritage Site in 2001.
---
Location
Fernando de Noronha is located in Northeastern Brazil, in the state of Pernambuco. The islands are surrounded by the Atlantic Ocean.
---
How to get to Fernando de Noronha
The only way for visitors to get to Noronha is by taking a plane from the cities of Recife or Natal. The flight is usually only an hour and a half long and is offered by the airlines Azul and Gol.
---
How to get around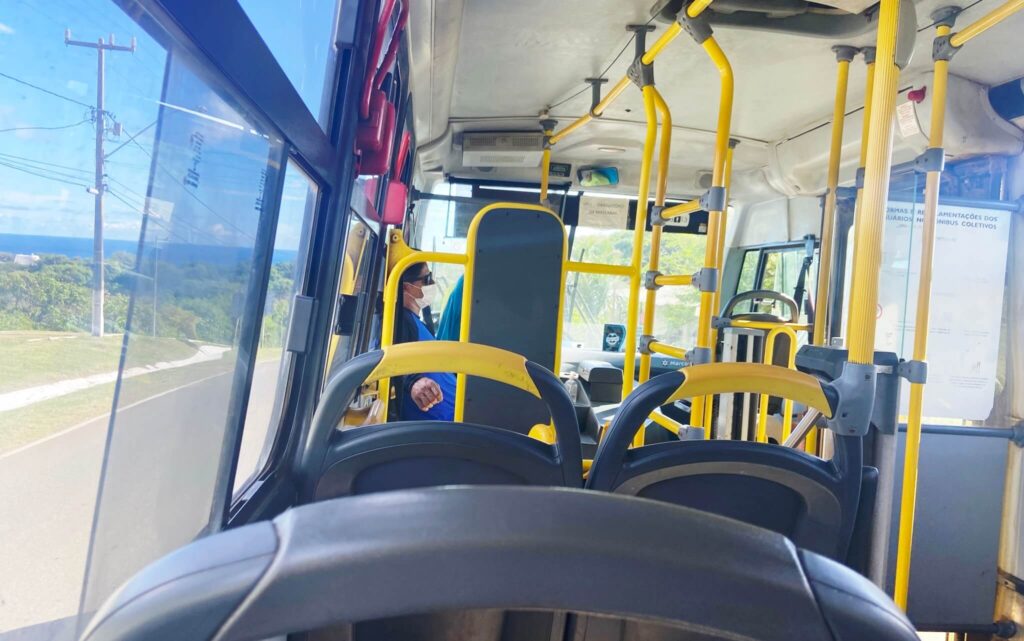 On the main island, the most important places can be reached by bus, taxi, or even foot. Taxi rides have fixed prices and will usually cost you about 35 reais.
The bus, on the other hand, is only 5 reais per person and works really well! You can pay the driver as you get in and ask him to tell you when to get down.
To save money and have a more local view of Fernando de Noronha, I recommend you take the bus as much as possible and call a taxi only when you feel exhausted.
---
safety
Since safety is always a big concern regarding traveling Brazil, many of you might be asking, okay, Cami, but how safe is it to travel Fernando de Noronha?
I am happy to tell you Fernando de Noronha is completely safe for both locals and visitors, which is awesome! You can walk around as long and as far as you want, and nothing will ever happen to you.
As a Brazilian, it was fascinating to me to see how safe it is. They even have a bank made of wood, which says a lot.
---
Best hotels in Fernando de Noronha
When searching for a hotel in Fernando de Noronha, you will notice most of them are actually Bed&Breakfasts or even rooms inside local houses.
Here are some of our favourite hotels in Fernando de Noronha:
---
Where to eat
Xíca da Silva, Cacimba Bistrô, O Pico, Restaurante do Valdênio and Tapiocaria do Babalu are all great restaurants to try in Fernando de Noronha.
---
Costs of a trip to Fernando de Noronha
Generally speaking, a trip to Fernando de Noronha is costly compared to the regular prices in Brazil. Here are some of the main costs and prices you will face when visiting Fernando de Noronha.
First and foremost, before arriving on the island, you will have to pay a Preservação Ambiental Fee and a ticket to enter the Marine Park of Fernando de Noronha.
Taxa de Preservação Ambiental
The ambient preservation fee is mandatory and costs 70 reais per person a day. This money is dedicated to conservating nature on the island and keeping things running.
Ingresso do Parque Marinho de Fernando de Noronha
The other fee is the ticket to the Parque Marinho de Fernando de Noronha, which you will need to visit some of the most beautiful beaches on the island.
The ticket costs R$126,00 for Brazilians and R$251,00 for foreigners. It allows you to visit the park's territory for up to ten days.
Accomodation
Another deciding factor in the price of your trip to Fernando de Noronha is the accommodation you choose. Hotel rates on the island start at R$400.
Food
In Fernando de Noronha, food is also a bit on de expensier side. A meal in a simple restaurant will cost you approximately50 reais, while the most expensive restaurants charge up to 250 per plate.
Tours
Since most of them involve boats, tours and activities in Fernando de Noronha are also not cheap. These are the prices of the most popular tours:
Hawaiian Canoe: (Book This Tour)
Small-Group 4×4 Off-Road Island Discovery Full Day Tour: (Book This Tour)
Island Tour (Book This Tour)
---
Best Things to do in Fernando de Noronha
There are so many great things to do in Fernando de Noronha! Personally, I stayed on the island for seven whole days and never got bored once.
Here are some of the best thing to do in the archipelago.
Scuba Diving
Noronha is where I scuba-dived for the very first time! The dive center "Seaparadise" offers all kinds of dives, including first-dives and professional courses. I highly recommend them.
My instructor was awesome and I had a blast diving in Porto – where you can find a huge sunken greek ship!
4×4 Off-Road Island Discovery Full Day Tour
Get a comprehensive island introduction to Fernando de Noronha during an 8-hour tour via a 4×4 vehicle. This tour is great because it allows you to visit all the famous beaches and area landmarks on the way.
Going to the beach
If there is one thing that makes Fernando de Noronha really worth the trouble, that is it's beaches!
There are more than twenty to choose from but the besst are Baía do Sancho, Baía dos Porcos, Conceição and Praia do Cachorro.
Snorkeling
Snorkeling in Fernando de Noronha is an absolute must! The marine life around the island is very diverse. I got to see turtles, all kinds of fishes and even a shark!
Walking around Vila dos Remédios
Vila dos Remédios is Noronha's city center. Though there isn't that much to do around there, it is where most restaurants and souvenir shops are located.
Take a picture in Burago do Galego
Buraco do Galego ir Noronha's most famous natural pool. It became a super popular Instagram spot when Brazilian model Bruna Marquezine and football player Neymar posted a photo there.
You will find Buraco do Galeco at Praia do Cachorro, and there is usually a small line to take pictures.
Do a photoshoot
When I was in Fernando de Noronha, I did a photoshoot with this photographer and I had such a great time!
I think it is a great way to have professional pictures in such a beautiful and special trip.
Visit Museu dos Tubarões
Museu dos Tubarões, aka Shark Museum, is a small visitor center located near Porto. Its main attractions are the metal structures and the swing located outside the museum because they are perfect for taking photos.
wRECK dIVING
In Porto beach, it is possible to dive and see a Greek shipwreck. The structure created a natural coral reef and is home to a large variety of marine life.
See an epic sunset
Sunsets in Fernando de Noronha are sure epic!
Some great places to watch the sunset in the island include Praia da Cacimba, Fortinho do Boldro and Forte Senhora dos Remédios.
Swim with turtles at Sueste
Praia Sueste is the best beach on the island to swim and photograph sea turtles. They are a little tricky to find, so I highly recommend hiring a guide at the beach to take you to the best places to spot them.
Trilha do Atalaia
Hiking Trilha do Atalaia is one of the best things to do in Fernando de Noronha. The shorter hike doesn't require a guide, is about 1 hour long, and takes you to a stunning natural pool perfect for snorkeling.
Visit cAPELA DE sÃO pEDRO DOS pESCADORES
Capela de São Pedro dos Pescadores is a lovely little chapel that stands at the top of a hill near Porto beach.
Hawaiian Canoe Paddling
Paddling is a lovely way to see the sunrise from the ocean and spot some dolphins along the way!
Trilha do Morro São José
The majority of the Morro São José hike requires swimming from the main island to a smaller one. To do that, this hike requires hiring a professional guide.
Swimming in Fenda da vELHA
Fenda da Velha is a small natural pool just ouside Praia do Cachorro. You can reach it through the rocks or even swimming.
Going on a Catamaran Tour
The catamaran tour was my absolute favorite activity in Fernando de Noronha.
In this tour, you will sail through the UNESCO-listed Fernando de Noronha Archipelago and make stops among the collection of 21 islands for swimming and snorkeling.
---
6 day Itinerary suggestion for Fernando de Noronha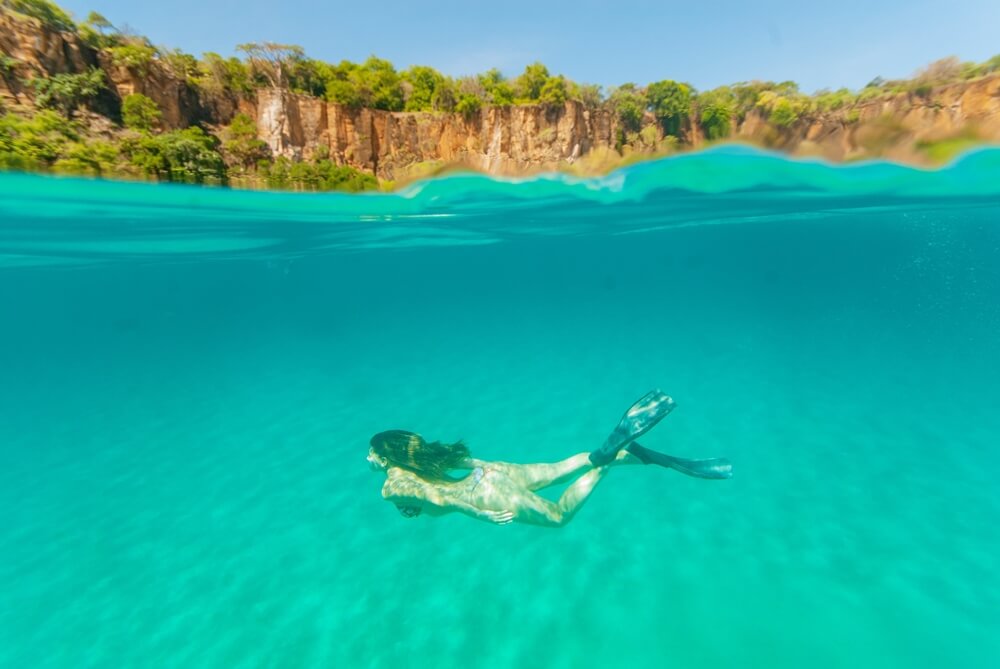 Day 1: Arrival to the island + Watch the sunset from Fortinho do Boldró + Dinner at Vila dos Remédios.
Day 2: Catamaran or private boat tour.
Day 3: Scuba diving in the shipwreck in Porto or 4X4 Island tour + Baía do Sueste in the afternoon;
Day 4: Go paddleing in the morning (Hawaiian canoe) + lunch at Xica da Silva + spend the afternoon in the beach at Baía dos Porcos.
Day 5: Praia da Conceição + Trilha do Atalaia
Day 6: Swimming with turtles in Sueste + Trilha Morro São José
---
Travel tips for visiting Fernando de Noronha
Some hikes have to be previously scheduled for free at ICMBio (Atalaia and Morro São José, for example).
Most places take cards but paying in cash will sometimes save you a lot of money.
If you can, take your own snorkeling equipment with you!
---
Wrap-up: Fernando de Noronha Travel Guide
That's a wrap! I really hope this guide is helpful and makes planning your trip to Fernando de Noronha so much easier.
Noronha is a one in a lifetime destination and simply magical. You are in for the time of your life (:
For more travel tips, make sure to follow me on Instagram.
---