/
Last Updated November 12th, 2023
14 Incredible Adventures to Have in Key West, Florida
The dreamy town of Key West has fun activities for every kind of visitor… Even the really adventurous ones!
If you are visiting the last of the Florida Keys soon and you are looking for bucket-list-worthy experiences to remember forever, then you have come to the right place.
In this post, you will find some of the most awesome adventures to have in Key West.
---
Plan your Perfect trip to Key West
🏨 Find the perfect hotel on Booking.com
🎫 If you'd like to go on a tour, check out the best tours to take in Key West
🎒 Pack a universal travel adapter, your favorite travel camera (We love this one!), and a good portable solar phone charger
Follow me on Instagram for more travel tips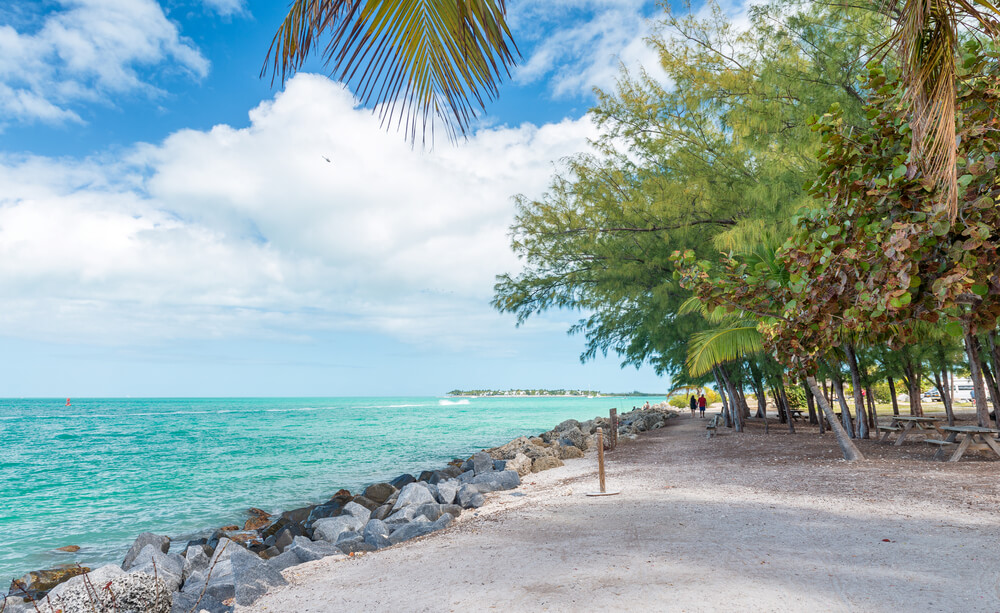 Disclosure: Some links on this page are affiliate links. That means that at no extra cost to you, I earn a small commission if you book through these links, which helps me keep this blog running. Enjoy!
in a hurry?
These are our favorite things to do in Key West:
14 incredible Key West adventures
From helicopter tours to parasailing, here are the best adventures to have in Key West.
1- Go on a Sunset Sail
Going on a Key West Sunset Sail is an absolute must!
The sunset in Key West is said to be one of the most beautiful in the world, and watching it from a gorgeous boat is quite an experience (the free drinks help quite a lot).
2- Take the seaplane to Dry Tortugas
Dry Tortugas is – no joke – one of the most gorgeous places I have ever been to.
There are two main ways to get there: by catamaran or seaplane. If you are willing to spend more money, I think taking the seaplane to Key West is probably the most epic option.
If not, the catamaran is also a fantastic way to get there!
Read: Dry Tortugas – Exploring the USA's Most Remote National Park
3- Go skydiving in the Florida Keys
The aerial view of the Florida Keys is one of the most scenic ones in the country, and therefore, makes for one of the top dropzones for skydiving.
4- Go deep-sea fishing
Deep-sea fishing is one of the most popular sports on the island!
It doesn't matter if you are a pro or a beginner; the boat crew will help you fish some of the Florida Keys' most awesome fish, like mahi-mahi, giant grouper, and snapper.
5- Go Pub Crawling
Believe me when I say this: pub-crawling in Key West is an adventure in itself! The city's nightlife is super crazy and unique – I am sure you will love it.
Some of the best bars in Key West are Sloppy Joe's, Green Parrot, Irish Kevin's, and Rick's.
6- Kayaking in the mangroves
A paddleboard eco-tour in the Florida Keys mangroves is an experience you will never forget!
Paddle a kayak through mangrove creeks and shallow water on a Key West kayaking tour that offers an up-close look at this unique coastal environment.
7- Go scuba Diving
Key West is an amazing scuba-dive location, with one of the world's largest coral reefs and many shipwrecks that remain sunken.
8- Parasailing
True adventure-seekers can't miss parasailing! It is the perfect activity for adrenaline junkies.
Since you can go parasailing in duos or trios, it is also a great activity for groups and families.
9- See dolphins on a Dolphin Watch eco-tour
Who can resist a day in the sea with dozens of adorable dolphins swimming around? I certainly cannot!
Cruise away from the island city of Key West and see dolphins swimming alongside the boat, then jump in for a shallow-water snorkel at the Key West National Wildlife Refuge with many different species of marine life.
10- Snorkel on a living coral reef
Explore the only living coral reef in North America during this snorkeling adventure from Key West.
11- Go on a Shark and Wildlife viewing adventure in Key West
Get up close with sharks and other marine wildlife on this boat tour from Key West.
See dolphins, stingrays, turtles, and birds and learn about Key West's waters, and then watch as the pilot drops bait to draw a variety of sharks right to the edge of the boat.
12- Go on an ultimate jet ski tour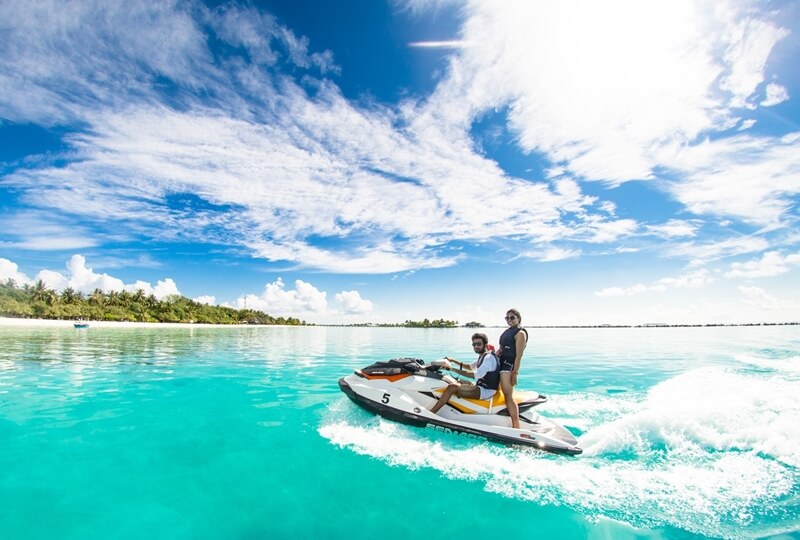 Experience Key West's tropical blue waterways on this Jet Ski tour along the Atlantic Ocean and the Gulf of Mexico.
Enjoy panoramic island views and watch for dolphins, stingrays, sea turtles, manatees, and more while gliding over warm ocean water.
13- Go on a glass-Bottom Boat Tour
For the aquatic adventure of a lifetime, take this cruise to North America's only living coral barrier reef.
There is no need to go scuba diving or snorkeling for this great view — from the deck of a glass-bottom catamaran boat, see more than 600 species of tropical fish, sharks, turtles, lobsters, and crabs, plus colorful coral and a vast collection of other sea life.
14- See the island from above on a helicopter
The last (but certainly not least) of this list of epic adventures is going on a Key West helicopter tour.
Hop on board, relax and prepare to take in all the incredible views the island has to offer from above! You even have the option to take the tour in the afternoon to catch the sunset. Nice, huh?
---
Finding a Place To Stay in Key West
If you haven't booked a hotel in Key West yet, that's okay! Here are some of our favorites:
Read: The Best Hotels and Resorts In Key West
---
Wrap-up: The best Key West adventures
That's a wrap! I hope you enjoyed these suggestions of awesome adventures to have in Key West.
Make sure to follow me on Instagram for daily travel updates.