/
21 Awesome Things To Do in Baltimore, Maryland
I say Baltimore, you say crab cake!
Baltimore – the largest city in Maryland – may not be the most popular destination in the United States, but it sure makes a fun visit!
With activities that go from visiting one of the most beautiful libraries in the world to watching a baseball game at Oriole Park at Camden Yards, there really is something for everyone in this lovely city.
In this post, you will read about some of the best things to do in Baltimore + all the travel tips you should know before your trip.
---
Disclosure: This post may contain affiliate links. Meaning, I get a commission if you purchase through my links, at no cost to you.
The best time to visit Baltimore
Even though Baltimore is a diverse city that experiences all four seasons, some months are nicer to visit than others.
According to TripSavvy, the best time to visit Baltimore is in summer, when cool festivals such as the Baltimore Caribbean Festival, Artscape, and Chesapeake Crab & Beer Festival happen.
---
Is Baltimore dangerous for tourists?
There is a lot of doubt about whether Baltimore is really safe for tourists. The city had quite a rough past, but Baltimore is generally safe to visit today, especially in tourist areas like Inner Harbor and Fells Point.
---
Finding a place to stay in Baltimore
I personally stayed in Mount Vernon, a beautiful historic neighborhood, and had an amazing experience.
If you haven't booked your accommodation in Baltimore yet, no worries! Here are some of our favorite options:
---
21 Best things to do in Baltimore today
Without further ado, here are the best things to do in Baltimore!
Since the city is pretty walkable and most of the attractions are located close by, you should be able to do most of them in around three days.
1- See the sharks at National Aquarium
Visiting the National Aquarium is one of the top things to do in Baltimore.
Their shark exhibit is super impressive, and the aquarium is one of the best in the United States – it holds more than 2000 animals!
Address: 501 E Pratt St, Baltimore, MD 21202
2- Visit the Walters Art Museum
The Walters Museum was my absolute favorite place to visit in Baltimore. The museum is completely free and has one of the most amazing art collections I have ever seen.
The highlight to me was their Egyptian wing, where I got to see my first mummy ever! It was exciting for me as a huge admirer of Egyptian culture.
Address: 600 N Charles St, Baltimore, MD 21201
3- Eat crab cake at Lexington Market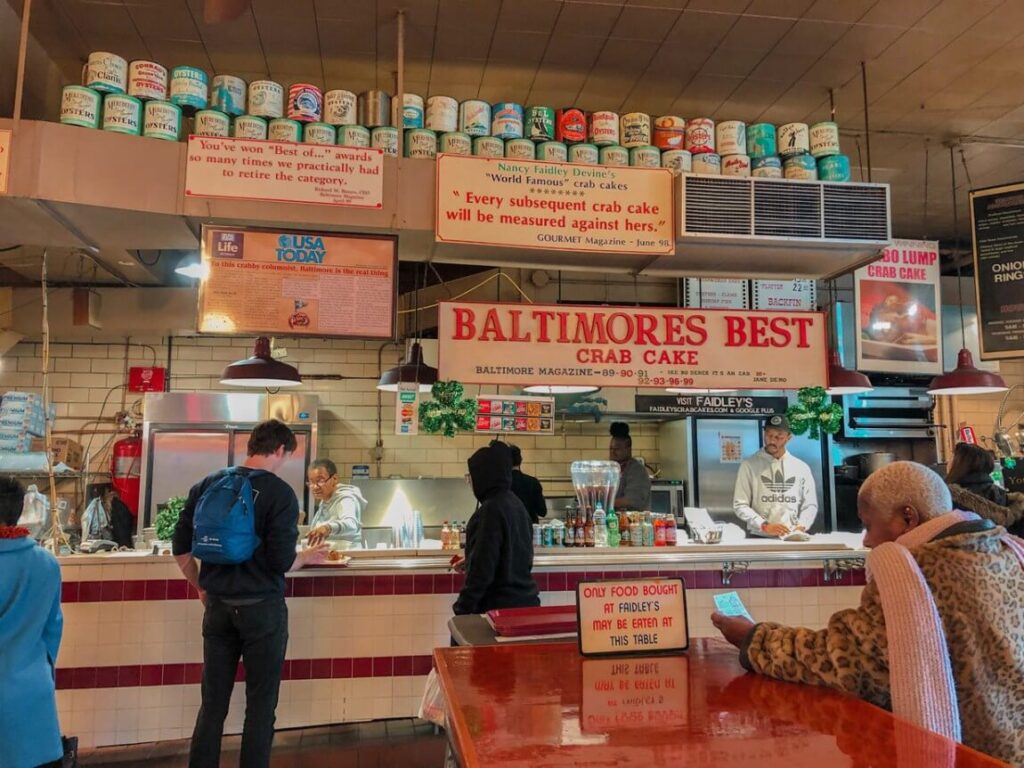 Trying to find the best crab cake in Baltimore is like trying to find New York's best hotdog or pizza spot.
The Maryland Crab Cake is super famous all over the country, and Baltimore is for sure the best place to eat it. I tried the one at Faidley's (inside Lexington Market), and it was so good!
Address: 400 W Lexington St, Baltimore, MD 21201
4- Explore African-American history at the Reginald F. Lewis Museum of Maryland African American History and Culture
This museum is the largest African American museum in Maryland and has been the official voice of Maryland's African American history and culture since it opened in 2005.
5- See the amazing historic ships in the Chesapeake Bay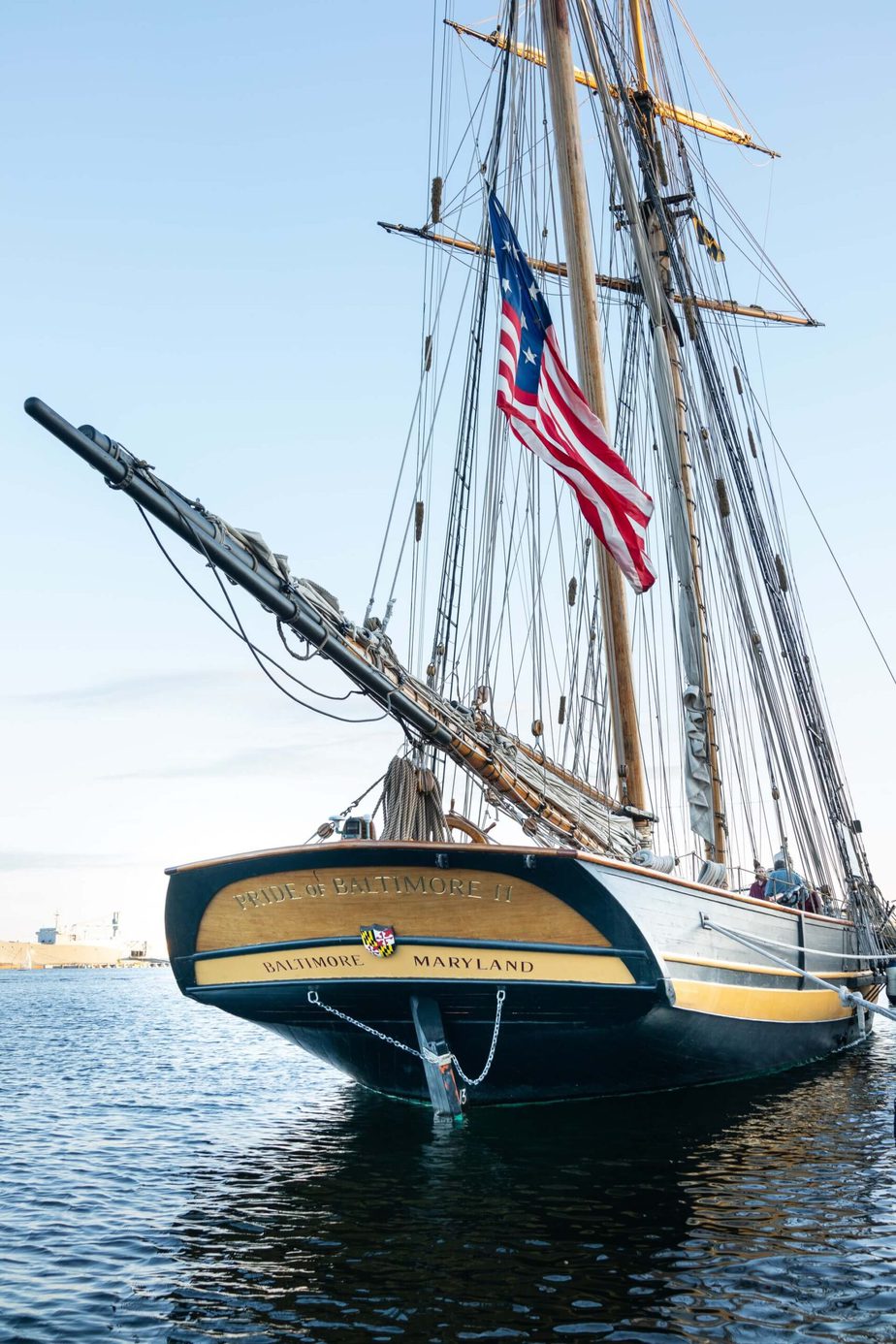 Immerse yourself in the Chesapeake Bay's rich maritime history on a sailing tour of the Baltimore Harbor.
6- Check out the Baltimore Museum of Art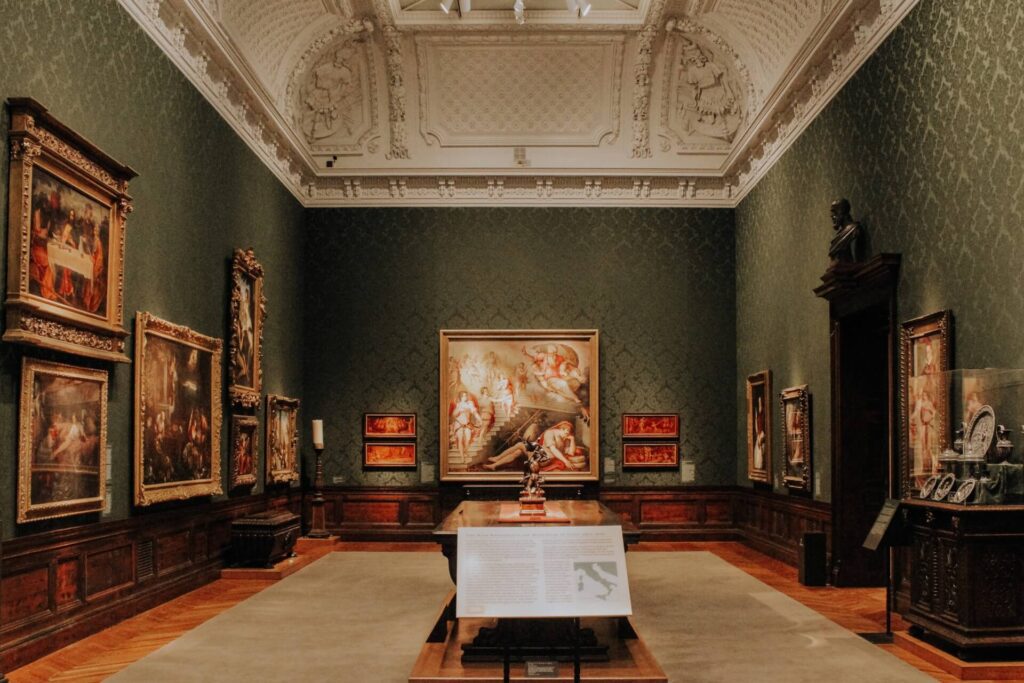 The Baltimore Museum of Art is one of the things to do in Baltimore that you just can't miss.
The museum has no less than 1,000 pieces of art by Henri Matisse and an internationally renowned collection of 95,000 objects.
General admission to the museum is completely free, but sometimes there is a fee for very special exhibits.
Address: 10 Art Museum Dr, Baltimore, MD 21218
7- Explore the American Visionary Art Museum
The American Visionary Art Museum is not your average art museum.
It showcases art made by "non-artists" with all sorts of materials. The museum is very modern, interactive, and overall an enjoyable activity in Baltimore.
8- Climb to the top of the Baltimore Washington Monument
Many people don't know this, but the first actual Washington Monument is not the one in Washington DC. The one in Baltimore is quite small, but it is, in fact, the original one.
You can get to the top of the monument if you dare to climb the 227 marble steps that spiral all the way to the top.
This is one of the most classic things to do in Baltimore!
9- Walk around the Inner Harbor Area
The Inner Harbor is a historic seaport, tourist attraction and one of Baltimore's main points of interest.
It is home to many popular places such as Federal Hill Park, the National Aquarium, the Maryland Science Center, and Port Discovery.
10- Visit the animals at the Maryland Zoo
The Maryland Zoo is the 3rd oldest in the United States and home to more than 1,500 wild animals. Visiting the zoo is a great thing to do with kids in Baltimore.
11- Catch a foreign movie at Charles Theatre
Charles Theatre is the oldest movie theater in Baltimore and often showcases awesome foreign movies.
12- Visit the United States's First Catedral
The Basilica of the Assumption is a historic and flourishing Roman Catholic parish and the country's first cathedral.
13- See the Edgar Allan Poe House and Museum
If you are a fan of Edgar Allan Poe's horror stories, you will be happy to know that you can visit the National Historic Landmark where Poe lived from 1833 to 1835 or even go on a ghost tour to learn more about this suspicious death.
14- Visit Fort McHenry
Picture: Baltimore.org
Fort McHenry is best known for its successful defense of the city during the famous Battle of Baltimore. You can about three reasons to visit the monument on Baltimore's official website.
15- Visit Edgar Allan Poe's grave
The famous writer was buried in Baltimore, and his grave can be visited.
Address: 515 W Fayette St, Baltimore, MD 21201
16- Shop at Baltimore's huge Barnes and Nobles
The Barnes and Nobles at Inner Harbor is a beautiful, huge, and great place to spend some time warming up during winter.
Address: The Power Plant, 601 E Pratt St, Baltimore, MD 21202
17- Grab a book at The Book Thing of Baltimore
The Book Thing of Baltimore is probably one of my favorite things to do in Baltimore because it's nothing else than a completely free library.
That's right; you can just walk in, choose any book you like, and take it home without spending a single cent.
18- See Baltimore from the the Top of the World Observation Level
Baltimore is even more beautiful from an aerial view!
The Top of the World observation level is a perfect starting place for a visit to Baltimore and can be accessed for $6.
19- See the George Peabody Library
The George Peabody Library is recognized as one of the most beautiful libraries in the world and is a major Baltimore point of interest.
20- Catch a baseball game at Oriole Park at Camden Yards
If you are a baseball fan, you absolutely can not miss watching a game at Oriole Park at Camden Yards.
21- Visit the Baltimore Maritime Museum
The city's Maritime Museum showcases a collection of impressive naval historic vessels that have served the country.
22- Have an Indoor Skydiving Experience
Experience the buzz of skydiving by taking part in a Baltimore Indoor Skydiving experience. This is one of the best things to do in Baltimore with kids or teenagers.
23- Go on a helicopter tour
Get a brand new perspective on Baltimore with a helicopter tour.
24- Go on a dinner cruise in the Inner Harbor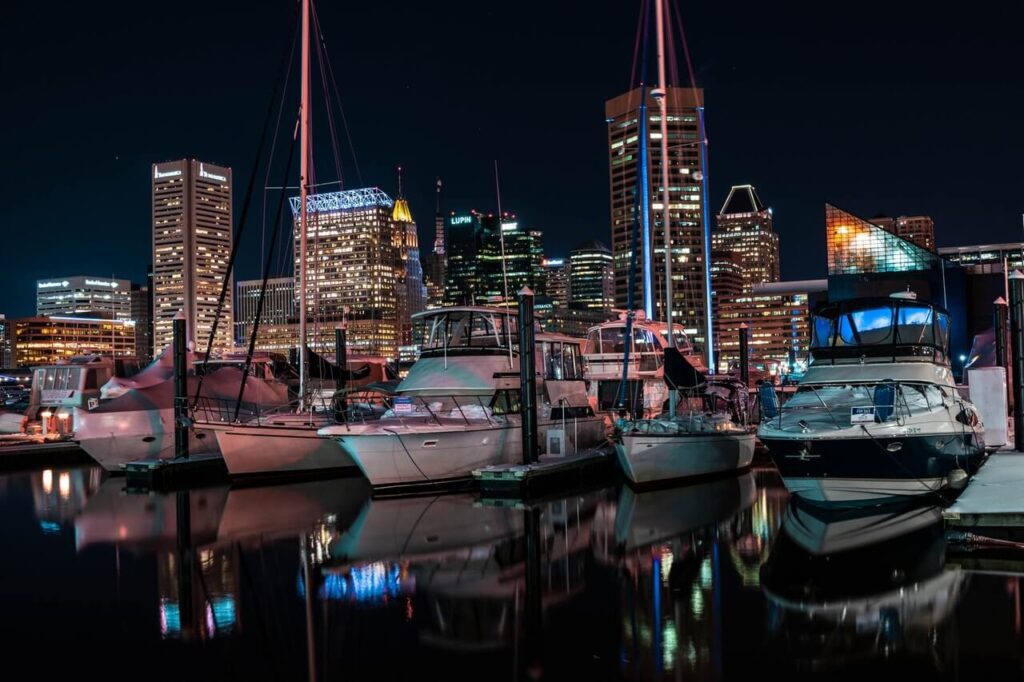 Cast off in Baltimore's Inner Harbor on a 3-hour luxury dinner cruise.
Pass popular attractions, including the Maryland Science Center, Pride Mast Memorial, and the Francis Scott Key Bridge, while you dine on a gourmet buffet prepared with seasonal offerings. Admire Baltimore's illuminated skyline as you are entertained by the ship's crew and a DJ spinning top hits.
---
Most popular tours
If you have some extra time in Baltimore, that might be a great opportunity to take some fun tours around the city.
---
Wrap-up: The best things to do in Baltimore
That's a wrap! I really hope you enjoyed this list of the best things to do in Baltimore. Here are some awesome Baltimore tours to add to your itinerary: which of the activities has your favorite?⠀
If you enjoyed this post, make sure to follow me on Instagram for daily travel updates.