/
Last Updated November 11th, 2023
The 10 Most Beautiful Islands in South America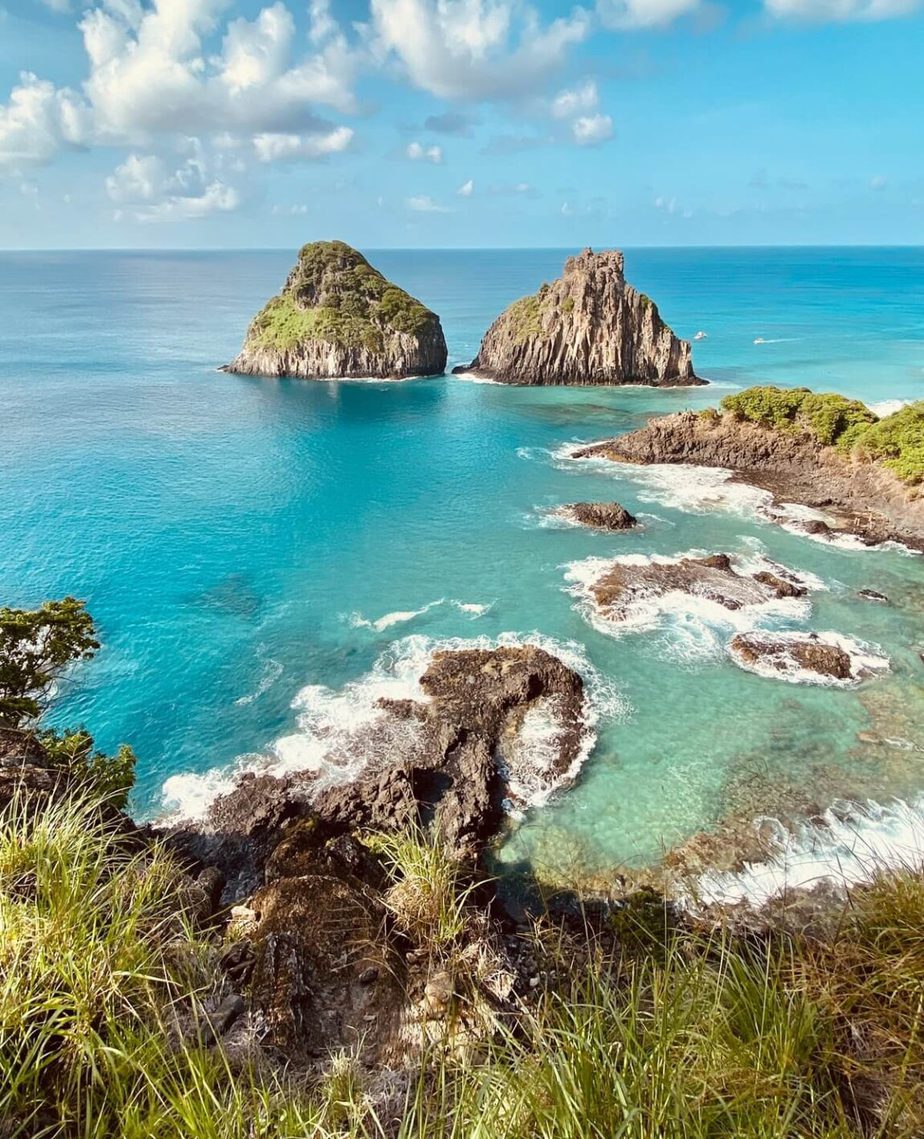 South America is home to some of the most beautiful and remote islands in the world. With stunning rain forests, incredible animals, and rich culture, these destinations are perfect for anyone looking to get away from it all while still enjoying the things that make his continent so amazing.
If you are searching for the best island getaway in South America, this list should help! From sandy beaches to waterfalls and rainforests, these islands offer something for everyone.
In this post, you will read all about the best islands to visit in South America.
Disclosure: Some links on this page are affiliate links. That means that at no extra cost to you, I earn a small commission if you book through these links, and that helps me keep this blog running. Enjoy!
15 Incredible Islands to visit in South America
South America has a wide variety of landscapes, so it should be no surprise that its islands offer an abundance of contrasts.
Whether you want to relax by the beach or hike through nature trails, there is an island here that will fit all your travel needs!
The best part is that most of these islands off the coast of South America are within a day's boat ride from the mainland and easily accessible.
Here are, without further ado, the most beautiful islands to visit in South America.
Fernando de Noronha – Brazil
Fernando de Noronha is an archipelago of 21 islands and islets located 435 kilometers away from the city of Recife.
The first recorded discovery of Fernando de Noronha was made in 1503 by a Portuguese expedition organized and financed by the merchant Fernão de Loronha.
Since then, Fernando de Noronha's tourism has blossomed. Today, the main island is considered one of the most exclusive and stunning destinations in Brazil, a top diving destination, and home to some of the most beautiful beaches in the country.
What I thought was most impressive in Fernando de Noronha is how untouched nature is on the island. On the beaches, it is common to spot sea turtles, rays, and even dolphins. It truly feels like paradise!
Things to do in Fernando de Noronha
Some of the most popular things to do in Fernando de Noronha are scuba diving, snorkeling, hiking, and of course, going to the beach.
The beaches in Fernando de Noronha are frequently considered some of the best in the country by many travel magazines – And I agree with them! Make sure to spend at least an entire day in Baia dos Porcos and Praia do Sancho to make the most out of your trip to Noronha.
Easter Island – Chile
The peculiar Easter Island is one of the most remote and mysterious places in the world.
The volcanic island located in the middle of the Pacific Ocean is famous for its mysticism and for being home to 887 Moai – enormous statues carved by the Rapa Nui natives.
The distance between Chile and Easter Island is 3.686 km. Due to its remote location, you will find that Easter Island has a very serene and peaceful atmosphere.
It's best to go during the dry months of May to September when days are sunny and pleasant. To get there, the best way is by taking a plane from Santiago, Chile's capital.
Things to do in Easter Island
While on Easter Island, seeing the many famous Moai statues – including one that's over 33 ft tall and weighs 82 tons – is a must!
You will also want to check out Orongo village, where you can tour the volcanic rock ruins of ceremonial houses, watch the sunset at Ahu Tongariki and swim at Anakena Beach.
This is one of my favorite islands near South America!
Galápagos Islands – Ecuador
The Galápagos Islands, also known as the Enchanted Islands or Archipelago de Colon, are an archipelago of volcanic islands in Ecuador.
This beautiful place offers some of the best diving in the world and is known for its rich wildlife and nature. As a diver myself, it is a dream destination!
Things to do in Galapagos Islands
The different islands boast many points of interest that will have you exploring for days.
Most activities revolve around the wildlife, including whale-watching tours where you can view dolphins, sea turtles, penguins, iguanas, and even migrating humpback whales.
There are several animal species unique to the island, such as the Galápagos tortoise and a wide variety of bird species.
Diving is another must! Here, it is common to spot animals such as hammerhead sharks, whale sharks, marine iguanas, manta rays, and more!
Chiloé – Chile
With an area of 4,793 km², Isla Grande de Chiloé is the largest island in South America and a cute and exciting place to visit in Chile.
This island is known for its traditional architecture, long history, and of course, its colorful palafitos – houses built on stilts above the water.
Things to do in Chiloé Island
One of the most popular things to do in this region is to take a boat ride.
A Chiloe-style boat, known as a lancha, makes for an easy and beautiful way to see the coast and many small islands that surround it. You can also hire somebody with their own private boat to take you.
Also, another popular thing to do in Chiloé is to view the palafitos, visit the iconic wooden churches, and enjoying local eats.
Falkland Islands
Imagine stunning landscape, magnificent wildlife, white beaches, and excellent bird-watching all to yourself. That's the Falkland Islands!
The Falkland Islands are a British overseas territory in the South Atlantic Ocean. The archipelago comprises East Falkland, West Falkland, and 776 smaller islands.
As a British overseas territory, the Falklands have internal self-governance, and the United Kingdom takes responsibility for its defense and foreign affairs.
These beautiful islands are undoubtedly most famous for their wildlife and stunning landscapes.
Things to do in Falkland Islands
The best things to do on the Falkland Islands include visiting historic sites, whale watching, and enjoying the fantastic wildlife.
Fishing, trekking, hiking, climbing, kayaking, and mountain biking are also popular activities.
Ilha Grande – Brazil
Ilha Grande in Brazil consists of a village with several guest houses, restaurants, and bars.
Located near Rio de Janeiro, it is the perfect weekend getaway from the big city.
Ilha Grande is also known for its crystal clear waters, virgin beaches, and secluded bays. All these amazing features are connected by trails but can also be reached by boat.
Things to do in Ilha Grande
The most popular thing to do on this South American island is going on a boat ride.
Several itinerary options take visitors to some of the Island's most iconic places, such as the Blue Lagoon, Aventureiro Beach, and Gruta do Acaiá.
Also, the Feiticeira waterfall and Palmas beach are other musts on a visit to Ilha Grande.
Islas Ballestas – Peru
The Islas Ballestas are a group of islets and sea stacks lying off the Pacific coast of Peru.
These islands, often called 'The poor man's Galápagos,' can be visited on a day trip from Lima and are a great place to spot animals such as penguins, sea lions, and dolphins.
Things to do in Islas Ballestas
The most popular activity in Islas Ballestas is taking a day tour of the islands to observe the beautiful natural formations on the islands and, of course, the marine life.
San Andrés, Colombia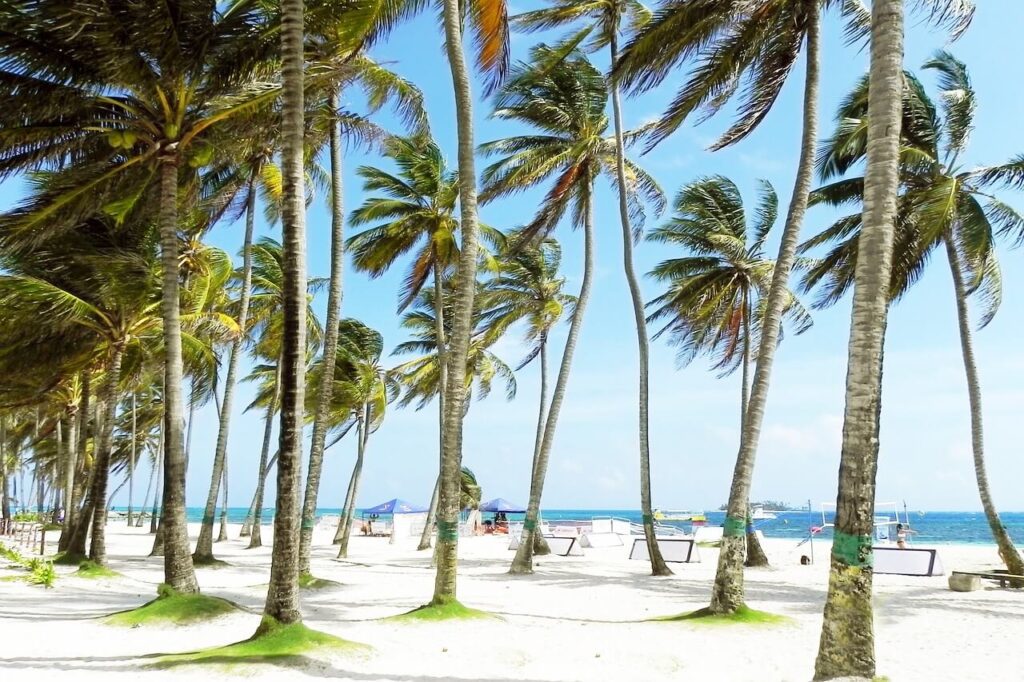 San Andrés in Colombia is famous for its spectacular beaches, clear water, and white sands. The paradisiacal island is also enthusiastically welcoming of tourists, which is always lovely!
Home to more than forty different diving sites, perfect sunsets, and some of the best beaches in the Caribbean, San Andrés quickly became one of the most visited places in Colombia.
Things to do in San Andrés Colombia
One of the most popular things to do on this island is scuba diving as there are many different places to explore around the island!
Also, taking a bot to Johnny Cay Island, parasailing, renting a golf cart, and, of course, just chilling on the beach are other great things to do in San Andrés.
Uros Floating Islands – Peru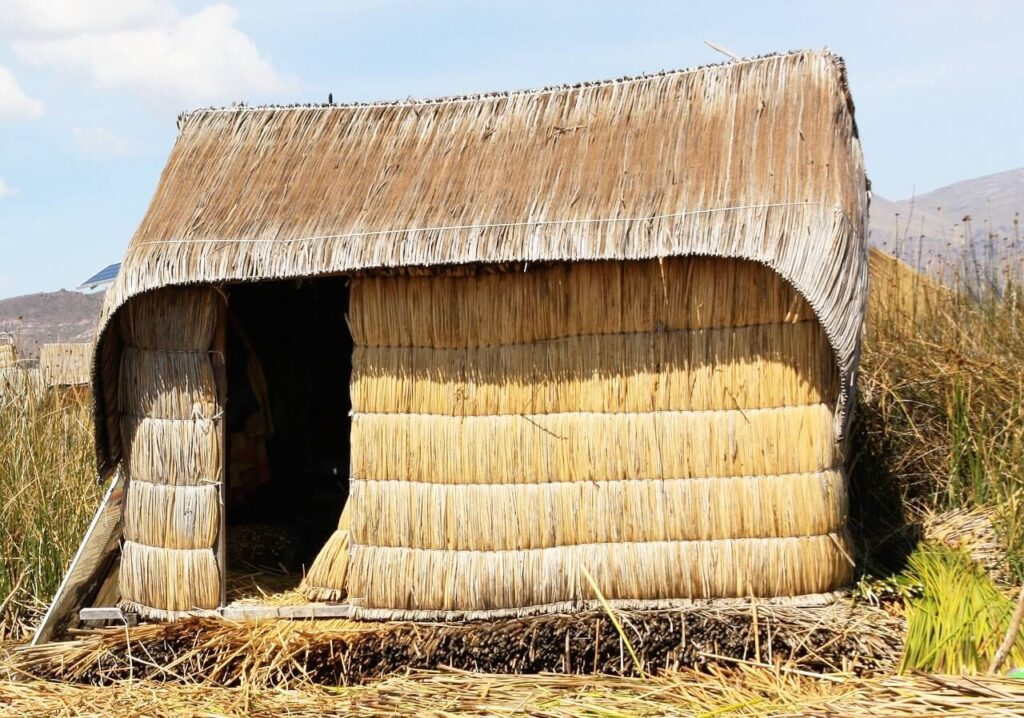 The Floating Islands of Uros was a pre-Incan, and now Pre-Hispanic floating reed island settlement in Puno Bay on the Peruvian shore of Lake Titicaca.
The islands were made of reeds by the Uru people, a small tribe who still inhabit them today.
If you visit Puno, spending at least one night in a local's house at Uros will be an experience you will never forget. To make your trip to Peru even better, here are 22 travel tips you should know before traveling to Peru.
Things to do in The Floating Islas de los Uros
The best things to do on these islands include observing the local culture and traditions, taking a picture with the giant totora reeds that make up the floating island, and buying unique handicrafts such as woven bags, hats, or miniature versions of their floating homes.
Tierra del Fuego – Argentina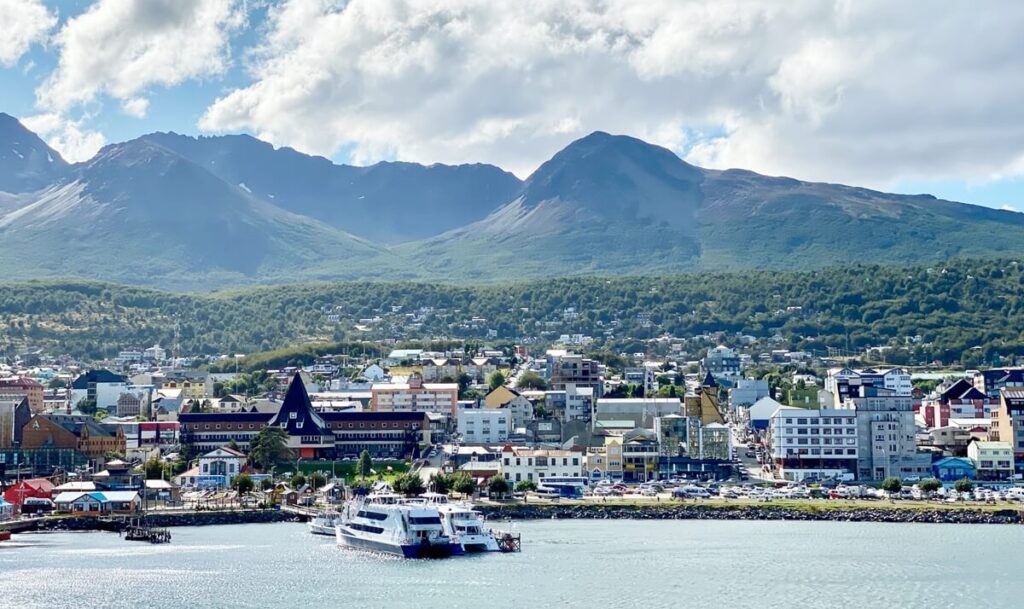 Argentina's Isla Grande de Tierra del Fuego is mainly known for being home to Ushuaia, a beautiful city with spectacular marine life that is commonly used as a gateway to Antarctica and is frequently called The End of the World.
However, the truth is that Tierra del Fuego has much more to offer! The cities of Río Grande, Cabo Domingo and Cabo San Pablo are all located near Ushuaia and are verry well worth the visit.
Things to do in Tierra del Fuego
One of the most exciting things to do in Tierra del Fuego is visiting incredible glaciers such as Glaciar Martial, one of the largest ice fields in the world.
This glacier can be visited both from land or sea. It's only accessible by boat during summertime (December to March) since no roads are leading to it. Walking on the ice requires special equipment, so you won't be able to do it without a professional guide.
Visiting Ushuaia and Puerto Williams is another must.
Ushuaia is the world's southernmost city and the capital of Tierra del Fuego province, making it an excellent place to start your visit to this area. Puerto Williams is the main entry point when traveling to Isla Navarino.
---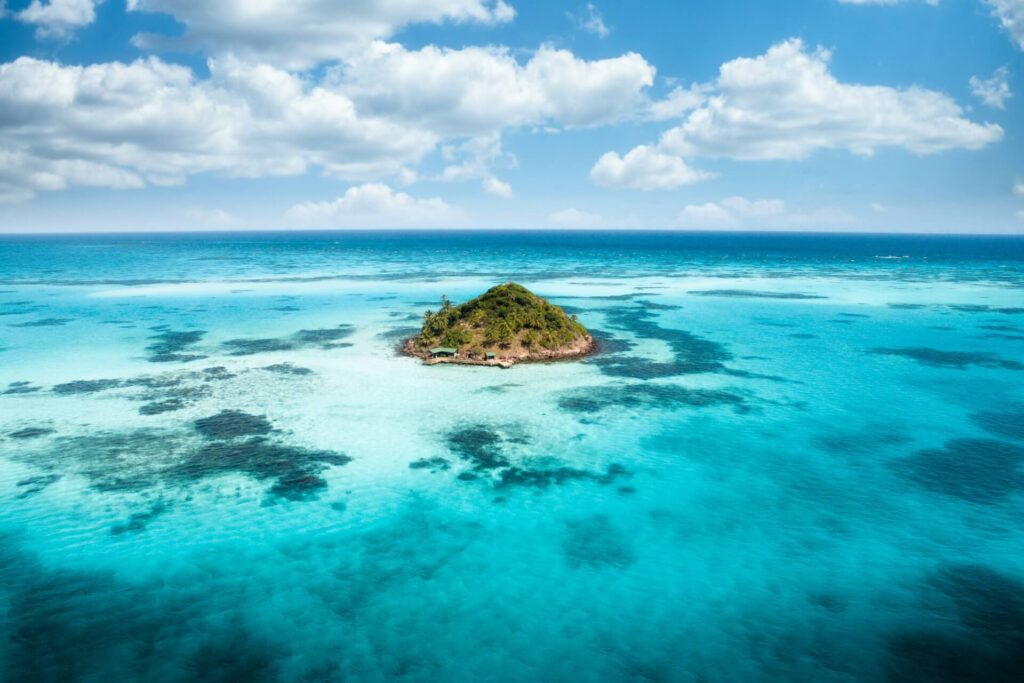 Wrap-up: The most beautiful islands in South America
That's a wrap! Now you know all the most beautiful islands in South America and can start planning your next dream vacation.
Do you have any favorite South American islands? Would you like to visit any of the islands described above? Let us know; I'd love to hear from you!
For more travel tips, make sure to follow me on Instagram. See you!
---