/
Last Updated November 11th, 2023
10 Exciting Things to Do in Cabo Frio, Brazil
When it comes to famous Brazilian holiday destinations, you might think of Rio de Janeiro, the world-famous Carnival celebration, or perhaps the beautiful beaches of Copacabana and Ipanema. But there's one city that often gets overlooked: Cabo Frio.
Cabo Frio is a small coastal city in Rio de Janeiro, Brazil. It's best known for its beaches, which offer sandy shores and gorgeous views of the bay.
The town has a laid-back vibe with few nightlife options but plenty of good restaurants serving fresh seafood dishes like caldeirada (a Brazilian fish stew) and moqueca (a coconut milk-based dish).
When you're not exploring the coast or sampling local cuisine, there are other things to do in Cabo Frio such as diving in nearby islands or exploring the famous Ilha do Japonês.
I went to Cabo Frio on a day trip from Arraial do Cabo and had so much fun!
In this post, you will find 10 fun things to do in Cabo Frio, Brazil + all the travel tips you need to make your trip even more special.
---
Plan your Perfect trip to Cabo Frio
🏨 Find the perfect hotel on Booking.com
🎫 If you'd like to go on a fun tour, check out Viator and Get Your Guide
🎒 Pack a universal travel adapter, your favorite travel camera (We love this one!), and a good portable solar phone charger
Follow me on Instagram for more travel tips
Disclosure: Some links on this page are affiliate links. That means that at no extra cost to you, I earn a small commission if you book through these links, and that helps me keep this blog running. Enjoy!
10 Best things to do in Cabo Frio
Here are, without further ado, the best things to do in Cabo Frio, Rio de Janeiro.
The small city is a bit off the beaten path but it still offers something for everyone and is known for its comfortable weather and beautiful sandy beaches, as well as its mix of history and natural beauty.
Visit Ilha do Japonês
Ilha do Japonês , or the Japanese Island was the site of a fishing village from 1887 to 1975. The island was home to 200 people who worked as fishermen and farmers and lived in traditional thatched huts that dot the landscape even today.
On weekends, Cabo Frio locals come for its comfortable weather and beautiful, sandy beaches, but, frequently compared to places like the Maldives, this upcoming destination has been becoming more and more popular among foreigners as well.
The island is now open to the public and it's a popular spot for day trips. You can camp on the island or stay in Cabo Frio hotels – but make sure to bring mosquito repellent since they are abundant during certain months of the year!
Explore the adorable streets in the Passagem neighborhood
Passagem in Cabo Frio is one of the oldest neighborhoods in the city
It was one of the first settlements built in Cabo Frio and is known for its rustic cobblestone streets and traditional colonial houses. The neighborhood is an interesting mix of history, local culture, and laid-back bars where locals hang out after work.
On your visit to Cabo Frio, save some time to aimlessly roam around the cute little streets in this neighborhood and take a few pictures.
Go on a day trip to Arraial do Cabo
One of the best things to do in Cabo Frio is to take a day trip to Arraial do Cabo, a smaller and more authentic seaside town.
Arraial do Cabo is an old, charming town located just 30 minutes south of Cabo Frio
Arraial do Cabo is famous for being Brazil's diving capital and for its magnificent beaches such as Praia do Forno, Pontal do Atalaia, and Praia Grande.
The town was the site of a fishing village for over 150 years but it's now best known as an eco-tourism hotspot with beautiful natural landscapes to explore by sea or by foot.
See the São Benedito Chapel
Built in 1701, the São Benedito Chapel in Cabo Frio is famous for its beautiful blue facade
The chapel has a lovely garden with lush vegetation and it's often used for local weddings!
Spend an afternoon in Praia do Forte
Praia do Forte is one of Cabo Frio's most popular beaches. It's located about 12 km south of the city center and it's known for its beautiful, bright white sand beach.
The area is surrounded by green vegetation which contrasts with the light colors of the sand and water. On the left side of the beach, is Fort São Matheus, which can be visited.
Enjoy all the best local eats in Cabo Frio
Cabo Frio, especially the Passagem neighborhood, is a great foodie destination and a good place to eat freshseafood. Personally, I went to the restaurant Galápagos in the São Benedito Square and thought it was really lovely!
I tried the smoked salmon salad, the freshly squeezed orange juice, and a petit gateau for dessert. Everything was amazing.
Scuba diving in Cabo Frio
Although not as famous as its neighbor Arraial do Cabo, Cabo Frio is actually a good diving destination.
It's top diving spots include Ilha Comprida, Ilha do Bréu, Ilha dos Papagaios and Ilha Redonda.
See Casa do Príncipe
Casa do Príncipe (or the Prince's House) was built back in 1877 and it's one of Cabo Frio's most beautiful colonial homes.
Currently, the house has been turned into a hotel called Solar do Arco but it's still possible to admire the architecture from the outside.
Shop for bathing suits at Rua dos Biquínis
Rua dos Biquínis is one of Cabo Frio's most famous shopping destinations. It's a popular spot for buying Brazilian bathing suits and all kinds of beach accessories for more affordable prices.
Besides shopping, Rua dos biquínis is also a lovely place to enjoy local cuisine and fresh juices at one of the many food stands.
Visit Paraia das Conchas
Para das Conchas in Cabo Frio another of the city's most beautiful beaches.
The good thing about this beach is that it not only is stunning but also has a good infrastructure with bathrooms and restaurants, which makes spending the whole day there even more apealing.
---
Is Cabo Frio safe?
Since we are talking about Brazil, it is normal if you are wondering whether Cabo Frio is safe for tourists.
The answer is yes, it is considered safe. However, I would advise you to stay in neighborhoods like Passagem or Braga to be safe.
Also, remember to always watch your stuff, especially at the beach and pay attention to your surroundings at all times.
---
How to get to Cabo Frio
If you are traveling to Cabo Frio from Rio de Janeiro, the best way would be to take a bus or drive the 153 kilometers that separate both cities.
If you are staying in Arraial do Cabo or Búzios, you can take an Uber for an affordable price, take this tour, or even take the public buses, which are easy to take and understand.
---
How to get around Cabo Frio
To get around Cabo Frio's different neighborhoods or even to Rua dos Biquinis, Uber is probably the best option! The city has a lot of drives and the fares are very fair.
If you are only staying within a neighborhood, walking is perfectly fine – and advised to enjoy all the city's views.
---
Best hotels to stay in Cabo Frio
Cabo Frio is home to many cute hotels for any kind of traveler.
Hotels like Hotel Solar do Arco, Pousada Recanto da Passagem and Bravo Pousada Design are really lovely, luxurious, and located in the city center close to everything.
More on a mid-range budget is Casa Âncora Pousada and Pousada la Portella. Both give have amazing value for money and offer great accommodations.
---
wRAP-UP: bEST THINGS TO DO IN cABO fRIO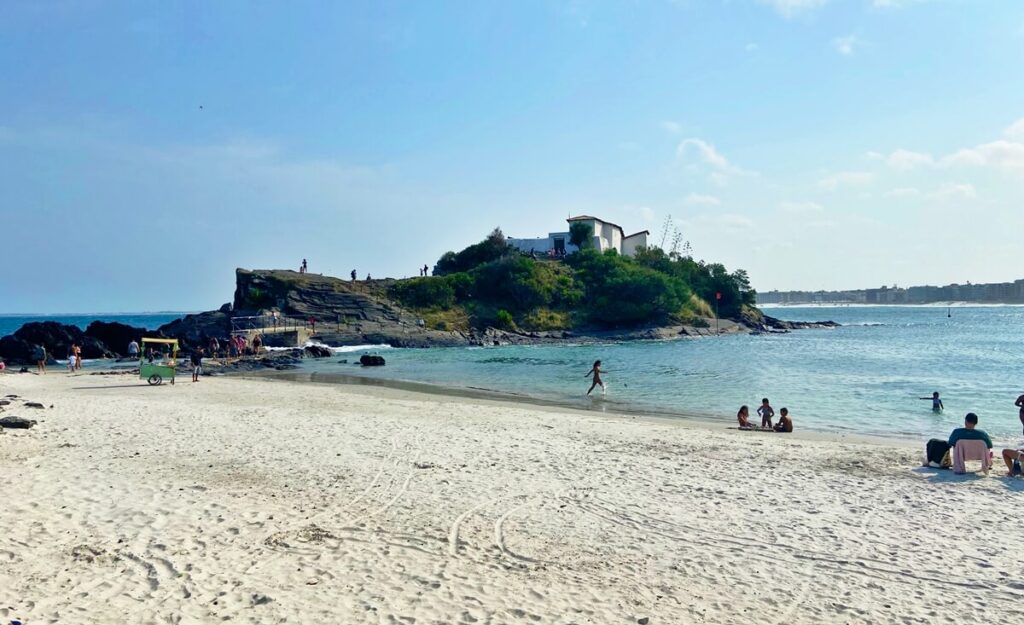 That's a wrap! Now you know all there is to do in Cabo Frio and I really hope you enjoyed this guide!
Cabo Frio is a really cool place to visit on a trip to Búzios or Arraial do Cabo if you love pretty beaches and good food as much as I do.
For more travel tips, make sure to follow me on Instagram.
---