/
Last Updated November 11th, 2023
The Perfect Palm Springs Packing List
Planning a trip to Palm Springs? Yay, that's so exciting!
The mere mention of Palm Springs brings up images of sunny skies, cocktails by the pool, and lazy days reading a book.
That's right: the small resort town in Southern California is one of the most epic getaways for a sun-filled vacation.
Personally, I had such a great time there and can't wait to go back. It is one of those places you can visit again and again, and always have a lovely time.
However, if you're headed to Palm Springs, you'll want to make sure you pack the right things since the town has an aesthetic of its own and weather there can get quite extreme.
From pool floats to sunscreen, in this post, you will find the ultimate Palm Springs packing list for your trip.
---
Plan your Perfect trip to Palm Springs
🏨 Find the perfect hotel on Booking.com
🎫 If you'd like to go on a tour, check the best tours to take in Palm Springs
🎒 Pack a universal travel adapter, your favorite travel camera (We love this one!), and a good portable solar phone charger
Follow me on Instagram for more travel tips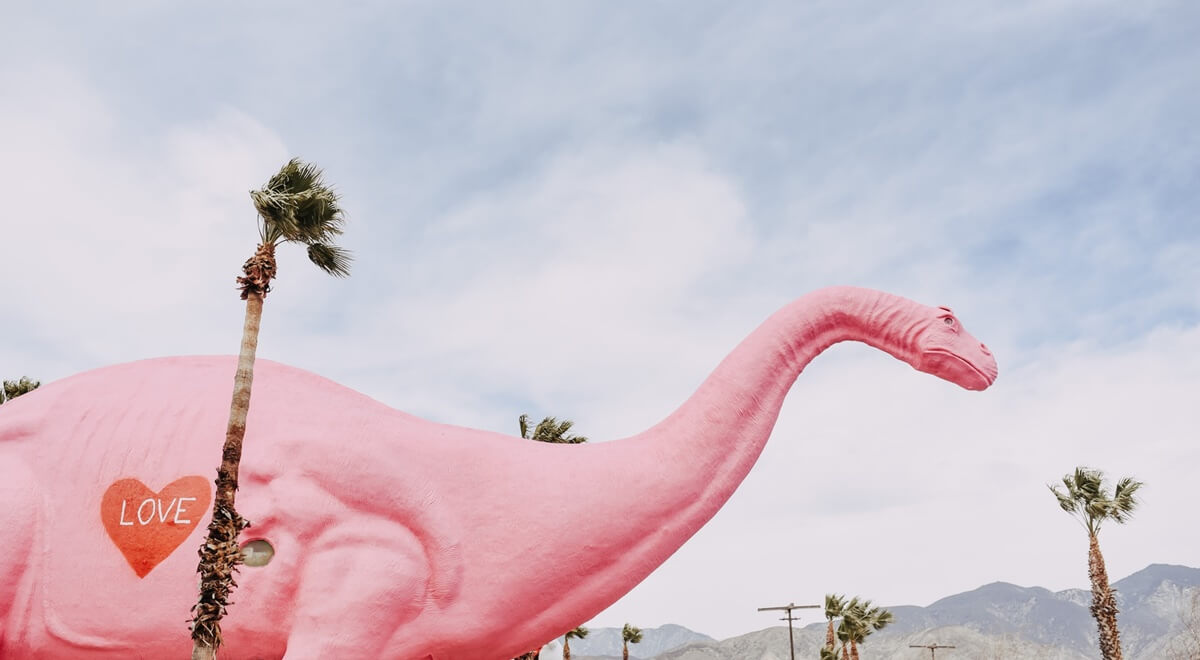 Disclosure: This post may contain affiliate links. Meaning, I get a small commission if you purchase through my links, at no cost to you. 🙂
About Palm Springs
Palm Springs is a desert oasis in Southern California that's known for its hot springs, fashionable hotels, and golf courses.
It's a popular destination for vacations and weekend getaways, thanks to its year-round (very!) warm weather and a plethora of activities (also, it is quite popular destination for Hollywood celebrities seeking to escape the hustle and bustle of Los Angeles!)
The city has a rich history dating back to the early 20th century, and today is a thriving community with a vibrant arts and culture scene.
The city's mid-century modern architecture and many aesthetic features are another draw, as is its vibrant nightlife scene.
Visitors can enjoy hiking and biking in the nearby desert landscapes, exploring the many art galleries and museums, or simply soaking up the sun by the pool.
---
Palm Springs weather
The weather in Palm Springs is one of its most popular features.
The area enjoys more than 300 days of sunshine each year, and the average daytime temperature is 78 degrees.
Even in the winter months, the average temperature is a comfortable 71 degrees. This makes Palm Springs a popular destination for visitors from all over the world who are looking to escape the cold weather.
The average high temperature is a scorching 100 degrees Fahrenheit, but it can feel even hotter due to the low humidity levels.
However, despite the heat, many people find the desert air to be refreshing and invigorating. And when night falls, the temperature drops quickly, providing a welcome respite from the heat of the day.
Whether you're looking to soak up some sun or escape the cold, Palm Springs is the perfect place to enjoy some incredible weather.
---
What to wear in Palm Springs in each season
If you're heading to Palm Springs, you'll want to pack light and wear comfortable clothing that can withstand the heat.
The best way to stay cool is by wearing natural fabrics such as linen or cotton. You might also want to consider wearing loose-fitting clothing that covers your skin.
A wide-brimmed hat and sunglasses are also essential for protecting yourself from the sun.
Of course, you'll also need to pack a swimsuit to take advantage of the pools and hot springs, and when it comes to shoes, sandals or flip-flops are your best bet.
---
The ultimate Palm Springs Packing List
Here is, without further ado, here is the packing list with all the Palm Spring essentials you should take on your trip.
Pool tote
A nice beach tote will be your best friend in Palm Springs when going to the pool. You can use it to store your sunscreen, swimsuit, towel, and anything else you might need.
Sunscreen
You will definitely need sunscreen when visiting Palm Springs. The sun is strong year-round, so be sure to pack a broad-spectrum sunscreen with an SPF of at least 30.
The EltaMD UV Clear Facial Sunscreen Broad-Spectrum SPF 46 is my personal holly grail.
Linen dress
Linen is a fantastic fabric for summer because it's lightweight and breathable. A linen dress is a perfect choice for a day spent exploring Palm Springs.
Tinted moisturizer
Tinted moisturizer is a great way to add a touch of color to your face while also protecting your skin from the sun.
If you don't have one, I highly recommend the PÜR 4-in-1 Tinted Moisturizer With SPF 20.
Suitcase or duffel bag
You'll need a place to store all of your Palm Springs essentials. A suitcase or duffel bag will do the trick nicely.
Night Lightweight dress
A lightweight dress is perfect for a hot day in Palm Springs. Choose a style that's comfortable and breathable.
Denim short
No matter what season you visit Palm Springs, denim shorts are always a good idea. They're perfect for exploring the desert landscape and go with everything!
Pool shoes
Once you're at the pool, you'll want to slip into a pair of comfortable pool shoes. They'll protect your feet from the hot pavement and prevent you from slipping on wet surfaces.
White shirt
A white shirt is a must-have for any trip to Palm Springs. It's perfect for layering under dresses or wearing on its own with denim shorts.
Inflatable pool float
Nothing is as Instagrammable as an inflatable pool float. They're also a lot of fun to lounge on in the pool.
Amazon has a great selection of cute pool floaties.
Hat
A hat is essential for protecting your face from the strong desert sun. Choose a style that's comfortable and that you'll actually want to wear.
Swimsuit
Picking the right swimsuits to take to Palm Springs is essential. You'll want to pack at least two, so you have a backup in case one gets wet.
Polarized sunglasses
Sunglasses are a must in Palm Springs to protect your eyes from the harsh desert sun. Be sure to pack a pair that is both stylish and functional.
Tanning lotion
If you're looking to get a little bit of color, be sure to pack some tanning lotion. The Australian Gold Dark Tanning Exotic Oil works like a dream. Just don't forget to apply sunscreen first!
Portable charger
A portable charger is a must-have for any trip. You never know when your phone might die, so it's always better to be prepared.
Cooling towels
Trust me: even during winter, Palm Springs can get HOT. So, be sure to pack some cooling towels to help you stay cool and comfortable. You can easily get them on Amazon.
Comfortable shoes
You'll be doing a lot of walking in Palm Springs, so comfortable shoes are a must. Sandals, sneakers, or even flip-flops will do the trick.
Water bottle
It's important to stay hydrated when visiting Palm Springs. Be sure to pack a water bottle so you can stay refreshed and hydrated throughout the day. I really like this one from Camelback.
Aloe vera gel
Even if you're careful, there's a chance you might get sunburned in Palm Springs. Aloe vera gel will help soothe your skin and provide relief from the pain.
---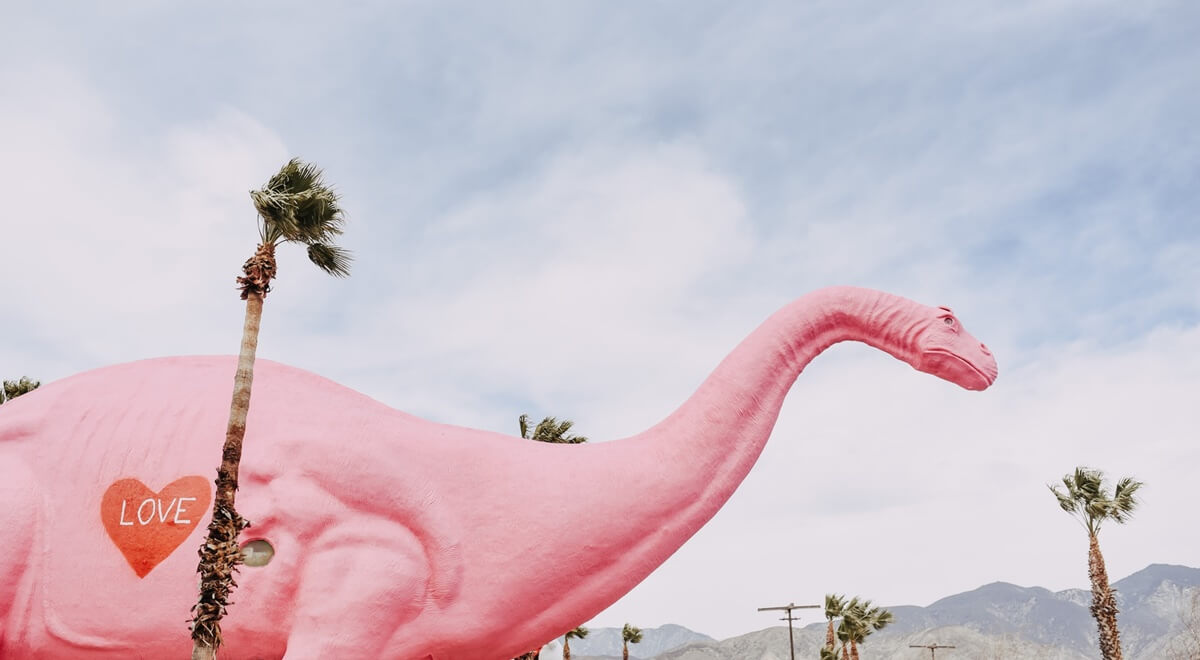 Palm Springs outfit ideas
Still wondering about what to wear in Palm Springs? Here are some outfit ideas for your trip:
---
Tips for visiting Palm Springs
Now that you know what to pack for Palm Springs, here are a few tips to help you make the most of your trip:
Make sure to drink plenty of water and stay hydrated. The desert heat can be brutal.
Stop by Cabazon Dinosaurs for a cool photo stop on your way to Palm Springs!
Make absolutely sure that your hotel has a pool. You'll want to be able to cool off after a long day in the sun.
Check out the Palm Springs Aerial Tramway for a birds-eye view of the desert landscape.
Visit Joshua Tree National Park for a dose of nature and some incredible hiking trails.
Take a tour of the Sunnylands Estate for a glimpse into the glamorous lifestyle of the rich and famous.
If you're looking for something to do at night, head to The Rooftop Lounge at The Ace Hotel for some stunning city views.
If you plan to visit during the high season, make sure to book your hotel well in advance.
---
Best time to visit Palm Springs
If you're hoping to escape the cold and enjoy some time in the sun, then winter is the perfect time to go. The average temperature in Palm Springs during December, January, and February is a balmy 72 degrees Fahrenheit.
However, if you're more interested in enjoying the outdoors and taking advantage of all of the activities that Palm Springs offers, then spring is probably a better choice. The temperatures can get pretty hot during the day (averaging around 100 degrees Fahrenheit), but it cools down nicely at night. And since most of the outdoor activities take place in the morning or evening to avoid the heat, you'll still be able to enjoy yourself.
---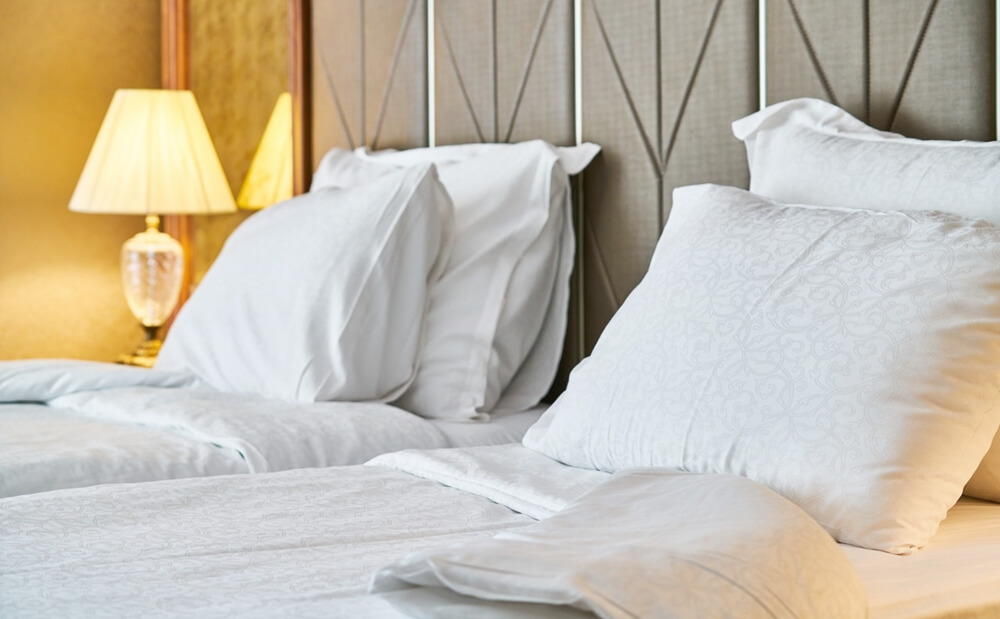 Finding a place to stay in Palm Springs
In case you haven't booked your hotel in Palm Springs yet, here are some of my favorites:
---
Wrap-up: What to pack for Palm Springs
There you have it: our ultimate Palm Springs packing list! Now that you know exactly what to pack and what to wear in Palm Springs, you are ready to fully enjoy your getaway to this little piece of paradise.
For more travel tips and updates, you can follow me on Instagram.
---