/
Last Updated November 12th, 2023
14 Amazing Reasons to Visit Monterey in California
On the Central Coast of California, Monterey is a beautiful city known for its stunning coastline and vibrant marine life.
The city is home to the world-famous Monterey Bay Aquarium, which houses over 35,000 animals and attracts visitors from all over the world. Also, it is a very popular destination for whale watching, as it is situated on the edge of the Pacific Ocean – it is not rare to spot humpback whales, orcas, and dolphins right from the shore!
In addition to its natural attractions, Monterey is also home to a variety of shops, restaurants, and museums. The city's Cannery Row district is especially popular with tourists, as it offers many options of cute boutiques, restaurants, and galleries.
So is Monterey worth visiting? Yes, absolutely! I had such a great time there and can't wait to go back. 🙂
In this guide, you will find 14 wonderful reasons to visit the beautiful Monterey.
---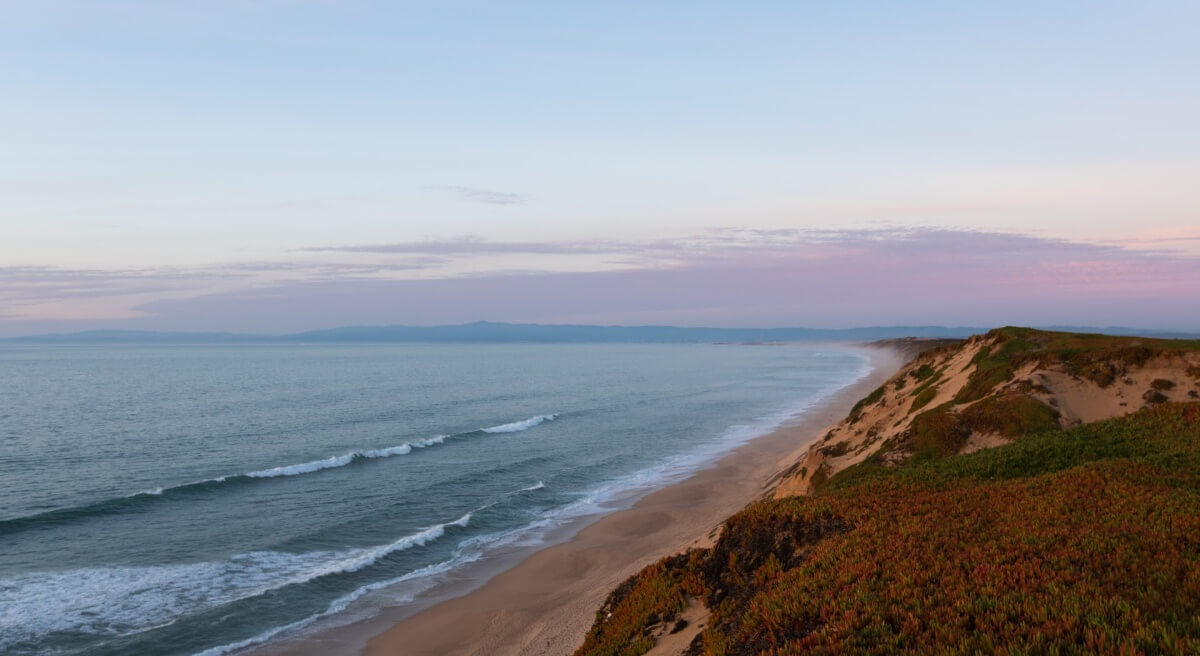 Disclosure: Some links on this page are affiliate links. That means that at no extra cost to you, I earn a small commission if you book through these links, and that helps me keep this blog running. Enjoy!
How to get to Monterey
There are many ways to get to Monterey but the most popular route is to drive down the picturesque Pacific Coast Highway.
The journey takes about three hours from San Francisco and is well worth the effort. Along the way, you'll pass through some of the most stunning scenery in the state, including Big Sur and Carmel-by-the-Sea.
---
10 Reasons to travel to Monterey, California
Here are, without further ado, 14 reasons why Monterey is worth visiting:
1- The Monterey Bay Aquarium
The Monterey Bay Aquarium is one of the world's leading marine science centers.
Situated on Cannery Row, once a thriving center of the sardine fishing industry, the Aquarium is home to over 35,000 animals representing more than 550 species.
Visitors can see everything from giant kelp forests to rare sharks, and the Aquarium's hands-on exhibits provide opportunities to learn about ocean conservation.
The Aquarium is also involved in cutting-edge research and rescue programs, and its Sea Otter Program has helped to save this endangered species from extinction.
2- The city has an incredibly rich history
Monterey has a rich history dating back to the days of the California Gold Rush.
Founded in 1770, it was the first capital of Alta California and served as a prosperous trading hub for many years. Monterey was also the site of the famous Battle of Monterey during the Mexican-American War, which resulted in a US victory.
Today, the city's history is preserved at a number of museums and historic sites, such as the Monterey State Historic Park, the Presidio of Monterey, and the Stevenson House.
3- You can explore 17 Mile Drive
17 Mile Drive is one of the most scenic drives in the United States.
Beginning in the city of Monterey, the drive takes visitors past some of the area's most beautiful scenery, including Pebble Beach, Cypress Point, and The Lone Cypress Tree.
Book: 2.5-Hour Electric Bike Tour Along 17 Mile Drive of Coastal Monterey
4- Shopping at Cannery Row
Cannery Row was once the center of Monterey's sardine fishing industry. Today, it is a popular tourist destination known for its shops, restaurants, and galleries.
The street was named after John Steinbeck's novel Cannery Row, which tells the story of the people who worked in the area's canneries.
5- It is a fantastic place for whale watching
Monterey is one of the best places in the world to go whale watching. The city is located on Monterey Bay, which is home to a variety of whale species, including blue whales, humpback whales, and orcas.
There are a number of companies that offer whale watching tours and most of them depart from Fisherman's Wharf.
Book: Half-Day Whale Watching Tour From Monterey
6- Beautiful beaches
Monterey is home to a number of beautiful beaches, including Carmel Beach, Monterey State Beach, and Asilomar State Beach.
Whether you want to go for a swim, build a sand castle, or just relax in the sun, you'll find the perfect spot along Monterey's coastline.
7- The weather is great year-round
Monterey enjoys a Mediterranean climate, with warm, dry summers and mild winters.
This makes it an ideal destination for visitors who want to escape the cold weather of other parts of the country. In addition, the city's proximity to the ocean results in cooler temperatures than inland areas.
8- Carmel-by-the-sea
Carmel-by-the-sea is a beautiful oceanside town located just south of Monterey.
Famous for its artist colony and dog-friendly beaches, Carmel is the perfect place to spend an afternoon exploring galleries, shops, and cafes.
Visitors can enjoy hiking, biking, and picnicking in Carmel's many parks and open spaces.
Book: Carmel Small-Group Walking Food & Cultural Tour
9- There are many things to do
From exploring its rich history to enjoying its stunning scenery, Monterey has something for everyone.
The city is home to a variety of shops, restaurants, and museums, as well as a number of outdoor activities. Visitors can go kayaking, hiking, biking, and whale watching, or simply relaxon one of the city's many beaches.
10- It's a great place for a romantic getaway
Monterey is the perfect destination for a romantic getaway. The city's stunning scenery and mild weather make it a popular spot for weddings and honeymoons. In addition, there are a number of romantic hotels and restaurants to choose from.
11- The incredible seafood!
One of the things Monterey is most famous for is its seafood.
The city's location on the Pacific Coast means that fresh fish and seafood are always in abundance. Whether you're looking for a casual meal or a fine dining experience, you're sure to find a restaurant you will love.
12- It's a 15-minute drive from Point Lobos State Natural Reserve
Point Lobos State Natural Reserve is one of the most beautiful places in California. The reserve is home to a variety of plant and animal species, as well as breathtaking scenery.
Visitors can go hiking, bird watching, or simply enjoy the views. The reserve is just a 15-minute drive from Monterey, making it the perfect place to spend a day exploring nature.
13- the wine scene is growing
Monterey is located in the heart of California's wine country. The region is home to over 400 wineries, and the Monterey Wine Festival is held every year in September.
Whether you're a wine lover or simply looking to enjoy the beautiful scenery, Monterey is the perfect place to visit.
14- It's a fantastic scuba diving destination
With its clear waters and abundant marine life, diving in Monterey is an amazing experience.
There are many dive shops in Monterey, that offer a variety of dive trips. Whether you are a beginner or an experienced diver, there's a trip that's right for you. Most of the dive sites are located within Monterey Bay National Marine Sanctuary, so you can be sure that you'll see an abundance of marine life.
From sea lions to dolphins, there's plenty to see underwater!
---
Fun facts about Monterey
Monterey was the capital of California from 1849 to 1851.
The first-ever military base in California was established in Monterey in 1770.
The city is home to the oldest continuously operating hotel in California, the Hotel Del Monte.
The Monterey Jazz Festival is the longest-running jazz festival in the country.
Cannery Row, made famous by John Steinbeck's novel, was once the world's leading sardine canning industry.
One of the world's largest sea otter populations lives in Monterey Bay.
---
Best time to visit Monterey, California
Monterey California is a beautiful place to visit year-round and the best time to visit depends on what you're looking for.
If you're interested in seeing the area's famous whale population, the best time to come is between December and April.
This is when you're most likely to see grey whales, as they migrate south from Alaska to mate and give birth in the warm waters off the coast of California.
Spring and early summer are also times to visit if you want to enjoy the area's stunning wildflower displays.
July and August are typically the busiest tourist months, so if you're looking to avoid crowds, this is probably not the best time to come. However, if you don't mind a little bit of congestion, you'll find that there are plenty of nice events and activities taking place duThere'sese months.
---
How many days in Monterey?
There's no right answer to this question. It depends on what you want to do and see while you're in town.
In my opinion, one or two days is more than enough if you plan on only staying in Monterey. However, if you also want to explore the surrounding area, I would recommend at least three days. This will give you enough time to drive down the coast and visit Big Sur or take a day trip to Carmel-by-the-Sea.
---
How to get around Monterey
There are several ways to get around Monterey. You can walk, take the bus, or drive.
If you're staying in central Monterey, walking is a great way to get around. Most of the city's attractions are located within walking distance of each other. However, if you also want to explore the surrounding area, you'll need to take the bus or drive.
The Monterey-Salinas Transit (MST) operates a bus system that covers most of Monterey County. Buses' schedules and fares are very reasonable. If you're planning on taking the bus, I would recommend purchasing a day pass. This will give you unlimited rides on all MST buses for the day.
If you're planning on driving, there are a few things you should know. First, parking can be difficult to find and expensive. I would recommend using one of the many public parking lots or garages in the city. Second, traffic can be heavy, especially during peak tourist season. Be sure to allow yourself plenty of time to get where you're going.
---
Finding a place to stay in Monterey
Wheter you are looking to stay in Monterey or Carmel-by-the-Sea – which I did and recommend – there are many adorable hotels and cottages to stay at,
These are some of my favorites:
Portola Hotel & Spa: A wonderful hotel with the perfect location in Monterey. It features a world-class spa, fitness center, and spacious and gorgeous rooms.
Monterey Bay Lodge: This lodge is just a short walk from the beach and has a great outdoor pool and everything you need for a pleasant and comfortable stay.
Carmel Mission Inn: Like everything else in Carmel, this inn is absolutely adorable! The rooms are gorgeous, and there is an excellent on-site restaurant.
Candle Light Inn: Look no further than the Candle Light Inn for a cozy and romantic stay. This is a gem of a place with great rooms, friendly staff, and a superb location.
---
Best tours to take in Monterey
Going on a tour is an incredible way of seeing Monterey – especially if you are without a car or wish to hop on a boat!
Here are some of the best tours to take in Monterey:
Half-Day Whale Watching Tour From Monterey
Look for whales as they migrate through the waters of the Pacific Ocean off of California on this half-day whale-watching cruise from Monterey.
Our naturalist guide will tell you everything you need to know about the whales and their habitat as you search for gray whales (most common), humpback and blue whales, and other marine life such as dolphins and sea lions during your cruise.
Get tips for great photo ops and learn all about the mighty creatures at one of California's most famous whale-watching destinations.
2.5-Hour Electric Bike Tour Along 17 Mile Drive of Coastal Monterey
Discover the natural and manmade beauty of 17-Mile Drive on an electric bike tour from Pacific Grove.
The e-bike allows you to cover more ground without getting worn out. Along the way, learn about the area from your guide and make stops at impressive viewpoints.
Big Sur Monterey California Pacific Coast One Day Tour
This private tour of California's Pacific Coast is ideal for travelers who enjoy the convenience of guided tours with the freedom of independent travel.
Your driver guide will act as a guide but you can tailor the itinerary to suit your needs and interests. Focus on the views rather than the road when traveling along one of the country's most scenic routes.
1-Hour Monterey and Cannery Row Sea Car Tour
Enjoy an independent sightseeing tour by Sea Car to discover Monterey Bay and the Central Coast at your own pace.
Aboard a 2-seater, GPS-guided convertible that navigates itself, you can cruise along thThat'sfic shoreline or through town.
Listen to recorded commentary about attractions like Monterey's historical center, and admire views of the ocean. The scooter car tells you where to drive, from Cannery Row, and more.
---
Travel tips for Monterey
If you're planning a trip to Monterey, California, there are a few things you should keep in mind.
First, the weather can be quite cool and Foggy, so be sure to pack appropriately. Secondly, Monterey is home to a number of world-famous attractions, including the Monterey Bay Aquarium and Cannery Row. As a result, accommodation can be quite expensive.
Thirdly, there are a number of scenic drives and hiking trails in the area, so be sure to leave some extra time to explore.
---
Wrap-up: Is Monterey worth visiting?
That's a wrap! Now you know all the best reasons to visit the lovely city of Monterey.
Personally, I think it is a very charming and unique destination. I hope you love it as much as I did!
For more travel tips and updates, you can follow me on Instagram.
---