/
Last Updated November 9th, 2023
The Ultimate Half Dome Packing List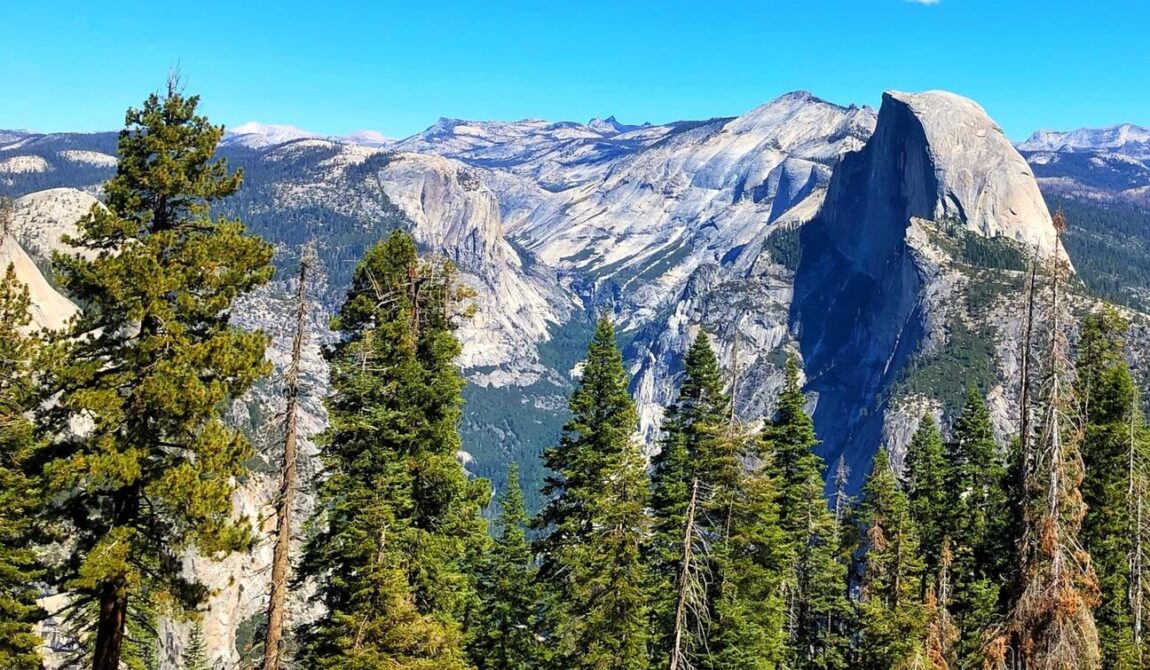 Yosemite National Park is a world-renowned destination for hikers, with trails that wind through some of the most beautiful scenery in the United States.
Half Dome is one of the most popular hikes in the park, and for a good reason—it offers stunning views of Yosemite Valley and the surrounding mountains. However, the hike is not for the faint of heart, as it is pretty strenuous.
Are you planning on hiking Half Dome in Yosemite National Park? Well, You're in for an amazing experience!
This challenging 16-mile round trip hike gains over 4,800 feet in elevation, but the views from the summit are well worth the effort.
If you're planning on tackling this epic hike, make sure you pack smart. With the right gear, you can make the trek up Half Dome easier and more enjoyable and focus on enjoying the journey.
In this guide, you will find a list of all the essential items you should pack for hiking Half Dome.
---
Plan your Perfect trip to California
🏨 Find the perfect hotel on Booking.com
🎫 Book a tour from from San Francisco to Yosemite!
🎒 Pack a universal travel adapter, your favorite travel camera (I love this one!), and a good portable solar phone charger
Follow me on Instagram for more travel tips
Disclosure: Some links on this page are affiliate links. That means that at no extra cost to you, I earn a small commission if you book through these links, and that helps me keep this blog running. Enjoy!
Best months to hike Half Dome
The best months to attempt the Half Dome hike are June through October, when the weather is typically warm and dry.
Even during these months, however, hikers should be prepared for sudden weather changes, as conditions can rapidly turn from sunny to cold and wet.
How to prepare for the Half Dome hike
If you are planning to hike the Half Dome, there are a few things you need to do to prepare.
First, make sure you are in good physical condition. This hike is not for beginners—it requires a high level of fitness.
Second, familiarize yourself with the trail. Read up on the route and plan yourself a realistic timeline. Third, pack accordingly.
What to pack for hiking Half Dome
Now that you know when and how to prepare for the Half Dome hike, it's time to start packing!
It can be tough to figure out what to bring with you when hiking a strenuous trail like the Half Dome. To help with that, here is a list of essential items to bring on your hike:
Essentials
First, the essentials.
1- Backpack
An essential item for any hike is a good day backpack. A day backpack should be big enough to carry all the necessary hiking supplies, including food, water, and a first-aid kit. It's also important to choose a comfortable backpack with straps that distribute the weight evenly.
And finally, be sure to pick a backpack that is durable and can withstand being thrown around in rough terrain.
2- Trail running shoes
Another of the most important equipment for hiking is a good pair of trail running shoes with grip.
Trail running shoes are designed to provide extra traction and support on uneven surfaces, which can come in handy on steep or rocky hikes.
They also usually have more padding than regular running shoes, which can help protect your feet from rocks and roots. If you're planning on doing any strenuous hiking, it's worth investing in a good pair of trail running shoes.
3- Gloves with grip
Many people who hike regularly will tell you that one of the most important items in your backpack is a good pair of gloves.
This is especially true if you're planning on hiking the Half Dome in Yosemite National Park. The cables that hikers use to pull themselves up the last portion of the hike are very slippery, and it's easy to lose your grip.
Wearing gloves with a good grip will help you keep a firm hold on the cables and make it less likely that you'll slip and fall. In addition, gloves can protect your hands from scrapes and cuts and help to keep them warm in cold weather.
4- Trekking poles
For many hikers, trekking poles are an essential piece of gear. They provide extra support on rough terrain, but they can also help relieve stress on the joints.
In addition, trekking poles can help set up a campsite or test the depth of a stream before crossing. While some hikers prefer to go without poles, many find that they make a significant difference on the trail.
When used correctly, trekking poles can help to improve balance and increase speed, making hiking more enjoyable and efficient.
5- Compass, Watch, and Maps
It's always a good idea to bring a compass, a watch, and a map when going on a hike, even if you think you know the area well. Why? Because you never know when you might need them.
So next time you head out for a hike, make sure you pack a compass, a watch, and a map! A compass can help you orient yourself if you get turned around and lost, while a watch can help you keep track of time, so you know how long you've been hiking and how much further you have to go. And a map can obviously come in handy if you need to find your way back to the trailhead.
6- Permit
If you're planning on hiking Half Dome in Yosemite National Park, you'll need to obtain a permit in advance. The permits are required to help manage visitors and protect the park's natural resources. The application process is competitive, so it's essential to plan ahead.
You can find more information about the permit here.
Safety & Survival
Here are some safety and survival items you should take with you on the hike:
7- First-aid Kit
Very adventurous outdoors-lover should have a first aid kit d ready to go.
You never know when you might need to patch up a cut or deal with a case of poison ivy, so it's always best to be prepared.
A first aid kit should include items like bandages, antiseptic wipes, and sting relief cream.
8- Snacks
It's important to bring along snacks that will give you the energy you need to keep going.
Before heading out, make sure to pack some high-protein items such as nuts or jerky and some carbohydrate-rich foods like granola bars or fruit.
It's also good to bring along some water and electrolyte-replenishing drinks like sports drinks or coconut water. And don't forget to pack some chocolate or other sweet treats for when you need a little pick-me-up.
9- Lamp
Hiking Half Dome requires a very early start – usually, around 4 or 5 am.
Not only will a lamp help you to see your surroundings, but it can also be used as an emergency signal if you get lost. In addition, a lamp can help to ward off wild animals, as the light will often scare them away. F
10- Butane lighter
There are a few reasons you might want to take a butane lighter on a hike with you.
If you need to start a fire for any reason, it can be very helpful to have a lighter handy. Butane lighters are also great for lighting candles or lanterns, and they can be used to cook food while camping.
In addition, butane lighters are relatively small and lightweight, making them easy to carry with you on a hike.
11- Hydration system
hydration system can make it easier to stay hydrated and, as a result, make hiking more enjoyable.
A hydration system is designed to be lightweight and comfortable to wear, and it includes a water reservoir that can be easily accessed while on the move.
Most systems also have a tube that allows you to drink hands-free, so you can focus on enjoying the scenery. In addition, many hydration systems now come equipped with filters, so you can fill up from any natural water source without worrying about contamination.
12- Sunscreen
Taking sunscreen is absolutely necessary.
Remember to apply sunscreen liberally and re-apply every few hours, especially if you're sweating or swimming. Don't forget to pack lip balm with SPF as well.
It will help protect your skin from the sun's harmful UV rays, but it will also prevent you from getting sunburned.
13- Emergency blanket
When you embark on a hike, you never know what might happen.
You could get lost, stranded overnight, or worse. That's why it's always a good idea to pack an emergency blanket. These thin, lightweight blankets are made of material that reflects body heat, keeping you warm in even the most extreme conditions. They can also be used as a shelter from the sun or rain.
Best of all, they're small enough to fit in your backpack, so you can always take them with you.
---
Clothing
Finally, these are the essentials pieces of clothing that you should pack for Half Dome:
14- Puffy jacket
A lightweight puffy jacket is a must-have for any hiker.
It will keep you warm in cold weather, but it can also be used as a pillow or extra insulation in your sleeping bag. Puffy jackets are typically made of down or synthetic material, and they pack down small so that they won't take up too much space in your backpack.
15- Rain jacket or poncho
Depending on when you plan to hike Half Dome, there is always the possibility of rain.
A rain jacket or poncho will help keep you dry, even if the weather takes a turn for the worse. Rain jackets are made of water-resistant materials that will shed water, and they often have hoods to protect your head and face from the rain.
On the other hand, you can always just take a rain poncho with you just in case.
16- Hat
A hat is another essential piece of clothing to pack, especially if you plan on hiking in sunny weather.
A wide-brimmed hat will protect your face, neck, and shoulders from the sun, and it can also help keep you cool. In addition, a hat can be used to hold back your hair or shield your eyes.
17- Hicking socks (at least 2)
You'll want to make sure you have a good pair of hiking socks before hitting the trail.
Hiking socks are designed to be comfortable and durable, and they often have special features like padded heels and breathable fabrics. In addition, it's a good idea to bring more than one pair of socks, in case one pair gets wet.
18- Sunglasses
Last but not least, don't forget to pack a pair of sunglasses.
They will protect your eyes from the sun, but they'll also help you see better in bright conditions.
When choosing sunglasses for hiking, look for a lightweight and comfortable pair to wear with lenses that provide 100% UV protection.
---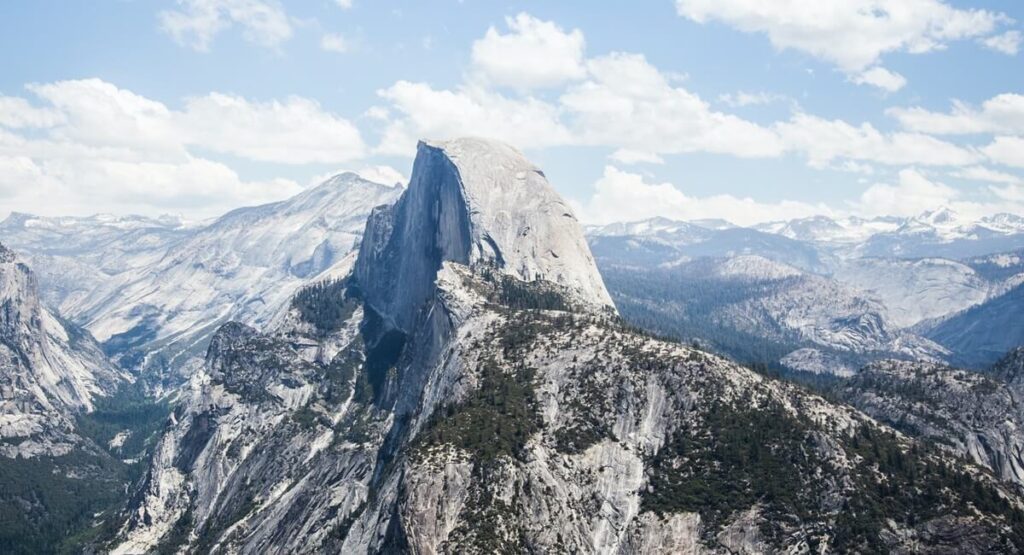 Tips for hiking Half Dome
Bring plenty of water and snacks, as you will need them.
Wear sunscreen and a hat to protect yourself from the sun.
Start early to avoid being caught in afternoon thunderstorms.
Be bear aware—Yosemite national park is home to a large population of black bears.
Pack a first-aid kit in case of emergencies.
---
Wrap-up: Half Dome Packing List
That's a wrap! Now that you know exactly what to pack for hiking Half Dome, you are ready to take on one of the most beautiful hikes in the world.
For more travel tips and pictures, follow me on Instagram.
---