/
12 Very Best Things To Do In Virginia City, Nevada
Virginia City, Nevada: a land of cowboys, gold mines, and historic saloons.
Full of charm, history, and with activities that go from museums and ghost tours to shopping and dining, this quaint historic town is one of the most interesting places I have ever been to and is an incredible day trip to take from California.
Plan the perfect trip to Virginia City:
Find the perfect hotel on Booking.com
 If you'd like to go on a tour, check out the best tours to take in Virginia City
💵 Want to travel for free? Discover 16 ways to do it in this e-book
🎒 Pack a universal travel adapter, your favorite travel camera (I love this one!), and a good portable solar phone charger
Follow me on Instagram for more travel tips
Disclosure: Some links on this page are affiliate links. That means that at no extra cost to you, I earn a small commission if you book through these links, and that helps me keep this blog running. Enjoy!
The history of Virginia City
Virginia City was founded in 1859 as a mining town, and it soon became one of the most important settlements in the west.
At its peak, Virginia City had a population of over 25,000 people, and it was known for its wild nightlife and gambling. Many famous American characters called Virginia City home, including Mark Twain, Jesse James, and Wyatt Earp.
These days, Virginia City is a popular tourist destination, and there is no shortage of things to do in this historic town. If you're looking for a unique and interesting experience, be sure to visit.
---
The 12 very best things to do in Virginia City
From ghost tours to incredible historic saloons, there are many activities that you cannot miss in Virginia City.
These are some of my favorites:
1- Start your day at Virginia City's Visitor Center
This center gives a great overview of the history and culture of Virginia City, and it also offers some additional tour discounts.
2- Take the Chollar Mine tour
The Chollar Mine Tour is a must in a visit to Virginia City.
The tour takes you underground and into the historic Chollar Mine. Many of the original buildings and artifacts remain in place, making this a fascinating trip into Nevada's history.
3- Travel along part of the Pony Express trail from South Lake Tahoe to Virginia City
If you are visiting all the way from South Lake Tahoe, taking a train ride on the Virginia & Truckee Railroad is an unmissable experience.
4- Have a drink at one of the many incredible historic saloons
There is no such thing as getting the full Virginia City experience without sitting at the bar at least one of Virginia City's saloons.
Some of the saloons that you absolutely cannot miss include The Bonanza Saloon & Cafe, Bucket of Blood Saloon, and Ponderosa (which features an old walk-in bank vault and an old mine you can visit).
5- See the historic churches of Virginia City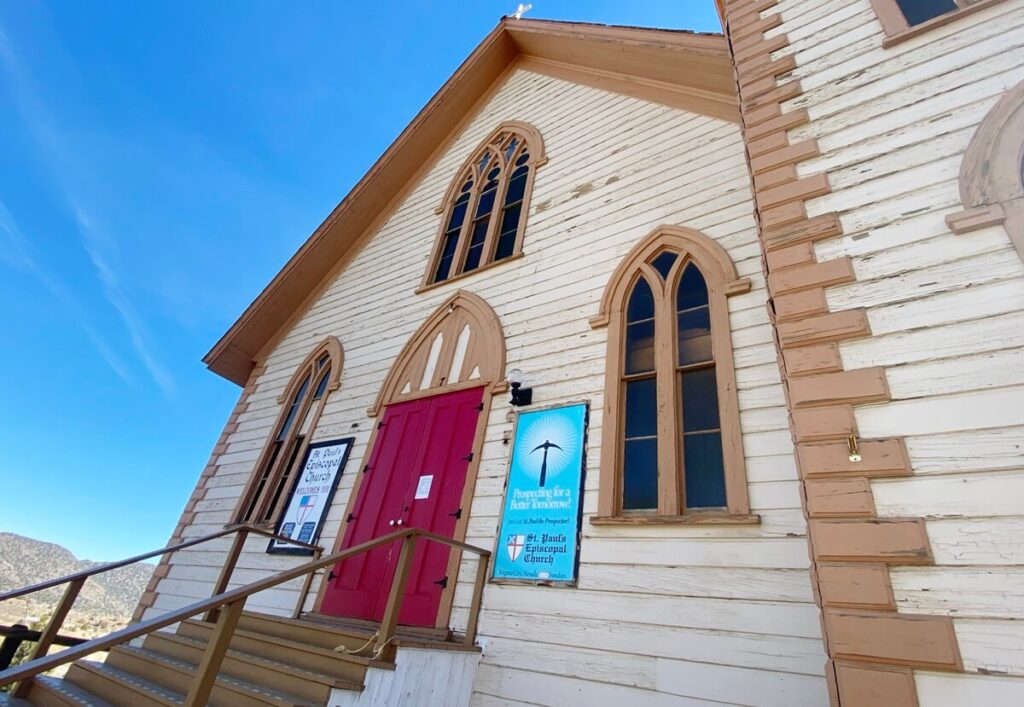 If you are looking for a cultural experience, be sure to visit one of the many churches that are located in Virginia City.
These include St. Paul the Prospector Episcopal Church, St Mary in the Mountains, and First Presbyterian Church.
6- Explore all the cute shops at C Street
C Street is the main road in Virginia City and is home to several quaint little shops that are very fun to visit.
Think of C Street as a historical version of Main Street in Disneyland.
The shops range from hats, cowboy boots, souvenirs, and antiques, to candy shops, bakeries, coffee houses, and even some museums.
7- Learn about the California Gold Rush at one of Virginia City's many museums
Speaking of museums, there are several good ones in Virginia City, and each one provides a unique history lesson.
Some of the most notable include The Way It Was Museum, The Washoe Club Haunted Museum, and Comstock Firemen's Museum.
8- Take a ghost tour and see the town after dark
The town really comes alive at night, so don't miss out on taking a nighttime ghost tour. Passionate guides lead thrilling tours through Virginia City's historic streets all year long.
9- Explore the haunted Mackay Mansion
Mackay Mansion is known as one of the most haunted places in Virginia City.
The mansion was owned by John William Mackay, one of the four Bonanza Kings, who became one of the richest men in America after striking it rich during the California Gold Rush.
Today, guests can tour the mansion and see many of the original items that were left behind when Mackay died in 1902. This historic building offers guided tours and is surprisingly a popular wedding venue.
10- Walk around a cemetery
If historic cemeteries are something that interests you, make sure to walk around Silver Terrace Cemetery or the Gold Hill Cemetery when you visit Virginia City.
These cemeteries were established way back in the 1800s and are beautiful to see.
11- Grab a bite to eat at one of the town's cafes
If you are looking for places to eat, you will have no problems finding something good in Virginia City.
The town has a ton of great little cafes and restaurants that serve up everything from Italian food to American classics. A few local favorites include The Canvas Cafe, The Roasting House, and The Bonanza Saloon & Cafe.
12- Take old west themed pictures in a photo booth
For a funny souvenir to take home, you can get pictures with some of the town's historical items in the background, like old wagons or saloons at Old Time Photos.
This is a great idea for those looking to capture their experience in Virginia City and also for families.
---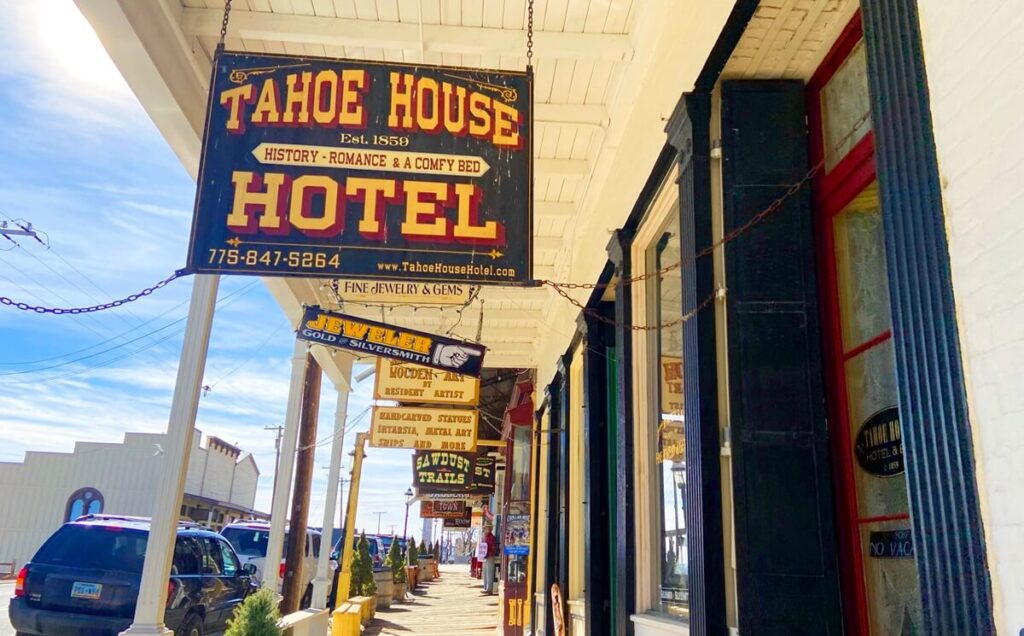 Where to stay in Virginia City
Now that you know all the best things to do in Virginia City in one day, it is time to find a lovely place to stay if you wish to spend a night in town.
Although there aren't many accommodation options, some good alternatives include Comstock Lodge, Gold Hill Hotel, and Howard Street Home.
---
Travel tips for Virginia City
Finally, if you plan to head to Virginia City, here are a few things to keep in mind.
First of all, if possible try and visit during the Fourth of July or during other special events that take place there. These celebrations contribute to an even more festive atmosphere that includes live music, games for kids and adults, giveaways, food vendors…and much more!
Secondly, if you visit during winter, try to get to Virginia City around 10 in the morning to start exploring. Most shops and attractions open only at 12pm.
---
Frequently asked questions
Here are some frequently asked questions about visiting Virginia City.
How far is Virginia City from Reno?
Virginia City is located 20 miles southeast of Reno, about a 45-minute drive.
How old is Virginia City?
Virginia City was established in 1859.
Did people actually live in Virginia City? What did they do there?
Yes, many people lived and worked in Virginia City because of the silver mining that took place there during the 1800s. Some of those who visited or worked at the mines were famous celebrities, such as Mark Twain and Diamond Jim Brady.
The Silver Terrace Cemetery provides a list of some of those who have been buried in the cemetery.
Is Virginia City worth visiting?
Yes, it is an absolutely charming place that has a unique history. It is also fun to see actual mines in person and get a better understanding of what life was like during the gold rush era.
What is Virginia City famous for?
Virginia City is known for mining, ghost tours, and great restaurants.
Is one day enough to visit Virginia CIty?
If you are wondering how long to stay in Virginia City, one day is enough to see the must-see attractions in Virginia City. However, if you are interested in learning about its history, you may want to plan to stay for a few days.
---
Wrap-up: The best things to do in Virginia City, Nevada
That's a wrap! As you know by now, the rich history of Virginia City makes it an excellent destination for those who want to learn more about the gold rush era and has many incredible attractions to visit.
If you decide to visit, I am absolutely sure that you will have a great time.
For more travel tips and pictures, follow me on Instagram.