/
Last Updated November 11th, 2023
10 Reasons Why Santiago Is Worth Visiting
Santiago, the biggest city in Chile, is one of South America's most charming capitals.
Founded in 1542 by the Spanish and located in a valley surrounded by Andean mountains, it combines incredible views of Chilean nature with a modern big-city lifestyle.
Many people don't know this, but I actually spend most of my childhood in Santiago, and I really love talking about it. It is a place that I hold very dear to my heart.
In this post, you will read about all the reasons why the beautiful city of Santiago, Chile, is so worth visiting.
Plan your Perfect trip to Santiago
🏨 Find the perfect hotel on Booking.com
🎫 If you'd like to go on a fun tour, check out the best tours to take in Santiago
🎒 Pack a universal travel adapter, your favorite travel camera (We love this one!), and a good portable solar phone charger
Follow me on Instagram for more travel tips
---
Disclosure: Some links on this page are affiliate links. That means that at no extra cost to you, I earn a small commission if you book through these links, which helps me keep this blog running. Enjoy!
Is Santiago Chile worth visiting?
If you are asking yourself if Santiago is really worth visiting, the answer is: Absolutely yes!
Santiago is an incredible city to visit, with many different things to see and do.
Besides, it is the city where most international flights arrive in Chile, so you will probably stay in Santiago for at least a day no matter where you are headed in the country.
---
10 Reasons to travel to Santiago, Chile
Here are my top reasons why it is worth visiting Santiago on your next trip to South America.
1- You can ski at Valle Nevado
Valle Nevado, located approximately 60 kilometers away from Santiago, is Chile's top ski resort.
This international-level resort reaches about 3200 meters of altitude and offers breathtaking winter views. Also, it is a great place to take ski and snowboard classes if you are a beginner.
Valle Nevado can be visited independently or with a tour.
2- It is an ultimate destination for wine lovers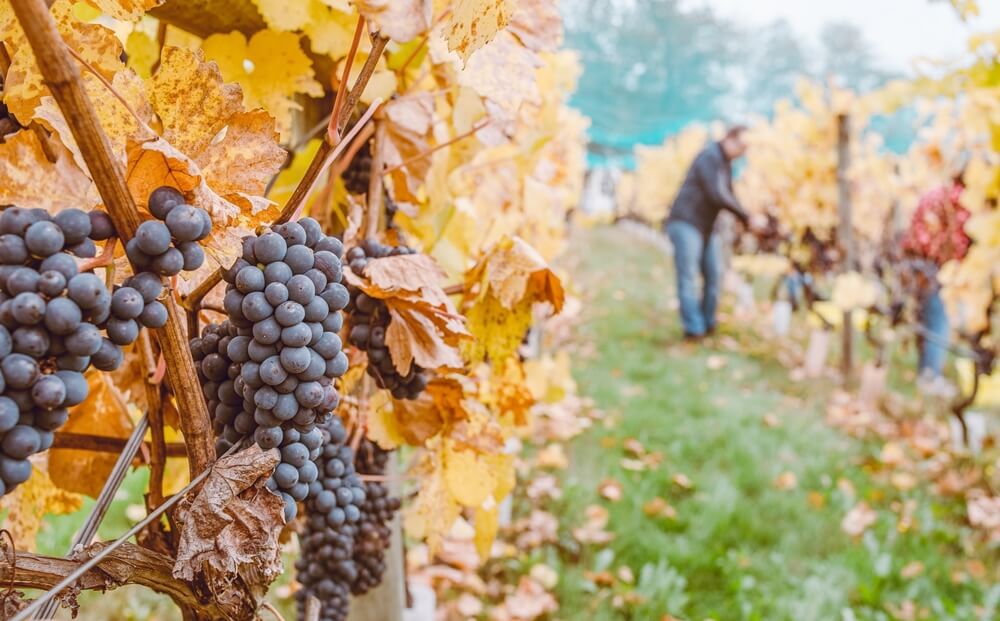 Chilean wine is one of the most appreciated in the world!
Near Santiago, you can visit famous vineyards such as Odjfell, DeMartino, Perez Cruz, Santa Rita, Aquitania, and even Concha y Toro, which is the largest Latin American wine producer.
If you are a wine lover, I suggest making a day out of it and visiting the Maipo Valley Wine Region with a certified sommelier on a full-day wine tasting tour.
3- The panoramic views from cerro san cristóbal
Cerro San Cristóbal is a must-see stop in any trip to Santiago.
The peak is located in the neighborhood of Bellavista, in Pio Nono street. Once you get there, take the tram to the top to fully appreciate the stunning views of Santiago.
4- Go on a Day trip to Valparaíso and Viña del Mar
Visiting the costal cities of Valparaíso and Viña del Mar makes for a very fun a daytrip from Santiago.
Valparaíso is a colorful and bohemian World Heritage City known as 'The Jewel of the Pacific.' Viña del Mar, on the other hand, is a beach resort city with some of the country's most popular beaches.
Both cities can be visited on the same day on a full-day tour.
5- Visit Sky Costanera, the tallest building in south America
With more than 300 meters of altitude, Sky Costanera is South America's tallest building and offers a 360-degree view of Santiago's skyline.
There is an observation deck on the 62nd floor, and the building can be visited any day of the year.
6- The incredible Cajón del maipo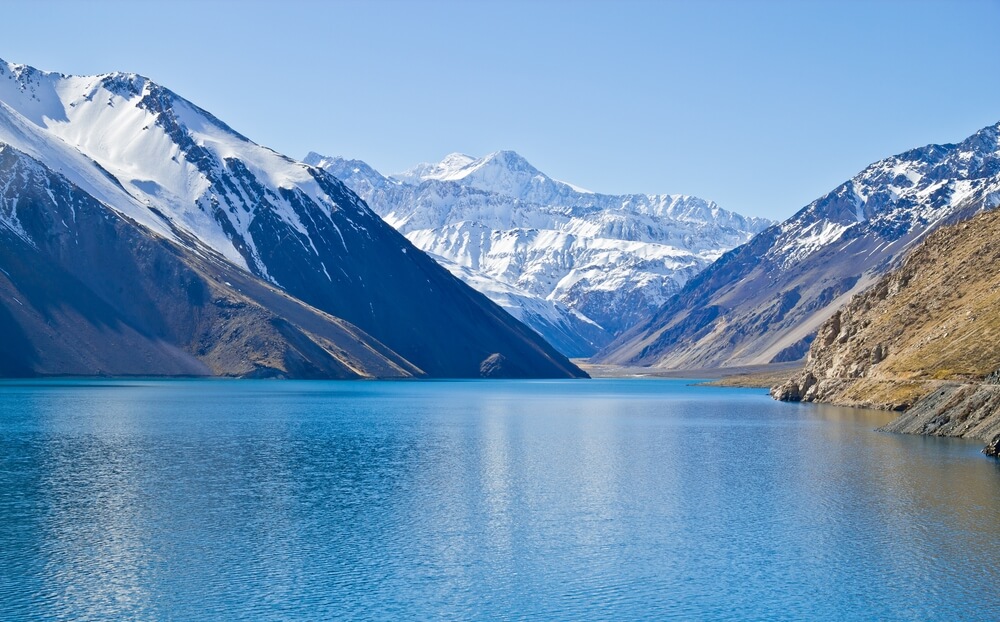 Have you ever imagined bathing in a wonderful turquoise blue hot spring while staring at the Andes?
Well in Cajón del Maipo you absolutely can. This incredible canyon near Santiago offers stunning views and is a top-rated destination for locals and visitors for climbing, skiing, rafting, and even bungee jumping.
7- Santiago's culinary scene
Oh my god, I love and miss Chilean food so much!
Santiago is the perfect place to go all in and try the delicious traditional food of Chile. Make sure to try pebre, empanadas, pastel de choclo y humitas and my favorite, sopapillas.
8- it's affordable
While Chile isn't one of the cheapest places to visit in South America, it is still quite affordable to visitors coming from countries with a stronger currency.
I would budget approximately 100 dollars per day in Santiago for a comfortable stay.
9- It is amazing for stargazing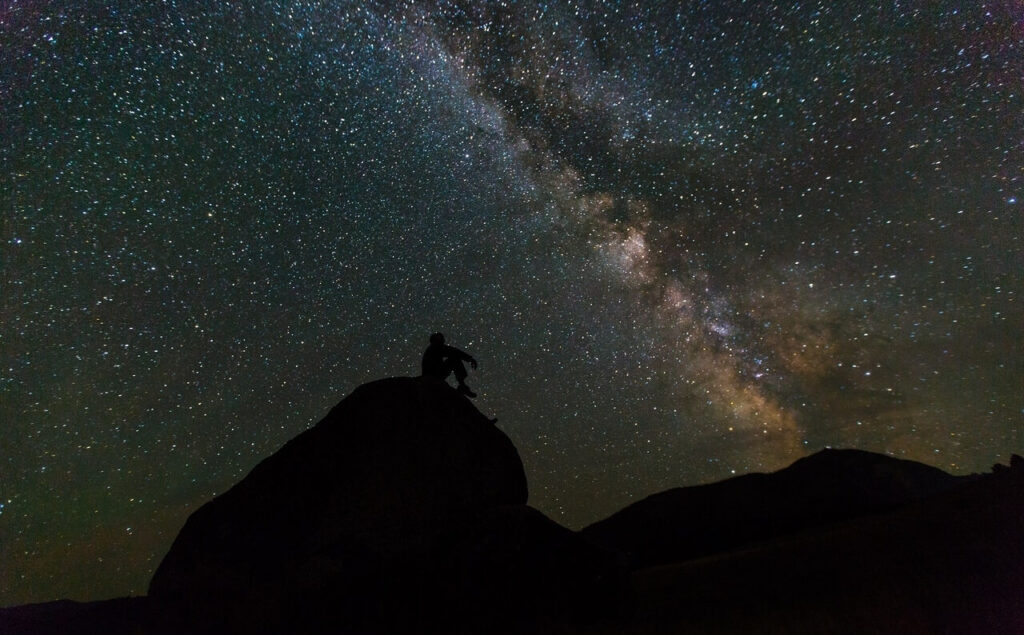 Chile offers some of the finest stargazing in the world!
While de Elqui Valley and the Salar de Atacama are probably better places for stargazing, you can still get to see a lot of cool stuff near Santiago if you visit a private observatory on the Andes.
10- Inca Lagoon in Portillho
Last but not least, another great reason to visit Santiago is the Inca Lagoon at the Andes mountains.
This wonderful turquoise lagoon is said to be enchanted and makes for a terrific day trip from Santiago. You can read about the myth surrounding the lagoon here.
---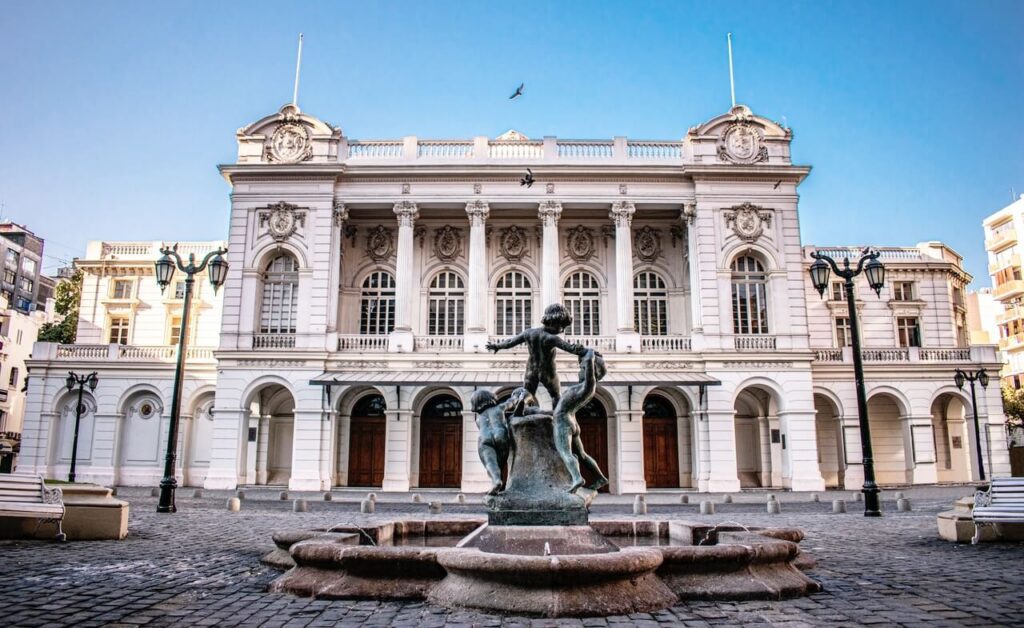 Finding a place to stay in Santiago
If you are planning a trip to Santiago but still haven't booked a hotel, no worries!
Here are some of our favorite lodging options:
Novapark Hotel is ideally located in the city center but far enough from the main roads to be peaceful.
Its rooms are clean and modern, and guests can enjoy drinks and snacks at the hotel bar or even grab a warm cup of coffee at the coffee shop.
The Ibis Santiago Estacion Central offers what the Ibis network is all about: comfortable stays for a fair price.
It is located right by the bus terminal, so it is perfect for backpackers and adventurers arriving in Santiago by bus.

The NH Collection Santiago Casacostanera is a dream!
It is located inside the luxurious Casa Costanera Shopping Mall, its rooms are incredibly gorgeous, and the hotel has a great fitness center.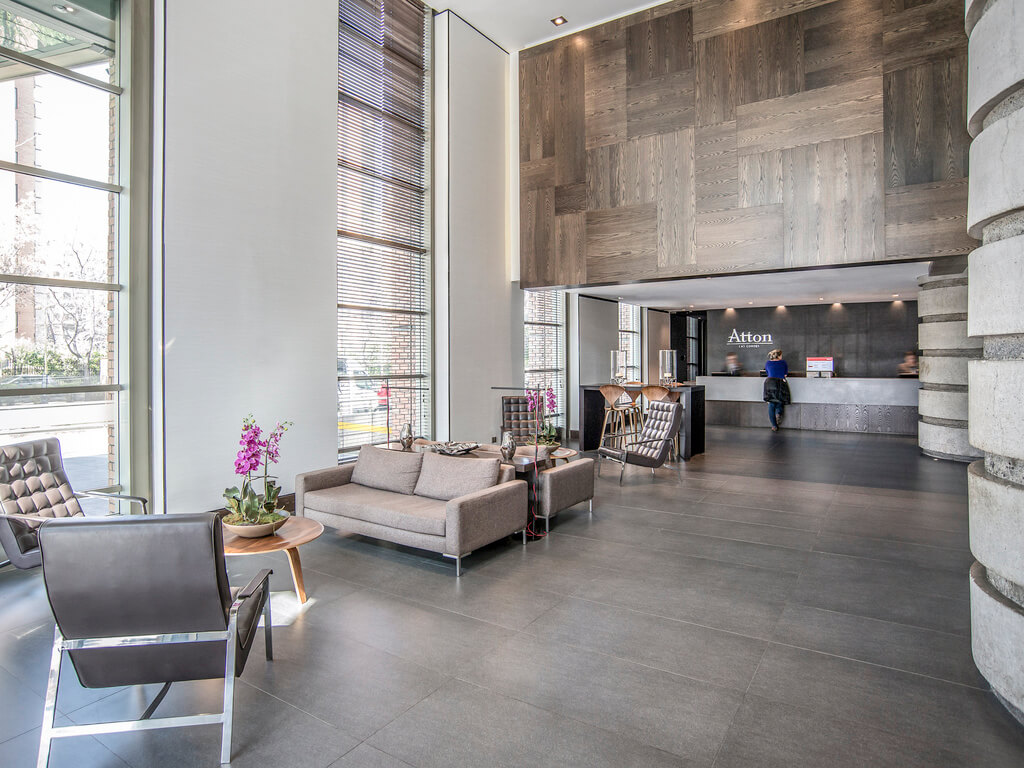 The contemporary Novotel Santiago Las Condes is located very close to the Parque Arauco Mall and has a beautiful outdoor pool and 24-hour fitness center.
If you are looking for a luxurious hotel, the Plaza El Bosque Ebro might just be for you.
This super nice hotel has stunning architecture, a great location ad facilities such as an indoor pool, a game room, a business center, and more. Oh, and visitors that have recently stayed there stated that the breakfast is delicious!
For a fast and easy connection to all of Santiago's best ski resorts, the Courtyard by Marriot is a great option.
It has comfortable rooms, fitness facilities, a restaurant, and a magnificent view of the Cordillera.
---
Best time to travel to Santiago
Santiago is a year-round destination.
The months from July to August are perfect for visiting if you want to visit the incredible ski resorts nearby. Even though it's winter, Santiago rarely gets any snow in the city.
Summer, on the other hand, is also a popular time to visit. The months between December and March are when temperatures get warmer, and most locals leave town for the beach.
---
How to get around Santiago
The best ways to explore Santiago are by foot and taking the subway.
On foot
When you get to your hotel, make sure to ask the staff whether it is safe to walk in that area.
Nevertheless, feel free to walk around Santiago if you stay in safe neighborhoods such as Providencia, El Bosque, Las Condes, Ñuñoa, and Barrio Brasil.
Taking the metro
The subway system in Santiago is clean and very convenient. Single tickets are usually around $1, but rates can vary depending on the time of day.
---
Santiago travel tips
Here are some travel tips for your trip to Santiago:
Take the subway! It is safe and efficient.
Go to the neighborhooh Bellavista for the best food
Spanish is the official language in Chile. While a lot of people to speak it, it is best to be prepared for when they dont.
The currency in Chile is the Peso Chileno (CLP)
Santiago is relatevility safe for tourists, but is is importat to be caucious at all times.
Try their pisco, it's amazing!
---
Wrap-up: 10 Reasons why Santiago Chile is worth visiting
That's a wrap! Now you know all the best reasons to visit Santiago, Chile. I am sure you will fall in love with this beautiful city just as much as I did, and next time someone asks, "Is Santiago worth it?" you will already know the answer 🙂
---