/
Hiking The Short Inca Trail: The Ultimate Guide
Hiking the Inca Trail is a must on any adventurous traveler's bucket list.
It is the ultimate way of getting to Machu Picchu, the most famous archaeological site in South America and one of the most beautiful treks in the world!
Not only the trail leads through beautiful landscapes, but you also get to experience the history of Peru by following the trail once used by the Incas for different purposes.
But what keeps many people from doing this trek is its difficulty: the classic Inca Trail lasts four days, is 42 kilometers long, and has an elevation of over 13,000 feet. Yep, not really a trek for beginners.
Luckily, on my last trip to Peru, I discovered a new alternative that has become increasingly popular: The Short Inca Trail.
In this guide, you will find every piece of information you need to know about the Short Inca Trail.
---
Plan the perfect trip to Peru:
If you'd like to go on a tour, check out the best tours to take in Peru
💵 Want to travel for free? Discover 16 ways to do it in this e-book
🎒 Pack a universal travel adapter, your favorite travel camera (I love this one!), and a good portable solar phone charger
Follow me on Instagram for more travel tips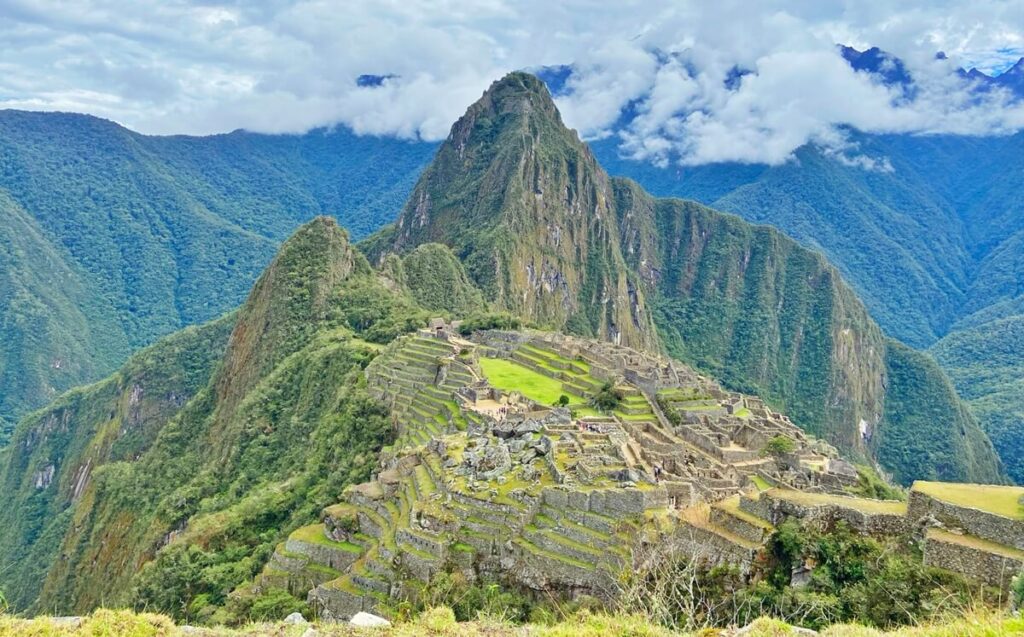 Disclosure: Some links on this page are affiliate links. That means that at no extra cost to you, I earn a small commission if you book through these links, and that helps me keep this blog running. Enjoy!
About the Short Inca Trail
The Short Inca Trail is a 2-day hike that takes you through beautiful scenery, two archeological sites, and impressive Inca remains, including the Inca Sun Gate (Intipunku), all the way to Machu Picchu.
This trail is actually the last part of the classic trail and covers 12 kilometers. Therefore this hike does not require as much training or preparation as the classic route. Also, it is a great alternative for those who are on a tight itinerary.
---
Difficulty
I would say the Short Inca Trail is moderately difficult.
It is the perfect option for people who enjoy hiking but are not really into camping. You can do it without too much trouble and enjoy your time at Machu Picchu afterward.
You only need to hike half a day (approximately 6 hours) on the first day. The second day is reserved for exploring Machu Picchu as you normally would.
If you got used to walking long distances while traveling, this trail should be no problem because there is very little elevation gain/loss on the way – except for arriving at the Sun Gate, where you climb steep steps for about 15 minutes.
---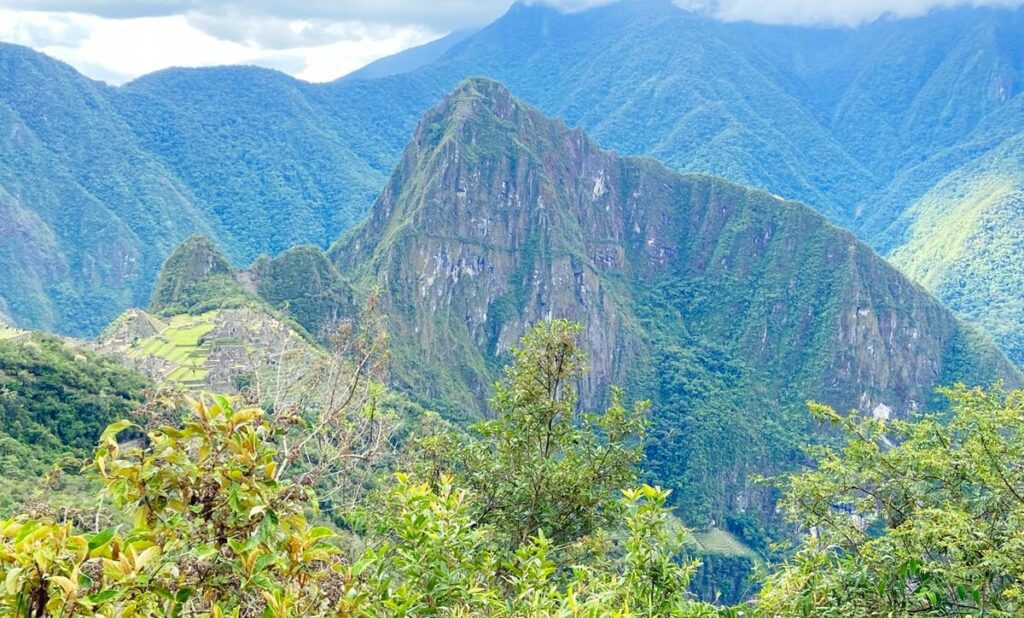 Costs
Hiking the Short Inca Trail is a little expensive.
The price for two days of guided hiking starts at around 450 dollars per person – depending on your choice of tour operator and accommodation in Aguas Calientes.
This normally includes:
Transportation from Cusco to Ollantaytambo
Train from Ollantaytambo to KM104, where the trail starts
Lunch, snacks, water, and dinner on the first day
Guide
Entrance to Machu Picchu
Van to and from Aguas Calientes to Machu Picchu
Train from Aguas Calientes back to Cusco.
---
What to pack
Since you will be doing a lot of hiking and the weather in Peru is quite unpredictable, packing for the Inca Trail can get tricky.
First, it is important to take with you only a good and reliable backpack. Do not overpack because you will have to carry it most of the time. So pack light and take only what is essential. Also, bring a one-liter bottle of water and a few snacks.
As for clothing, wear leggings or trekking pants, a light t-shirt with UV protection, and a jacket to keep you warm. Remember also to pack the clothes you will wear to Machu Picchu the next day. Also, good hiking boots and sunglasses and a hat with a visor to protect your face from the sun are super important.
Last but not least, I would suggest you take insect repellent, sunscreen, and a raincoat (you will need it!).
---
Itinerary of the Short Inca Trail
As I previously mentioned, the Short Inca Trail is divided into two days, but the actual hike only takes one day.
The itinerary is the following:
Day 1
In the morning, you leave your hotel in Cusco and get to Ollantaytambo, where you will take the train to KM104.
This is not a regular stop, so you will need a special pass to get down at KM104.
When arriving, you will meet your guide and check-in at the first control point of the trail. This is where you will likely have breakfast and prepare for the adventure ahead.
Time to start hiking! Right after the control point are the first Inca ruins you will encounter during this journey.
The first hour and a half of the trail are up, but you will take several breaks to rest and rehydrate along the way. The next hour and a half is harder but offers amazing views and a gorgeous waterfall as a reward.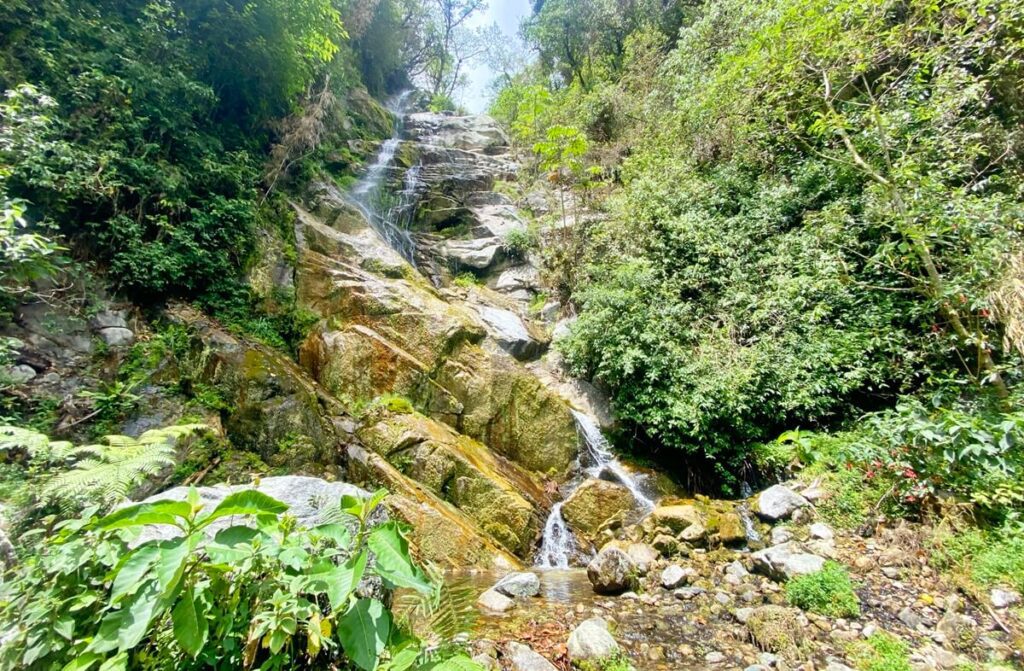 After all this, things get easier.
You will finally reach the Wiñay Wayna archeological site, and if you are lucky, you might even have it all to yourself and your group. This is definitely one of the highlights of the hike!
Then, stop for lunch at the Wiñay Wayna campground, where you will meet other travelers. This is the last campground for those doing the 4-day classic trail.
After lunch, it is time to walk to the Sun Gate. This is mostly a flat walk, but there are a set of steep stairs carved into the mountain just before the gate. Take your time and know you are almost there!
Now, you have finally reached the Sun Gate and can get your first views of the gorgeous Machu Picchu.
After exploring Machu Picchu a bit, you will take the van down to Aguas Calientes and spend the night there.
Day 2
Get breakfast at your hotel and prepare for a day exploring Machu Picchu!
You will take the van up the mountain and reach Machu Picchu just in time for sunrise. Here, your guide will show you around and tell you everything there is to know about the site.
After exploring, you take the van back to Aguas Calientes and start your return journey to Cusco.
From Aguas Calientes, you will take the train to the Poroy station where a bus will take you back to Cusco.
---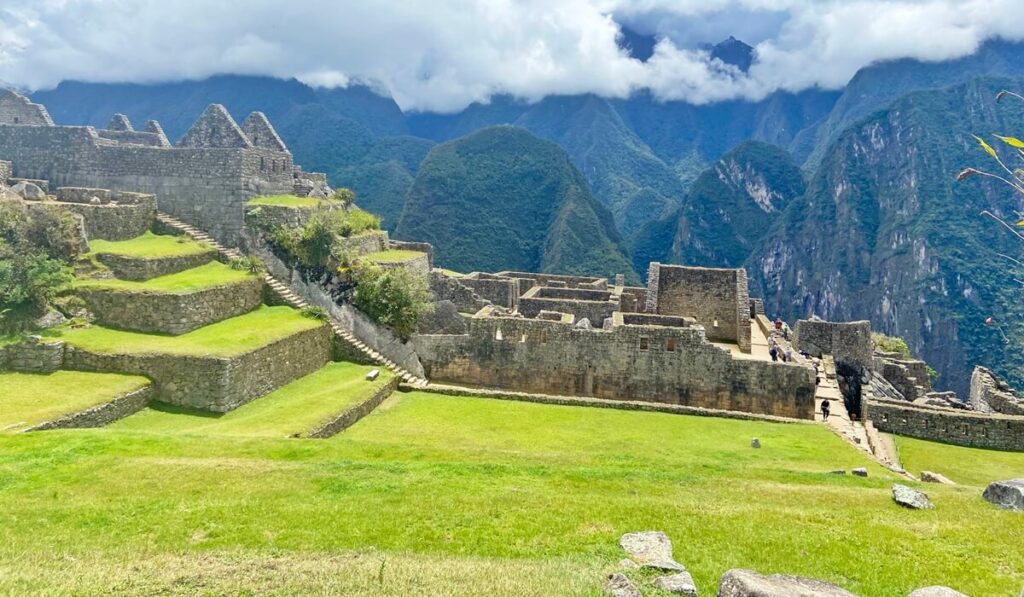 Is the Short Inca Trail worth it?
If you wonder whether the Short Inca Trail is really worth it, the answer is: Absolutely!
The Short Inca Trail has become increasingly popular in the last few years because it does not require as much training and time to do so everyone can try it.
It enables you to enjoy Machu Picchu without having to spend four days of your itinerary or sleep in a tent ( if you ask me, there is nothing like a nice bed in a hotel after a day or hiking in the jungle!)
Also, it allows you to get to Machu Picchu through Intipunku Gate just as the Incas did, visit incredible archeological sites on the way and visit Machu Picchu twice – for sunset on the first day for sunrise the next.
---
Tips for hiking the Short Inca Trail
Here are a few travel tips that will make your experience hiking the Inca Trail even more special:
Do not get discouraged by the altitude, but if you feel bad, take it slow and make sure to take lots of breaks
Drink lots of water throughout the day.
Bring sun protection: sunscreen, sunglasses , hat with a visor to protect your face from the sun are super important
Apply insect repellent before you start the hike!
Hiking in the company of a guide is mandatory
Pack as light as you can.
Bring a portable charger for your phone
Take it one step at the time. Focus on the journey and not on the desinaiton.
Don't give up if its cloudy when you first get to Machu Picchu. Afternoons are generally the best time to visit the ruins for clear conditions.
---
Best time to hike the Inca Trail
There are mainly two seasons in Machu Picchu: wet and dry. The dry season starts in April and ends in November, while the wet one is from December to March.
The best time to hike the Inca Trail is during the dry season since it means fewer bugs and no rain. Even when it's winter, you will likely not experience any cold weather in the area since Machu Picchu's surroundings are mostly jungle.
---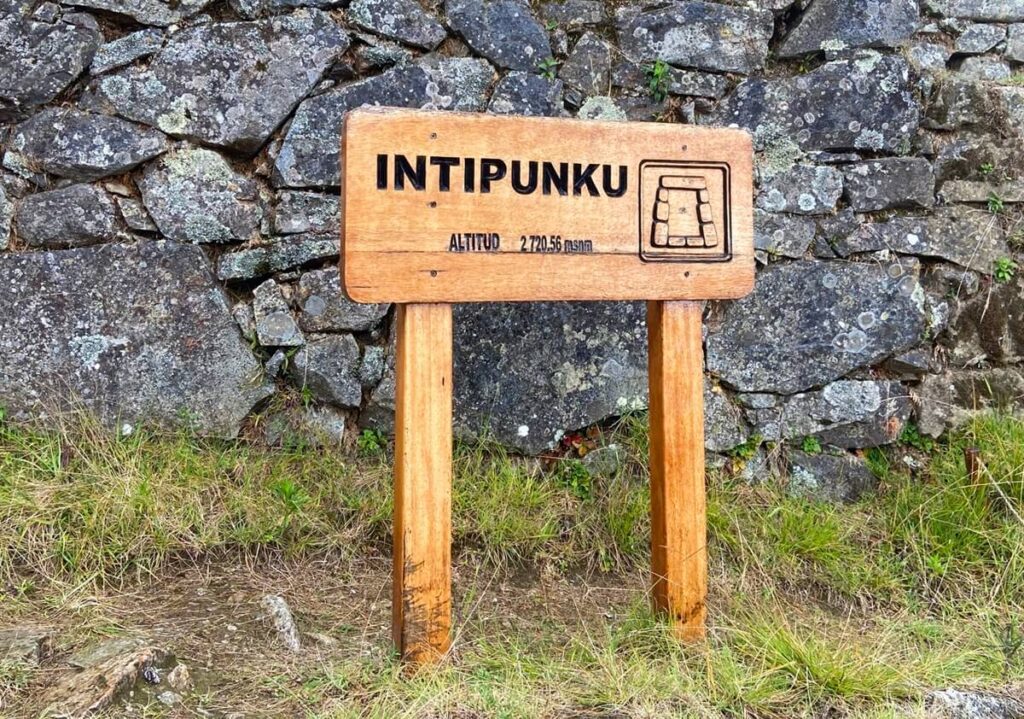 Booking the Inca Trail
Although several companies offer this trek, I recommend booking ahead with Viator or Get Your Guide, which are very trustworthy companies with great cancellation policies.
Imperios Travel is also a good company for booking the tour – especially if you get Santiago as your guide!
---
Other ways of getting to Machu Picchu
Not sure if the Short Inca Trail is the one for you? No worries! There are many other fantastic ways of getting to Machu Picchu.
Here are some of the most popular tours to the World Wonder:
Hiram Bingham Luxury Train to Machu Picchu
Travel back in time aboard the elegant Belmond Hiram Bingham train, enjoying the ultimate in luxury train transportation on a day trip to the world-famous Machu Picchu.
Climb aboard the train's richly appointed 1920s Pullman cars to enjoy fabulous views of the Andes, white tablecloth dining, and high-end wine.
Then explore Machu Picchu with an expert guide, followed by afternoon tea at the Belmond Sanctuary Lodge.
This VIP Machu Picchu experience also includes a welcome drink at the station, appetizers, lunch and dinner, full drink service, entrance fees at the site, live on-board entertainment, and round-trip hotel transport.
Machu Picchu Day Trip from Cusco
Spend a day exploring the Inca citadel of Machu Picchu during this all-inclusive day trip leaving from Cusco.
Discover this renowned mountaintop Inca site with a guide, learning about its construction, history, and what daily life was like for its residents.
The trip's relaxed, non-strenuous pace is a great option for first-time visitors, families, and solo travelers alike and features three different train ride options.
The trip also includes round-trip hotel transport, transfer from Cusco to Machu Picchu (via train and bus), and the site entrance fee.
2-Day Tour: Sacred Valley and Machu Picchu by Train
Discover the Sacred Valley and Machu Picchu on this 2-day tour.
Visit key sites such as Pisac, Urubamba, and Ollantaytambo and discover their individual archaeological sites with your guide.
Spend the night at Aguas Calientes, the village at the base of Machu Picchu, and rest up before catching the sunrise at the famous Inca citadel the next day.
4-Day Trek to Machu Picchu Through the Inca Trail
Trace the path of the original Inca Trail during an unforgettable 4-day, 3-night trip along this classic road to Machu Picchu. Follow the footsteps of these ancient people as you cross mountain terrain and lush jungles and explore fascinating Inca ruins like Wiñay Wayna, hiking toward the 'Lost City of the Incas.'
On your final day, wake up early to reach Machu Picchu's iconic Sun Gate at sunrise, watching the first rays of light creep across the landscape. Then spend the morning exploring this incredible mountaintop archaeological site with your guide.
This classic Inca Trail trek also features hotel pickup, camping accommodations, bus and train transfers, entrance fees, three days of meals and snacks, and porters to carry shared equipment.
---
Wrap-up: A guide to hiking the Short Inca Trail to Machu Picchu
That's a wrap! Now you are officially ready to face this two-day hike to Machu Picchu.
Personally, hiking the Inca Trail is one of the most fantastic things I have ever done, and I recommend it to anyone who enjoys hiking, nature, and epic experiences.
For more travel tips and pictures, make sure to follow me on Instagram.